Just in time for the 57th Venice Biennale, Brigitte Kowanz has produced brand new photographic prints, together with VogelART! The Austrian representative authored an edition of three motives for a total of 57 individual works of art based on the work with the title UN Climate Change Conference Paris 30.11.2015 12.12.2015! The artist will represent Austria at the world's biggest art event, along with Erwin Wurm, from May 9th through November 26th, 2017.
Brigitte Kowanz Prints at VogelART
In Brigitte Kowanz's Infinite Curve - Climate Change Edition of prints, each motive has an edition of 16 (+ 3 A.P.) prints, each print has a different color and is, therefore, a unique artwork - signed and numbered by the artist herself. The idea was that she, together with VogelART, create an print edition that has the intensity of a light object of Brigitte Kowanz. The high-quality edition is produced with an Archival Pigment Print on 100% Cotton Harman Matt Smooth 300g Rag Paper. These unique photographs are very intense and powerful in bright colors. The edition is 40 x 60 cm and is also framed in a black distance frame in the format 40 x 60 cm with museum glass UV60 available. The price per print is €1.200,00 including VAT, with frame € 1.400,00. The edition of 16 (+ 3 A.P.) prints per motive will be delivered with a certificate.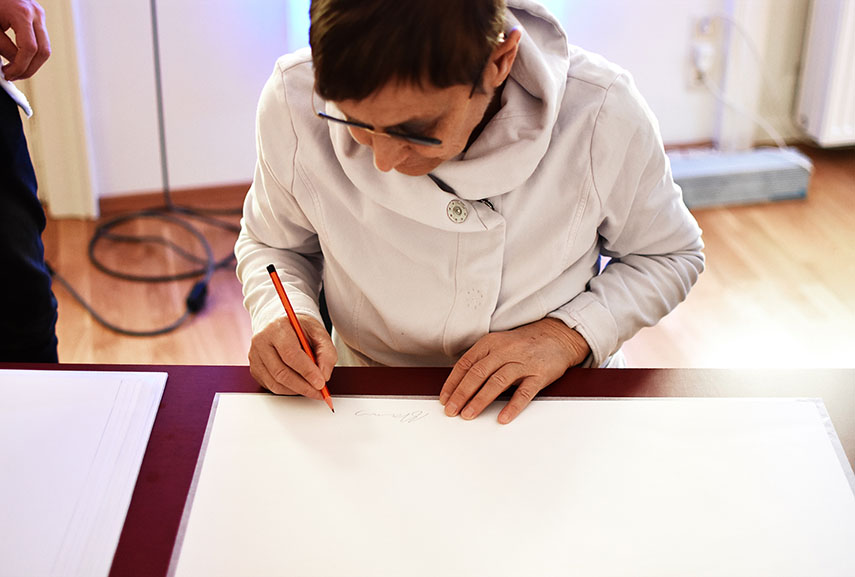 Exploring the Light
Brigitte Kowanz has been exploring the notion of space and light since the 1980s. For the last two decades, she has also been using the Morse alphabet for coding, starting with simple line-dot combinations. As a binary code, it is the source of information in the transmission of light. In her recent work, Kowanz uses (semi-) transparent glasses and mirrors, creating a superposition of virtuality and reality in her three-dimensional objects. The interplay of light, language and mirrors creates hybrid spaces whose boundaries seem to be clearly defined in a moment, but which are already resolved in the next. She's also been holding a tenure at the University of Applied Arts in Vienna since 1997.
The Infinite Curve - Climate Change Edition by Brigitte Kowanz. is exclusively available only at VogelART.
All images courtesy VogelART.