Starting with the first smelting of metals, bronze sculpture has been part of humankind's attempt to create artistic images of the world around it.
This art form had a very turbulent history. The art of bronze sculpture was nearly forgotten and then "rediscovered" on two occasions - once during the Renaissance period and then during the Industrial Revolution in the mid-19th century.
From a historical perspective, bronze is the most popular material for cast metal sculptures. It can be used for statues, singly or in groups, reliefs, small statuettes and figurines, as well as bronze elements to be fitted to other objects such as furniture or just about any kind of weaponry.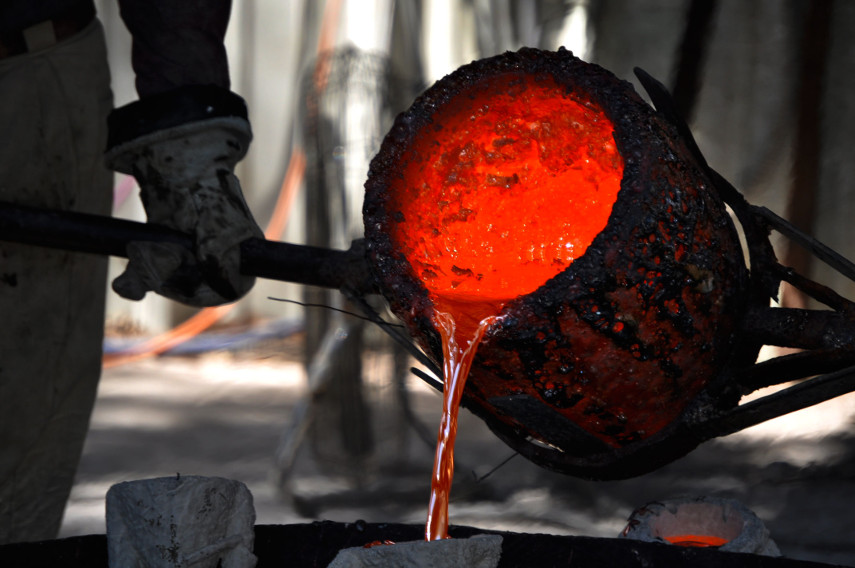 Breaking from the Mold - Bronze as a Material
So, what is bronze exactly? Typically, modern bronze is 88% copper and 12% tin. However, historically speaking, bronze material was highly variable in composition, as most metalworkers probably used whatever scrap they could get their hands on.
This commonly lead to varying mixtures that saw bronze get combined with materials such as copper, zinc, tin, lead, nickel, iron, antimony, etc.
Before we get to the artistic aspects of the material that will be the main concern of this text, it must be noted that bronze has not been used to create big bronze statues only - this material was always incredibly popular for the creation of things such as weapons, musical instruments and medals.
The widespread personification of bronze in sculptures means it is often best known for existing in these particular forms. Additionally, this material reached its definite peak both technically and creatively through bronze statues and various sculpture types in history.
Advantages of Casting Bronze Sculpture
Common bronze alloys have the unusual property of expanding slightly just before they set, a quality that made it extremely desirable in artistic circles as it made filling the finest details a much easier feat. As the bronze cools, it begins to shrink a little, making it easier to separate from the mold.
The material's strength and ductility are also great advantages whenever figures in action need to be created, unlike the case is with most stone sculptures and wood techniques.
The most common method for making bronze sculptures is the lost-wax casting process[1].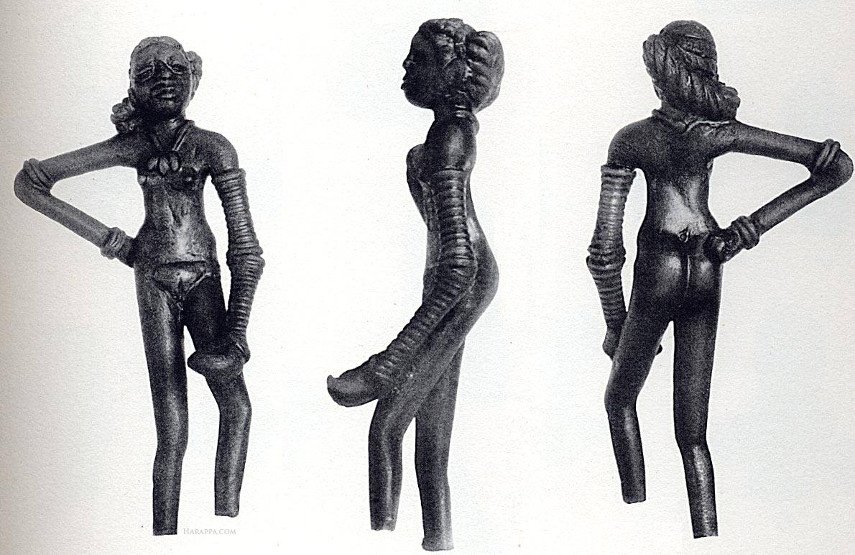 The Material's Golden Age
The great civilizations of the old world worked in bronze for art's sake ever since the introduction of the alloy for tools and edged weapons. Dancing Girl from Mohenjodaro belonging to the Harappan civilization dates back to 2500 BCE and is the oldest bronze statue still in existence. Egyptian small lost-wax bronze sculpture of figurines were made in large numbers, but the true marvels of bronze casting were made on the other side of the Mediterranean sea.
Although they were not the first ones to use the materials, the Greeks were the first to scale the bronze statues up to life size[2]. Unfortunately, only a few examples still exist in good condition - the best known is the seawater-preserved bronze sculpture Victorious Youth that required painstaking restoration efforts to bring it to its present state.
Luckily, Roman sculptures made in bronze had a much better time surviving the test of time. Both Romans and Greeks had a long history of making statuary in bronze and thousands of images of gods and heroes, victorious athletes, statesmen and philosophers filled the ancient temples and sanctuaries. These civilizations perfected the bronze casting technique to such a degree that their craftily influence on large-scale statuary continues to the present day.
The ancient Chinese should also be mentioned as they too knew both lost-wax and section mold casting techniques. During the Shang dynasty, a large number of Chinese ritual bronze statues were created, most of which was covered with complex decoration. Sets of up to 200 pieces of these sculptures were buried in the tombs of royalty and the nobility.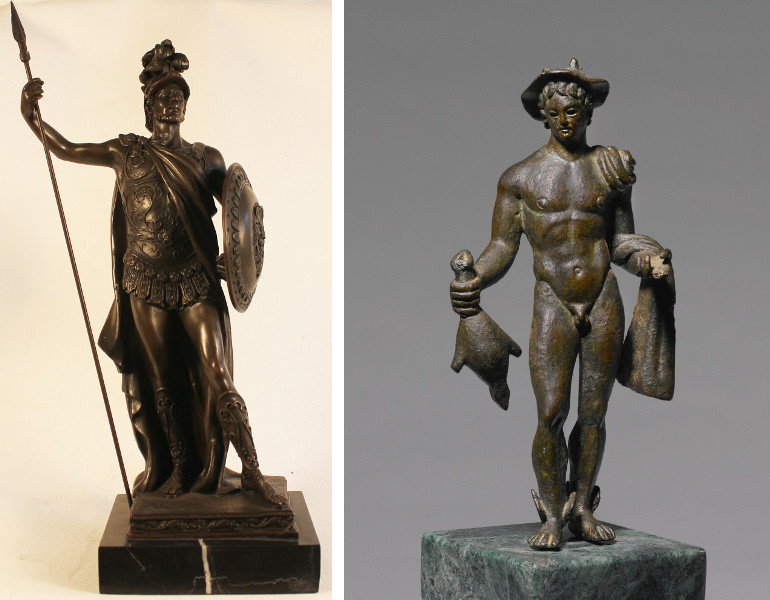 Bronze Sculpture During the Renaissance
From the time Christianity spread across the Old Continent, bronze casting was mostly lost to artisans who were more concerned with other types of sculptures - during that time, bronze was mostly used for the casting of artillery and utilitarian objects such as mortars. A huge rebirth of the material occurred during the Renaissance period that coincided with an upsurge of interest in classical antiquity.
Throughout the Renaissance, bronze was cast by the lost-wax method[3] and, around the year of 1500, founders developed the technology for replicating compositions.
Although many European cities had bronze foundries, Florence saw the first true flowering of bronze sculpture in the 15th century - the main monuments there are the two pairs of bronze doors Lorenzo Ghiberti made for the Baptistery and several key works of Donatello. The lustrous bronze sculptures of Florence set the standard for the rest of Italian sculptors and, by extent, the entire continent.
In the second half of the sixteenth century, Giambologna and his assistants in Florence continued the city's rich tradition of making bronze statues. Giambologna's art, based on the compositional principles of the figura serpentinata, echoed all over the Western world, heavily influencing the likes of the Dutch-born Adriaen de Vries and the Munich-based Hubert Gerhard.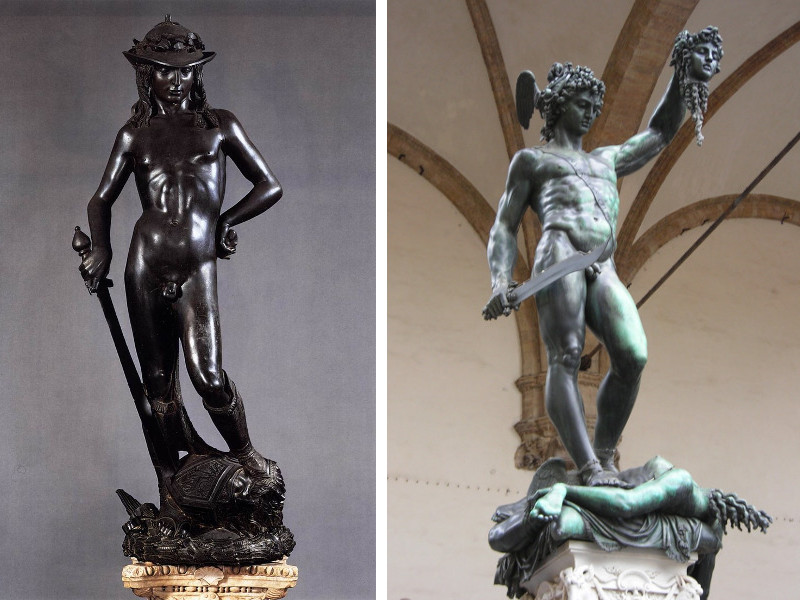 Being a Sculpture Artist During the Industrial Revolution
After reaching its Renaissance peak, bronze entered another chapter of its history that saw it get nearly forgotten while artists turned towards other methods. And it stayed neglected until the time of the early 19th century came to be.
Industrial Revolution provided the tools necessary to make bronze sculpture available in editions, a feature that vaulted it to the top of the art world once again. Foundries sprang up in the city of Paris whose sole purpose was to cast editions of sculptures, allowing hundreds of artists to get specialized in bronze. Furthermore, artists from other nations started flocking to Paris in order to study the technique.
Never before or since the Industrial Revolution has a single form of art held so many captivated in its trance as bronze did in Paris during the mid-1800s and what the artists did back then eventually established a platform that allowed the birth of the modern bronze sculpture.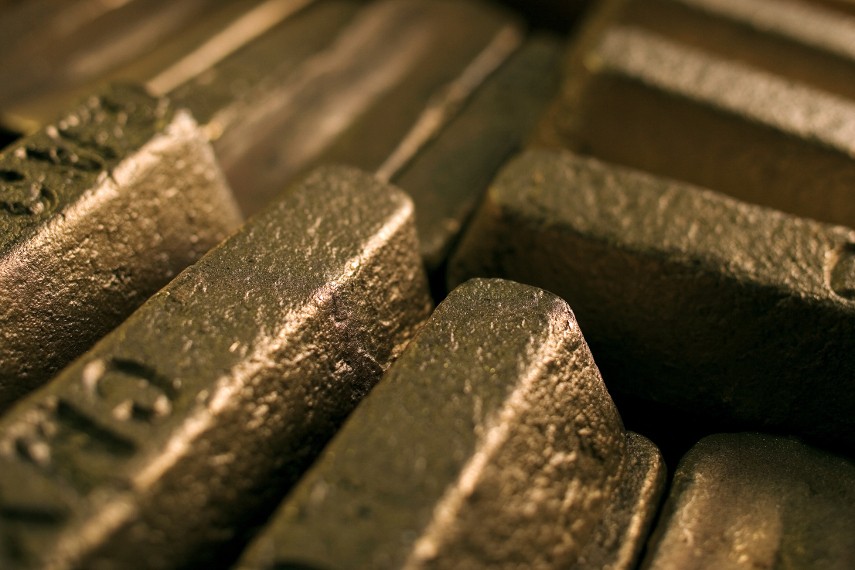 Modern Art Bronze Sculptures
Although the general consensus dictates that the ancient bronze statues are the greatest works of art of its kind, many still believe that modern bronze sculptures are actually the material's creative peak. This remains debatable, of course, but there's no denying that bronze artworks had some amazing moments of brilliance in the 20th century.
Following the First World War, numerous foundries were established because of the expanding demand for bronze statues required for war memorials that were springing up in almost every European town and city. This effectively opened the doors for artists to start experimenting with the material and see how much bronze was able to offer them in their avant-garde quests.
We will now go through the most essential and impressive examples of modern bronze sculptures made during the 20th century.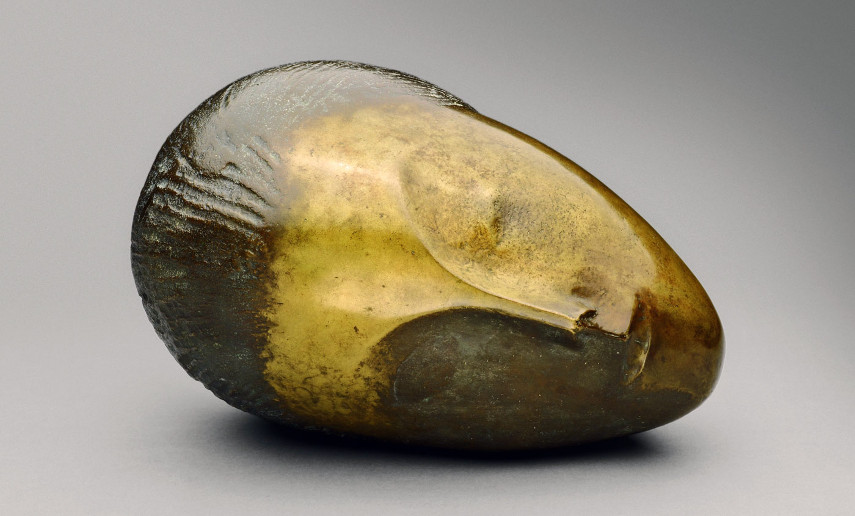 Constantin Brancusi - Sleeping Muse, 1910
Constantin Brancusi made this masterpiece in the year of 1910 and it represents the subject that occupied him for almost twenty years.
In conceiving and executing his Sleeping Muse, the sculptor abstained from unnecessary drama and detail, instead opting for a reduction to fundamental forms. Brancusi made the Sleeping Muse from a marble of the previous year for which Baroness Renée Irana Franchon was the model.
Umberto Boccioni - Unique Forms of Continuity in Space, 1913
All of the fast pace and mechanical power of the modern world that captivated the Futurists was summed up in Umberto Boccioni's Unique Forms of Continuity in Space.
Made in 1913, this revolutionary sculpture depicts a marching silhouette that appears to be deformed by wind and speed, warped in its own movement.
The figure's sleek metal contours allude to machinery of World War I. Boccioni, who was killed in action in 1916 at the age of thirty-four, hoped that Unique Forms of Continuity in Space would shatter Italian art's obsession with its classical past.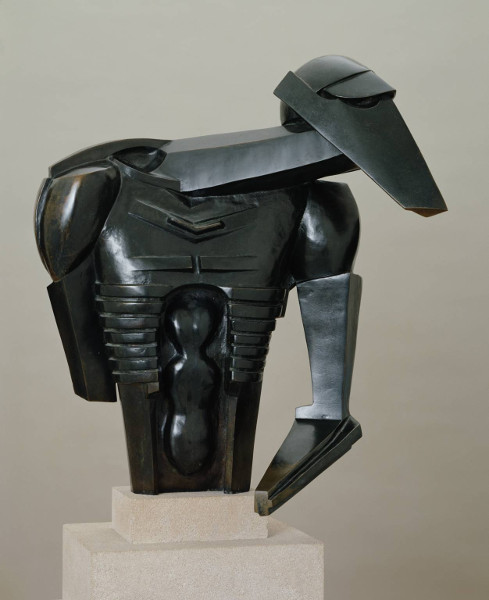 Jacob Epstein - Rock Drill, 1913
Between 1913 and 1915, Jacob Epstein made this remarkable sculpture and titled it Rock Drill. The figure is sharp-edged with its limbs square in profile and its head is a long beak-like armored visage.
The sculpture's torso has what appear to be armored ribs, while the abdomen area is an indentation containing an embryonic form. Originally, this extraordinary artwork sat on top of a real miner's rock drill in a way that the enormous drill would jut out from the figure's loins, giving the entire piece a strong phallic power.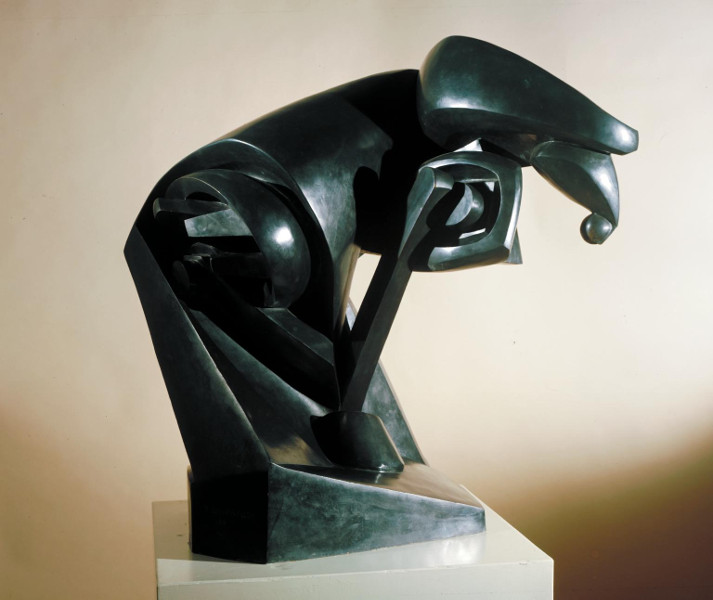 Raymond Duchamp-Villon - The Major Horse, 1914, cast 1961
Raymond Duchamp-Villon was an expert horseman who served as an auxiliary doctor in a cavalry regiment during the World War I.
The Major Horse was devised from the artist's studies of a leaping horse and its rider who synthesize into a single being, becoming an abstract evocation of dynamic energy and power. Often compared to the works of Futurism created at the same time, The Major Horse also aimed to capture the sense of motion.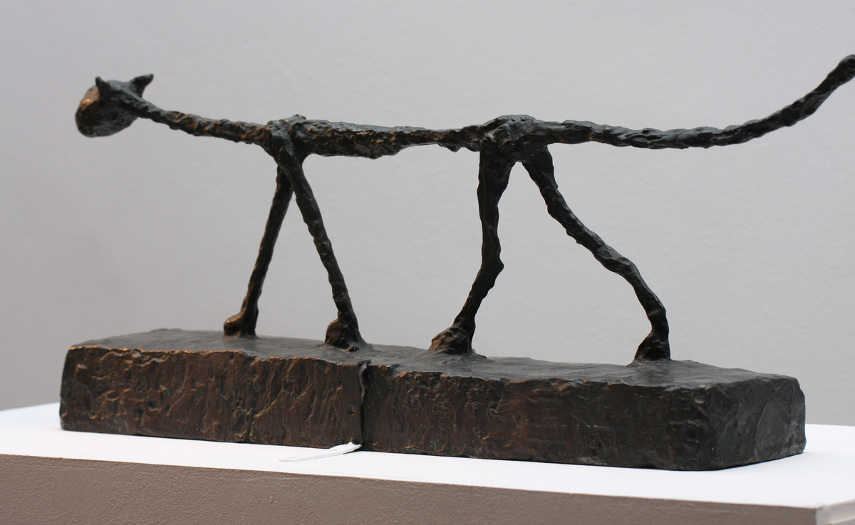 Alberto Giacometti - Cat, 1954
Remembering how his brother Diego's cat "passed just like a ray of light", Alberto Giacometti attempted to portray this grace of movement with a sculpture appropriately titled as Cat.
Squeezing its predatory form between close objects without ever touching them, Giacometti's cat is one of only a few sculptures of animals this artist made during his career - the others are a dog and two horses.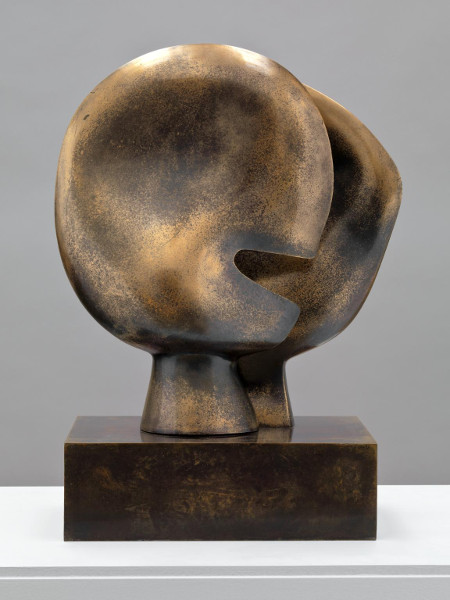 Henry Moore - Moon Head, 1964
Moon Head is a bronze sculpture comprised of two irregularly shaped disc-like forms, each stemming from a tubular neck mounted on a bronze base.
Henry Moore positioned the "disks" in parallel with each other and just a few centimeters apart, in a fashion that a part of one can always be seen behind the other. The way these two segments appear to gravitate towards and away from each other leaves an impression that the abstract sculpture had, at one time, been a single unit.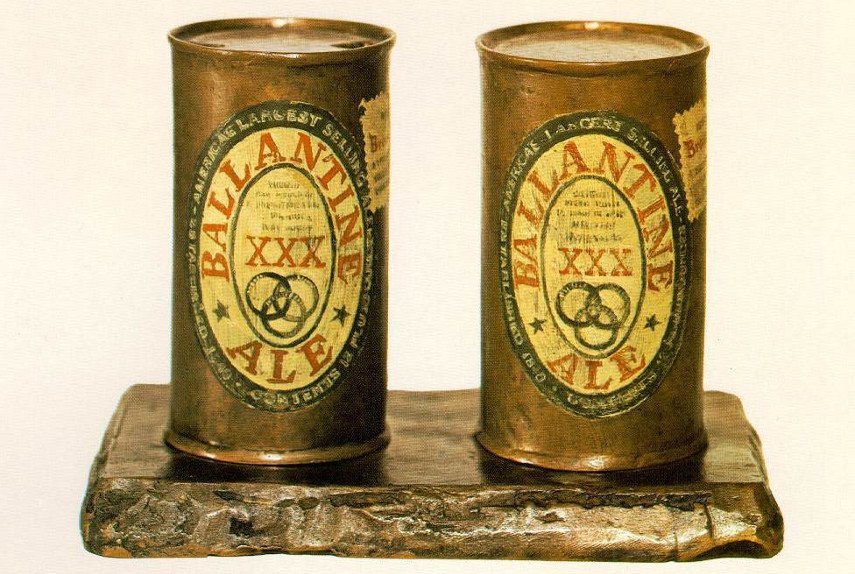 Jasper Johns - Two Beer Cans, 1960
Just like he did with more than a few of his artworks, Jasper Johns blurred the line between the actual object and its artistic recreation with the 1960's Two Beer Cans.
Johns fashioned the original sculpture in response to Abstract Expressionist Willem de Kooning's boast about art dealer Leo Castelli - de Kooning stated that "you could give him [Leo] two beer cans and he could sell them".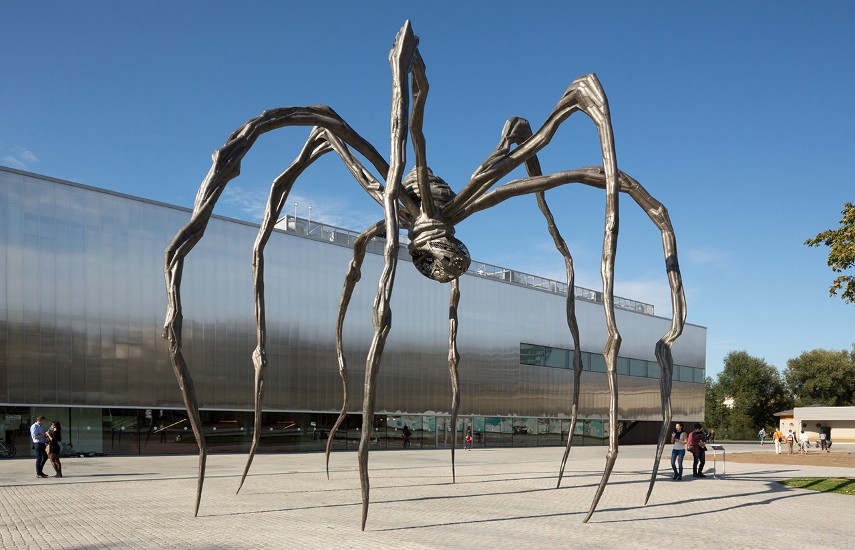 Louise Bourgeois - Maman Statue, 1999
A true marvel of contemporary sculpture, Maman is a bronze, stainless steel and marble artwork Louise Bourgeois created at the turn of the last millennium. The piece, which depicts a spider, is among the world's largest sculptures still in existence.
The sculpted spider has a sac containing 26 marble eggs, which is what gives the piece its name - Mom. Maman was created as a part of Bourgeois' inaugural commission of The Unilever Series.
Editors' Tip: Bronze
This sumptuous book examines bronze's earliest beginnings in North Africa, the Middle East and China, celebrating its durability and variability. Leading authorities chart the virtuosity of artists working with bronze in ancient Greece and Rome; showcase bronze's great flowering in the European Renaissance through the work of such artists as Ghiberti, Donatello, Cellini and, later, Giambologna; and examine bronze's use in the late 19th century through the modern era by artists ranging from Rodin, Boccioni, Picasso, Johns, Giacometti and Moore to Beuys and Bourgeois. Lavish color plates of over 150 masterworks provide a unique testament to the works of art that one medium has inspired from antiquity to the present day.
References:
Anonymous, Lost-wax process, Britannica [Dec 5, 2018]
Hemingway, C., Hemingway, S., October 2003, The Technique of Bronze Statuary in Ancient Greece, The MET Museum [Dec 5, 2018]
Draper, J. D., October 2002, Bronze Sculpture in the Renaissance, The MET Museum [Dec 5, 2018]
Featured images: Louise Bourgeois - Maman, 1999, via wikipedia.org; Emperor Octavian Augustus, via scherminator.com; Umberto Boccioni - Unique Forms of Continuity in Space, 1913, via pinterest.com; Victorious Youth, via wikimedia.org; The Wrestlers, via thecobbs.com. All images used for illustrative purposes only.