Installation art as a specific medium dates back to the beginning of the 20th century when the first kind of installations was set up by the European avant-garde artists. However, the first contemporary installations were introduced in the post-war period with the Fluxus movement and slightly later with Conceptual art. Ever since, this particular medium shifted to more elaborate and technologically complex solutions regardless of the individual approach. The recent tendencies are reasonably more related to the latest innovative technology which is being used for achieving the desired effect.
A good example is a futuristic project called Field of Light by the artist Bruce Munro, currently presented within the Sensorio project in the Californian city of Paso Robles. It is a large scale immersive light installation consisting of over 58,800 stemmed spheres lit by fiber-optics spreading across fifteen acres of surrounding hills.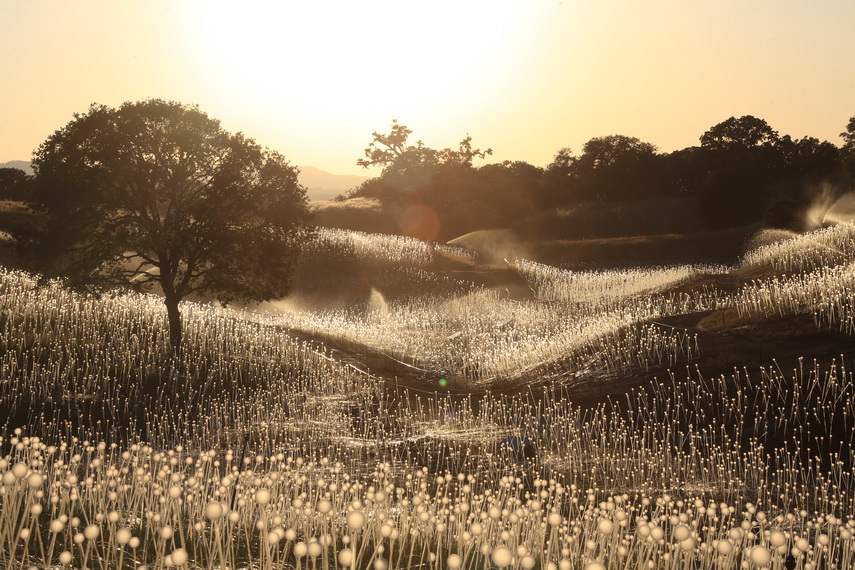 The Collaboration
Bruce Munro's critically acclaimed light-based works are an effect of the artist's continuous study of natural light and his interest in exploring collective human experiences. By combining his experience from working in the lighting design industry with an array of references drawn from literature, music, science, and the world around him, Munro constructed a particular practice focused on creating ephemeral and deeply contemplative environments to tackle the notion of our coexistence in a shifting world of tomorrow.
In collaboration with Sensorio, a large project intended for exploration, entertainment, adventure, and meditation is conceived, offering an array of amusing and kinetic experiences. The project is launched with Munro's interactive light installation, while other exhibitions and objects are prepared for an expected opening in 2021.
Bruce Munro - Field of Light at Sensorio
Brief History of The Outstanding Light Installation
Munro came to international prominence after his Field of Light installation made of three hundred and twenty-six miles of optic fiber was presented in Uluru, Northern Territories, Australia in 2016 (open for public until December 2020). However, the initial impulse of the project happened in 1992 when Munro and his wife went camping to Australia's red desert center.
The artist was fascinated with fact that the deserts which seemed infertile changed after the first rain into a heaven-like site full of bloomed flowers; impressed by that knowing, he dreamt of a field of lights that would act similarly like flowers by waiting until the night to bloom and illuminate the whole area.
The first edition of Field of Light finally happened in Munro's home field in Wiltshire in 2004, and since then he has been adjusting, extending and presenting this project on various locations (forests, urban squares, rocky hills).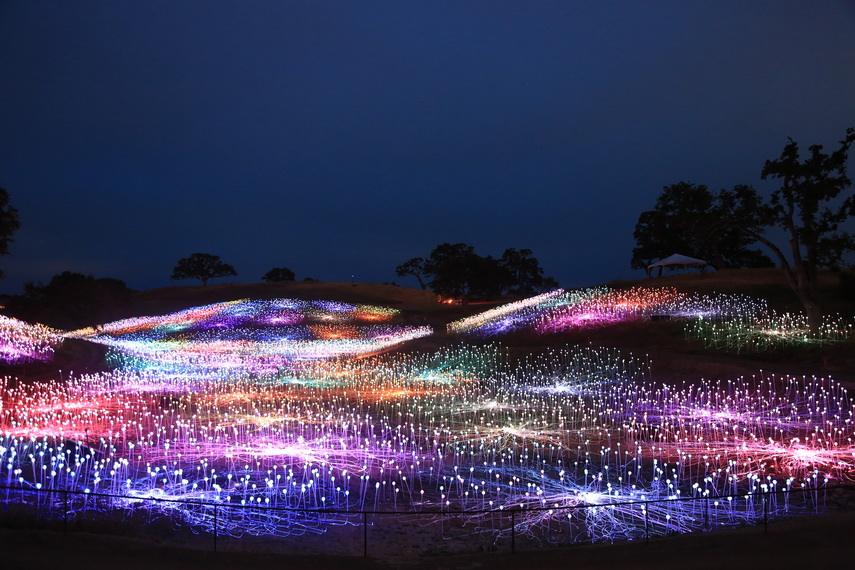 Bruce Munro at Sensorio
This impressive installation is the largest Munro ever made and it offers an exceptional immersive and otherworldly experience followed by refreshments, live music, and an exclusive VIP Terrace offering a spectacular view while dining.
Bruce Munro: Field of Light at Sensorio will be opened for the public until 5 January 2020 at Sensorio, 4380 Highway 46 East, Paso Robles, California.
Featured images: Bruce Munro: Field of Light at Sensorio in Paso Robles, CA. © 2019 Bruce Munro. All rights reserved. Photography by Serena Munro. Courtesy Sensorio.