Inspirited with sound philosophical grounds, while inspired by vistas seen on travels throughout his native Brazil, Bruno Novelli composes vivid works of art exposing his idea of existing relationships between things and their environment. Marrying graphic imagery with organic representations of abundant Amazon flora, the artist depicts fluidity of percepted boundaries, and similarity of spatial relationships in both natural and urban surroundings. Subject of his paintings radiate the vibrancy of life, as they imply continuity of mutual dependence between things, regardless of time and space. Complemented by a series of metagraphic diagrams, Materia Radiante series evokes various contemplative states the artist experiences during the creative process. Bruno Novelli brings new principles to painting, as he executes his works with astounding artistry.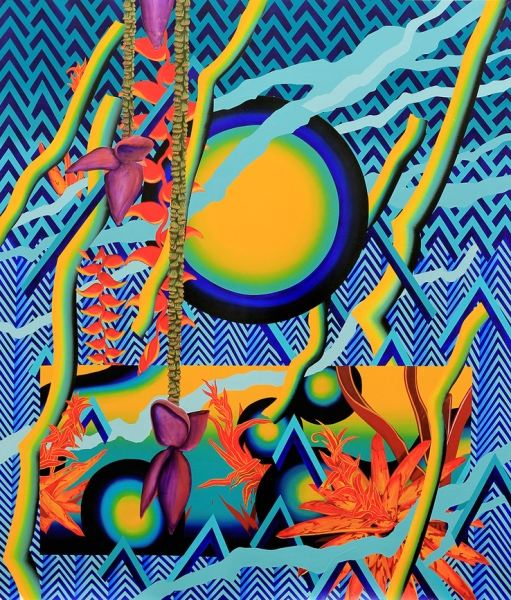 Bruno Novelli
Bruno Novelli goes under the name Bruno 9li, playing with the dual potential of his own identity. This 34 year old Brazilian artist studied sculpture in New York, drawing and graphic design in Brazil, which is visible in his work. Active in the art community, Novelli advocates interdisciplinary artistic research, and is the founder of Metagrafismo (Metagraphism), a collective experimenting with expressive capacities of metalinguistics. His work has been exhibited in Brazil and internationally, while Materia Radiante will be the first Colorado show for the artist. Based in Sao Paulo, Bruno Novelli creates in various media, exploring dynamism of geometry, surreal representation, cryptic alphabetical meanings, rituals of the Amazon, traditional painting and digital art, where animated gifs are his key interest.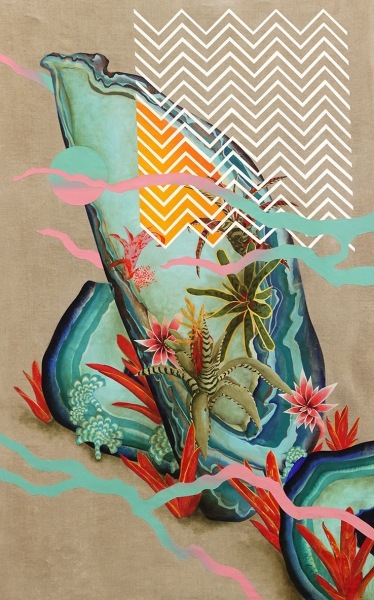 Materia Radiante
Materia Radiante exhibition represents a new body of work in different media, from canvas and drawings on paper, to digital pieces and metagraphic maps. Focal concept Novelli looks into in the series is the premise of French philosopher Henri Bergson, stating limits between an individual entity and the universe cannot be precisely defined, creating puzzling works filled with geometric and floral elements flowing in and out of one another, overlapping in an imaginary landscape. The artist selects particular natural fragments, plants or natural occurrences, and juxtaposes them in this imaginary space, frequently created with a slight help of illusionism. The palette is strong, bright, neon almost, striking, yet harmoniously defined with complementary chromatic pairs. Bruno 9li is therefore difficult to label, as his blues reminisce of David Hockney's pools, his plants and organics of Frida Kahlo's late still lives, his neon nuances of pop, his compositions of surrealism, save for the entirely abstract metagraphic panels. His visual expression is intellectually grounded, in the best tradition of visual arts, while his hand follows his inner visions without being overly tied to any definitive source. He's a postmodern artist, the contemporary renaissance creative.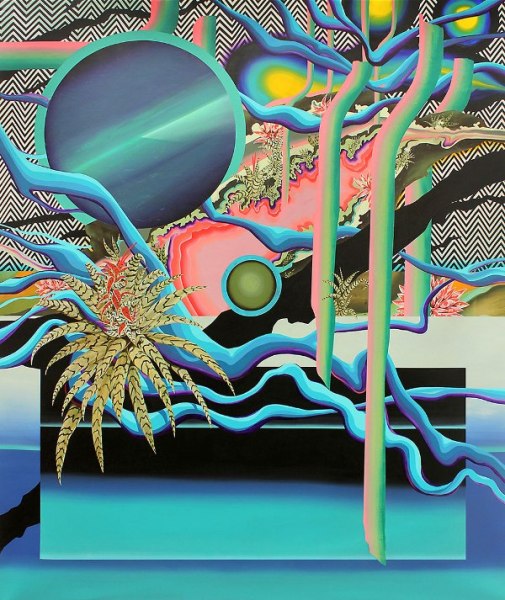 Show at David B. Smith Gallery
Imaginative, intellectual artwork by Bruno Novelli will be featured in a show entitled Materia Radiante, hosted by the David B. Smith Gallery in Denver. The inaugural Colorado exhibition for Novelli opens on August 14, and artist will be in attendance at the event. The show will run through September 13, 2014.
The exhibition at David B. Smith Gallery will be enhanced by creation of a big public mural signed by Bruno 9li, to be painted in Confluence Park, merging inspirations from the exhibition and the artist's perception of Denver, thus contributing to the revitalization of the area, supported by The Urban Arts Fund.
For more events see our Events page.