Airplanes that crash into the clouds, centaurs that cut off the head of half-men half-horse creatures with scissors, mermaids that are carried by fish with legs, dromedaries that fit their cubic-shaped humps into each other – these are all scenes from a fantastic universe created by the artist Bruno Pontiroli. Often described as a dreamer, the French artist has created his own highly imaginative alternative world comprised of the absurd and paradoxes. Often imbued with humor, his oil paintings incorporate distorted figures and inanimate object that are living. Painting objects that emerge from his dreamlike visions, he tries to expand our limited understanding of the world and our own lives by depicting scenes that are as comprehensible as they are familiar. In his works, fantasy is depicted as reality and filled with things incompatible and paradoxical. Easily balancing between opposing universes, distorting or mixing them allows him to question the identity of things so that he can reinvent them. Often being described as Surrealist and Dadaist, the artist simply aims to propose another version of reality, a different way of seeing things.
To find out more about his alternative world, we had a chat with Bruno Pontiroli. In an exclusive Widewalls interview, Pontiroli talks about his latest show, his sources of inspiration, the meaning behind his imagery, the working process, his previous experience with street art, future plans and projects, and much more. Scroll down and enjoy!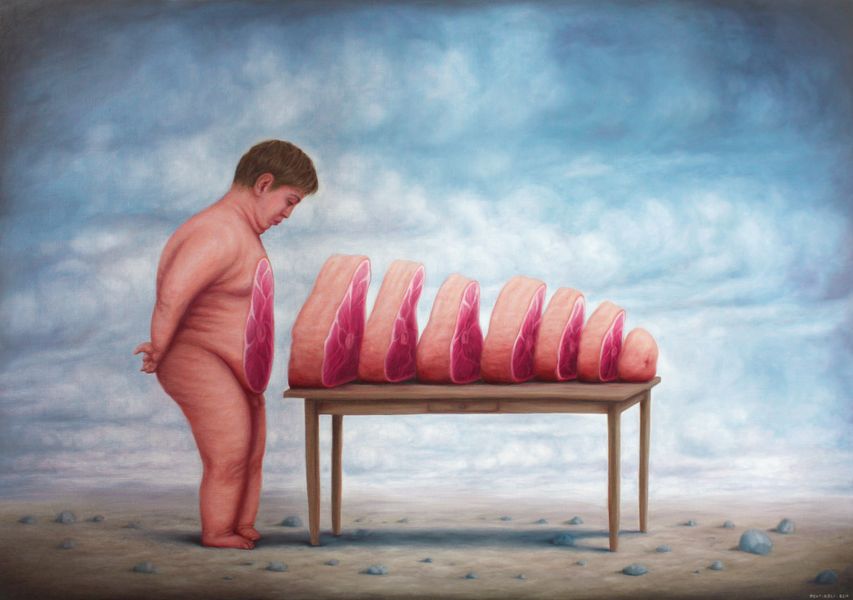 The Fousion Gallery Exhibition
Widewalls: Your solo show titled Le sens du poil was recently on view at Fousion Gallery. Could you tell us something about this latest body of work?
Bruno Pontiroli: With "Le sens du poil" I worked around the Animal and the Human and the relation that the latter has with the former. I try to play with the specificities of each subject, mixing them up, twisting them or even deforming them to create an absurd or even quirky picture.
Widewalls: You have created your own highly imaginative alternative world comprised of paradoxes and the absurd. Where do you draw your inspiration from?
BP: Most of my ideas come from a reverie moment. I usually find something out of which I wish to make a painting and turn it round and round in my mind until I find this detail or particular thing I can start working from. And that will become the basis of the overall picture.
Widewalls: Your work is often described as Pop Surrealism. What does this term mean to you and how would you best define your work?
BP: More than surreal or fantasy, my work is about the absurd, my subjects being easily identifiable and familiar, only in a bit of a twisted situation.  If I had to give my own definition, imagining no other existed, I might go for Absurd-realism. This being said, "pop" is associated with something fun and positively surprising in my mind, so in that sense, my work definitely fits into Pop Surrealist.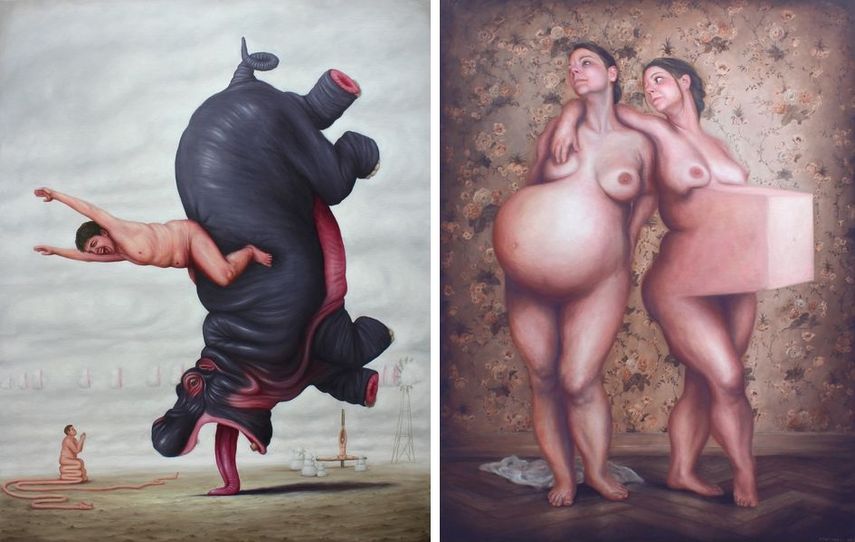 The Working Process
Widewalls: In your paintings, inanimate objects are living, often being depicted with a variety of inner organs. What are you trying to convey with this imagery?
BP: Inner organs give more power to my intention of making my subjects alive - to give them body in a literal sense. It is also a way to create contrast, including the color palette. It makes the whole scene more vivid, in all the senses of the word.
Widewalls: Figures in your paintings are often elongated, distorted or fused with an animal body. How do you conceive these characters?
BP: I've had the opportunity to look at my son play with modeling clay and I think it's actually a very similar process, although in my case it's rather a mind thing. I start with a basic idea in my mind, that I really bully and indeed distort, blend with other subjects, deform and reform... until I'm satisfied.
Widewalls: Could you tell us something about your working process?
BP: When I have an idea, I draw it. This way, I know if an idea graphically works or not. I usually use old ideas to build the surrounding universe. Then, the painting process is rather classical: sketch, Oil painting, glazing, and I can start this process over again if I don't like the colors.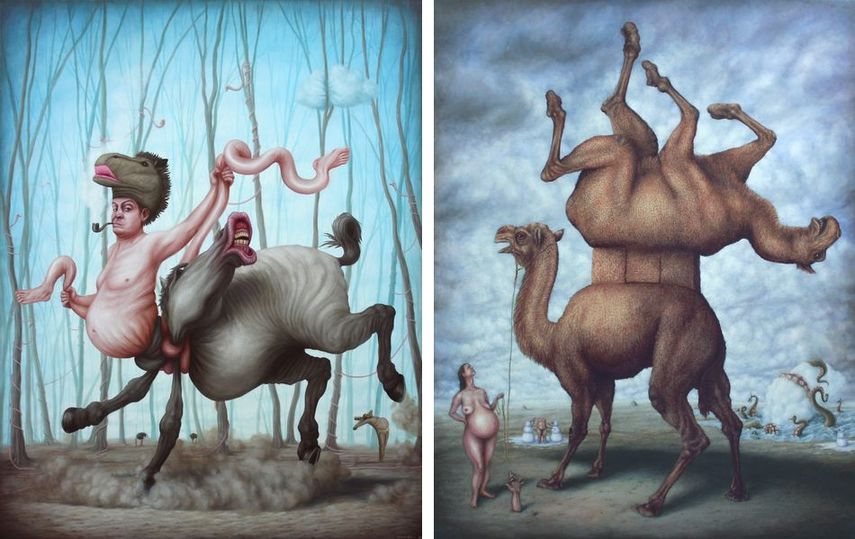 The Inspiration And Influences
Widewalls: Earlier in your career, you made graffiti on subway trains in Paris and other major European cities. Could you tell us more about this period in your life?
BP: It was like playing cat and mouse. Evading security systems to get inside a yard or a tunnel and make a 10-minutes painting on a metro is definitely something exciting, extreme even. It's hard to describe. In such moments, you get to know yourself better and also to know the people you hang out with better. I don't do such performances anymore, but I admit that I often think about these years with sweet nostalgia.
Widewalls: Who were your influences and whose work do you appreciate the most today?
BP: The artists who impressed me the most when I first started painting were Magritte and Topor, because of the ideas that their works convey. Today, I am as much inspired by François Boucher's and Elisabeth Vigée Le Brun's paintings as by Pop surrealists artists such as Todd Schorr, Mark Ryden, and many other artists less famous but no less exceptional.
Widewalls: Do you have any future plans and projects you would like to share with us?
BP: I will be at various events this year with Fousion Gallery, including Urvanity Art Fair in Madrid and Blooom Art Fair in Germany. I'd like to thank Widewalls for this interview and of course Fousion Gallery for the work they've been doing in the last months (and continue to do) in promoting my work.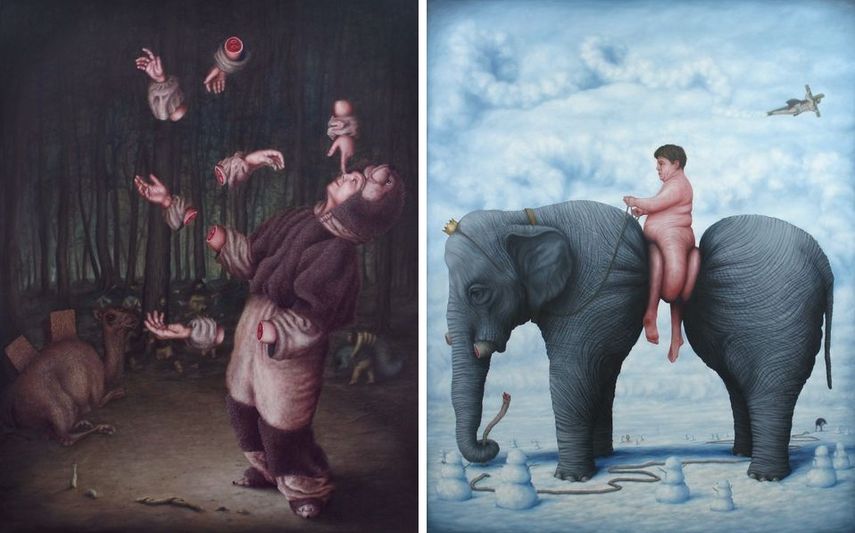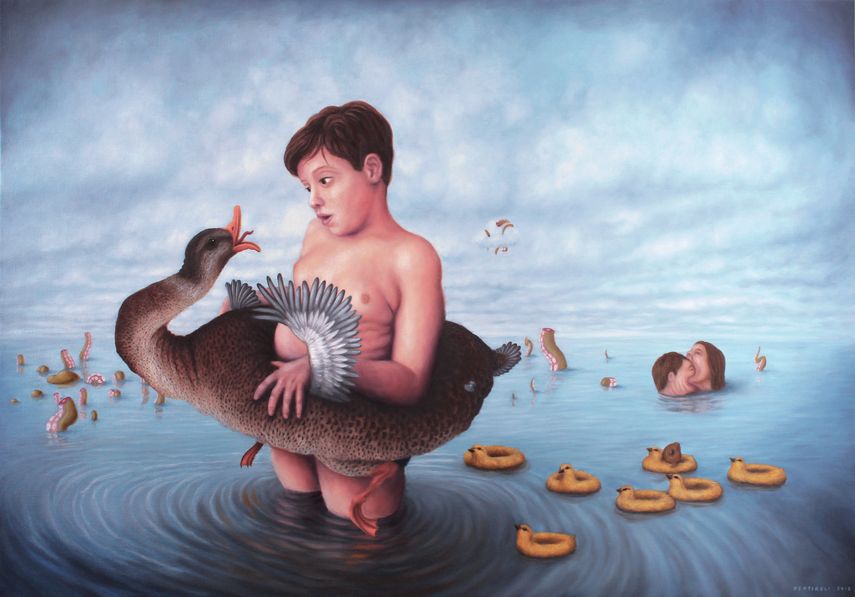 Featured image: Bruno Pontiroli in his studio. All images courtesy of the artist.