The Collectors Tip found a valuable article about building your art collection like a professional by Alan Bamberger of ArtBusiness.com. Bamberger is known art consultant and an expert on the art business and market. For years, he was a specialist dealer in rare and out-of-print art books.
Bamberger's lengthy article, titled How to Collect Art Like a Pro – Building a Collection, is actually a revised version of a speech originally given to the Friends of the Mint Museum in Charlotte, North Carolina. It offers practical advices on building a meaningful, consistent and organized art collection along with the techniques for maximizing the value of your art. In fact, it's a Project Management Survival Kit for art collectors.
How to Collect Like a Pro
Everybody collects something, be it holiday souvenirs, records or stamps. For most of us, collecting is pure enjoyment, some unfortunately end up with a hoarding disorder, but for those clever ones it's a matter of life-long meaningful grouping which is never complete and needs constant improvements. It's the ultimate case of controlled purposeful buying. Widewalls has prepared a short overview on how to find your own way in the maze of art collecting based on Mr. Bamberger's key article.
First and foremost, you have to master two basic skills in order to collect art like a Pro. The first is being able to effectively research, evaluate and buy any single work of art that attracts you. The second is being able to choose each individual work in such a way as to form a meaningful grouping. But, let's go one step at a time.
Be true to your tastes. Buy what you like.
Whether you are serious or recreational collector, following your personal preference is a first step toward separating out specific works of art from the millions of pieces already in existence. Art can be found just about anywhere. However, while doing this, don't be afraid to experiment. Periodic reappraisals of your tastes are always a good idea. What excites you today could easily bore you tomorrow. A quality collection is always evolving and never static. The best way to buy is to buy what you like, but as you gain experience, bear in mind that your initial reasons should become "polished", in other words, more conscious, sophisticated and purposeful.
Educate yourself, including knowing the marketplace
Be an informed buyer. Know as much as everything you can about what you collect. Learn from the experts, as many different as you can find. Along the way, try to get to know as many people as possible who sell what you collect. This also prevents you from overpaying.
Let your collection be aimed. Have the master plan.
In a superior collection, every piece belongs; nothing is random or arbitrary. The best collectors have a direction in their overall plans. They pose a problem and then illustrate the solution for it by piecing together a collection. Ask question like: Does it take me to a special place?
Documenting your collection
The point is that good documentation positively impacts not only dollar value, but also the ability to personally appreciate and understand a work of art. Be a museum archivist! Include information like: sellers' stories relating to the art you've purchased, biographical and career information about the artist, when the work dates from, whether it's ever been exhibited in public, written about or featured in any other way etc. If you own undocumented art, write down everything you can either from memory or by contacting the sellers.
And save your receipts! Not only does good documentation tend to increase the value of art, but the documentation itself often has value and that value can increase as well. Besides receipts, you should save certificates of authenticity, exhibition catalogues, reviews, gallery brochures, descriptive written statements from artists or dealers, and whenever possible, photograph the artists who you collect.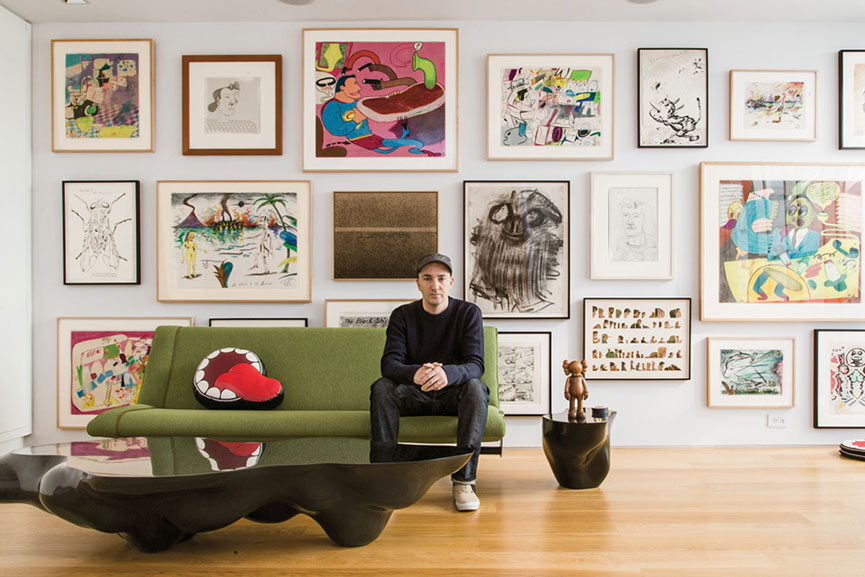 Organization and presentation
Superb collection is superior because it is also well organized. It has a beginning, a middle, and an end. You can organize your art in many ways, either by artist, by style, by date, or by region. The possibilities for formulating and presenting a collection are limitless. Think of it as if you are preparing an exhibition. Or as if you need to walk someone through your collection and tell him its history. Additional benefits to organizing your collection are that you can see where you've been, where you're going, where you have duplication, where you're weak, what you're missing, what no longer makes the grade, and what you have to do to resolve any problems.
Make a plan for future owners
The worst possible outcome for a collection occurs when the owner passes away leaving no information about the art, how much it's worth, how to care for it, or how to sell or donate it. Countless collections have been resold for pennies on the dollar, given away, or even thrown in the trash because the collectors kept little or no records and left no instructions on what to do with their art. Therefore, the final step of "collecting art like a Pro" mastery is to plan for future owners - whether they'll be museums, institutions, family members, friends or complete strangers, and provide them with a complete list of options and instructions concerning your collection. These include names, addresses, phone numbers, procedures, dollar values, and all other particulars for selling or donating as well as for dispersal within the family. Another thing, cover all bases by providing insurance or replacement appraisals should your descendants decide to keep or donate the art. Also include realistic wholesale or what's called "fair market values" should they decide to sell it.
If you plan to keep your collection within your family and loved ones, start educating them about what you own right from this moment. Make sure that they understand how important it is to you. You can't control the ultimate outcome, but at least you can have your say and know that you've done your best to collect like a pro.