Japanese artist Taku Obata has his first United States solo show entitled Bust a Move now showing at the Jonathan LeVine Gallery in New York. Bust a Move features Taku Obata's life size sculptures, created from wood and acrylic and influenced by classic b-boy style and the artists own involvement in the b-boy scene. The colourful sculptures capture a range of figures caught in the act of break- dancing, mid battle in their dance offs, a moment caught in time with exaggerated hats and glasses emphasising movement against the static sculptures creating a slightly surreal images. Taku Obata for this exhibition has combined his cultural roots in the use of traditional Japanese wood-carving, with his love of the modern culture of urban dance, that he was heavily involved with in the form of Unityselections, the hip hop dance crew he formed in 1999. His understanding of how the body moves during the dances has led Taku Obata to create strong sculptures full of energy, ready to burst to life before your eyes and embellished with old style b-boy jumpsuits and essential fashionable accessories that also gives it a slightly humorous feel. Also on show are a range of ink and coloured pencil drawings capturing b-boys in mid dance, again full of the energy and movement that can be seen in the urban dance form along with bright and garish hues in classic break dancing style. Taku Obata is redefining the b-boy genre with his involvement in art, music and dance.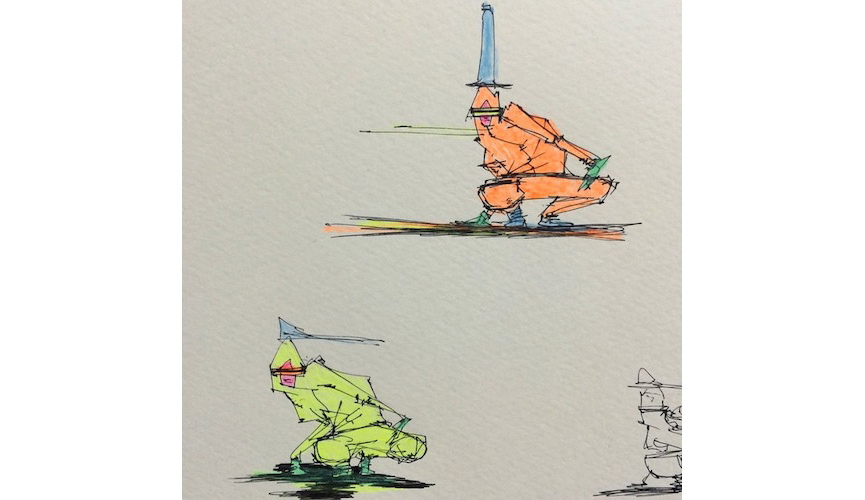 Taku Obata
Taku Obata was born in Saitama, Japan, 1980 where he is still based. He became heavily involved with the Japanese B-Boy scene and in 1999 created the Unityselections hip-hop dance crew and later in 2007 creating hip-hop sentai B-boyger. Obata attended the Tokyo University of the Arts, receiving a master's degree in sculpture in 2008 and followed this by winning the grand prize at the Tokyo Wonder Wall Grand Prix. His b-boy influenced work has been exhibited extensively in Japan and the Bust a Move exhibition sees Obata present his first solo show in the United States.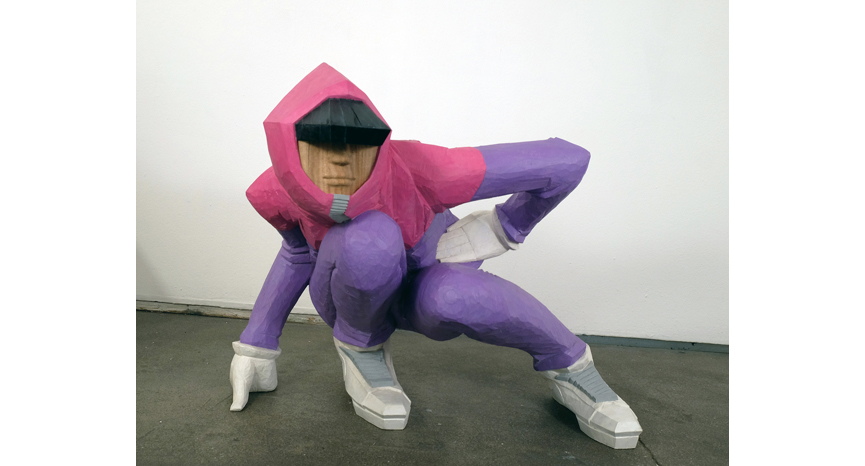 Jonathan LeVine Gallery
The Jonathan LeVine Gallery has deep roots in underground and punk culture. Created by Jonathan LeVine in 2001 under the name Tin Man Alley before a change of name and location in 2005, LeVine drew upon his punk rock roots and love of punk flyers, comics, graffiti and tattoos to originally organise art shows in punk and alternative rock venues before pursuing his own gallery. The aim, to explore art at all levels between the low and high brow, the gallery was partly responsible for nurturing the careers of artists such as Shepard Fairey, Invader and Olek and they show a dedication and love for all the artists they work with. The Bust a Move exhibition by Taku Obata runs from November 22nd, 2014 until December 20th, 2014.
Keep up to date with the latest moves on My Widewalls!