Copenhagen based V1 Gallery has announced a new solo Cali Thornhill Dewitt exhibition entitled Busted on the Hot Spots that will showcase the Canadian born artists work that is based on internet imagery and lettering. Now working out of Los Angeles, Cali Thornhill Dewitt is a man with his fingers in many projects including running a record label, making t-shirts, creating mixtapes and zines amongst a myriad of other things in true punk rock spirit. Busted on the Hotspots at V1 Gallery focuses on the artwork of Cali Thornhill Dewitt that juxtaposes internet imagery and lettering culled from various sources creating new meanings from the words and images we have mostly become immune to. The Copenhagen based V1 gallery has been home to exhibitions such as Emotional Manipulation by Matthew Stone, Electric by John Copeland and This Place Not for Me by Cody Hudson in the past.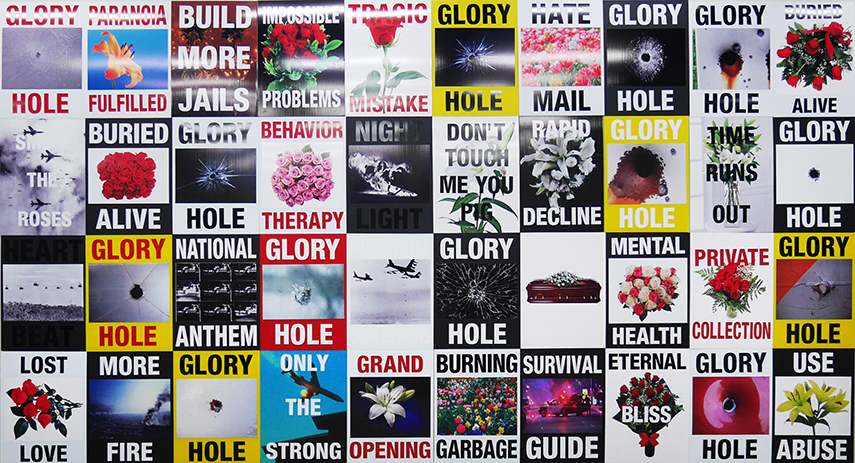 Internet Imagery and Lettering
The Cali Thornhill Dewitt exhibition, Busted on the Hot Spots, at V1 gallery is an immersive solo exhibition that causes us to pause and reflect on our complicated and fragmented modern world via compositions based on internet imagery and lettering. The artworks of Cali Thornhill Dewitt carry on the themes of reflection, engagement and social critique that were raised by artists such as Barbara Kruger (see Semiotics of the Popular), Jenny Holzer (see the video Protect Me From What I Want), John Giorno and Mike Kelly, that sees the artist incorporate internet imagery and lettering lifted from advertising slogans, spam mail, news headlines and other everyday mundane phrases that have become so ingrained in our culture that they have become invisible to us. Busted on the Hot Spots works by serving us up strong images that we see daily but no longer react to and places them in a new context with unexpected slogans creating new messages such as the words Glory Hole with an image of a bullet hole and Smell the Roses with a flock of B52 bombers dropping their lethal cargo. But the Cali Thornhill Dewitt exhibition should not be viewed as nihilism or apathetic, but is instead designed by the artist to offer subversive defiance and hope in a time of overwhelming advertising and political interference in our lives.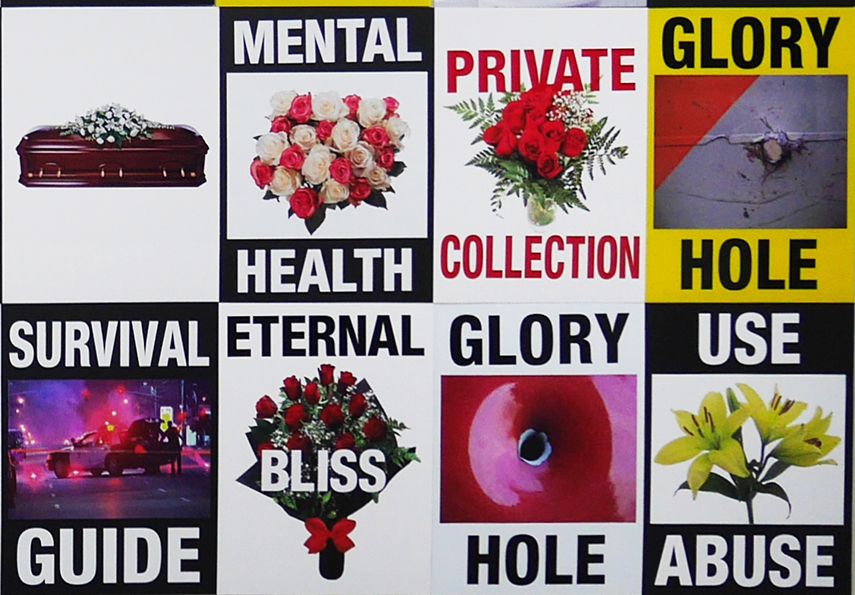 Cali Thornhill Dewitt
Born 1973 in Canada, Cali Thornhill Dewitt now works out of Los Angeles and when not creating art from internet imagery and lettering scavenged from spam mail he is busy with what seems to be a million other projects. This includes running his own record label and publishing house called Teenage Teardrops with his wife and collaborator Jenna Thornhill Dewitt, while the couple also maintain a photography blog, Witch Hat. The artist has had several books of his work published and regularly produces zines and mixtapes, sometimes in conjunction with each other so you listen to the mixtape that is made to go with the images. As if that is not enough, you can also find Cali Thornhill Dewitt creating t-shirts and sweatshirts that are part fashion and part art, often containing slogans similar to his artworks. He has also been known to direct music videos! You may wish to check out the Extracts With No Romance article, the work of Nebay in Nebay at Wallworks and the work of Judith Supine in Judith's Golden Child.
The Cali Thornhill Dewitt exhibition, Busted on the Hot Spots, opens at the V1 Gallery in Copenhagen on 21st February, 2015 and runs through until 21st March, 2015. Opening reception 20th February, 2015, 17.00-22.00.
For all the latest exhibition news sign up to My Widewalls today.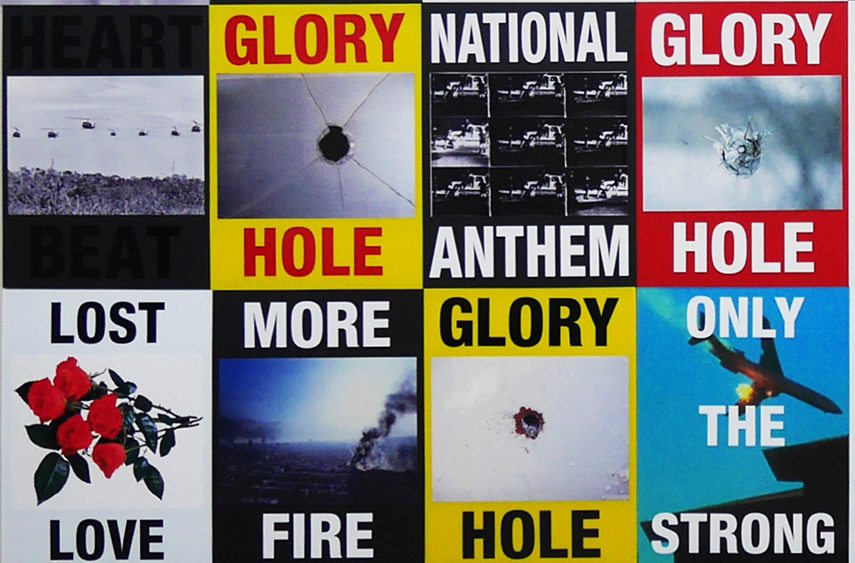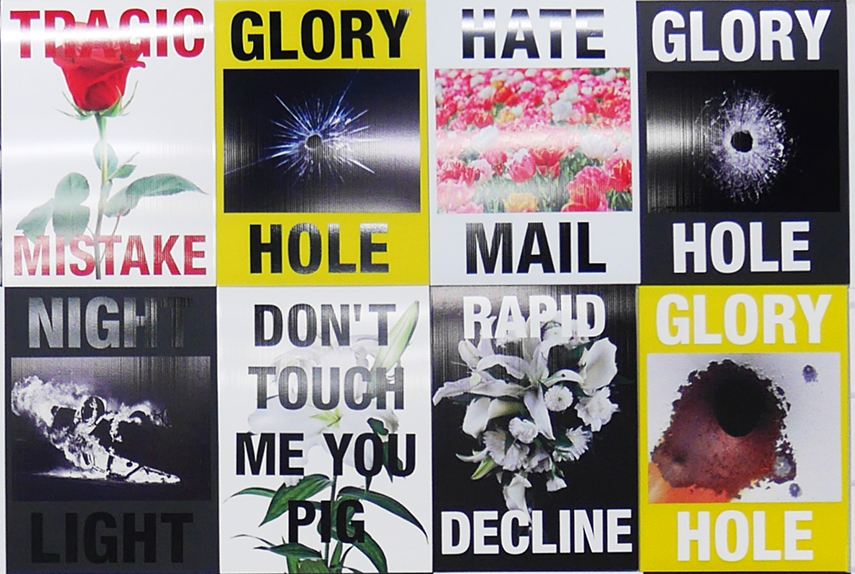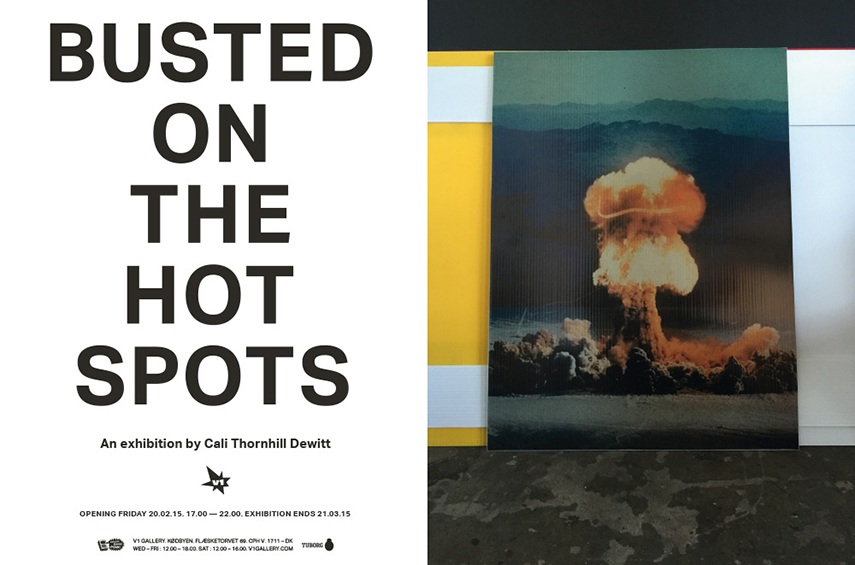 Images courtesy of V1 Gallery & Cali Thornhill Dewitt.