Butch Anthony's process of constructing art is so simple, it makes a full circle stretching beyond "ordinary" routines of creative endeavors. It's modest, understandable, down to the ground approach that produces such vast collection of exceptional artwork. During his creative process, Anthony walks all over his 80-acre family farmstead in Seale in Alabama, and finds things – bleached out cows' heads or dead bird carcasses, pieces of wood, or maybe prehistoric embedded life forms from a creek bed. These debris of life, serve(d) to him as an building material for his artwork. Exhibition entitled "Butch Anthony: Via Post Mortum" encompasses recent recycled and up-cycled pieces by the artist and it is on display since 6th of November at Akron Art Museum.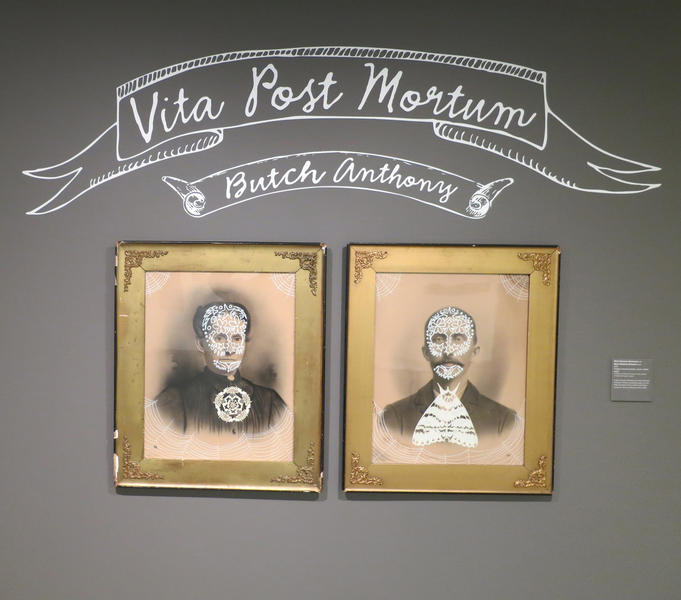 Vita Post Mortum
For this particular collection "Vita Post Mortum," Anthony purchased a number of old portraits from all sorts of stores and markets. Some of the pieces he bought are dating back to middle of 19th Century .This is where Anthony's ingenuity stepped in following his virtuous approach. He portrays story around subjects depicted on the paintings while putting them into his imaginative and personal context. Insinuating the process of taking MRI photos, Anthony is trying to connote the notion of looking through the subjects  while entering their bare essence. This specific genre of work is called "Intertwangelism"—an ism of his own creation—stating: "If I make up my own 'ism,' no one can say anything or tell me I'm doing it wrong."
Butch Anthony
Butch Anthony describes himself as an artist, builder and picker of things. He's known as the person-in-charge in auction house called Possum Trot and his own museum called The Museum of Wonder – both on his Alabama property. This is truly a wondrous place to breathe in. He is also the creator of his own house that he built from scratch by using scraps of lumber taken from a deserted cotton mill. His hand-built home has even been featured in the New York Times! Anthony has exhibited his work throughout the United States and recently at Black Rat Projects in London. He was also featured in "Memento mori" exhibition we've written about earlier this year. Vita Post Mortum is the artist's first solo museum exhibition and will run through 25th of January next year.
If you enjoyed reading this post and interested in finding out more about upcoming exhibitions sign up for My Widewalls today!