It was a bit more than a decade ago when the world first heard the term "calligraffiti", which came to describe a writing style in art - one that combines calligraphy and graffiti. The street art connoisseurs among you will also remember an exhibition dedicated to what can now be considered a phenomenon in 2007, which helped spread the word throughout the world.
"I named it in 2007, did a big show in Amsterdam, but I didn't realize it was gonna be such a big worldwide movement!" says Niels Shoe Meulman, the movement's founder, as we are sitting backstage at the 2018 Urban Art Fair in Paris. "I was the only one doing something like that, and a lot of people got inspired by what I did."
Indeed, Calligraffiti became an interconnecting platform created to promote the art of writing, the art that successfully marries "traditional handwriting with a metropolitan attitude".
Niels Shoe Meulman presents Calligraffiti
10 Years of Calligraffiti
Indeed, a 10-year anniversary celebration was in order for Shoe, but also for the Unruly Gallery in Amsterdam, of which he is also a part. They decided to create a series of prints, so they invited 10 Calligraffiti ambassadors around the globe to create exclusive work which translates the graffiti language onto a silkscreen.
But this is no easy task.
After they're made in The Netherlands, the prints are then sent to be personally signed and numbered by the artists, who come from different corners of the world.
Shoe tells me about an interesting situation: "Last year, Mode2, Bando and me did a wall together, and from the three designs I made a print, and it's already printed and it looks beautiful! But Bando lives in the Dominican Republic, Mode lives in Berlin and I live in Amsterdam, so we're trying to [find] one moment where we're together, then we can [all] sign it. Hopefully it will happen this summer."
Right now, four out of the prints in the series are ready so far - two by Shoe, one by Stohead and one by French artist SOEMONE. "Hopefully we'll do a Calligraffiti show with all the prints, when they're ready - 10 year anniversary, 12 years after!" announces Shoe.
In fact, the show might take place at the Street Art Museum in Amsterdam, which is to open in 2019. "We also teamed up with the guys who did 'The Art of Writing Your Name' book, Patrick Hartl and Christian Hundertmark. They are also included in the Calligraffiti ambassadors shortlist, so maybe they have an idea about where else we can do it, in case the Museum doesn't open by then."
Hartl and Hundertmark also played a role in the Calligraffiti project, by selecting new Ambassadors like the US artist Bisco Smith. "This was good because they introduced me to names I didn't even know about," says Shoe.
Calligraffiti Ambassadors started with a Facebook page, which now has almost one million likes. In 2015, Shoe handed over the scepter of Calligraffiti to a total of 50 selected artists worldwide. "I wanted to get people from all over the world and an equal amount of female artists, but when selecting the final twelve artists for 2018 I ended up with mostly European guys. So this might be a call for female artists [to join]!"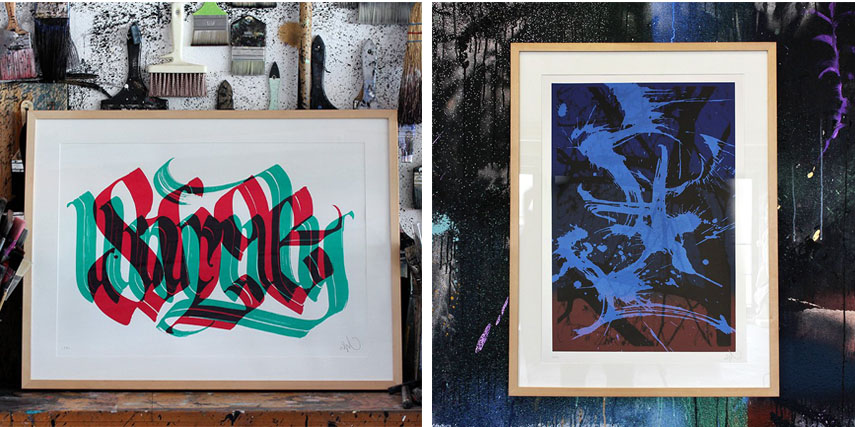 A Journey to Marseille
Earlier this year, Shoe was invited by Mode2 to visit Marseille and the spectacular exhibition dedicated to Dondi White and hosted by Ghost Galerie. "I think it's called Ghost Galerie because it sort of comes and goes," he explains. "It's two collectors who are in charge of it and I think they realized that Dondi's work can be appreciated by both "hardcore" graffiti writers, but also by new, or not-so-new collectors."
Shoe and Dondi met in Amsterdam in 1984 as young boys. Dondi had come from New York and formed a special relationship with the city's Yaki Kornblit Gallery. "He was always drawing with blue ink on this aquarelle paper, and he such a fine way of doing it. The Dondi stuff is still interesting for [today's] kids, and his aesthetic is still so appealing; you can see it's the same energy as a Motherwell, for me at least."
While in town, Shoe and Mode2 created a mural with two local artists, Gamo and Difuz. While Mode2 did a tribute to Case2 ("quite an interesting figure on the early New York train-writing era"), Shoe did a tribute to Dondi, which reads "Bus129", one of Dondi's street monikers. "Somehow, the calligraffiti style and the very straight, simplified lettering outlines, they went really great together."
The Writings of Niels Shoe Meulman
A graffiti pioneer from Amsterdam, Shoe could be described as a poet on canvas, and someone who keeps pushing the boundaries of urban art.
He is also someone who thinks it's better to talk about what you have done rather than what you will be doing. We got to talking about the "evolution", in his own, but also art in general.
"For a lot of artists, you can say 'oh, that reminds me of this or that!'. There's no shame in that, as long as they pay a tribute, and they're being honest about where they got it and that they do not act like they invented it themselves. I always said, I didn't invent my style, it's just something that naturally flew from my head and my hand. This obviously influenced my medieval calligraphy, but also Eastern/Japanese/Chinese calligraphy. It's not something new coming out of nowhere."
And does this provide enough material for Shoe to experiment?
Inspiration usually comes without you knowing it. You don't even have to realize that what you're doing is perhaps [based on] something you saw [somewhere] two years ago and it got stuck in your head and it never left you, but it might be that it unconsciously comes out as well. It's always interesting to question your own stuff and where it comes from.
If you're wondering where to see Shoe's work next, he is having a show with Tinney Contemporary in Nashville, which opens July 7th, then another solo exhibition with Ghost Galerie in Marseille in early 2019, and as many as three group shows in Paris, with The French Art Dealeuses.
Editors' Tip: The Art of Writing Your Name: Urban Calligraphy and Beyond
Stylish lettering has always been of great importance within the graffiti and street art movements. Over the last 25 years, many artists have pushed the practice into a powerful stylized calligraphy. The Art of Writing Your Name follows the arc of this movement from its earliest practitioners, like Chaz Bojorquez to more recent adopters, such as Usugrow, profiling 35 of the worlds hottest urban calligraphers along the way. Niels SHOE Meulman is a foundational artist in the movement, but others such as Cryptik, JonOne, L'Atlas, SABER, Faust, and Vincent Abadie Hafez also light the way.
Featured image: Niels Shoe Meulman. Credit Magic City Munich.