We all know that calligraphy is a practice crucial for Chinese tradition. In fact, China was the one to start this tradition and deliver it to the rest of East Asia. So it could be the reason why Sun Ping, whose art is usually described as controversial and provocative, aimed to confront calligraphy with a sort of "sexual" performance. In short, what he did is invent vagina calligraphy – an act in which a woman is using her labia to hold a brush, in order to make calligraphic drawings. The performance is filmed and photographed, which is how it is delivered to the audiences, but we are not sure if they ever take place in front of an audience. Nevertheless, these strange vagina performances were not well received by the Chinese Artists Association (CAA), as they decided to revoke Ping's membership a week ago. Apparently, they described his lettering practice as "vulgar", "uncivilized" and "low class". One of the comments quoted with regards to the issue was: "I just want to know why you can't write with your hand ".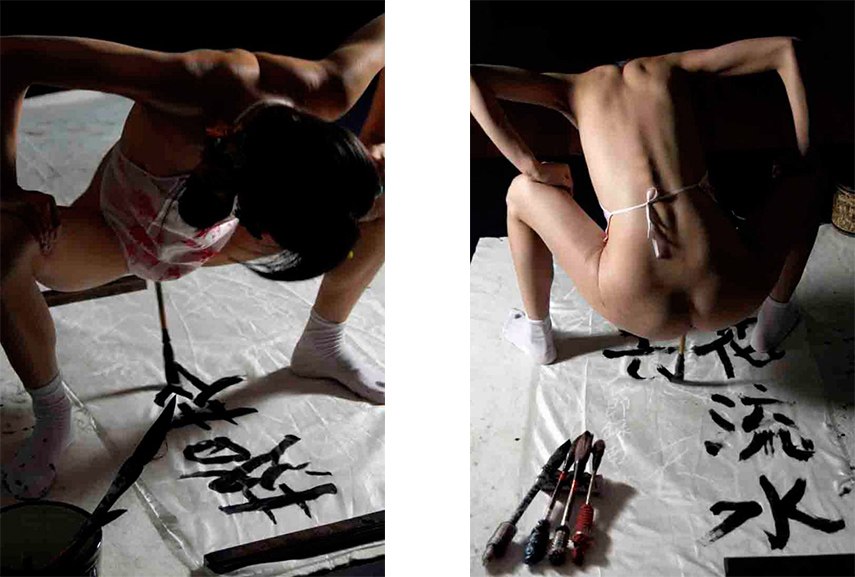 Vagina Calligraphy - Vulgar or Elegant?
Still, it is quite obvious that Sun Ping's performance wouldn't make any sense (to him) if it involved hands instead of genitalia. His statements clarify what we can already see from the concept: "Our culture impregnated us with sexual taboos. If art is revered why can't sex be revered as well? People who look at Bu Zhi Dao with a perspective that is merely sexual, will immediately criticize and thus miss its deeper meaning and message". The statement was made referring to the first in the series of performances, named Bu Zhi Dao, which means I Don't Know. "This may seem unfair, ugly and vulgar on the outside because we're clouded by principles and conventions", he said, "But it also bears elegance, beauty and inner value. It is also art".
Ping's attitude stems from the idea that the genitals of a woman represent a "place" we all came from, and it therefore shouldn't be regarded as anything vulgar. Indeed, we can always address Courbet's Origin of the World to support this theory, and it's a subject we already talked about, here at Widewalls. However, there is a point missed by Sun Ping, relating to the supposed controversy of this performance, and that is the fact that vulgarity didn't develop from the notion of vagina itself, but from the distorted position it takes. Being that the author himself does not possess a vagina, the ignorant approach should not come as that big of a surprise.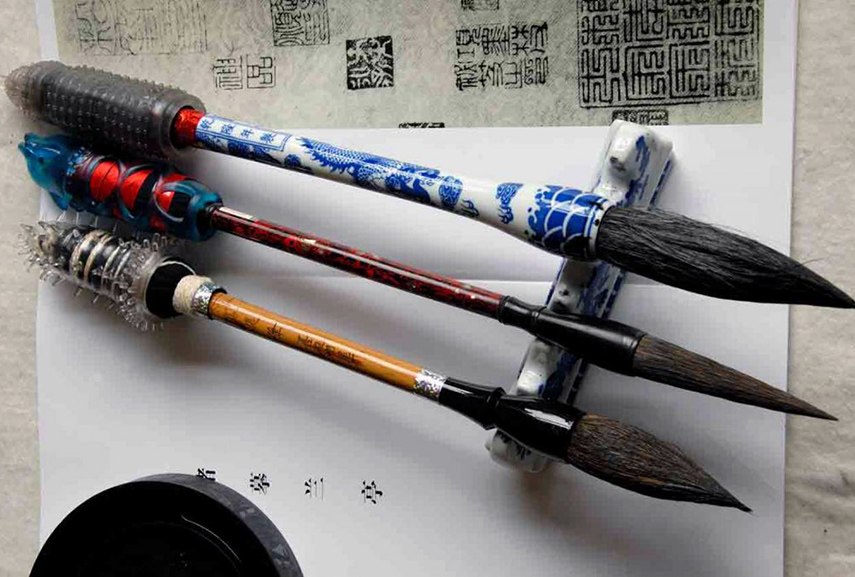 Sun Ping's Art
Sun Ping played an important role in the emergence of Chinese performance art. In the early 1990s, his work was related to a movement called Political Pop, which, as you can imagine, was politically engaged, being harshly critical toward the societal conditions. Ping's performance called China Sun Ping Art Shares Limited Company consisted of selling fake stock market shares at Guangzhou Biennale in 1992, which was one of the first performances associated with the movement. Even back then, Ping's practice was considered to be controversial. However from the 2000s onward, it seems that his art was starting to center around sexual taboos and to become slightly fascinated with the particular aspects of female genitalia. The matter was overlapped with calligraphy and lettering practice more than once, actually. It is reported that the artist has also been making brush pens using female pubic hair.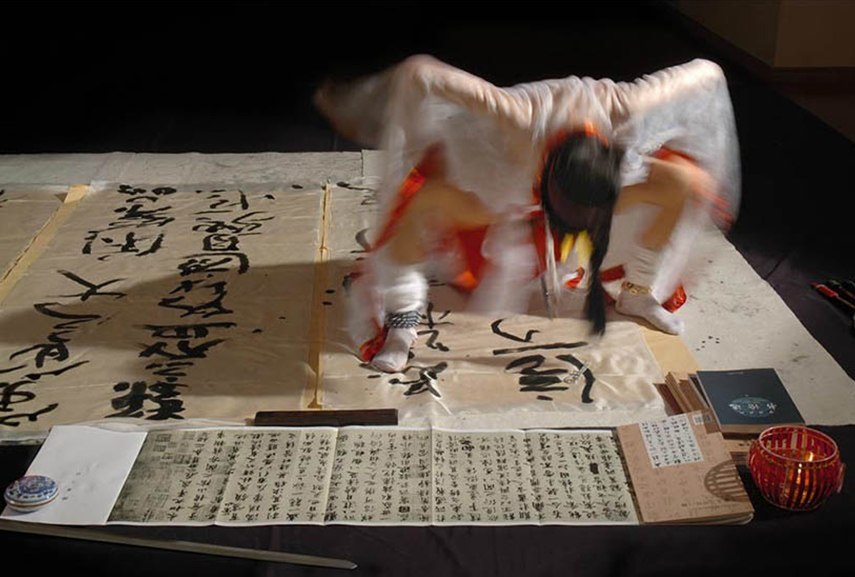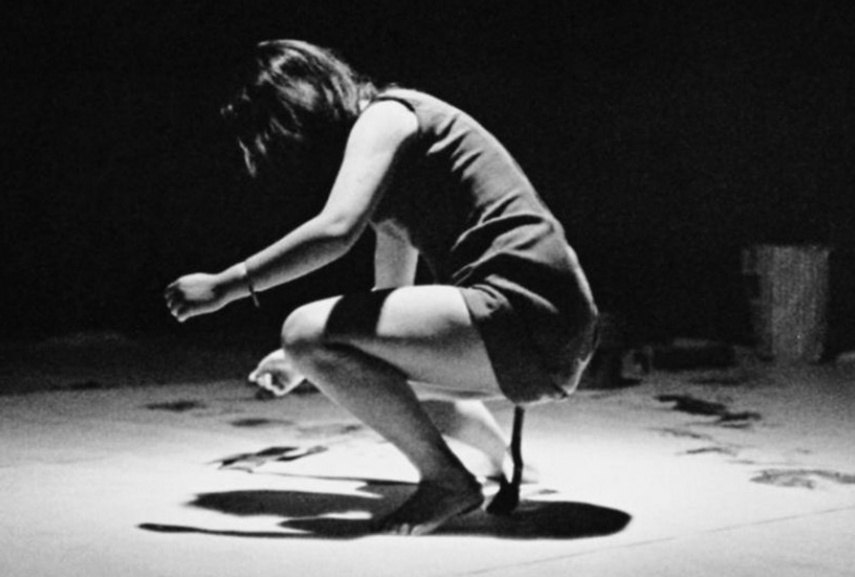 CAA's Decision
Guided by the impression that Sun Ping's questionable use of pen and sheets has had a damaging effect on the Association's reputation, Chinese Artists Association expelled the artist from their society. Nonetheless, it seems like Sun Ping couldn't care less. He regarded the topic as "funny", and a sudden reminder of "the slightest connection with them". Admittedly, it is strange that it took the Association this much to come up with the decision, since Ping's bold art didn't just spring out of nowhere. The vagina calligraphy concept was inaugurated in 2006 (10 years ago). Besides, the whole piece is not that authentic in the first place, and it should be something we're all becoming used to. Remember Shigeko Kubota's Vagina Painting from 1965?
Editors' Tip: Performance Art in China
The western civilization tends to see China as a restrictive society, especially since the free Internet-based social networks started emerging and the Chinese isolation from the world became apparent to everyone. But that doesn't mean that their artist have nothing to say on the matter. On the contrary, performance art is one of the most dynamic and controversial areas of experimental art practice in China. Australian art historian and theorist Thomas J. Berghuis discusses the "role of the mediated subject of the acting body in art," reflecting on the past 25 years. Sun Ping's name and work are mentioned accordingly.
Featured image: Sun Ping's Vagina Calligraphy Performance. All images used for illustrative purposes only.