Inspired by anime and manga, American comic book art, mythology and folklore, artist Camilla d'Errico gives life to an intriguing kind of portraiture that delves into a variety of human behavior and personalities. A fine selection of her works, including eight paintings, eight drawings and three framed palettes, is currently on view at Haven Gallery, inviting the viewers to decipher the enigma and the fantasy behind each of them. The first solo show of this talented individual from Canada at the Northport art space is entitled Masquerade, subtly announcing the main concept behind the pieces on display.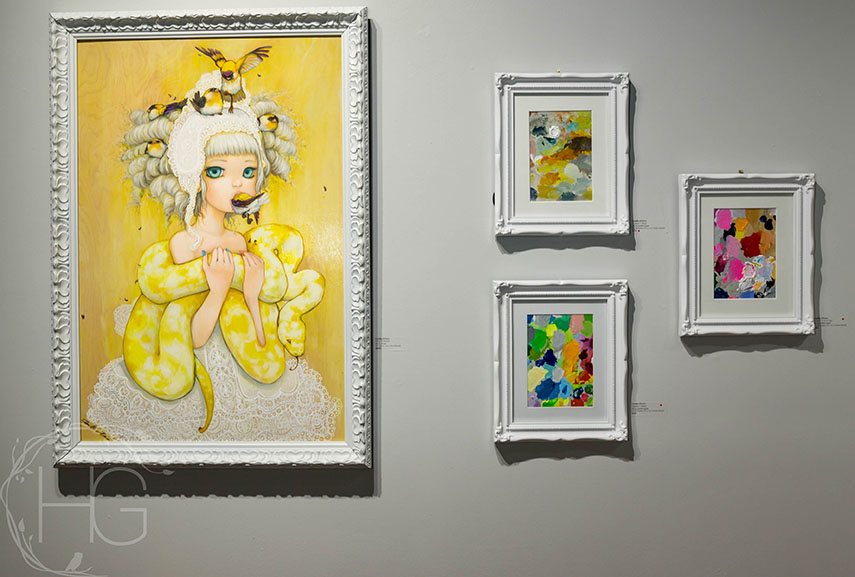 Masquerade
Somewhere between reality and fantasy, the portraits of Camilla d'Errico recall our childhood, through the playful, cartoonish figures of young girls hiding behind vibrant masks or giving us a mysterious look. They're filled with imagination, as they feature dream-like scenarios of animals which cover the girls' faces just enough for us to see their luscious lips. Even though they are hiding behind their disguise, they appear vulnerable and exposed, as if they weren't children anymore but frightened adults. This duality manages to awaken a whole spectrum of emotion within the viewer, who almost become as pensive as the figures themselves, relating to them and recognizing their state of mind. With a suggestive precision, Camilla d'Errico introduces an encounter with our psychological and physiological evolutions.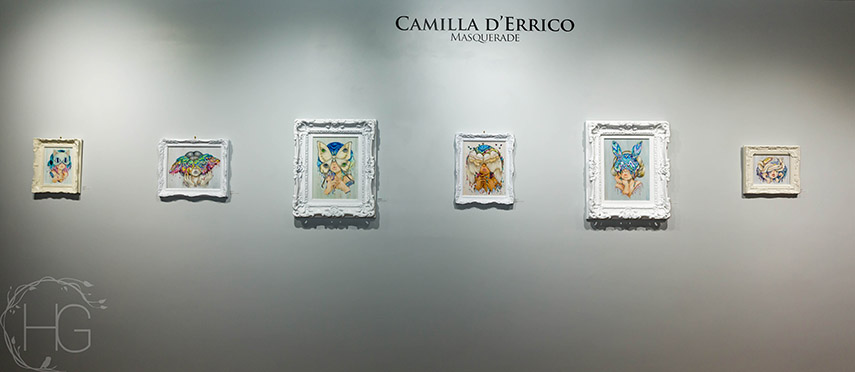 A Paradoxical Juxtaposition
By combining elements of emotion, pattern in art and popular culture, Camilla d'Errico art depicts the many personalities we, as human beings, go through in various stages of our lives. While we might be similar to each other, our experiences and characters are all unique, as vivid and as captivating as the paintings and drawings themselves. Our own complexity seems to be reflecting before us, through the expression of this particular artist, who is not afraid to reveal the many layers of our soul, our thoughts, all the things that build us as a person and that define our relationship with those around us.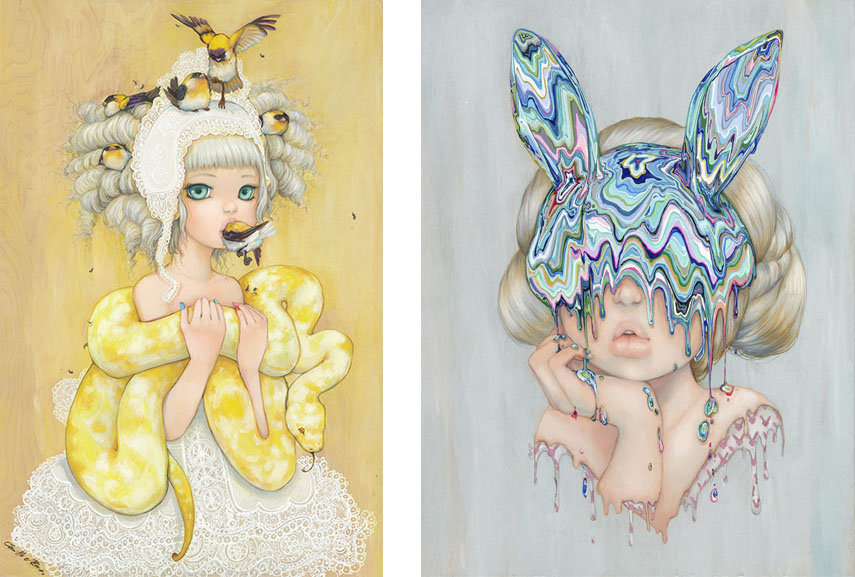 Camilla d'Errico Art at Haven Gallery
Masquerade, an exhibition of works by Camilla d'Errico, opened at Haven Gallery in Northport, NY, USA, on October 29th 2016, introducing the artist's immense talent. The show will stay on view through November 27th, so make sure you visit the art space and experience these unique portraits this Autumn!
Featured image: Camilla d'Errico - Icarus. Oil on wood, 11 x 14 in. All images courtesy Haven Gallery.