Inspired by anime and manga, American comic book art, mythology and folklore, artist Camilla d'Errico gives life to an intriguing kind of portraiture that delves into a variety of human behavior and personalities. An urban contemporary painter, illustrator, character creator and comic artist from Canada, she has distinguished herself as one of the breakthrough artists in Pop Surrealism's New Figurative movement. Seamlessly weaving manga and western styles with surrealist elements, she creates work with an extensive emotional palette. Living a double life of a comic artist and New Brow painter, she erases borders between these two different worlds. She has also contributed to the vinyl art toy movement, and expanded her style into fashion, accessories, and toys.
The new work of Camilla d'Errico was recently on view at Haven Gallery in Northport. Titled Masquerade, the exhibition featured a fine selection of her works, including eight paintings, eight drawings and three framed palettes, inviting the viewers to decipher the enigma and the fantasy behind each of them. Featuring dream-like scenarios of girls with animals covering their faces, these portraits are filled with imagination and positioned somewhere between reality and fantasy. Being both vulnerable and exposed despite their disguise, the duality of these characters awakens a whole spectrum of emotions within the viewer.
We had a chat with Camilla d'Errico to find out more about this latest body of work and her art practice in general. In an exclusive Widewalls interview, Camilla d'Errico talks about her latest exhibition, the movement of Pop Surrealism, important aspects of storytelling, nature as an inspiration, her influences, and much more. Scroll down and enjoy!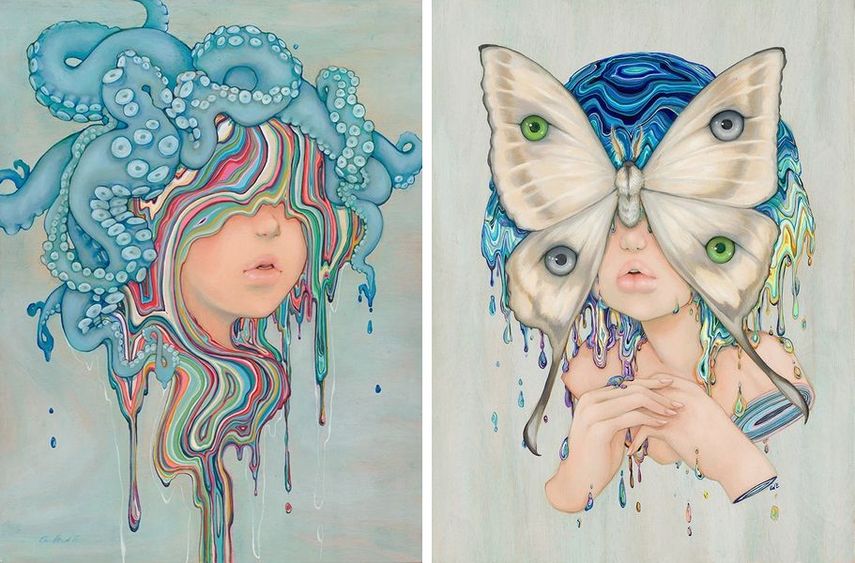 The Haven Gallery Exhibition
Widewalls: A selection of your portraits was recently on view at Haven Gallery in Northport. Can you tell us more about this new body of work?
Camilla d'Errico: My new body of work was a conversation about how people are seen and what we see in the world we live in. The theme of masks is a big part of that. Each painting works within this question, whether it is the person who is hiding behind this mask or if it is the mask that is blinding them and they cannot see past the obstacle in their life. Human beings are such interesting creatures. We express and feel so much; we allow others to affect who we are and change to hide the real person sometimes. We don't see these personas within society or are completely blinded by what is immediately in front of them that they cannot see the world in which they exist. This show is a deep exploration of that and kind of masks that define us.
WW: Your work is often described as Pop Surrealism. What does this term mean to you and how would you best define your work?
CE: I am part of this new movement of artwork that takes on the surreal imagery of Salvador Dali and blends it with contemporary themes. I didn't set out to be part of any movement when I first applied my paint to canvas. I was simply creating anime inspired artwork because it was and still is a huge part of who I am as a person and not simply the popular aesthetic. I think a lot of artists need to be careful not to try hard to fit into anything but rather let their art come from inside them. If they are categorized and labeled so be it. It happened to me without me even being aware of it. I think it was meant to be so I do not take offense to the term. Some people don't like to be labeled and I understand. But I do also understand that society likes to define things to better understand them and that's okay too. I do now define my work as Pop Surrealism because it fits in with what the movement it. I have my own unique voice within this style and that to me is the most important part of being a pop surrealist.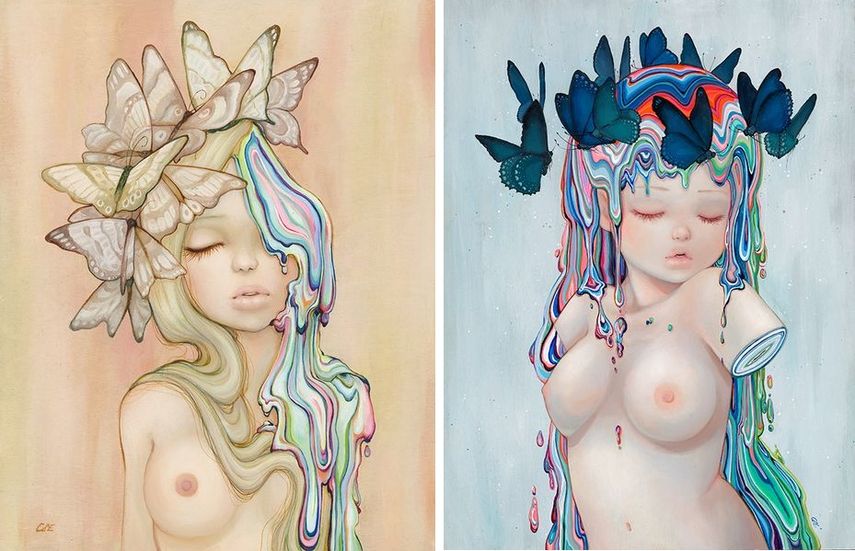 Creating a Visual Narrative
WW: Storytelling and narrative are important aspects of your practice. In your opinion, what makes a visual narrative successful?
CE: I think people connect with a story when it touches them on an emotional level. If an author can bring to life a character within a narrative that makes us care what happens to that character then they've succeeded in creating a good narrative. This is also true with visual art. It is extremely difficult to create one singular image and tell a story with that which will connect with people. My work has a lot of elements each is part of that character's story. A feather will have a meaning, the colors I choose, the subtle expressions or hand gestures, it all comes together to tell that character's narrative. I like to describe my work as a puzzle. But the one thing that a visual artist must learn to do is let go of that narrative for the simple reason that art is interpretive. What pink means to me for example and how it makes me feel won't necessarily mean the same to others. I'm often surprised by the varying interpretations that people describe to me when they see my art. It's incredible really and I learn so much about how people are unique every time they explain how my work affects them. It's simply beautiful.
WW: Anime and Manga have influenced your aesthetics greatly. What aspects of these genres have inspired you the most?
CE: I adore the Japanese style of anime and manga and on the purely aesthetic side of it I love how round and cute the faces are, how smooth the features are and how exaggerated the style makes the eyes and noses and hair. I adore that type of beauty. But truth be told that isn't what has sustained my passion for it. Looks can only go so far. It is the content and the emotional exploration of the stories that drive my love. The characters are so passionate, whether it's fighting to save the planet from cross-dressing alien invaders or wanting to be the best pastry chef in Japan. They can take the ordinary and make it extraordinary and make it exotic and intense. The stories connect with me because they are about the everyday struggles of a person in surreal worlds. And as someone who is constantly fascinated by what makes us feel, the anime and manga world is a never-ending source of emotional dissection.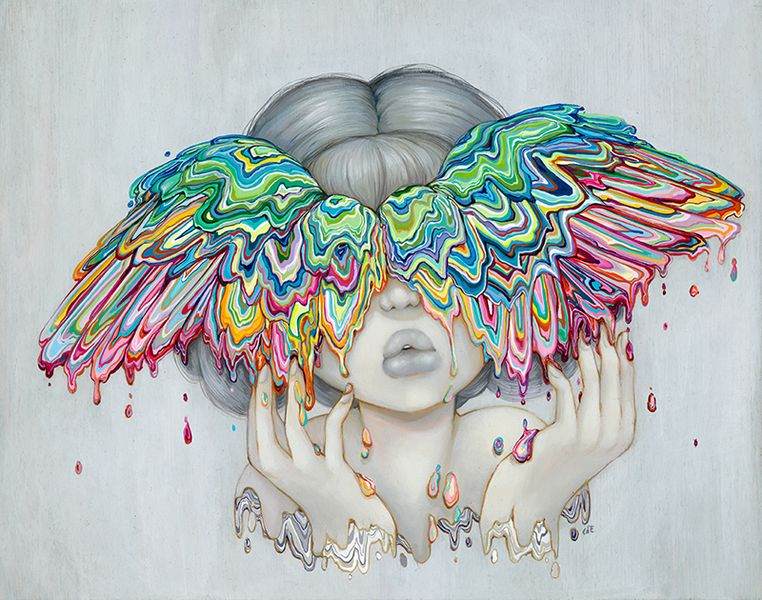 Respecting the Nature
WW: In your dream-like scenarios, you often use animal imagery and elements from nature. What is the meaning behind this?
CE: I'm a big animal advocate. I love nature and all the creatures on this planet. I have a deep respect for them and try my hardest to do right by them as a human being that lives on this planet. I learned to respect and love nature at a very early age by my amazing parents. They taught me that animals have feelings and are beautiful creatures, so I should understand how to live in a world filled with them. It sparked a life-long fascination with nature and how human beings have viewed animals. Like my own art style, animals themselves have been given labels and definitions. It changes from culture to culture but animals have become symbols to people throughout time. So I use them to tell my story. I'll make great care to choose my content; a rabbit, for example, will mean something very different to me than a ladybug or a lovebird. To me, these animals will represent a part of the character's personality or world. It's all about symbolism and respect for nature with my artwork.
WW: Your figures are often hiding behind their disguises, but seem exposed and vulnerable at the same time. Can you tell us something about this duality of your characters?
CE: I like to think of my paintings as snapshots of the characters. It's like I catch them in the moment unaware. My characters are rarely "posing" for the camera. Even when they are things around them are in constant motion. I love to show that sincerity in my paintings. Some of my girls are very strong and have that feeling to them with the intensity of their gaze or posture, others are more gentle or vulnerable. I never want to be obvious with my art so a lot of what I express is subtle but always present. There is also something that I am keenly aware of which is the duality that you mention. Life is never good or bad, black or white, so I paint my work to be neither cute neither creepy but a mix of both to reflect what I believe to be the truth for my character.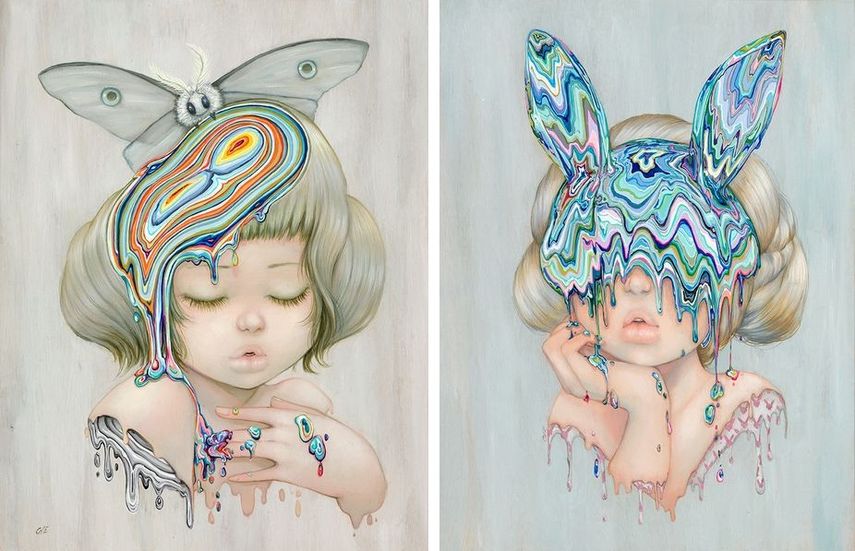 Influences and Future Plans
WW: This year, you have published a book titled Pop Painting. Could you tell us something about this publication?
CE: Pop Painting is a step by step book that teaches artists and people how I paint and with what materials I use to create my work. I wrote the book and worked hard on it for 2 years because I wanted to help artists learn a new way of painting. My education taught me all the old classic ways of creating art and it didn't inspire me the way I was inspired by current art like anime and manga. There is a huge gap in classes that misses out on teaching new aspiring artists about the current art movements. So I wrote this book for the new generation of artists to learn from a living and working artist and hope to inspire them to look inside themselves to find inspiration to create art with their own voices and to learn a few tips and tricks along the way.
WW: Who were your influences and whose work do you appreciate the most today?
CE: I've always been open about Sailor Moon being my first love.... Well technically it was Tuxedo Mask, but I think you get the picture! That was what sparked my interest in anime and manga. I do love the classical painters such as Raphael and DaVinci. It's incredible what they created and how beautiful they rendered their oil paintings. I bow before their greatness. Currently, I'm very fond of James Jean who continually outdoes himself. He is the visual art equivalent of the Beatles. I also think that Hikari Shimoda is an amazing artist and I love her work a lot.
WW: Do you have any future plans and projects you would like to share with us?
CE: Definitely! Next year I will be part of a two-person show at Dorothy Circus in March in Rome Italy. This will be an incredible show. I am exploring a new theme that is specific to duality. I'm pushing new boundaries with this work that I'm excited to show in my home country of Italy. I have a lot of family in Rome and I cannot wait to show them my paintings and make all the d'Errico's proud.
I am also releasing a new book Femina & Fauna 2nd Edition. This is a publication with Dark Horse Comics and will be a revamping of my first artbook with them. This new edition will have some of the same content of the first book which is no longer in print as well as new work from the past few years. It's exciting to be releasing this book since it is a true homage to my love of nature and the world we live in.
I also am part of new Dunny series, the Arcana series, with J Ryu that will be released in the spring. I'm so excited. This will make the very first Dunny series that I will be a part of. It was a great experience and I hope to do more. These new little designer toys are amazing and I cannot wait to see them come to life next year.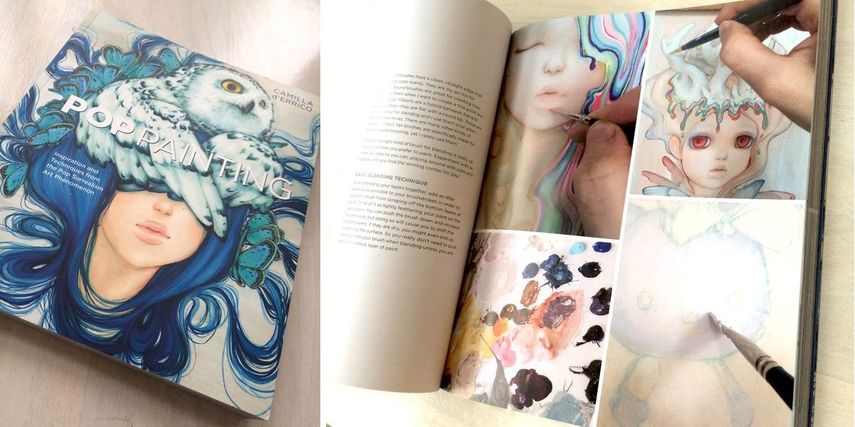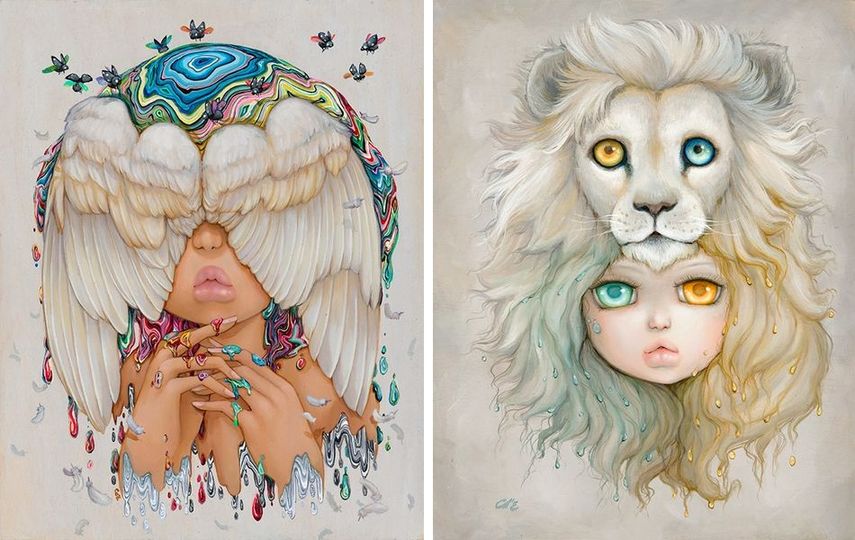 Featured image: Camilla d'Errico Working. All images courtesy of the artist.