Inspired by the Memphis movement, the Ndebele tribe and optical art master Victor Vasarely, Camille Walala has developed a unique tribal pop style characterized by boundless energy. Her work, from the micro to the macro, harnesses optimistic typography and exuberant geometries to create environments that stimulate the senses and inspire joy.
The London-based French artist joined The Unexpected in Downtown Fort Smith, AR for the first time, completing one of the many thrilling new public art pieces curated by a global creative house Justkids. The artist took over a gas station at the main intersection of Grand Avenue and 11th street, adorning it with her eclectic trademark tribal pop style.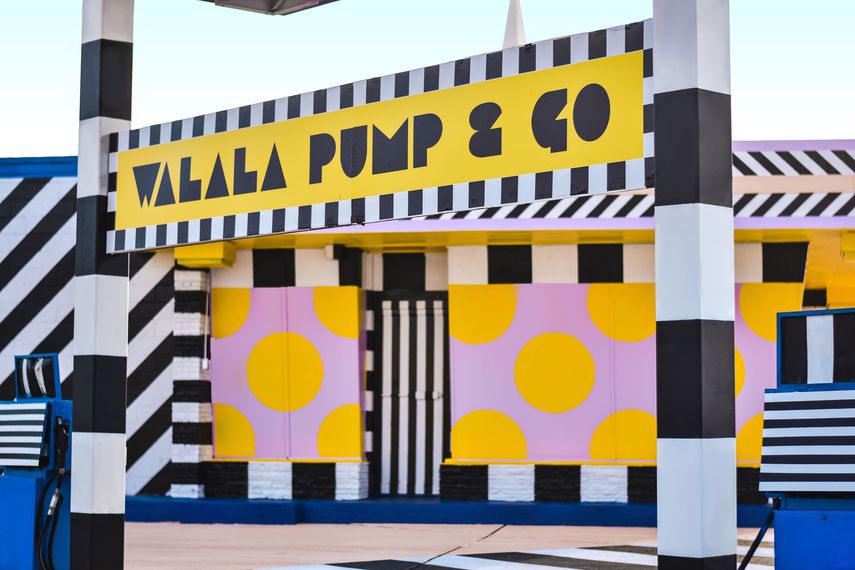 Camille Walala at The Unexpected 2019
This October, the fifth edition of The Unexpected returned to Fort Smith, bringing engaging urban and contemporary art, music, speakers and satellite programming for the downtown area. Conceived, curated and produced by Justkids, it is dedicated to bringing contemporary art to Northwest Arkansas through immersive public art experiences that generate cultural exchange between creatives and community development.
Joining artists such as Okuda San Miguel, Hilda Palafox, Robert Montgomery and Alexandre Bavard, Camille Walala took part in the project with an entire service station takeover, transforming a typical location into an exciting visual site. Justkids curator Charlotte Dutoit explained that the artist's bold and playful style is known for creating welcoming social spaces.
After five years of curating diverse visual projects in Fort Smith, I learned that a big part of good place-making is creating community and a sense of re-discovery of the beauty that is there, in the city, all along, and Camille's work does just that.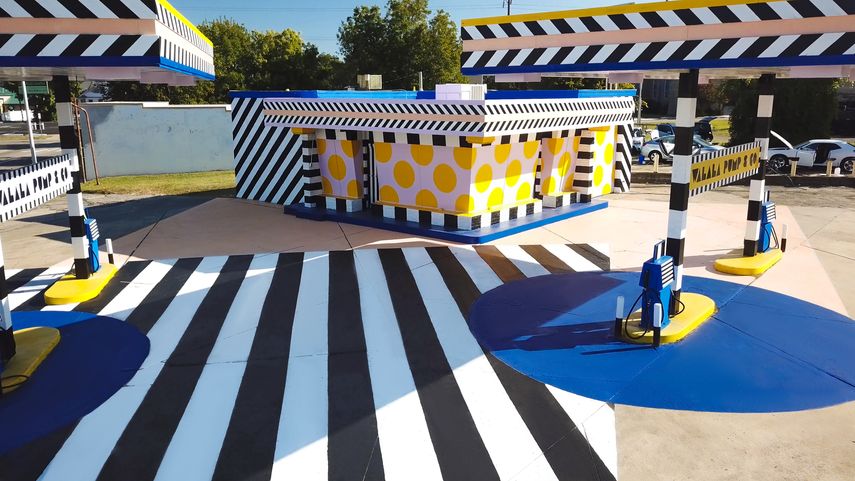 A Colorful Transformation
A perpetual purveyor of positivity, the practice of Camille Walala has taken her all over the world, transforming homes and workspaces with her signature tribal-pop style. Characterized by vibrant colors and bold patterns, her playful, graphic works invoke a smile in all who view them. Recently, the artist has been focusing on projects with greater scope and at a scale greater than ever before.
This 1950s architectonic support served as a perfect vehicle for Walala's art, who transformed it into an eye-catching social space in just one week. During the project, the artist had great help from the local artist Nate Meyers and a group of skillful volunteers. As she explained, this canvas gave her an opportunity to do something really bold, that stands out on a bigger scale.
We had a great team of people working with us for a few days, most of them were locals from Fort Smith who came to help and it has been an amazing execution of the project.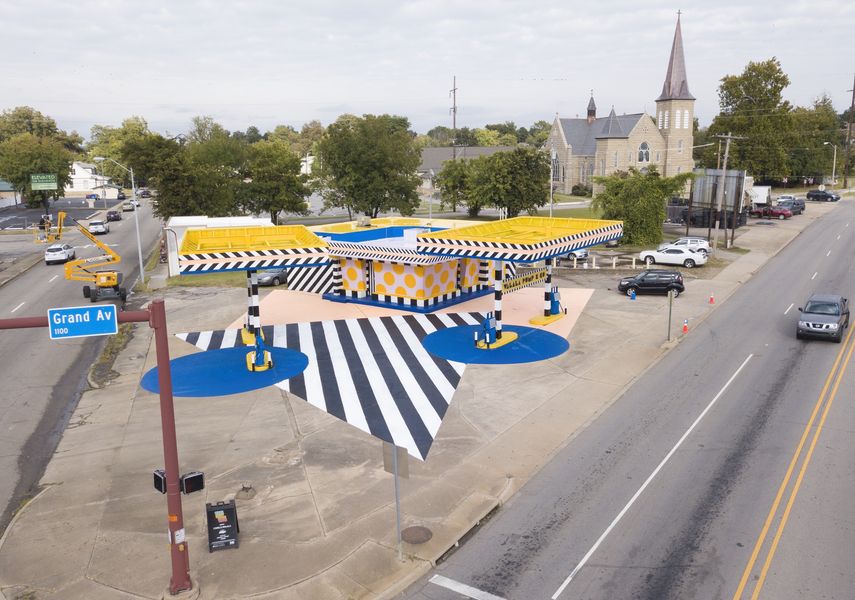 Justkids at Fort Smith
Justkids, a global creative house that conceives, curates and produces comprehensive art projects on an international scale with some of the most engaging artists, curators and strategic consultants, continues to enrich the cityscape and community of Downtown Fort Smith since 5 years in a row through The Unexpected art event.
Justkids presents Pump & Go by Camille Walala
Featured images: Camille Walala, Pump & Go for The Unexpected, Fort Smith 2019. Courtesy Justkids.