For many artists, spray cans are irreplaceable art mediums and employing aerosol paint is a ritual composed of many exhilarating steps. From shaking the can and listening to the sound of clicking marble, to gently pressing the cap and producing a cloud of paint. Yes, spray painting is an exciting and an essential part of the creative process of every street artist. Fascinated by these sealed pressurized containers of color, that he often used himself, Campbell la Pun has created a series of artworks that will be exhibited at Excess Fumes exhibition at Krause Gallery in New York.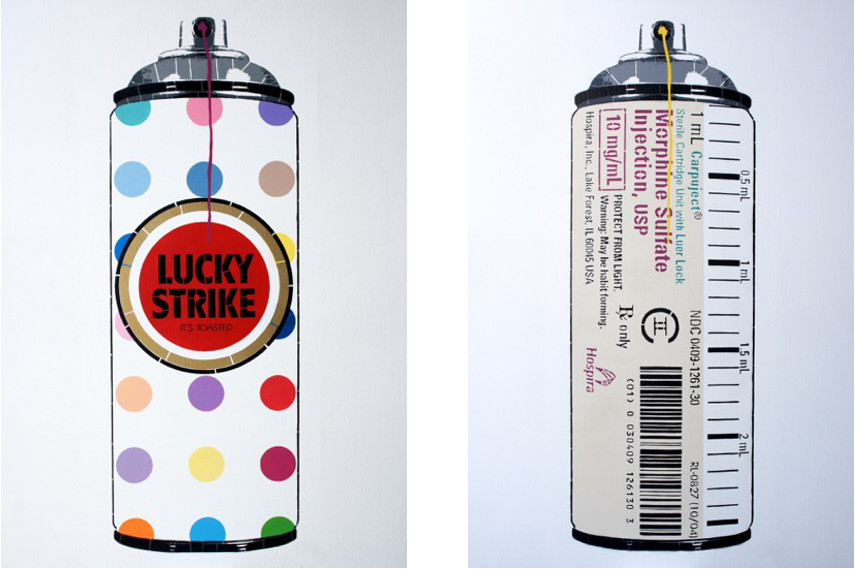 Pop Culture Iconography at Campbell La Pun Exhibition
Campbell la Pun is a New Zealand-born and Tokyo-based artist, whose works often represent a juxtaposition of Eastern and Western imagery. He is known for using a variety of mediums, ranging from stencils to aerosol and acrylic paint and numerous surfaces including walls, boards and canvases. His works reflect the puzzling specter of motifs, colors and shapes that symbolically manifest themselves as a combination of film and video game characters, pop culture symbols, comic books and advertising iconography. For his latest Excess Fumes exhibition, the versatile artist has created a series of artworks dedicated to the material he often used in his artistic process - spray paint.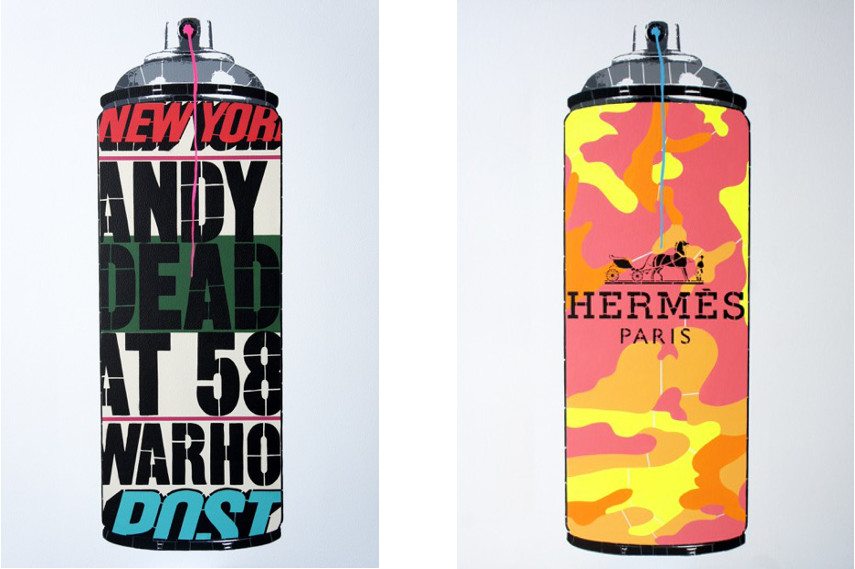 The Branding of Spray Paint Cans
At first glance a spray can may appear as a simple object, but underneath it's a sophisticated engineering mechanism with a great contribution to street art history. Aerosol paint is affordable, easy to use and comes in so many shades. Every now and then a new color is created and for a devoted street artist, no quantity is enough. These tools are used both legally and illegally to paint some of the most wonderful and astonishing art pieces. Campbell la Pun wondered why spray cans don't have their recognizable brands similar to fashion and consumer brands. From spotted Lucky Strike spray paint to famous logos like Pringles and Coca Cola, the artist has borrowed iconography from the popular labels to create his own special line of spray cans. Additionally, Campbell la Pun was inspired by variety of sources such as medications, money and Andy Warhol.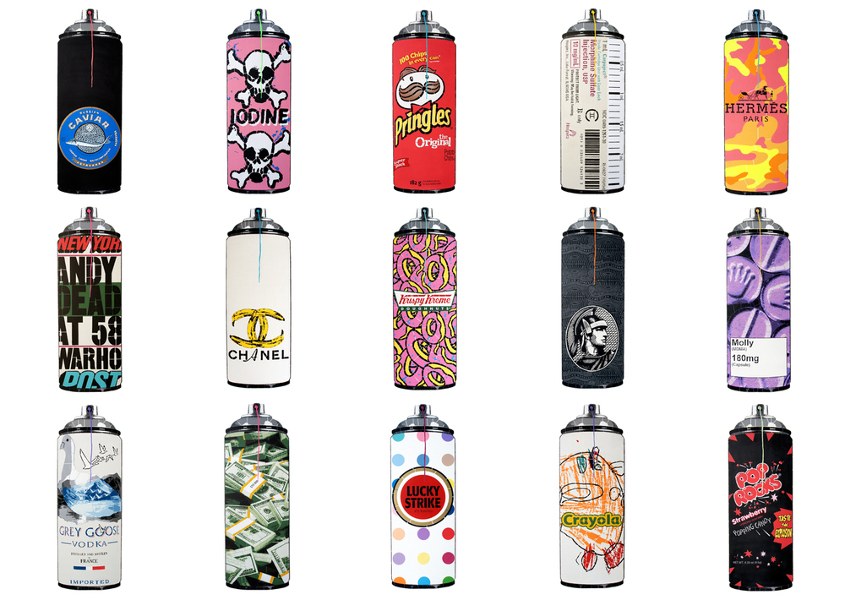 Spray Can Extravaganza at Krause Gallery
Spray paint inspired exhibition of works by Campbell La Pun will open on October 17th. The visitors of Krause Gallery will have an opportunity to see how cans designed by Louis Vuitton and Hermes might look like or observe candy-like Krispy Kreme donuts and Pop Roks inspired artworks. The exhibition will feature can-like representations of Micky and Mini Mouse and many other unusual prints. Now you can buy your very own Campbell la Pun spray can at Excess Fumes exhibition that will run till December 1st, 2015 at Krause Gallery in New York.
Many more spray can inspired and spray can created artworks are featured at My Widewalls, so sign up and find out all about them for FREE!
All images courtesy of Krause Gallery.