Can a sensibility be defined in theory and its aesthetics coherently circumscribed?
Camp and campy may serve as a good starting point for such investigations. How sensibility is aesthetically performed as to be visually recognizable is part of a conundrum that many theorists face when trying to tie down the versatile performative aspects of a culture.
In the 20th century camp came to be recognizable both on the streets, in art, film, music and many other creative forms of expression, and it equally attracted the attention of many scholars.
Before going into analysis or explanation of what camp or campy may be, including its historical trajectory, nothing can bring aesthetics closer to understanding than a visual stimuli representative of the form.
Joan Crawford as a Campy Cowgirl
Camp Definition – From Gay Culture to Contemporary Queerness
Blaring colors of the costume, stern facial expressions and mask-like makeup send Joan Crawford's Vienna from 1954 Johnny Guitar - a camp western - over the top of plausibility but nonetheless make her character strangely attractive to observe and relate to. The uncanny felling of something familiar but also strange, flamboyant, impertinent, unrestrained or even repulsive consumes the observer while facing such performance. In essence, that is camp. In words, it is a convoluted referential aesthetics that reproduces reality through a prism of kitsch, but never becomes kitsch in itself. Turning to dictionary in pursuit of a definition, camp appeared first in 1909 Oxford English Dictionary and was denoted as something ostentatious, affected, effeminate or homosexual.[1] Indeed, camp was in the beginning among the terms solely linked with gay culture, drag queens, and in general with marginalized or subcultural output until Susan Sontag in her seminal essay Notes on "Camp" unlinked the term from a homosexual milieu and gave it a wider currency.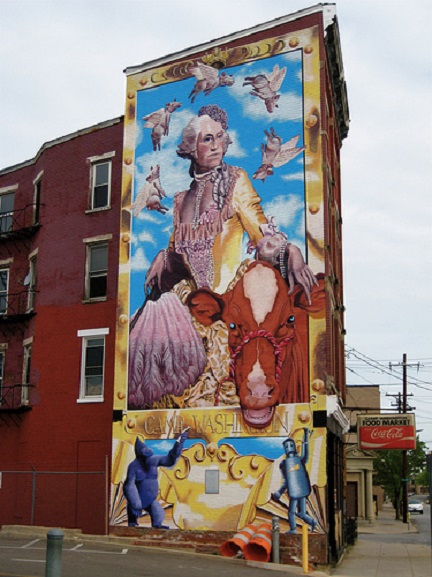 Camp and Campy in Susan Sontag's Notes on Camp
"To be natural is such a very difficult pose to keep up."
Oscar Wilde, An Ideal Husband
Sensibility, a taste for certain things, is also a part of subjective preferences difficult to put in theory. According to Sontag, if sensibility is hardened into a mold, if it is prescribed with certain formal structures, it turns into idea.[2] For Sontag, therefore, such theoretical outcome is unsustainable for camp that is alive and powerful.[3] Instead of a formulaic theory, Sontag offers 58 notes on camp, where she makes distinctions between naïve and conscious camp, but also between camp and campy. Camp is a mode of seeing the world in a certain way; it is a consistent sensibility that gives rise to certain taste. This taste translates into different practices from art to everyday representations and performances of the self. Thus, different objects can appear as 'campy' such as paintings, movies, people, buildings or songs. Instead of following aesthetic postulates and judgements on good and bad taste, camp provides a new set of standards according to which high and low art, or good and bad art does not exist, but the pleasure in observing them defines its value. Style takes primacy over content, context or morality. Sontag makes distinction between three sensibilities where the first one is moralistic. It weighs between good and bad and is premised on supremacy of high culture. Second sensibility is linked to aesthetics of avant-gardes, where extreme feelings dominate and are often invoked by inherent tension in avant-garde art between morality and aesthetics. Third sensibility is the one of camp – and it is entirely aesthetic. Its queerness comes from aesthetic exaggerations, from being bad to a point of being considered good,[4] and from disengagement of the viewer or performer from the context and content. This often implies a necessary passage of time as a perquisite for campy, because through detachment brought on by age aesthetics comes to the fore.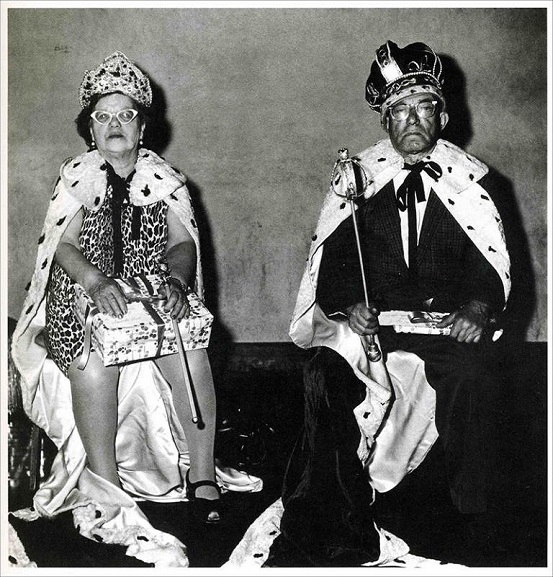 Campy Visual Culture
Camp is more present in certain forms of visual expression than in others. Its main field is decorative art. Characteristic of camp is that the world is seen through style rather than content where artifice of décor, surfaces, and textures dominate over other elements, such as meaning and context. Exaggeration plays an important part in camp as it divests the world of its realist elements allowing the viewers to experience pure visual enjoyment. Because of artifice being an integral element of camp nothing in nature can be considered as camp or campy. In visual culture different forms and individual pieces of art are often linked with camp or are described as campy such as classical ballet, opera, photography or movies. The theatricalization of experience in these forms fulfills the requirements of camp as being melodramatically absurd. The Maltese Falcon, Trouble in Paradise or Steinberg's movies with Marlene Dietrich are some of the best camp movies ever made, where theatricality and exaggerations pertinent to camp are enacted not just in the scenery but also with the help of the so-called instant characterization which avoids character development or gender bending of the leads. Personal mannerisms of Barbara Stanwyck and amplification of sexual and gender characteristics of Steve Reeves, for example, gave their performances a campy outlook.[5] The films and performances of actors would not be rendered as sign of camp if not for the seriousness through which they were executed, which is an important element of camp. Similarly, photography of Diane Arbus explores such oddities of taste and gender performance that justifies the adjective campy being added to it.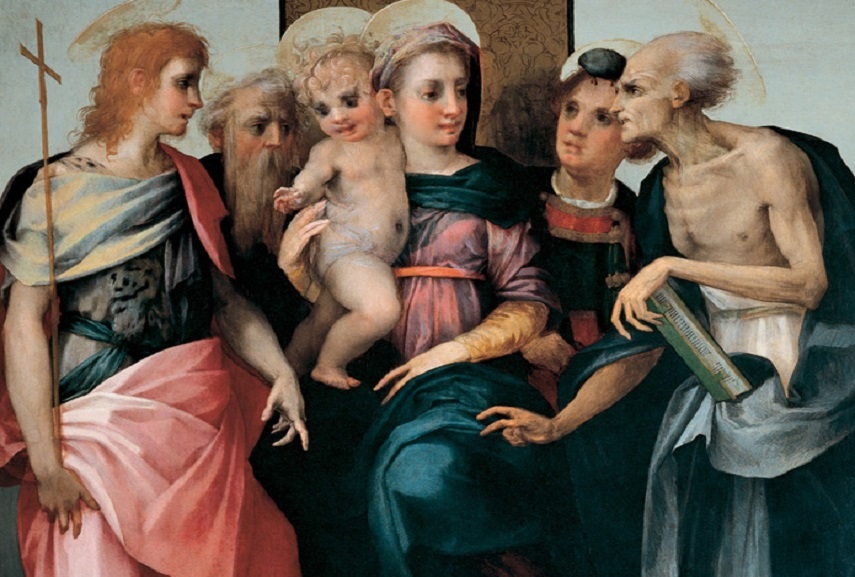 Campy Art – From Mannerism to Postmodernism
Although it could be argued that campy art reaches as far back in history as Mannerism and paintings of Rosso Fiorentino and Pontormo, it is more sound to place its starting point in the late 17th and early 18th century where camp taste can be found first in Gothic novels, Chinoiserie, and fascination with ruins. Mannerists such as Fieorentino and Pontormo exaggerated their style to a point where they could be considered as precursors of camp taste, along with Carlo Crivelli, with his trompe-l'oeil insects and cracks in the masonry depicted on his paintings. Pre - Raphaelite paintings with slim, androgynous figures are campy to a certain degree, however, the first truly camp taste in art can be found in Art Nouveau. Although the whole style is not and should not be equated with camp, the metamorphoses of everyday objects into something else, for example lamps in female figures or floral decorations,[6] Paris metro entrances designed by Hector Guimard in organic forms, prove that aesthetic taste and disengagement from content are present. Pop Art is also inherently linked with camp and camp taste. Camp was popularized in the 1960s and pop artists paralleled its contextualization of low into high culture and interest in the marginal. Camp gave impetus to later subversions of modernist dogma in postmodernism as well.[7]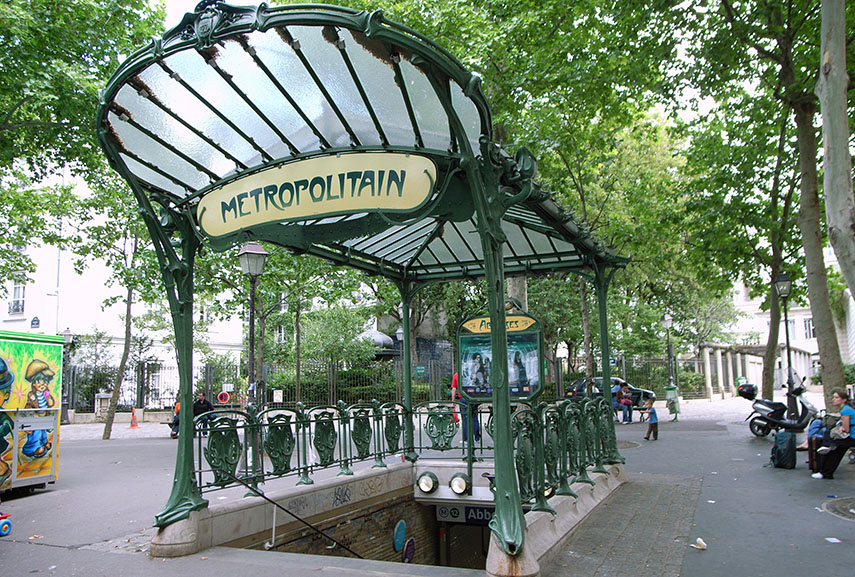 The Iconic Pieces of Campy Art and Culture
Is it funny? Amusing? Crazy or perhaps just laughable? What about absurd or farcical? It is safe to say that an artwork is campy if it elicits all these feelings when we're looking at it. After all, we can always go back to Sontag's Notes on Camp once again and use the ultimate camp statement: it's good because it's awful. The high degree of artifice and exaggeration is not found just in the works of visual arts, such as Rococo paintings or Art Nouveau drawings, but also campy movies of the 1970s and 80s, modern-day installations, sculptures and even fashion, as we will see. While some are simply cheesy, others come from the field of "queer parody" as the shiny, trashy examples from the LGBT culture.
Aubrey Beardsley's Drawings
English illustrator and author Aubrey Beardsley found himself among the artists who Susan Sontag proclaimed as "campy". Belonging to Art Nouveau, he mostly depicted women, but perhaps he was mostly famous for his dark, perverse images of the grotesque erotica. Most of his work is done in ink, deeply contrasting the scenery and breaking away from the more vivid lushness of the movement he was acquainted with, although he was also closely aligned with Aestheticism, the British counterpart of Decadence and Symbolism. Aubrey Beardsley was a fan of the Japanese shunga, which inspired him to draw enormous genitalia, for example, as well as history and mythology. We are simply fascinated by the wit and the detail of his artworks, in which we can also recognize his talent in creating caricature and political cartoons, later influencing the French Symbolists and the Poster art movement. Maybe it wasn't his style that was proclaimed campy, it was his topics and characters.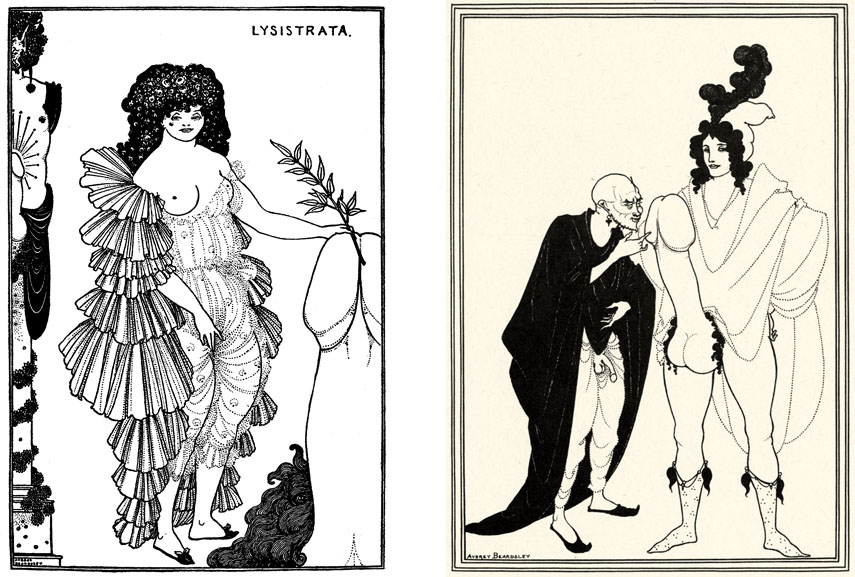 Claes Oldenburg - Bedroom Ensemble, 1963
He is famous for his hyperrealistic sculptures of everyday objects, but in 1963 Claes Oldenburg focused on the topic of home and the ironic representations of it. The most complex piece from this period surely is Bedroom Ensemble, as the ultimate irony work filled with hard surfaces, sharp corners, skewed furniture as if rendered in a perspective drawing, giving an exaggerated illusion of depth. Then, there's the texture and the materials of the Bedroom - commercial imitations of marble, fur and leather, rather annoying patterns in gold and blue evoking animal prints, or rather the cheapest versions of them. We soon realize that Claes Oldenburg's Bedroom Ensemble is entirely fake: none of the accessories operate and the whole thing is just an illusion of functionalism. The artist even created a series of fake abstract expressionist paintings out of decorating fabric to contribute to the ironic humor of the piece.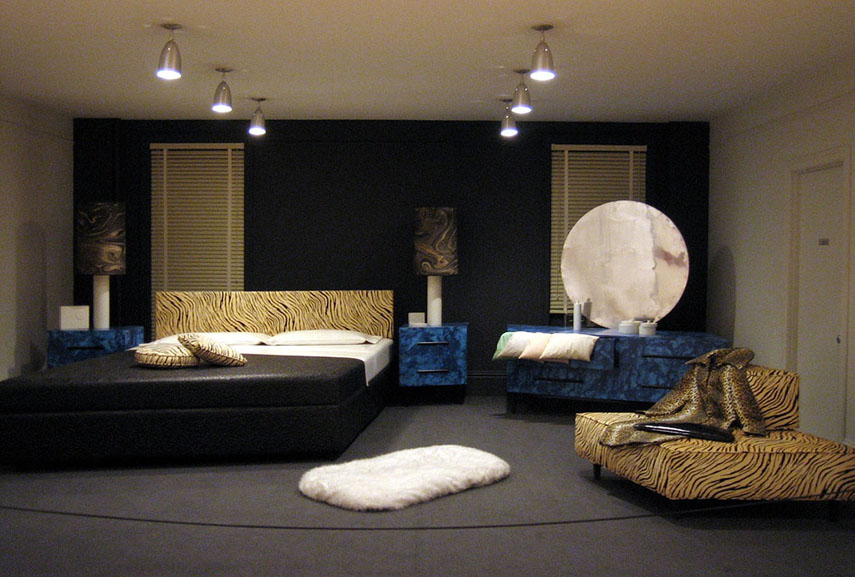 Andy Warhol - Camp, 1965
If there was ever an artist we could call campy, it's Andy Warhol. His almost every piece could be described as such, but maybe that's exactly why we love him so much. His 1965 film Camp even bears the name of what it talks about, and it was one of the movies shot inside his famous Factory. Starring Baby Jane Holzer, who appeared in a Warhol movie for the last time here, as well as Donyale Luna, Gerard Malanga, Mario Montez, Jack Smith, Paul Swan, Mar-Mar Donyle, Fu-Fu Smith and Dorothy Dean, it is the artist's response to Sontag's essay in which all of these actors explain what camp means to them. Unlike the later Warhol films, this one is raw, improvised, filled with happy accidents like a crew member repeatedly adjusting a microphone within the frame or absurd stylistic elements like zooms that only sometimes find a human target. "I don't think anybody's camping—I think we're all doing ourselves," Tally Brown explains.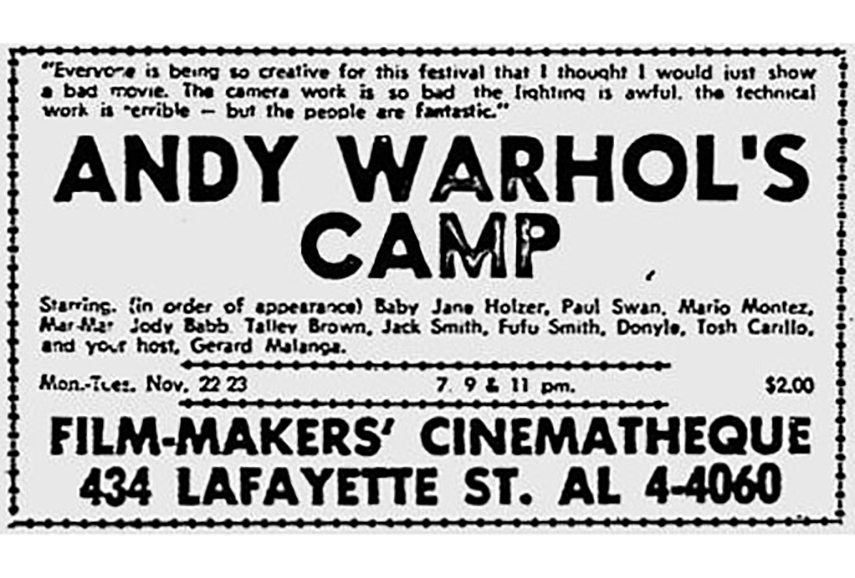 The Graphic Works of Tom of Finland and Bob Mizer, the 1960s
In 1967, there was a magazine which consisted mostly of half-tone photos of half naked and naked men in various suggestive attitudes. You'll guess, it included the early works of the now-famous illustrators Tom of Finland and Bob Mizer, who were known and celebrated (within the gay community) for their graphic representations of homosexuality[8]. Although they show nudity, they are never full-frontal, and at first glance we can notice the recurrence of pointy butts, perfectly shaped bodies, leathers, motorcycles, gyms, almost as if all the male superheroes suddenly became gay and were going after each other, no matter if they're villains or heroes too. Because campy as we know it today started in the 1960s, Tom of Finland and Bob Mizer definitely contributed to its kick-off back in the day, with imagery like this one.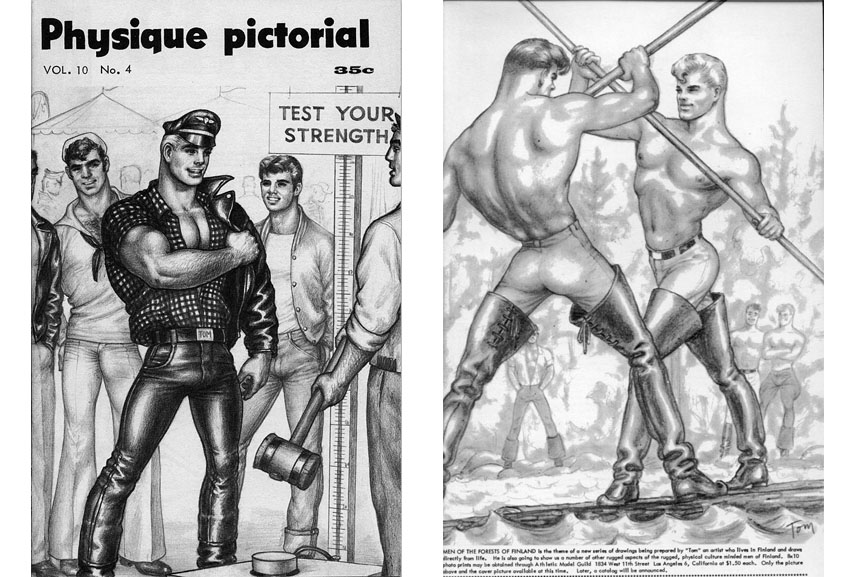 John Waters - Pink Flamingos, 1972
Did anybody say campy movies? John Waters! The absolute king of camp aesthetics, almost each and every one of his films are filled with drag queens, excessive fashion faux-pas, terrible yet entertaining narratives and dialogues. Pink Flamingoes is a 1972 trasgressive black comedy which John Waters included in his "Trash Trilogy", along with Female Trouble (1974) and Desperate Living (1977). The film stars the countercultural drag queen Divine, who was one of Waters's most beloved actresses, as a criminal living under the name of Babs Johnson, "the filthiest person alive". Of course, Divide and other characters engage in several grotesque, bizarre and explicitly crude situations throughout the entire film, in trademark style of the American director, who is simply the master of mixing "exaggerated seaport ballroom drag-show pageantry and anctics" with "classic '50s rock-and-roll kitsch classics.". It's so terrible that we can't stop watching.
Scene from the John Waters film Pink Flamingos, 1972
The Campy Art of Lynda Benglis
When you work with organic imagery which also tackles pop culture, you're bound to make art that is, well, exaggerated and strange. Lynda Benglis uses materials such as beeswax, polyurethane, gold leaf, zinc and aluminum in her pieces, addressing feminist issues on sensuality and physicality. Of course, she is not the only sculptor whose work could be considered campy, but she might be among the more famous examples, especially because she deliberately went to disrupt the male-dominated minimalism movement. Apart from her sculptures, Lynda Benglis used herself to challenge the (mis-)representation of women in magazines, for instance, by posing for a series of controversial images in the 1974 issue of Artforum magazines. Here, we see her aggressively posing with a large latex dildo and wearing only sunglasses. The ad promoted one of her upcoming exhibitions and the artist paid for it herself.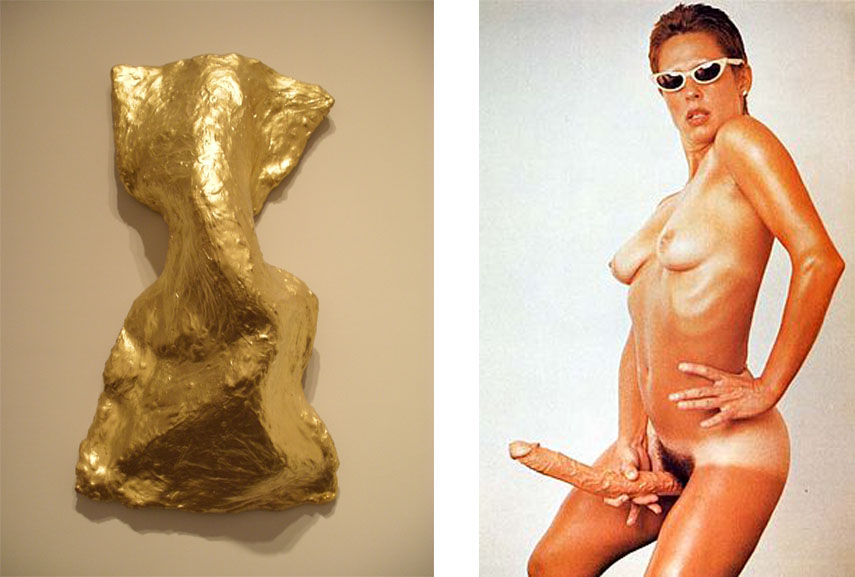 Jeff Koons - Michael Jackson and Bubbles, 1988
Finding inspiration in entertainment media, pop culture and Christian art, Jeff Koons created the sculpture of Michael Jackson and his pet monkey Bubbles in 1988 in porcelain and gold leaf, in the manner of the kitschy icons and figurines of from mythologies and different religions. Belonging to the infamous Banality series, it sees the King of pop placed on a flowerbed, holding his monkey and oozing in the yellowness of both their suits. Can it be any more repulsive to look at? Is it all the gold? The paleness of their faces? Their postures? Michael Jackson was at the pinnacle of his career at the time, providing Koons with enough material from his professional and personal life to make this campy piece, of which today there are three versions: at The Broad Museum in Los Angeles, the San Francisco Museum of Modern Art and in Athens.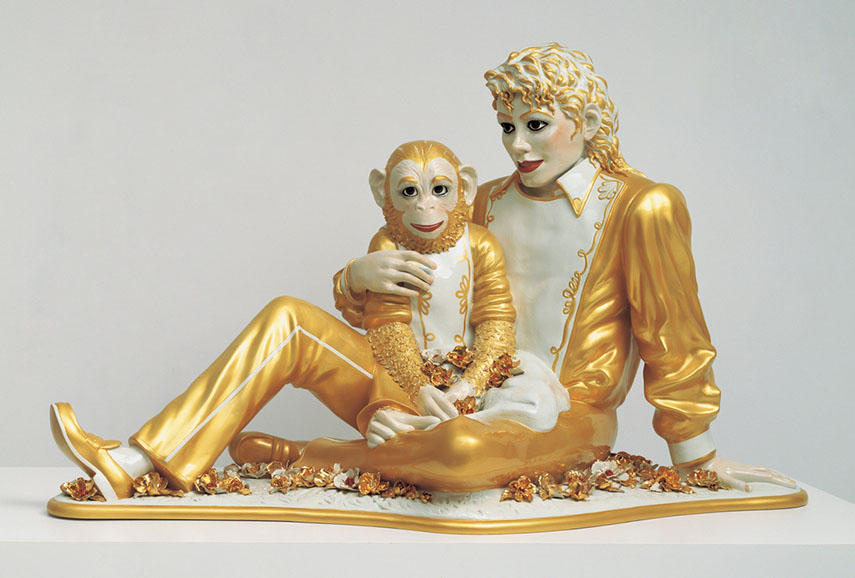 Lady Gaga's Meat Dress, 2010
It was one of the most talked about events of 2010, the 2010 MTV Video Music Awards. Lady Gaga, as one of the stars of the evening, came to the ceremony wearing a meat dress - a dress made entirely out of raw beef, designed by Franc Fernandez and styled by Nicola Formichetti. Naturally, the dress was condemned by animal rights groups, but it was also named as the top fashion statement of 2010 by Time, divine the public's opinion and prolonging the debate long after the meat turned into jerky. Explaining her decision to wear the meat dress, Lady Gaga said that it was a statement about one's need to fight for what one believes in, and highlighted her distaste for the US military's don't-ask-don't-tell policy. Like any other example of camp, it fascinates us in all its ugliness and, in this case, quite literal rawness.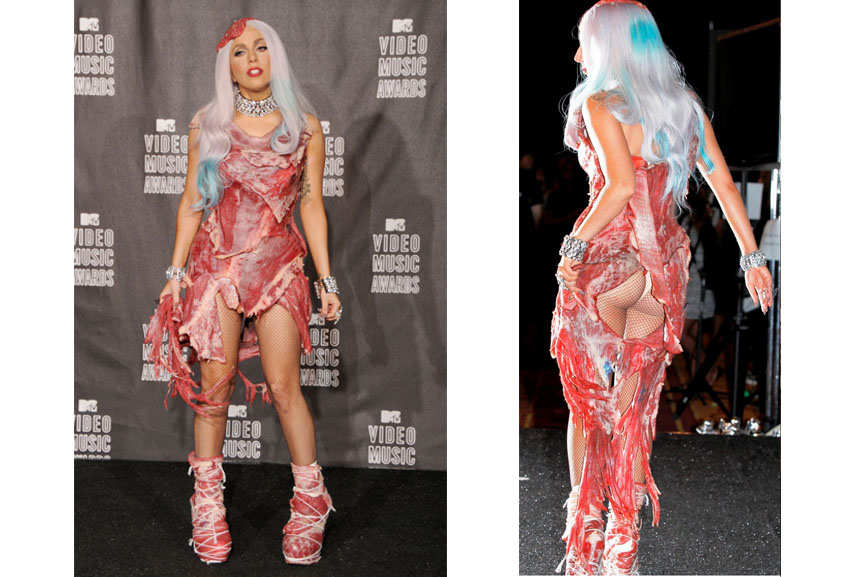 Where is Camp Today?
To brand something cheesy, kitsch or, in our case, campy, inherently means to disparage it, strip it of any importance or certain value. How is it then that these works make up such a large part of contemporary culture? The truth is that, while the term "camp" appeared as such in the 1960s, there always was and always will be the market and the audience for the laughable and the terrible, the crazy and the amusing. Artists will continue to make such art (and even create brand new movements to do so), including films, literary works, music, talk shows, fashion styles, tv soap operas, burlesque and drag queen shows, gloriously and excessively soaked in bad taste and irony[9]. Yes, it will all still be described as tacky, cheap, trite, corny, and it certainly won't be for everyone. Is considering an artwork campy a matter of subjectivism, of relative opinions? Maybe so, but the fact is that there will always be a piece of modern-day culture to debate this over.
Written by Eli Anapur and Angie Kordic.
Editors' Tip: Guilty Pleasures: Feminist Camp from Mae West to Madonna
The aim of the author Pamela Robertson in this book is to put women back in the history of camp, which was so far confined to gay male practice. Women had significant roles in consumption and production of camp and the author links such practices back to gender theory and issues of parody, performance and spectatorship. Grounded in social and cultural criticism, Robertson analyzes female performers such as Joan Crawford, Mae West and Madonna, and links them to the tradition of feminist camp. The book explains contextual background that saw the development of feminist camp, which is the period of antifeminist backlash in America. Spanning the fields of gay, lesbian, and queer studies, cultural studies, mass culture and feminism, Guilty Pleasures will appeal not just to scholars but also to general readers interested in this subject.
References:
Camp, Online Etymology Dictionary. [September 27, 2016]
Sontag S., (1964) Notes on "Camp", georgetown.edu [September 27, 2016]
Ibid.
Ross A., (1989). No Respect: Intellectuals and Popular Culture, p. 154.
Callahan, D, (2012), Barbara Stanwyck: The Miracle Woman, p.115.
Howard J., (1996), Art Nouveau: International and National Styles in Europe, p.87.
Thomas J.A., (1999), Forgotten Codes of Camp, in:  Reinink W., Stumpel J., Memory and Oblivion, p. 989.
Anderson, E., Sailing the Seas of Cheese, Contemporary Aesthetics [October 1, 2016]
Stępień, J., Redefining Kitsch and Camp in Literature and Culture, Cambridge Scholars Publishing [October 1, 2016]
Featured images: Diego Montoya - Future Ritual 2, 2015. Image via diegolovesyou.com; Carlo Crivelli - Madonna and Child, 1480. Image via wikipedia.org; Exaggeration of sexual characteristics of actor Steve Reeves. Image via yuchtar.com; Helene Sibeud - Femme Fleur, 1900. Image via 1stdibs.com; Kent Monkman - The Rise and Fall of Civilization, 2015. Image via muskratmagazine.com. All images used for illustrative purposes only.