San Francisco-based Spoke Art Gallery is known for promoting local Bay Area artists. Of course, it does not exclusively present local artists; the gallery is rotating monthly exhibits feature a wide variety of solo and group shows, many of which feature the gallery's international roster of represented artists. Spoke Art always has exciting and interesting events – in October we saw a great exhibition of Stella Im Hultberg that was entitled Stranger, while in November, the visitors of the gallery had an opportunity to enjoy the beautiful art of Dennis Brown, during the show Innate Flux. Following these great shows, the gallery is organizing Cannon Dill exhibition that is entitled In My Own Time.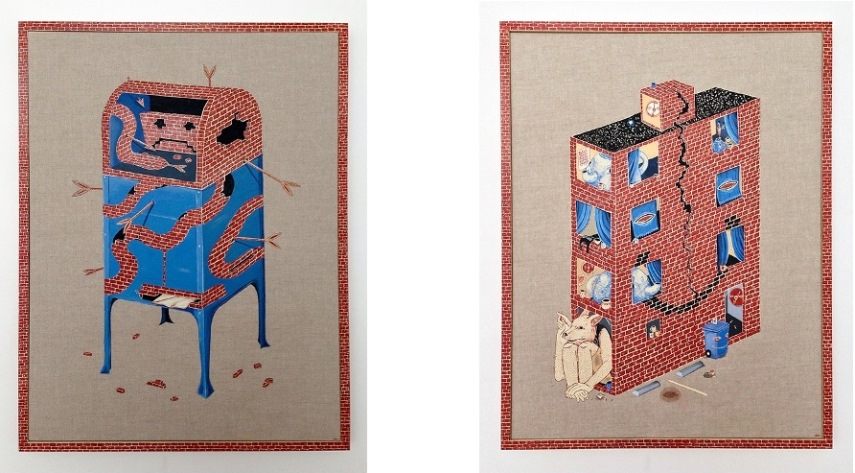 Examining Urban Landscapes – The Art of Cannon Dill
Cannon Dill is a street artist who currently lives and works in Oakland, California. He is best known for his murals done in a distinctive style – a pen and ink drawing with common themes such as spirit animals like wolves and coyotes. His street art has reached all over the US in cities such as Oakland, San Francisco, Chicago, Albuquerque, Denver, Minneapolis, Chicago, New York City, Orlando, Atlanta, and Little Rock. Dill generally sticks to large-scale work in black-and-white palette which are in fact a sort of recreation of his highly detailed pen-and-ink illustrations. Dill's sketching is reduced to the minimum as he is more inspired when working in the moment.  His work is mostly monochromatic. The artist is partially colorblind and in the past he had some attempts to work with colors – but he would always come back to black and white as he felt safe and comfortable working with it. For In My Own Time exhibition, the artist created a new body of work - developing new styles all his own, Dill still remains immensely textural and line heavy as seen in his previous work. In this new series, he hones in with immense detail and a simplistic color palette that almost teeters on a print like aesthetic.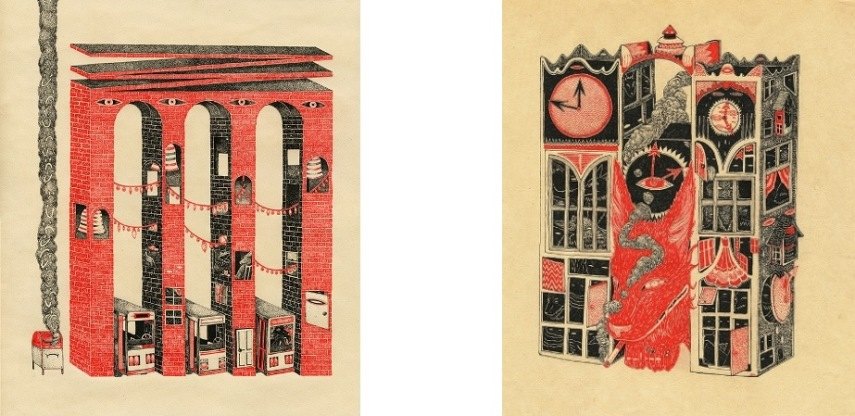 In My Own Time
Experimenting with depth and space, Cannon Dill portrays densely rendered architecture that lends itself well to themes of urbanizing gentrification that he and many other artists have been affected by in the recent years. Whimsical creatures and anthropomorphic objects inhabit these condensed rooms as animated characters would in a book or comic strip. Elements of sculpture and installation based work will also play a large role in the exhibition, creating a dialogue between 2D and 3D. Drawing influences from folklore to vintage cable car ads, In My Own Time is a chimerical journey that gathers the collective experience of creatives across the Bay Area. The exhibition title - In My Own Time is representative of the metamorphosis that Dill has undergone not only in his own career, but with his personal growth as well. Each stage in his own life is symbolized in his work through easily identifiable imagery. Iconography such as ticking clocks, clouds of smoke, entrapped spaces and fractured architecture all personify deeper meanings for Dill.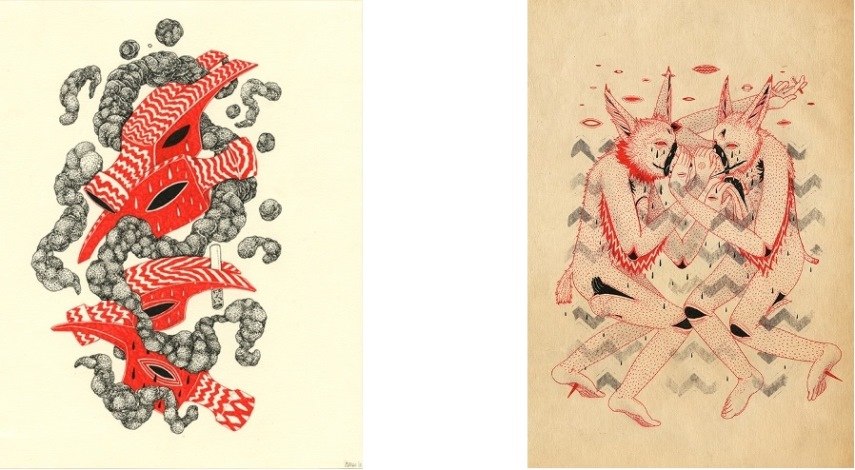 Cannon Dill Exhibition at Spoke Art Gallery
Cannon Dill has been residing in Oakland for nearly 14 years. In My Own Time is an exploration into the artist's own understanding of his surroundings and the ever-changing landscape of the Bay Area. The visitors already did have an opportunity to see the works by Dill at San Francisco-based Hashimoto Contemporary, during the group exhibition Moleskine Project IV in April 2015. Now, this is a new opportunity for art lovers to enjoy the latest painting, sculpture and works on paper of Cannon Dill. The show entitled In My Own Time will be on view from December 5 until December 19, 2015 at Spoke Art Gallery in San Francisco.
Featured Images: Cannon Dill - In My Own Time, detail; Cannon Dill - Highly Caffeinated, Detail. All Images courtesy of Spoke Art Gallery.