Unusual start for cardboard and art came in 1848 when Anne Brontë in The Tenant of Wildfell Hall first mentioned this term.[1] Cardboard stands for any type of heavy-duty paper and therefore the term is slightly avoided in industry due to its vagueness. Cardboard art, however, is an art form which, besides the ambiguity of the term, denotes artworks made from different types of this material. The style, aesthetics or even the format of the art is not included in the definition, so artists find versatile possibilities when expressing themselves through cardboard art. Important element, however, that somewhat defines cardboard art but not necessarily in traditional art historical terms is its contemporary hipness. As societies around the world strive to develop different modes of existence that cohere more with nature and are protective of nature's cycles, cardboard ascends the art scene slowly as the both economic and environmentally friendly material.
Its recyclable properties - present if cardboard is not wax coated or chemically treated which renders it more difficult to recover - correspond to the widespread urge for perseverance and renewability of sources. Therefore, cardboard art is not always denoted as separate from other, more broadly defined art, such as green or eco-friendly, recycled, junk or art from everyday objects.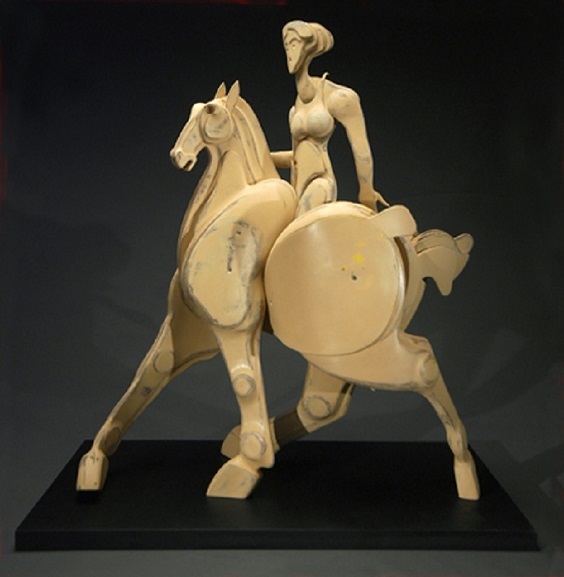 Different Utilizations of Cardboard in Art
Cardboard in art is used in different forms and states. Often artists find that discarded and old cardboard, like the one found on the streets, is best suitable for their visualized critical attacks on contemporary consumerist culture and high art, while for others the condition of material, being either found, reused or new, is emptied out of contextual meaning and serves for pure aesthetic explorations. The modes and tools used for the manipulation of recycled cardboard are relatively simple, and include scissors, glue, and X-Acto blades, among others. Material itself can be manipulated in different ways in design, arts and crafts, not just by cutting, painting, bending, gluing or combining of pieces together, but also through manipulations of the texture itself. Instead of preserving its visual recognizability, cardboard in the hands of artists is often transformed into visual resemblances of other materials. Cardboard sculptor Jözef Sumichrast explains how he is inspired by recycled cardboard and how he transforms it: "The use of cardboard is a backlash against technology. However, I have found that when this lowly material is sanded, it is elevated to velvet."[2] Other interventions besides sanding can also change the visual quality of cardboard and make it sturdier, stone-like, sleek, smooth, or it could be painted over as to resemble a finished product. In Paul Orzech's work cardboard is supportive material. Orzech exploits the inherent frailty of cardboard and uses its strips to create his sculptures. He fires cardboard coated in other, more resilient material in kiln and fills the burned cavities with molten bronze. Cardboard in his work is therefore not a medium but an accessory in the execution of an artwork. Along with different manipulations of material, differences in type of the used cardboard also contribute to artwork's aesthetics. Cardboard can be divided by its various strengths, it could be made of single sheet of paper or it could have complex structure with multiple corrugated and uncorrugated layers.
Cardboard Artists and a Brief History of Cardboard Art
Before noting down some of the early examples of cardboard use in art, it should be pointed out that the interest in cardboard came after turbulent art history where medium itself was redefined along the lines that rejected traditional and conservative art hierarchies. Material, form, structure and thematic scope of art changed dramatically from the beginning of the 20th century and continue to change ever since. The breakup with tradition signaled that genres, styles, themes, and ultimately material could be explored in a freer and unhindered manner. The attraction of the cardboard to artists came through several of its characteristics. Being a utilitarian material, it is easily obtained. Its versatile applications in our day-to-day lives in packaging, moving or storing put it at a hand's reach for most of us, roster of artists included. Easily malleable and inexpensive, make it facile to form in desired shapes and arrangements without the fear of ruining something that is difficult or expensive to obtain. Finally, being easy to upcycle is another quality that allows creatives to craft their work with sustainability and eco-friendly kick to it.
Going back to history, cardboard entered the art scene most notably in Cubist and Dadaist works. Pablo Picasso's Still Life with Guitar came to be one of the most influential sculptures of the 20th century, and it belongs to the period of Picasso's work when he turned his attention from figures to still life around 1912.[3] Dada artist Marcel Janco used cardboard to create famous dada masks which were used in Dadaist plays in Cabaret Voltaire in Zürich. Staged as a revolt against Western society and its culture, these plays or theatre-ballet performances often included masked actors. As one of them later testified: "The masks transmitted their power to us with an irresistible violence. We understood instantly why such masks are so important for pantomime and theater, for these masks simply forced anybody wearing one of them into an absurd and tragic dance."[4] Cardboard was also used in a large-scale installations such as Kurt Schwitters's Merzbau in Hannover. Made of cardboard, garbage, debris, and different personal objects of the artist it was unfortunately destroyed in World War Two. Merzbau was comprised of the whole living space of the artist that was transformed by these materials into a walk-in collage.
Cardboard was not just a material used by artists, but Andy Warhol changed it into a worthy object of art in his Brillo Boxes. Instead of using cardboard as constructive material of his work, he instead created work that imitated cardboard boxes, reversing in this way its meaning and significance in modern art practices. The gesture coming from Pop Art fascination with mundane and commercial is later echoed in contemporary art of Andy Barrett and Cardboard Box Office duo who leave labels and printing on the found cardboard visible in order to include its materiality in the value of the work. As seen from the above brief history, cardboard use in art is varied as the application of the material itself.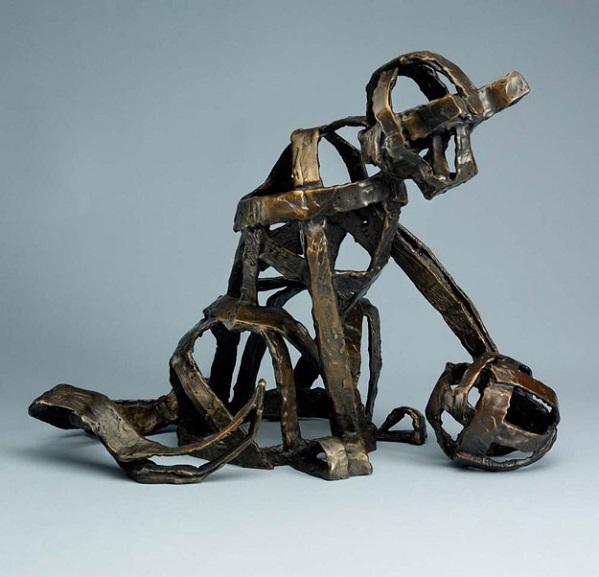 The Diversity of Cardboard Sculptures
New or reclaimed, cheap, pliable cardboard continues to be an irresistible material for sculptors. Through skillful work of these artists working with cardboard, this low-cost and widely accessible material turns into unexpected, beautiful and intricate works of art, displaying its versatility and endless possibilities. Here are some of the most interesting examples of cardboard art.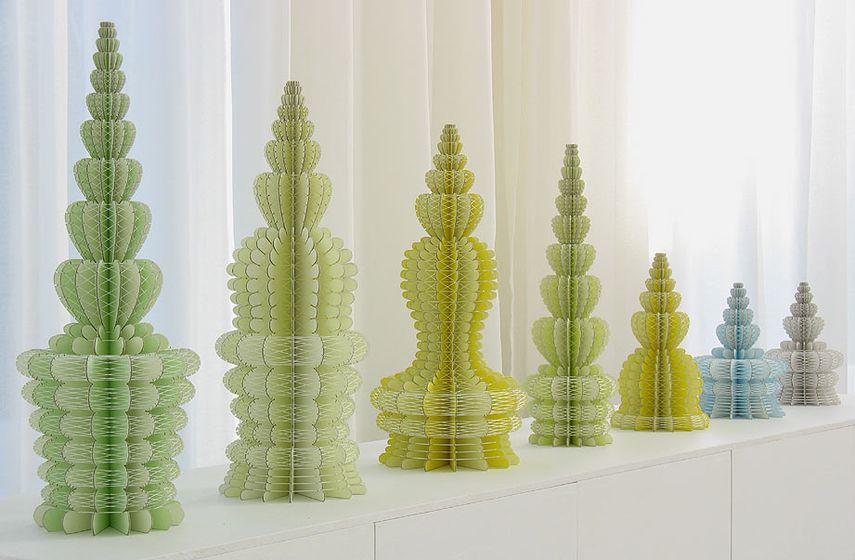 Peeta – Graffiti Sculptures
A renowned Italian artist, Peeta is known for his 3D flowing graffiti that goes beyond expectation. Using gentle gradients of color to give the impression that light is hitting his pieces from different sources, he gives them a strong sense of dimension to resemble a sculpture. But he also makes sculptures that are three-dimensional interpretations of his graffiti art. For him, the sculpture is not only an artistic object itself, but also a tool to deepen his knowledge into shapes and volumes. Cardboard is among the materials Peeta has used to transform written graffiti into complex forms that have been featured in galleries around the world.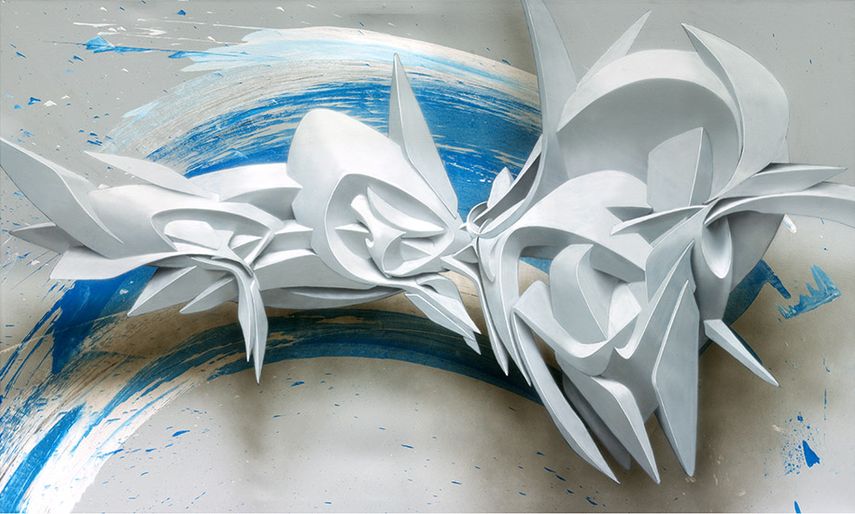 Ana Serrano – Salon of Beauty
The Mexican-American artist Ana Serrano takes her inspiration from everyday life in Los Angeles' diverse, urban neighborhoods. She often references those in low socioeconomic positions, focusing on their customs, beliefs, and informal economies of these communities. Over the past few years, she has made a series of miniature, cardboard sculptures of stores and homes representative of her experiences in LA's working class neighborhoods. After photographing parts of the city we tend to ignore, she makes her own stylized versions of these humble icons of urban life. In her installation Salon of Beauty, she wanted to pull everything that she liked in the city and condense it.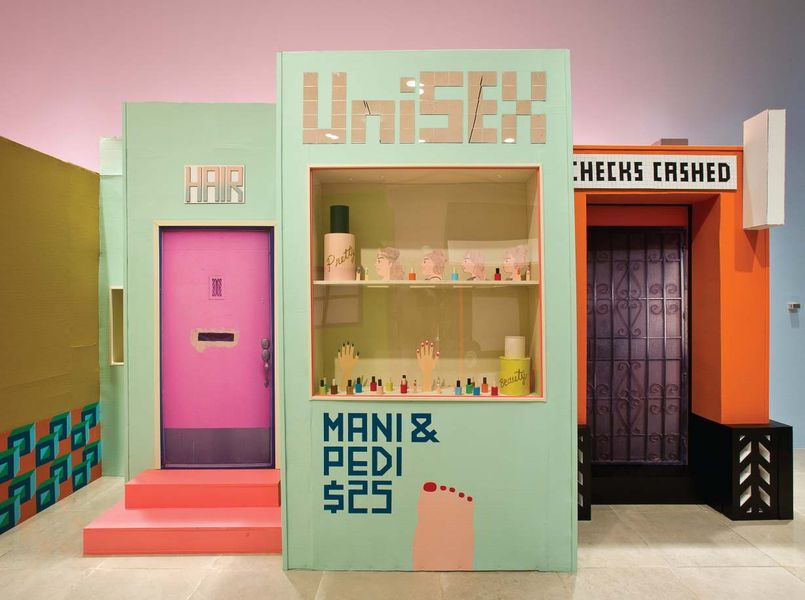 David Sleeth – Packaged Good
Using corrugated cardboard as a medium, the artist David Sleeth refines shapes to their most basic forms. He enlists cardboard to transcend the limitations of materials and methods of fabrication and he is interested in the way they impact the appearance of objects. His practice consists of fixing together sheets of cardboard, then carving and reducing it to bold physical abstractions. His pieces are intricately layered and uniquely textured and are free of function. By abstracting the structures inherent to the objects, he aims to invoke a sense of uneasy familiarity that inspires an alternative appreciation of familiar forms.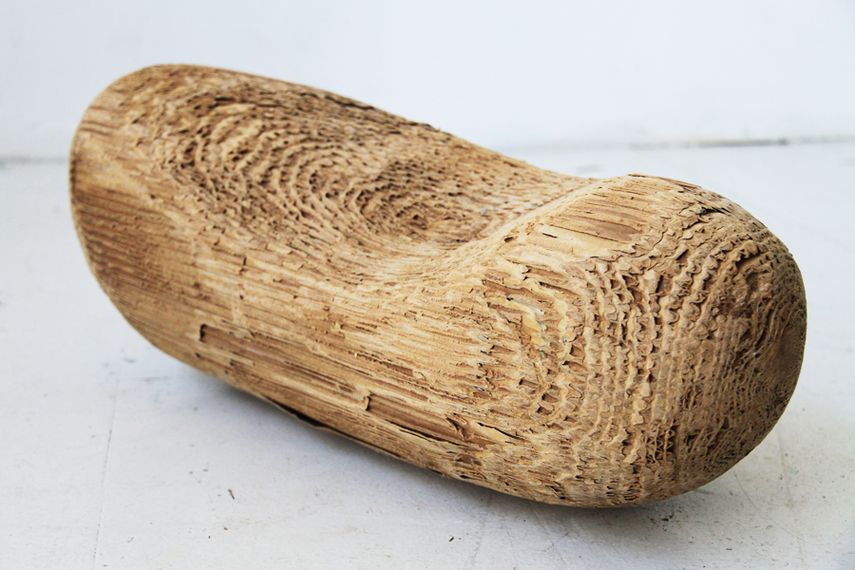 James Lake – The Self Portrait
The artist James Lake works with cardboard to create large scale 3D sculptural pieces. He creates sculptures in smaller sections that can be assembled into a large scale piece. It is work that is to be touched and interacted with, and he aims to inspire and make accessible 3D art processes. Following his fascination with the human form, his figurative and portraiture works explores the ideas of humanity, strength, fragility and resilience through the materials and the subject matter.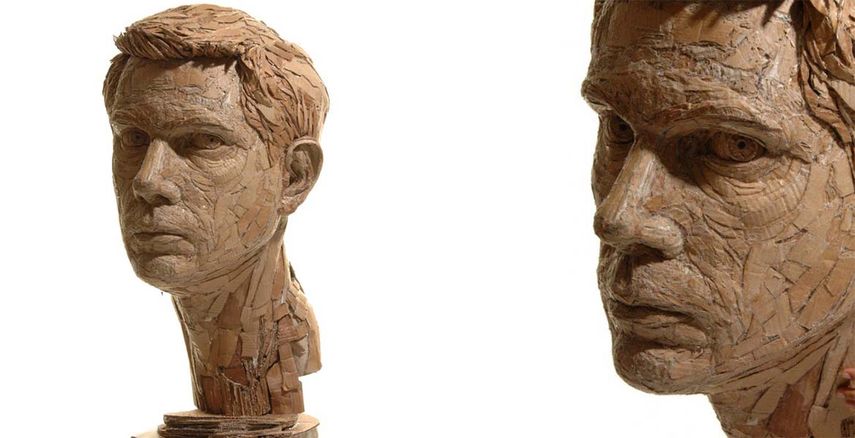 Tom Sachs - Hermés Value Meal
The artist Tom Sachs engages with high art, disposable consumer culture and everything in between. Sachs re-envisions modern iconography, popular and industrial inventions of the 20th century to create his own functioning versions out of re-purposed items. He often uses major luxury brands, ripping them out of their context. The recurring themes in his work are the American society and culture that he treats with a unique dose of humor. His works are process-oriented and reflect his DIY spirit. His 1997 piece Hermés Value Meal takes the house's orange boxes and reconfigures them into a tray with a fast food combo perched atop.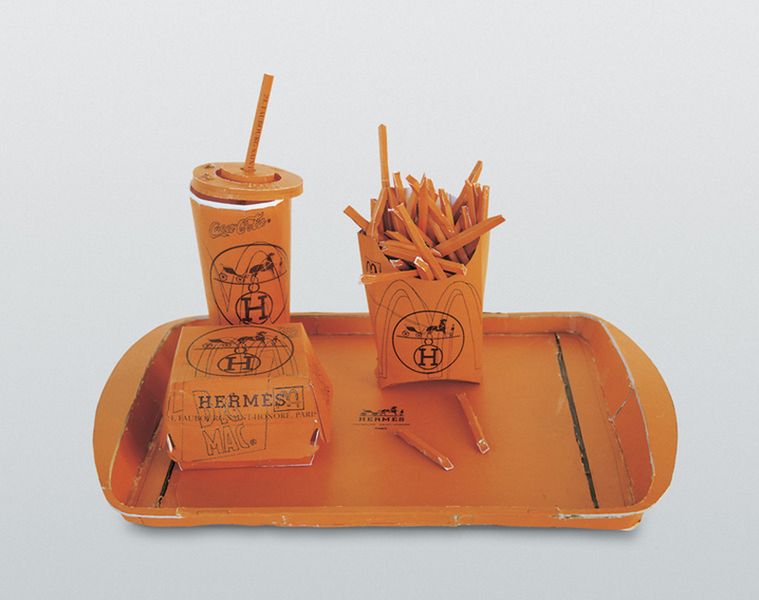 Chris Gilmour – Auto Taxi
Using only cardboard and glue without the supporting structure, wooden or metal frame, Chris Gilmour creates sculptures instructed by strict logic. Gilmour's work is more geometric and usually consists of popular manufactured goods recognizable by the average person. Using packaging cardboard, a material that is intended to be discarded, he wants to highlight the displacement between the original object and the one made of cardboard. Not only mere copies but rather translations from life, his sculptures bring the knowledge of small things that hide the sense of daily existence. Just as the piece Auto Taxi, these stunning virtuoso life-size sculptures, as well as cruder and more essential reproductions, are always based on objects we have all experienced first-hand.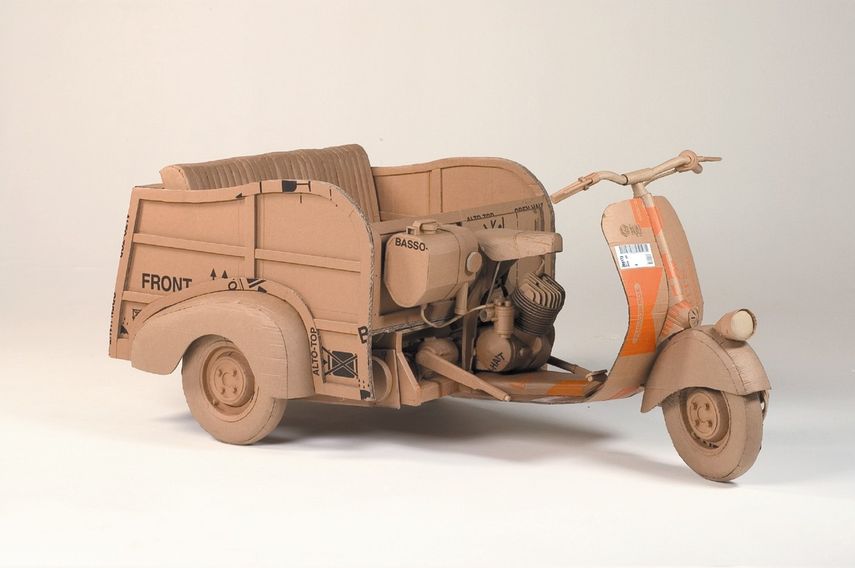 Ann Weber - Topsy, Turvey and Miss Priss
Starting her career as a ceramic artist, Ann Weber started working with cardboard in the early '90s, intrigued by the ideas of using such mundane materials. She makes gourds, spires, pods, Russian samovars and other figures that stand as tall as 16 feet, towering over the artist herself. These impressive large-scale sculptures have the appearance of large baskets woven by monumental forms with a rich patina created with layers of shellac. These abstract pieces present metaphors for balancing acts that define our lives. While working, she often asks herself: "How far can I build this before it collapses?"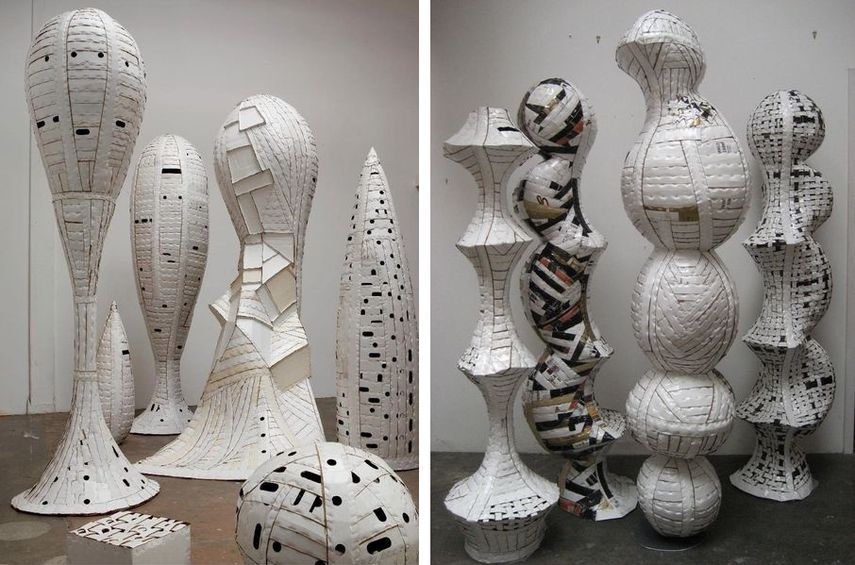 Frank Gehry – Wiggle Chair
Cardboard furniture emerged in the 1960s as a cheap and light alternative to traditional furniture. The architect, designer and artist Frank Gehry discovered a process that ensured cardboard furniture-making a new burst of popularity. As he explained, he saw a pile of corrugated cardboard outside of his office one day and started to play with it. Soon after, he introduced the material he called Edge Board that consisted of glued layers of corrugated cardboard running in alternating directions. In 1972, he presented a series of cardboard furniture entitled Easy Edges. The furniture was remarkably sturdy and aesthetically unique and the whole series was a great success.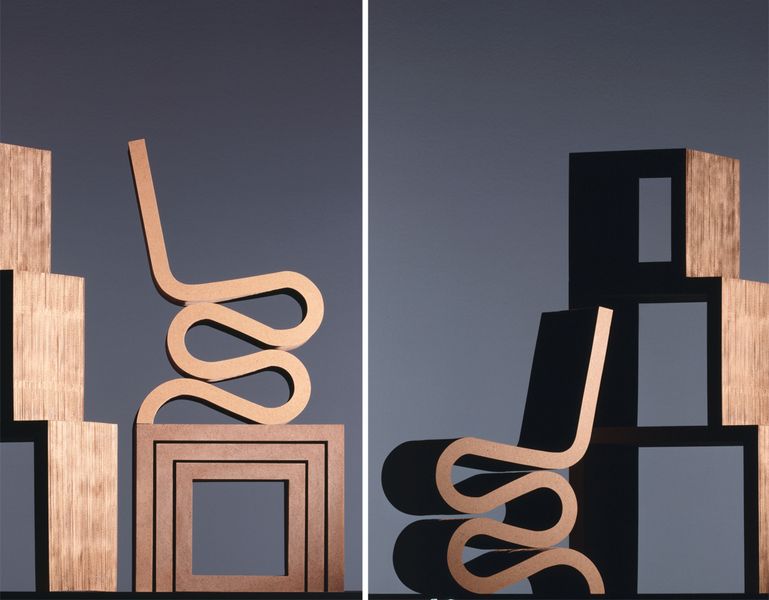 Tobias Putrih - Macula Series
Making sculptural installations using simple materials such as cardboard, paper, scotch tape and scaffolding, Tobias Putrih explores the way the collective imaginary manifests itself. He uses fractured forms as well as changes in floor levels and illumination to create a narrative pathway. The Macula Series is informed by the building process of imperfect execution and a series of accumulated mistakes. They are made of stacks of cardboard rings cut from patterns created as artist tried to draw a perfect form and then gradually amplify own deviations. Due to this process, the final result is unpredictable.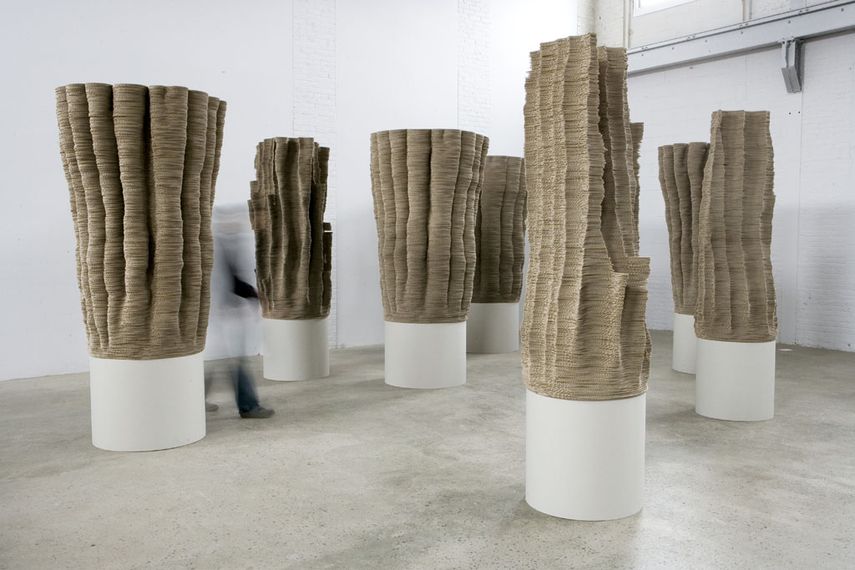 Miika Nyyssonen - Gravity and Reconstruction
A visual artist living in Helsinki, Miika Nyyssönen makes sculptures, paintings, installations and computer-based arts. His work explores spatiality and different ways to express the sense of space with various means. Although his work carries some art-historical references, he aims to create the atmosphere instead of a narrative. His process often starts with a drawing, a technique he considers as the straightest way from thought to visual and material. Recently, he has been interested in combining visual decisions made by computer programs to the handwork and painting done by himself.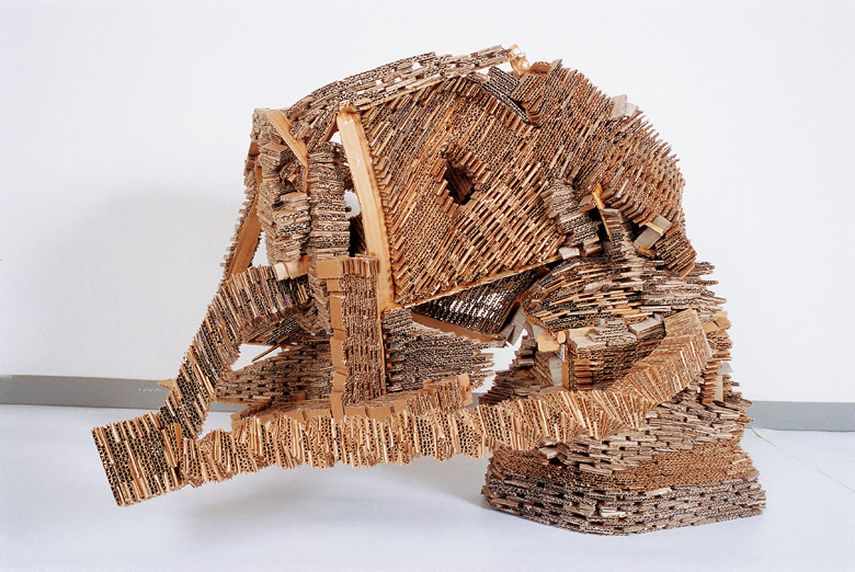 Contemporary Cardboard Art
In the era that is defined by high-tech, digitized, hyperlinked visual media, there are still artists who work with analog and un-precious materials and processes. In this new take on arte povera, cardboard is the material of choice for many creatives for producing aesthetically inventive and conceptually rich, odd, and funny works, spanning from painting and sculpture to environmental intervention. Reasons and meanings for using the material that presents the very embodiment of the omnipresence and overlooked industrial plainness in order to produce fine art are remarkably diverse. While some artists use it as a political statement on luxury branding or as a cheeky commentary on artifice in contemporary tastes, others use it as a meditation on ephemerality or are simply attracted to it on its own merits.[5] The musician and visual artist Phranc devoted her artistic career to working with cardboard. She creates everything from classic toys, costumes, and clothing by using only cardboard, paper bag, kraft paper, and paint. These pieces bring together issues of personal identities, American popular culture, and politics. The artistic duo Dosshaus is known for making entire worlds out of cardboard. They have been staging pop-ups and appearances around town with everything from clothes and cars to cameras and photographs. The painter Bill Barminski has made various funny cardboard pieces as a commentary on the expense-obsessed art market and its appetite for junk. For Banksy's famous Dismaland project, he created the security entrance - with metal detectors, body-search and the rest – entirely out of cardboard. He was surprised that people actually went through it.[6] Many other artists use this material that presents the very embodiment of the ubiquity and overlooked industrial plainness to create imaginative and inspiring art. Cardboard is a material that understands its mortality and knows that it's destined for trash. It seems that its valuelessness liberates us, becoming a perfect partner for play.
Editors' Tip: The Art of Cardboard: Big Ideas for Creativity, Collaboration, Storytelling, and Reuse
The comprehensive guide to cardboard art, Lori Zimmer's book showcases the incredible versatility and imaginative force of this art form. Cardboard is a common, mundane material often used for industrial purposes but nonetheless it is a material in which some of the most unexpected, intricate and beautiful works of art are made. Along with some jaw-dropping cardboard creations from around the world, this book explains the processes behind each art form, including tricks of the trade from smallest to large art productions and installations.
Written by Eli Anapur and Elena Martinique.
References:
Featured images: Kurt Schwitters - Merzbau, 1933. Image via tate.org.uk; Alex Uribe - Sashiko. Image via alexuribe.net; Pablo Picasso - Still life with Guitar, 1913.; Andy Warhol - Brillo Boxes, 1964. Image via dreammachine.com. All images used for illustrative purposes only.