Are you a Picasso admirer? Do you ever dream about having one of Picasso's paintings or drawings on your walls? Even if it is the smallest one? Well, some people might just get a chance to own a Picasso at the beginning of next year. However, they will have to share the work. And not like a time share when you have a painting in your possession for a while and pass it to another person. They will literally share 1,5-millimeter parts of it. Cards Against Humanity, a company responsible for the most offensive party game ever or "party game for horrible people" plans to slice up an original print Tête de Faune from 1962 if their subscribers vote for this decision. Otherwise, the work will be donated to a museum.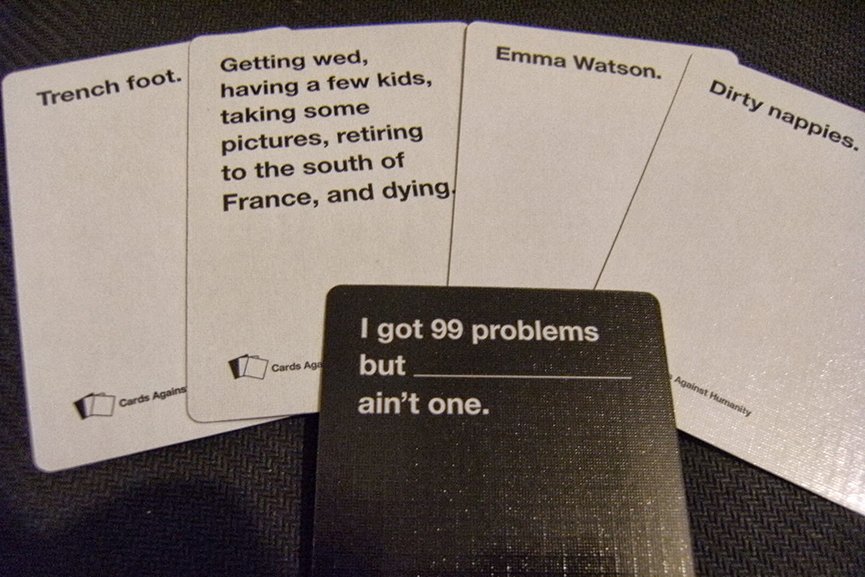 Cards Against Humanity – Eight Sensible Gifts For Hanukkah
Prior to the holidays, Cards Against Humanity launched a campaign titled Eight Sensible Gifts For Hanukkah and 150, 000 subscribers paid $15 to receive eight mystery gifts. So far the gifts included several pairs of socks, $1 investment into the Cards Against Humanity US Treasury Inflation Protected Securities Fund, a donation to WBEZ, Chicago's NPR station and NPR memberships, and a week of paid vacation for Cards Against Humanity printer workers in China. The holiday campaign that started with the mundane pairs of socks took an unusual turn when the organizers announced that the seventh gift will be nothing other than an original Picasso. However, the subscribers will have to choose if they want their tiny piece of the artwork or to save it from the laser cutter.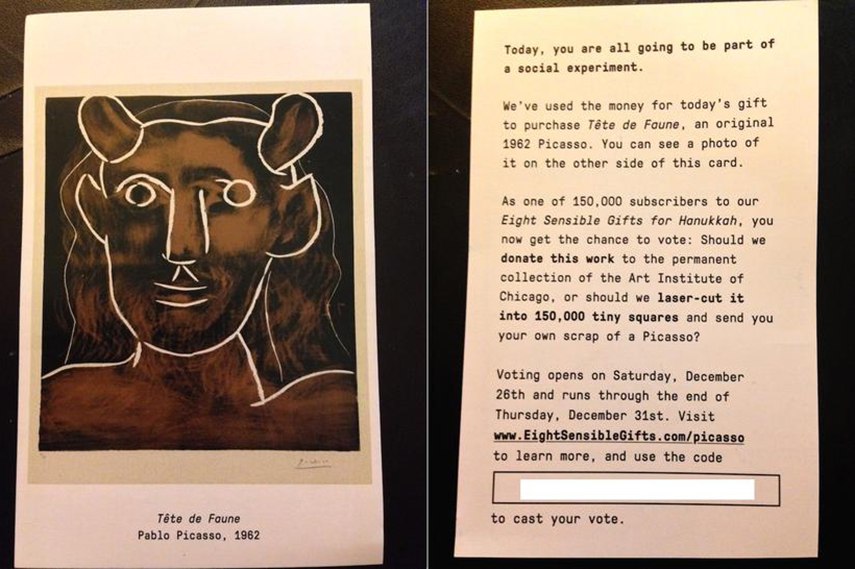 To Slice Up or to Donate? What will Subscribers Do?
For the seventh night of Hanukkah Cards Against Humanity team gave their subscribers a gift in the form of a question and a chance to participate in a social experiment? Earlier this year, Cards Against Humanity purchased an original Picasso print Tête de Faune (Head of a Faun) from 1962. The market value of the piece does not exceed $14,100 and the organizers of the campaign are well aware of its monetary value. However, it is an original work of one of the most beloved modern masters and the thought of having it destroyed is sparking some debates. The print now lies on the bed of a laser cutter and Cards Against Humanity is giving the subscribers two voting options. Should the piece go the permanent collection of the Art Institute of Chicago, or should it be cut into millimeter scraps where each of 150,000 subscribers gets a piece.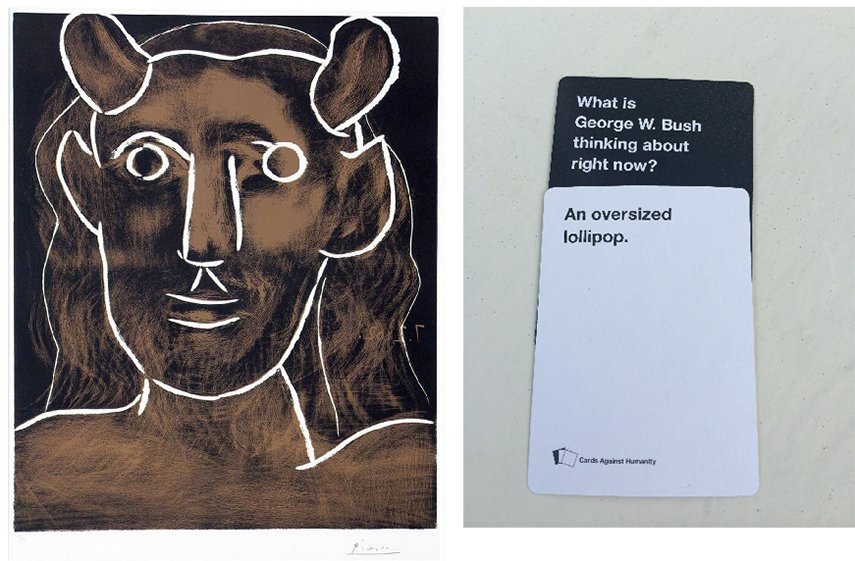 Will Tête de Faun go to a Museum?
The voting begins on December 26th, a day after Christmas and it lasts until December 31st, 2015. Depending on the votes, we will see if a New Year present for some will be a part of Picasso's work. The piece is not one of the most famous ones, but it is a Picasso, right? You can just imagine the debates that are already heating up on social networks. As a cultural artifact, the only reasonable solution seems to be to preserve the piece and to donate it to the museum. On the other side, it is a print and there are other copies of the same artwork. The subscribers know it, the organizers are counting on it. Would it be inappropriate and morally wrong to do it? Off course it would. But the crowd that enjoys playing Cards Against Humanity certainly doesn't have problems with moral or political incorrectness and appreciates some inappropriate jokes. Let's wait and see what happens.
What do you think will happen to Picasso's Head of a Faun? Tell us on our Facebook page!
Featured images: Picasso print on the laser. Photo via theverge.com; Pablo Picasso - Head of a Faun, 1962, detail. Photo via collectie.boijmans.nl. All images used for illustrative purposes.