Known for a distinctive style in drawing, Carl Krull created a series of prints for his upcoming exhibition at Format Artspace in Copenhagen. The new body of work explodes in color, evolving from his usual achromatic manner. Sediment, as the exhibition is named, refers to aspects of the silk screen printing process, while the series produced for this exhibition consists of five series of silk prints.
Photographer Henrik Haven graced us with a wonderful series of images depicting the artist's working process and some of the pieces that will be exhibited.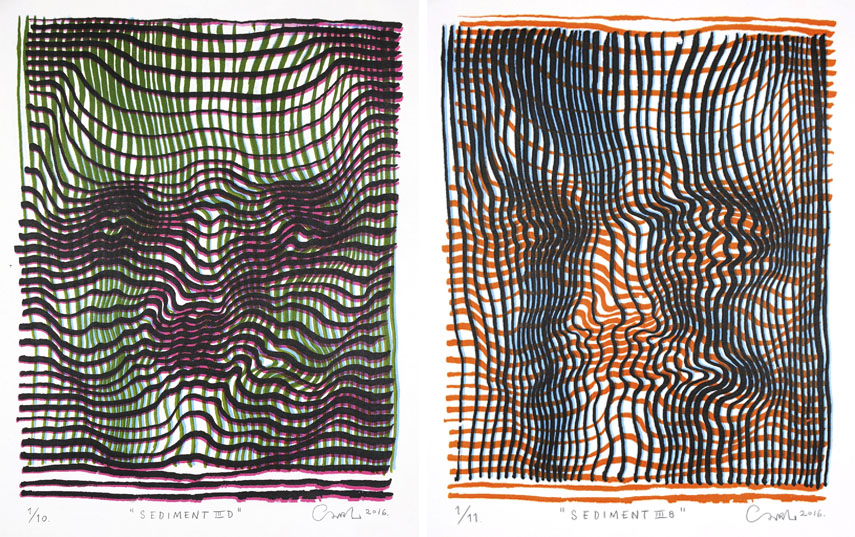 Carl Krull's Art of the Line
Krull's expression is largely based on line, which he renders confidently, with a hand of a master. His latest works are on the verge of abstraction, even though clear representative features are easily distinguished. Still, they are present only as symbols, reminders, thought-provoking elements that lead the viewer into further dialogue based on associations. The artist pulls the viewer into his invented landscapes, seasoned with imagery from various mythologies and imagination, where the dynamism is supported by the movement of line and form. Krull's drawings are described as sculptural, topographical for their map-like qualities, since they break into the third dimension despite of their limitations.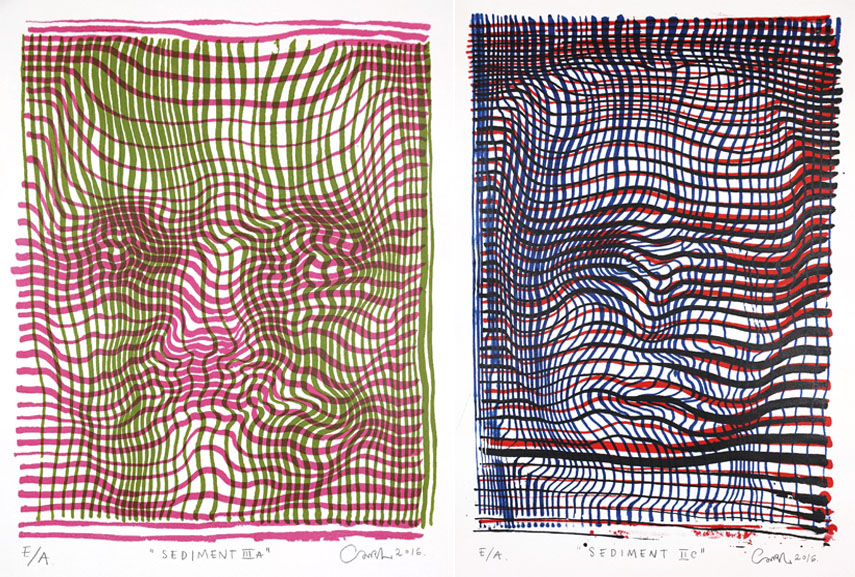 Sediment - The Print Series in Color
Prepared for the Copenhagen exhibition, Sediment print series marks another explorative phase in Carl Krull's art. The usual black-and-white palette is enriched with bright nuances of yellow, blue and even fluorescent pinks and greens. The intertwining lines in contrasting hues curve into volumes that form facial expressions, whose gaze is always directed towards the viewer. The faces are pressed against the linear grid, leaving their shape on the amorphic lines, inviting the viewer to contemplate on both the creative process and the meanings hidden within these anonymous masks.
Using multiple colors in the printmaking process is a demanding endeavor, which Carl Krull achieves through double exposures of the paper, and several layers of color. The result is an associative composition, an image that speaks of its own creation as it dialogues with the observer.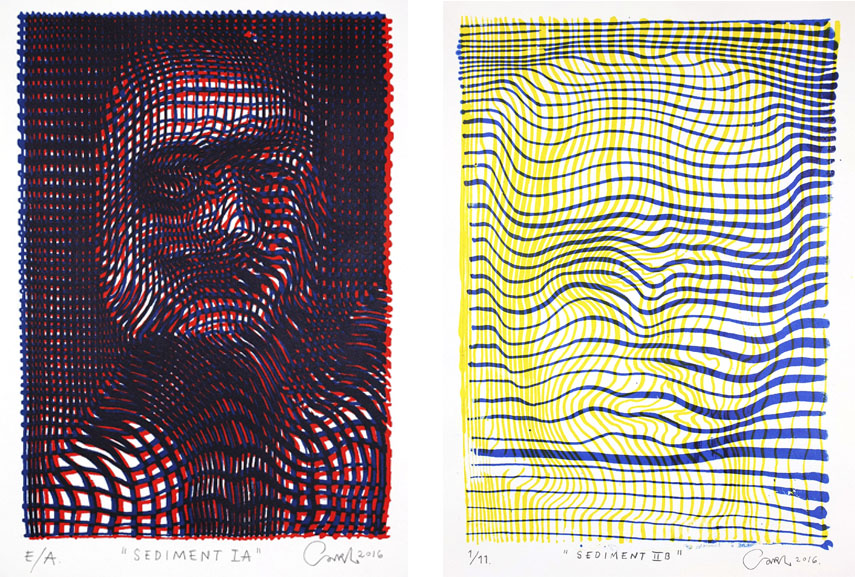 Carl Krull at Format Artspace Copenhagen
Sediment will be the first exhibition of Carl Krull's Art at the Copenhagen's Format Artspace but it will be another one in the row for this prolific Danish artist. The exhibition is to be opened on January 20, and it will last until March 11, 2017.
Featured images: Carl Krull at Format Artspace Copenhagen. All images by Henrik Haven.