Colors continue to invade Carl Krull's previously black-and-white dominated seismographic universe. It began earlier this year with a series of silk-screen prints showing multiple networks of colored lines, mixing and merging layer upon layer. Now continuing further into the feld of printmaking, his latest work are two series of lithographs and woodcuts. The lithographic works are entitled Quiver and the woodcuts Oscillator. Both titles refer to aspects of the the artistic method and expression, and will be presented by Format Artspace at Copenhagen's Code Art Fair, August 31 – September 3 2017.
In an almost sculptural manner, the distinctive artistic expression is of a topographical nature. Through the interference of the multicolored double exposures, all the elements seem to rise as if on an uncharted seabed as a connected whole. Faces and shapes resembling natural phenomenons such as tree rings and stalactite caves press through this grit of lines. In an almost sculptural manner, Krull seems to break with the two-dimensional surface of the paper.
Carl Krull (b. 1975) lives and works in Denmark. He graduated from the Academy of Fine Arts in Cracow, Poland in 1999 and has ever since contributed to a wide range of exhibitions in both Denmark and abroad. He has exhibited in Denmark at Aros, Aarhus Art Museum, Charlottenborg Kunsthalle and V1 Gallery. He has enjoyed international recognition from amongst other places Japan, France and USA. Below, Henrik Haven talks to the artist about the passion for printmaking.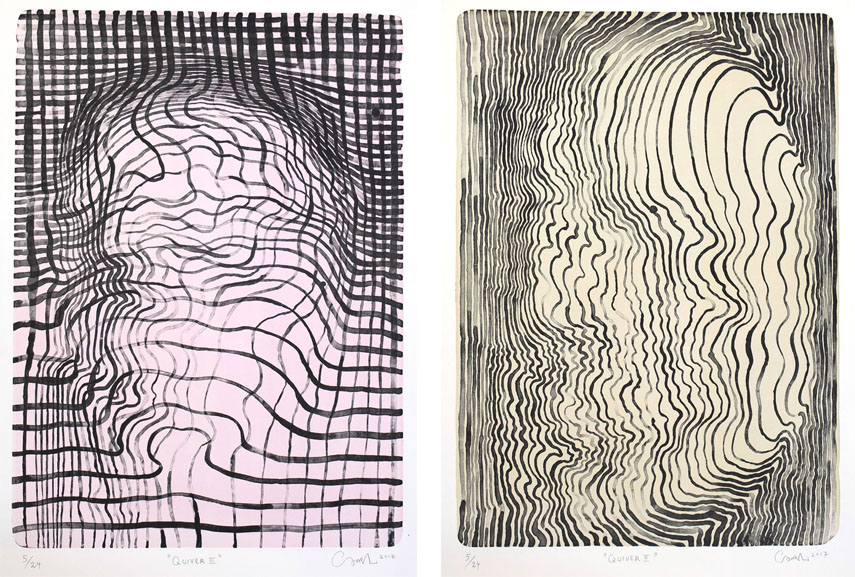 Carl Krull - For the Love of Prints
Henrik Haven: How did your relationship with printmaking begin?
Carl Krull: My parents met each other and fell in love studying at the Art Academy in Cracow, Poland. All my life, I have been surrounded by graphic work and posters. Eventually I myself went to study at the same place my parents met and took my masters at the graphic workshop.
HH: Why do you think printmaking is important?
CK: Whether you are painting on a lithographic stone, cutting in wood or working with another printmaking technique, the interesting common denominator is that the stone, wood or metal plate brings a great deal of character to the table, and forces you to work in dialog with the material at hand, in a very different way than when working directly on canvas or paper. You lose some control but get a lot in return. Another factor I love about printmaking is that prints aren't copies but rather considered unique works, this makes the work more affordable and thus more democratic.
HH: You did the lithographic work at Hostrup-Pedersen & Johansen, one of the world's leading lithographic ateliers located in Copenhagen and the woodcuts you both cut and printed yourself. What is difference and why not always work with printmakers?
CK: Working with a professional printmaker is great. The workfow is super smooth and really easy for the artist, because I get the freedom to focus on the artistic process of making something on the stone, not worrying about all the practical stuff. It is also very inspiring when the printing part begins. Colors are chosen and some tests are done before settling on how the fnal edition shall turn out. On the other hand it is of crucial importance to me also to keep doing the whole process myself. There's a lot of experimentation to be made and I need to push the boundaries at test my ideas, some of which work out others don't. Both working with a printmaker and doing all yourself is the only way to get the best of two worlds.
HH: What graphic works of art are your favorites?
CK: From childhood, I have been surrounded by the black and white woodcuts of the Danish artist Palle Nielsen, and I also remember the posters of the Polish artist Franciszek Starowieyski, their works of art are to this day some of the most brilliant I have ever seen.
HH: What will you do in the future?
CK: Just fnished my frst sculpture called Subterranean and hope more will come. Also feel like taking up painting again after a 15 year break!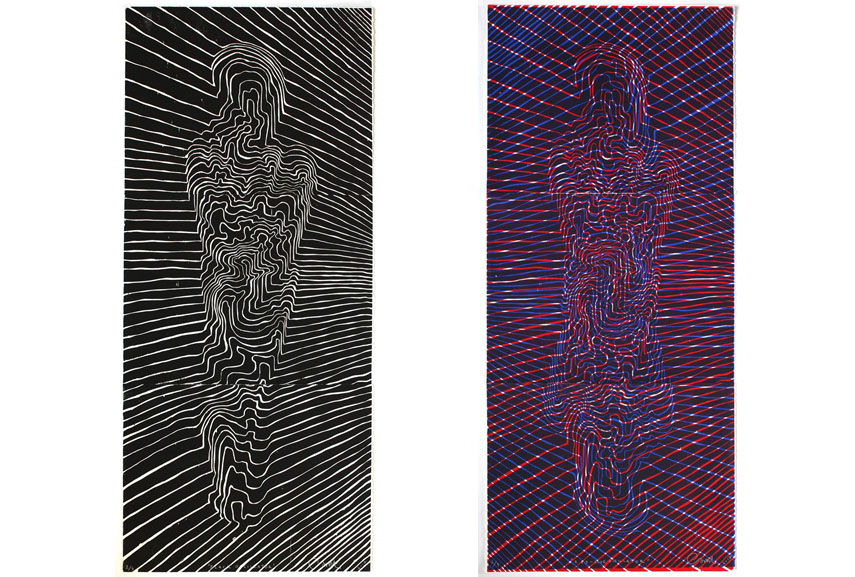 All images courtesy Henrik Haven.