As one of the most prominent Cuban artists of his generation, Carlos Estévez has been active for over twenty years working with wide array of mediums such as painting, sculpture, and photography. As he often embodies various philosophical and artistic concepts exploring the relationship between a man and the universe, the new Carlos Estévez exhibition soon opening at Couturier Gallery in Los Angeles is an extension of this ongoing subject. The exhibition Homo Ludens will present his new works including kites, hand-painted ceramic plates, and assemblages investigating the concept of "a playing man". The focus of this exhibition is the element of play in culture and society connecting the conscious and subconscious human experience, and is perceived as vital in the human development of cognitive, physical, social, and emotional well-being.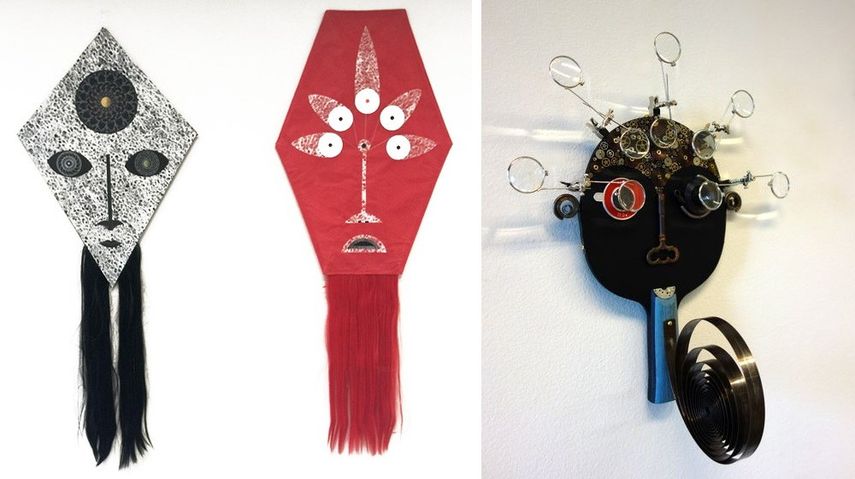 The Playful Sense of Human Existence
As a metaphor for the link between the heaven and earth, spirit and matter, kites at this exhibition reflect reminiscence of his childhood play and his developmental process or the "playing man". Large ceramic plates illustrate different aspects of man's interaction with the universe and his ability to manipulate and transform his environment by it. The drawings on each of the kites and glazed plates represent a study of the connection between the transcendental and everyday life routines. Mixed-media assemblages, each representing a micro universe, come from the universe's perspective of the insignificance of life, it being a brief flash of light. On the other hand, individual's point of view sees life as transcendental and as an opportunity for exploring the great mystery of life. From these two perspectives, the debate of human existence develops. Each of these new bodies of work explores the playful sense of human existence.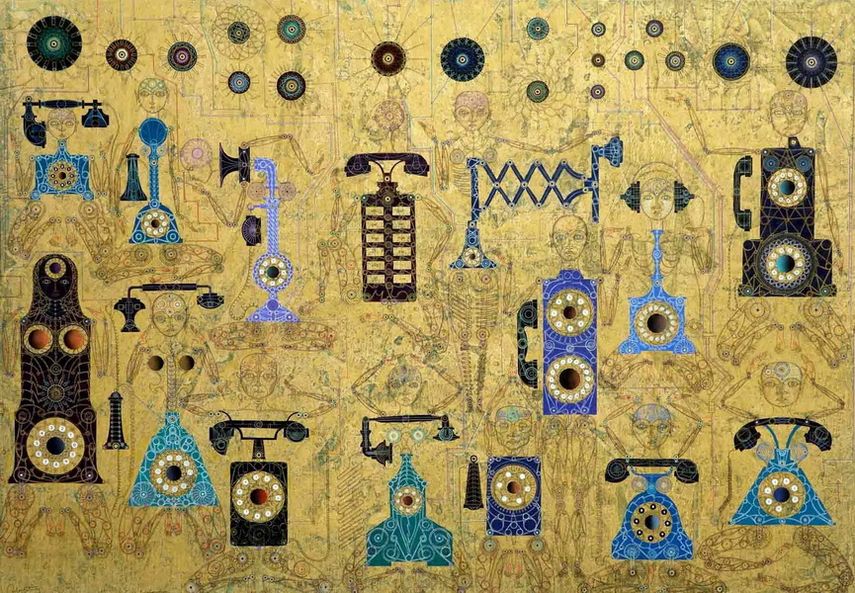 Becoming Homo Ludens
Estévez's work is autobiographical, reflecting his experiences and thinking processes. These new works were created as a part of his artist residency at The McColl Center of Art + Innovation in Charlotte. Endless creative possibilities of this program included workshops for woodwork, engraving, metal and ceramics. Using it as a playground where he could really be 'homo ludens' or the playing man, this environment has inspired his conscious and unconscious state of child and his undisturbed creation with the needless sense of the physical world.
Carlos Estevez Exhibition at Courtier Gallery
Using metaphors of man's existential questions, the visions of Carlos Estévez transcend everyday experience, creating realms of beliefs and knowledge anchored in the solid bastions of universal history, culture, and myth. He has held a number of solo and group exhibitions, and his work could be found in numerous museums and public collections. The exhibition Homo Ludens will be on show at Couturier Gallery in Los Angeles from April 2nd till May 14th, 2016. The Artist's opening reception is scheduled for April 2nd from 6pm to 8pm.
Editors' Tip: Images of Thought: Philosophical Interpretations of Carlos Estevez's Art by Jorge J. E. Gracia
Explore further about the relationship between philosophy and art through the work of Cuban-American artist Carlos Estévez. The book 'Images of Thought' claims that visual images can be used effectively to grasp complex thoughts, and philosophy can be deployed to deepen our understanding of art. Providing philosophical interpretations of seventeen works by Estévez, Gracia has managed to beautifully fit the discussion of important philosophical themes with the exploration of the artwork, which is fascinating and deserves attention. The interpretation deals with topics such as self-knowledge, the nature of the universe, faith and reason, permanence and change, the self and the other, women and men, freedom and determinism, providence, and predestination.
Featured image: Carlos Estévez - Plato. Courtesy of Couturier Gallery.