Carrie Able truly is a multifaceted creative. Based in Brooklyn, she is a visual artist, poet, and musician. Able has been working with oil on linen for over twenty years, but more recently, she began exploring the exciting new world of Virtual Reality.
Able has also been described as a "haunting singer-songwriter and guitarist". Her debut solo album Frequency was released in 2016, while her first single with ADIM records was released earlier this year with a live performance at the legendary Bowery Electric in Manhattan's Lower East Side. The artist also published a book, Painted Poetry, in 2016. On top of that, Able is also a gallerist, representing her own work amongst the most exciting emerging to established visual artists. Since spring, Carrie Able Gallery in Brooklyn has also been hosting an emerging artists in residency program.
It is Carrie Able's recent music video for her single Prince that combines all of her passions. This immersive 360 VR painting music video was created in collaboration with Jump Into the Light.
We had a chat with Carrie Able to find out more about her multifaceted practice. In an exclusive Widewalls interview, Able talks about creativity, challenges and advantages of working with VR, the future of technology, her various projects and much more.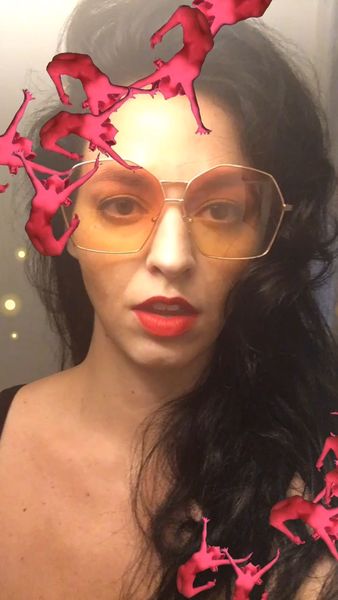 A Multifaceted Practice
Widewalls: You are a visual artist, poet, musician and virtual reality artist. How do you articulate these different forms of expression and how do they all come together?
Carrie Able: I've always considered myself a visual artist first and foremost. When I was growing up I had a lot of health issues so I was not well enough to physically be able to play an instrument. Growing up in a small town I didn't have access to the internet until high school, so I would spend days at a time in bed sick, with no computer, cellphone or tv. Even with a family that really loves you, they can't always be with you, so I was alone a lot and drawing and imagination was what filled my time. Vogue Magazine was the only publication that reached our small town that covered anything about Art and they tended to focus on covering female artists which I believe fueled my desire to one day end up living in NYC as an artist.
I began doing paid portrait commissions by the time I was 14 and began selling my original work by the time I was 21. I have only been playing the guitar and writing songs for 3 years, and it has taught me so much about my visual art practice. There is a gift in the lack of training for me with music. It's easy to break the rules when you don't know what they are in the first place. VR painting I have been doing for several years and it became a perfect way to combine all of my creative outlets.
Most people view pursuing multiple disciplines as somehow taking away focus from one another. That is likely how it is when you are thinking about tasks strictly related to hours in a day but that is not how creativity works. Creativity expounds itself the more that you use it. I also often say that creativity is like a cat - if you go lunging it's likely to run away from you, however, if you are focused on something else it's likely to come sit in your lap. I often would be working on an oil painting and a full poem will come out in 60 seconds or I'll be working on a song inspired by a poem and I will see colors from the sounds. XR art seamlessly combines art, tech and music. The people that are drawn to avant-garde media are by nature more open and experimental across the board. XR Art is the one form I have found where viewers don't find it weird that I am both a musician and a visual artist. When you're experiencing a VR painting with sound responsive musical elements made by the same person it all seamlessly goes together as one experience and as one artwork.
Widewalls: After working with oil on linen for over twenty years, you began experimenting with VR painting technology. What inspired this transition?
CA: My friend Nahiyan Ahmad, who was familiar with my art and knew I had built my own app, invited me a few years ago to come down to Jump Into the Light on the lower east side of Manhattan to experiment and I have been creating XR art ever since.
Carrie Able - Prince, 360 Virtual Reality Painting Music Video
Working With VR Technology
Widewalls: Your recent immersive 360 Art Music video is the closest you've ever been to including all of your artistic practices into one piece. Could you tell us something about the working process behind it?
CA: Indeed, this was by far the most collaborative and multidisciplinary work I have created to date. I had simultaneously begun working on a VR painting with sound responsive brush strokes in Tilt Brush while writing the lyrics, melody and guitar parts for my song Prince. This song would become my first fully produced single by ADIM records. I was thrilled to play in the ADIM showcase at SXSW Austin this past March a few months before the single came out. With the completed single, the Tilt Brush painting and about 6 Oculus Medium VR sculptures, Efrain E Aguilar Jr. and I created the 360 VR Music video at Jump into the Light. The wonderful thing about this work is that it is viewable free on youtube which has 360 capabilities and almost all smartphones have 360 enabled so it can be viewed by almost anyone in the world. For a more immersive experience, you can get an inexpensive VR headset converter for your smartphone.
Widewalls: You are currently working on coordinating your Augmented Reality Art with your musical performance, a project which will debut at the Ace Hotel this October. Could you tell us more about it?
CA: Sponsored by the Ace Hotel New York, the performance is free and open to the public and will begin at 7 p.m. October 11th with a viewing of the 360 VR Artwork followed by a live music performance at 8 p.m. The event is curated by Marie Van Eersel of Ace Hotel and Heather Falconer of Hatchers.
I am particularly excited to do my first AR music performance at the Ace Hotel New York because it was my first side job in NYC and they fired me!
Instagram just released my first interactive Augmented Reality Artwork which anyone that follows me on Instagram can view and use for free. There will be one for each song I perform and viewers will be able to see the AR art through their smartphones during the performance. I am incorporating in the AR art some of the same Oculus Medium Sculptures that were included in the 360 VR art music video. I will be performing brand new music that I have been working on this past year that has not been performed or released yet. Some of the comparisons I have gotten for my new music have been the Velvet Underground, Nine Inch Nails, Sonic Youth and Bjork.
Pink Supakarn and Charly Wenzel will be doing original choreography and performance inspired by my new music which will be performed for the first time in conjunction with my AR music performance.
View this post on Instagram
The Future of Virtual Reality Art
Widewalls: The virtual reality alters the normal rules of gravity and is completely devoid of regular sensory experience. What is it like to make art in virtual reality? What are the advantages, but also difficulties in working within this field?
CA: It's really the same as comparing the advantages and disadvantages of any other mediums. The assumption is often that anything with tech is created by a person sitting at a computer which is not the case with the VR art I have created thus far. I am wearing the headset and completely immersed and have a virtual paintbrush and palette. My favorite advantage of painting and sculpting in VR is that you can paint with light and sound responsive brush strokes. You can shift the scale of the work drastically. As you mentioned gravity is nonexistent, but for some of the sculptures, I do imagine the impact of gravity in real life. It is something I would also like to be translated to a 3D printed resin sculpture. The layering and blending that you can achieve with mediums like oil painting are not possible in VR painting. When I started thinking of it as "drawing sculpture" that really clarified my VR painting process.
I find this video of me painting in VR that is filmed on a green screen with mixed reality is the best way for people to understand what the process is like.
Widewalls: The fusion of art and technology continues to challenge our perceptions and fuse the virtual and the real. How do you see the future of virtual reality as a medium for artists?
CA: XR is the blanket term for all of this immersive media. VR stands for Virtual Reality which is when you are completely immersed in the artist's world and there is no evidence of your own reality. AR is Augmented Reality and many people are already familiar with this in applications such as Social media filters.
There are so many exciting things happening with new media now, as an artist it truly feels like what it must have been like to be in the first generation of artists who had access to a camera. Like how photography revolutionized all other art forms and visual artists doing paintings began to express how they felt instead of recording what they saw. I already sense the impact of doing XR art has on my more traditional art practice. There are times I am working on a two-dimensional oil painting or drawing and I will pull the brush away from the canvas as if it should paint in the air. Most people are unlikely to use the first-generation camera but we are still able to view and perhaps even appreciate these very early photographs more. It is truly thrilling to be part of the birth of a new medium... XR Art!
Widewalls: Does it have the capacity to change the way we understand a work of art?
CA: This medium is so new that the majority of viewers are not even sure how to appreciate it yet. We currently exist in a world that mostly views "ART" as two-dimensional sculpture or paintings that are to be viewed and appreciated for maybe 30 seconds at a time. Viewing an immersive VR art piece is to quote Seth Porges, "an experience more akin to attending a play than streaming a show on Netflix." I think the XR art that will have a more broad impact is the more accessible forms of 360 video as well as Augmented Reality Art. One of the facets I love the most about this art form is the way many people can view the art exactly as it was intended, which is comparable to music. There are comparably a small number of people who will have the opportunity to view a painting in person, as most will view the work in a printed book or on the internet. However, anyone in the world can listen to a modern musical masterpiece close to the way the artist intended.
View this post on Instagram
The Carrie Able Gallery
Widewalls: In 2016, you opened your own gallery. How did you decide to start such a venture and what is the concept of Carrie Able Gallery?
CA: I first had the idea in the summer of 2016 of driving a rented SUV down to Art Basel Miami and doing an installation in a hotel room of an exhibition I curated. I did end up doing this guerrilla-style exhibition at Art Basel in Dec 2016. That same summer I encountered the current gallery space in Williamsburg which looked completely different than it does now. It had astroturf for flooring and about 34 different shades of stained wood for the walls. I envisioned with a watercolor sketch pretty close to what it looks like now.
I really had a dream of showing the work of incredibly talented emerging artists without consideration of resume or background but only based on the work itself. Since the opening nearly 3 years ago the gallery has helped launch a multitude of talented emerging artists' careers.
Widewalls: What is next for you?
CA: There will be several single releases of my new music out in the fall. I'll soon be preparing for Pulse Art Basel in December where my work will be shown and I'll also be bringing the work of emerging artists Nandi Makala and Jacki Davis. There will also be several group exhibitions at Carrie Able Gallery this fall. The next opening party will be September 27th beginning at 7 p.m. and I'm curating based on a new song of mine.
Here are the lyrics:
Through days of solitude...
Empathy arrived...
Upon my emergence...
To find peace with oneself...
Is to really see others...
For if a war resides within you...
Through what anguished lens...
Shall you perceive...
The actions of others?
Featured images: Carrie Able performing at SxSW Austin, photo by Dylan Johnson; Carrie Able working on a near 8-foot oil painting. All images courtesy of the artist.