The American artist Casey Gray is interested in how people process and manage the visual overload in the internet-age of cultural production. The latest Casey Gray paintings will soon be on view at Hashimoto Contemporary. Titled Double Knotted, the display will be his first solo appearance with the gallery. Utilizing aerosol paint and laborious hand-cut masking techniques in a unique way, the artist creates vibrant still-life compositions that resemble a skewed hyperrealism. His work explores and emphasizes the collision of visual experiences inherent to the contemporary landscape, finding a deeper understanding of himself in the process. Through these layered still-life arrangements, the artist forms narratives, creates identities and discovers new truths about the world.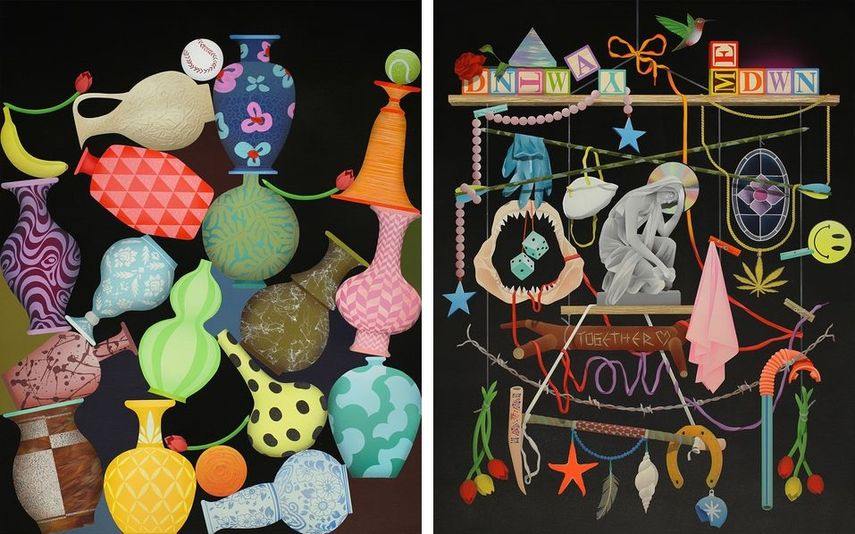 The Practice of Casey Gray
As images stream in and out of our news feeds, mobile apps, and internet searches, we are granted access to an unprecedented array of content divorced from its context or origin, becoming malleable and interchangeable within this visual framework. By referencing historical painting tropes, such as Flemish floral still lifes, his work comments on the complexity of this contemporary visual experience, creating a stage for a disparate subject matter to mingle, interact and play. Pairing and composing specific content sourced from his immediate and online environments, he engages the viewer to search for the connection through material identity. The visual excess sourced from a vast we of imagery is arranged into colorfully intricate tableaus.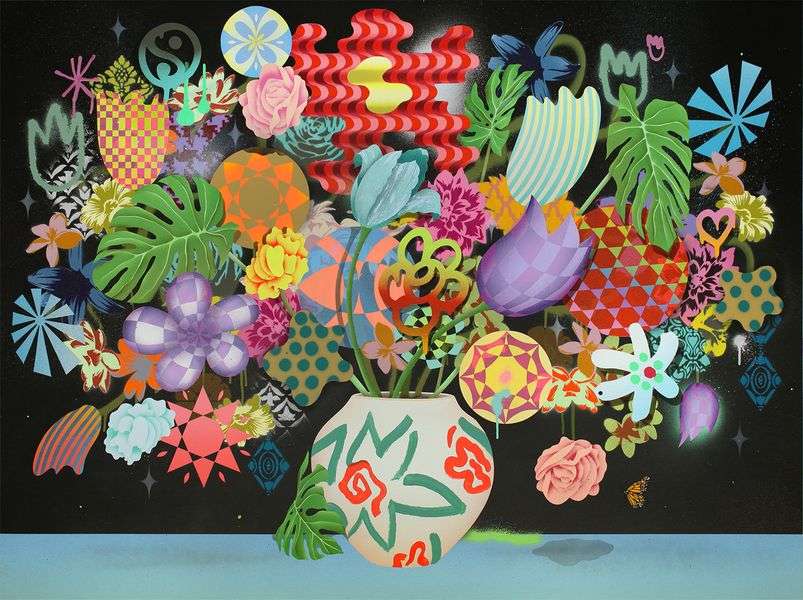 Double Knotted
Illustrating a struggle for physical balance, Gray creates a delicate harmony between the realism of his rendered subjects and the inherent flatness of his medium. A deeply calculating artist, he cuts every stencil to precision, executing his vividly designed works with care. The exhibition title refers to the shoelaces intertwined through Gray's ornate compositions, while also alluding to the anticipation of an uncertain future. The display culminates in a monumental painting titled The Pursuit of Happiness. Depicting an elaborately decorated cabinet, cluttered with items of the past and present, the artist imbues each object with a significance from various cultures and histories, invoking sentiments of hope.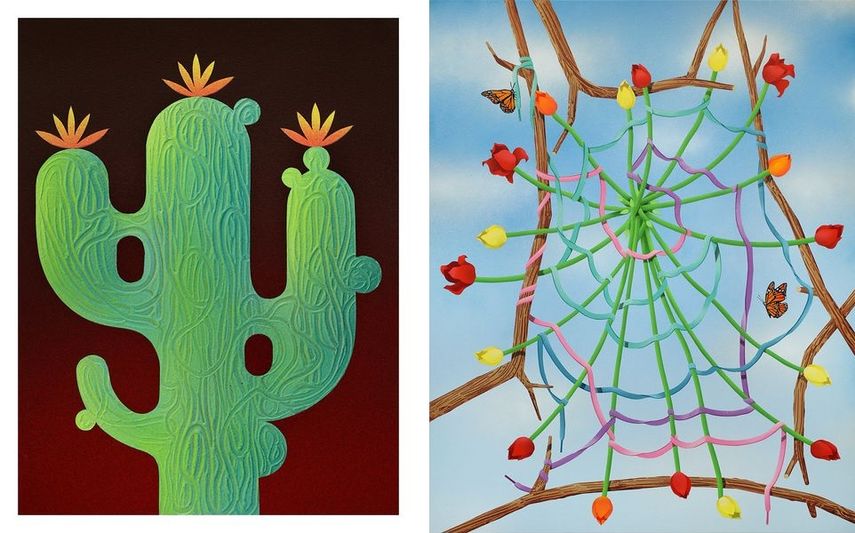 Casey Gray Paintings at Hashimoto Contemporary
With his layered colorful compositions, Casey has hit upon a cultural vibe which resonates with the viewer. Underlined with humor, his vivid and hyperreal take on the world is based on subject matter built from their formal qualities as well as associations to past experience, memory and visions for the future. The exhibition Double Knotted will be on view at Hashimoto Contemporary in San Francisco from April 1st until April 22nd, 2017. The opening reception will be held on Saturday, April 1st from 6 to 9 p.m. The artist will be present.
Featured images: Casey Gray Studio; All images courtesy of Hashimoto Contemporary.