A Peruvian-born artist based in New York City, Catherine Tafur is known for her body of work which explores themes of death, violence, vulnerability and loss of innocence. The subjects of her works are political and personal, feminist and confrontational. Drawing on her personal history of wrestling with a myriad of injustices, she uses painting as a method mourning and an act of retribution.
The latest body of work by Tafur will soon be on view at Maus Contemporary. Titled Catherine Tafur: Yearning to Breathe Free, the exhibition features paintings which address racism as the engine behind the "progress" of America and its expansion and rise in power.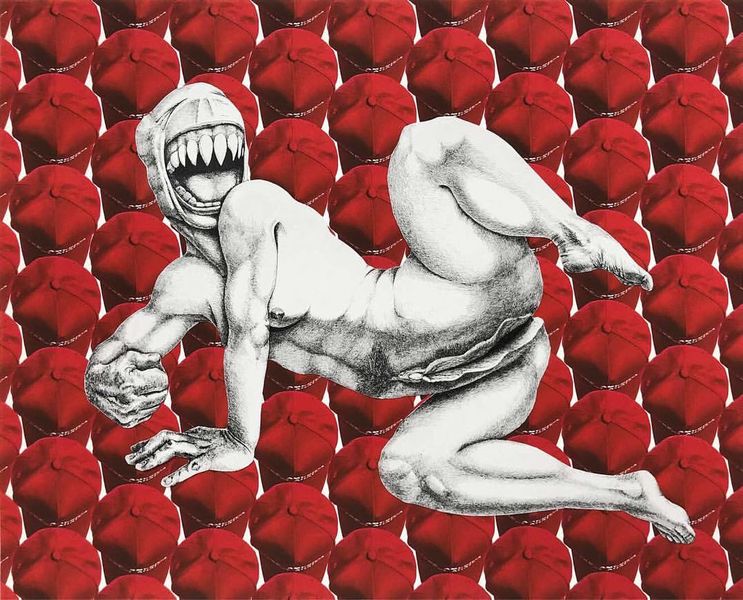 The Inherent Racism in the United States
As Catherine Tafur explains, the United States is a country born in racist genocide, when European settlers slaughtered non-white inhabitants and stole their land. Ever since, racism has been an underlying engine of America's expansion and rise in power, from slavery and various forms of segregation to Native American reservations, the Chinese Exclusion Act and Japanese internment camps. Continuously in the service of capitalist greed, racism has also been in the essence of the exploitation of labor.
The Trump regime, which brought xenophobic and unjust policies and anti-immigration laws, adds to this long history of racial subordination and capitalist exploitation in the United States. Tafur's recent paintings depict both the cruelty entrenched in the United States cultural DNA as well as the struggle against its oppressive forces. In these pieces, the artist employs an image of a white serpent to represent white supremacy in her adoptive country.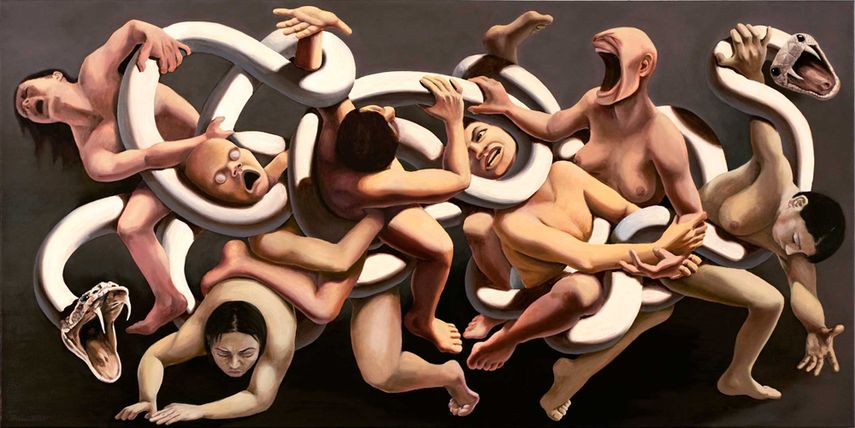 The Practice of Catherine Tafur
Spending her childhood in Peru in a bicultural home with a Japanese mother and Peruvian father, Catherine Tafur relocated to the United States, only to become disillusioned with the American dream and the false promises of capitalism. Ever since, her art practice has been driven by unbridled feminist rage, anger towards the evils of capitalism and patriarchy, and the emotional fallout of shattered expectations and broken belief system.
Translating the sinister underpinnings of our times into a visually powerful body of work, Tafur brings us representations of the human struggle for a normal and dignified existence. Surreal and grotesque, her paintings embody both personal experiences and universal yearnings.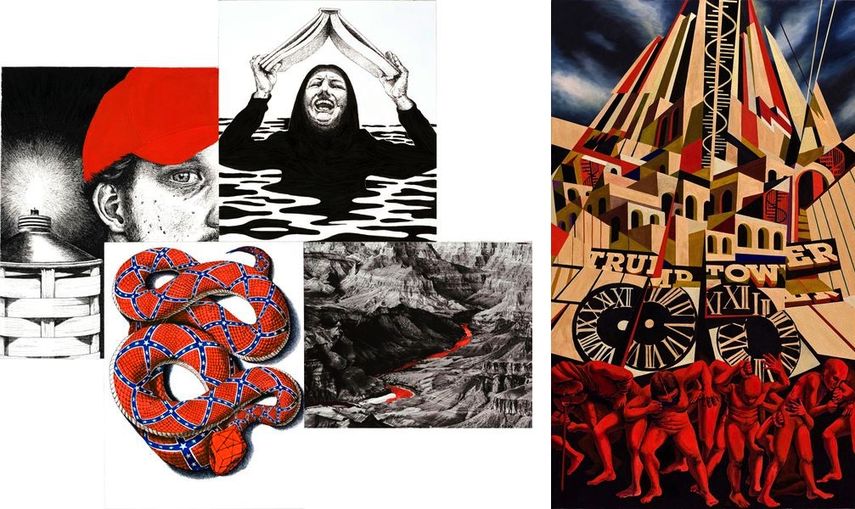 Catherine Tafur Exhibition at Maus Contemporary
The exhibition Catherine Tafur: Yearning to Breathe Free will be on view at Maus Contemporary in Birmingham, Alabama from March 8th until April 19th, 2019.
The gallery will also publish Tafur's monographic publication which will include an essay by Zachary Small and a conversation between the artist and Eric Fischl.
Featured image: Catherine Tafur - Country Club, 2019. All images courtesy of Maus Contemporary.