Founded by Ch.ACO, an institution that focuses on the development and internalization of the visual arts industry in Chile and Latin America, the Ch.ACO Fair has established itself as the nation's main international contemporary art fair, and one of the most relevant fairs in the region. It has also become a driving force in the country's art market and industry. Each year, it brings together the renowned galleries from the country and abroad, attracting tens of thousands of people.
This year, Ch.ACO celebrates its tenth anniversary in Santiago with different public initiatives taking place throughout the month of November. As a culmination of this month of artistic inventions, Ch.ACO Art Fair will take place at Edificio Parque Arboleda Lo Curro, a unique real estate project which will become a residential one once the Fair has concluded.
During the month of November, Ch.ACO will connect the city's inhabitants to visual arts through selected projects, aiming to change the capital's landscape for some period of time and allow the residents to enjoy works of art on their everyday circuits.
The anniversary edition of this dynamic Fair will welcome over 60 exhibitors from all around the world, presenting the work of over 300 local and international artists in four sections. In addition to this, it will also offer a range of art-related activities, welcoming both art professionals and art enthusiasts.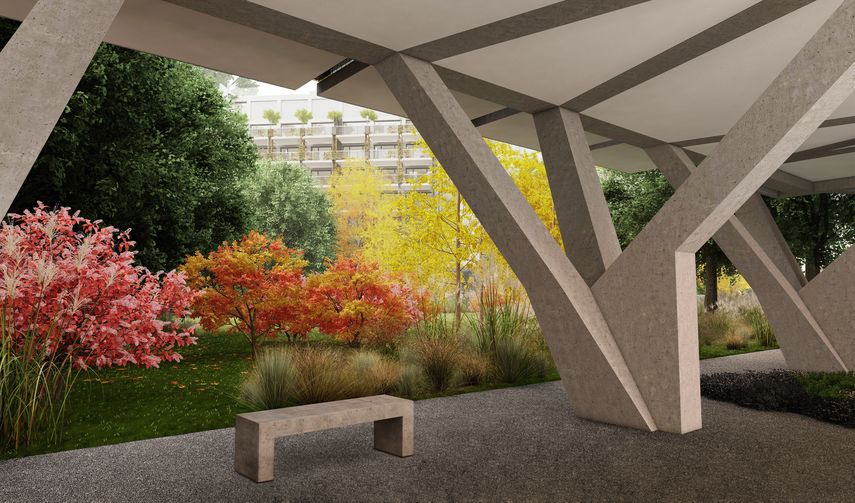 Ch.ACO On the Street
During the month of November, Ch.ACO will develop a broad cultural program for the entire community. Activating different public spaces within the area, with a central axis being Parque Bicentenario, as well as Alonso de Córdova and Nueva Costanera streets, Ch.ACO On The Street will allow the participants to develop their own contemporary art project. The institution will also organize a series of lectures and conversation panels, as well as workshops for children and adults.
The highlights of international urban interventions taking place in the city will be Inside Out by JR and Pasos de cebra by Carlos Cruz-Diez.
Placing the emphasis on people, the project Inside Out will turn them into works of art themselves through large-scale black and white portraits. Two hundred photographs taken at different high traffic areas every day will be installed and mounted as black and white portraits at different emblematic locations through Santiago. Aimed at giving an account of local social processes, JR's initiative has already been done in over 129 countries.
Treating public space as the ideal location for artistic expression, Cruz-Diez's project has been specially designed for ten pedestrian walkways along the Parque Bicentenario axis. It will create "ephemeral manifestations that generate unprecedented incidents, thus disrupting the city's 'linearity' and, at the same time, surprising the urban routine," as the artist explains.
Exhibitors at Ch.ACO 2018
This dynamic Fair will bring together over 60 exhibitors from 15 countries around the world, including Chile, Argentina, Peru, Colombia, Mexico, Ecuador, France, Spain, Germany, United Kingdom, United States, and China. Among over 300 artists presented at the fair are Thomas Broome from Sweden, Liliana Porter from Argentina, Stephan Balkenhol from Germany, Ana Cvorovic from Bosnia, Tomás Munita from Chile, José Vera Matos from Peru, Voluspa Jarpa from Chile, Carlos Cruz Diez from Venezuela and Steven Vaughn from the United States.
Offering a complete panorama of the state of contemporary art in Chile, Latin America and the rest of the world, the Main section will present 26 galleries from Chile, Argentina, Peru, Colombia, Venezuela, Panama, United States, Spain, France, Germany and China, including 80M2 LIVIA BENAVIDES from Peru, dedicated to promotions of conceptual artists with an interest in both political and social reflection; Adora Calvo from Spain, focusing on the connection between the main artists of conceptualism and Spanish minimalism and the new emerging artists; and Marion Gallery from Panama, a cultural space seeking to accommodate new forms of contemporary art by favoring and strengthening the links between the works and the viewer; among others.
A curated section presenting the work of national and international artists in regard to one common theme, FOCUS will present the work of 24 artists represented by 12 galleries from countries including Chile, Argentina, Venezuela, Peru, United States, France and the United Kingdom, including Alejandra von Hartz from the USA, focusing on on contemporary geometric abstraction, constructivism and conceptual art; Carmen Araujo Art from Venezuela, focusing on the study, dissemination and promotions of contemporary art in Venezuela and Latin America; and Aninat Gallery from Chile, a space for exhibition, debate and reflection. The common thread for these exhibitors will be rendering accounts of the political, social and cultural realities.
The curated section PLANTA brings together Latin America spaces, most of which are young and independent, that present an alternative to commercial galleries, rendering accounts of the social and political contexts that are taking place in each of the countries that they represent. The selection includes +Art from Ecuador, specializing in exhibiting contemporary works; Lateral from Argentina, a project appropriating different spaces for a specific period of time; and PAPI (Independent Public Art Program) from Mexico, facilitating the conditions for site-specific projects, for artists to show in spaces not related to institutions or galleries.
NAVE DE EDICIONES will gather most important publishing houses from Chile and abroad that specialize in contemporary art books and printed publications. This year, the section has held an open contest to grant a publishing house from any part of the world the possibility of printing a publication in co-production with the Fair. The winner is Meier Ram.rez from Peru with their project Blue Pieces, a book by the artists Jerry B. Martin.
The List of Exhibitors
The Programming
In addition to the comprehensive exhibition program, the Fair will present a dynamic program, including an intervention by two international artists, José Carlos Martinat and Magdalena Fernández, who will present the large-format pieces that they have created especially for this edition of the Fair; awards ceremonies for each of the Ch.ACO's sections; musical concerts organized by RedBull; interactive activities and workshops for children as a part of the children's section's programming; and conversation panels amongst key figures of the art world, professionals, and directors of institutions, both from Chile as well as abroad.
With a primary focus of being a platform for lending visibility to and interacting with the artists who will be participating in the Fair, as well as bringing art closer to the public, this year's Conversations Program will welcome a range of specialists, such as Cecilia Fajardo-Hill, a British-Venezuelan art historian and curator specialized in Latin American art, Pablo León de la Barra, curator and art critic, Cher Knight, an Emerson College scholar, art historian, and public art and museum studies specialist, Claudia Hakim, cultural manager, sculptor, and textile designer, Jaime Cerón, investigator, art critic, independent curator and cultural manager, Magdalena Fernández, a visual artist working with sculpture, light installations, object installations, and architecture, and Gilbert Vicario, head curator of The Selig Family at the Phoenix Art Museum.
The Location of Ch.ACO 2018 - Edificio Parque Arboleda Lo Curro
Practical Information
Ch.ACO Art Fair will take place in Parque Arboleda Lo Curro in Santiago from November 22nd through the 26th, 2018. The range of initiatives celebrating the tenth anniversary of the Fair will take place throughout the month of November.
For more information visit the official website of the fair.
Featured images: Ch.ACO Art Fair 2017. All images courtesy of Ch.ACO.