During the interwar period, the American art scene was a fruitful playground for numerous figures willing to express themselves, mostly through traditional media such as painting and sculpture. While some of them reached wider recognition, others became easily overshadowed by the flow of time and a lack of interest in their work.
Such a position does not indicate the problematic talent or means of production, but a mere set of circumstances. An artist who was eventually recognized for his unique approach to watercolors and the phantasmagorical vocabulary is Charles E. Burchfield. Throughout the five decades of his career, this prolific craftsman produced energizing and vibrant works, mostly landscapes, that have challenged the very notion of the medium while plunging into the abstract.
The current exhibition titled Charles E. Burchfield: Inexhaustible at Menconi + Schoelkopf Fine Art revisits his most fruitful period, the year 1917, when the artist produced over 400 watercolors and numerous pencil drawings.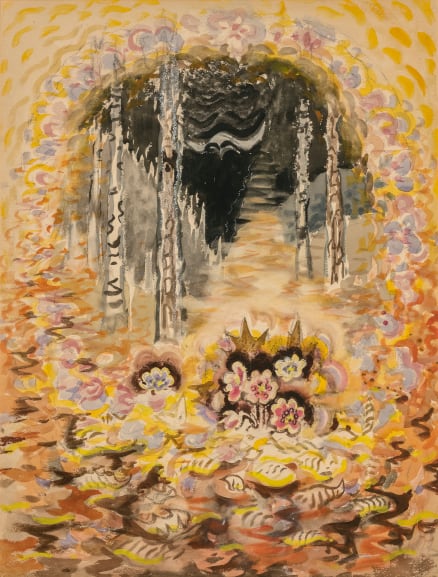 The Golden Year
Charles E. Burchfield referred to the fertile period as his "Golden Year" and made enormous efforts to produce magical works that evoke the intimacy and relevance of his earlier production into a post-war world.
In 1955 the artist had his first retrospective at The Whitney, set free of the creative blocks caused by the Great Depression and World War II, unraveling a repeated sense of renewal that haunted him during the late 1940s. Although his work has been somehow forgotten, in 2010 Robert Gober curated Heat Waves in a Swamp, a majestic Burchfield retrospective that revisited his domains and provoked a new interest in his work.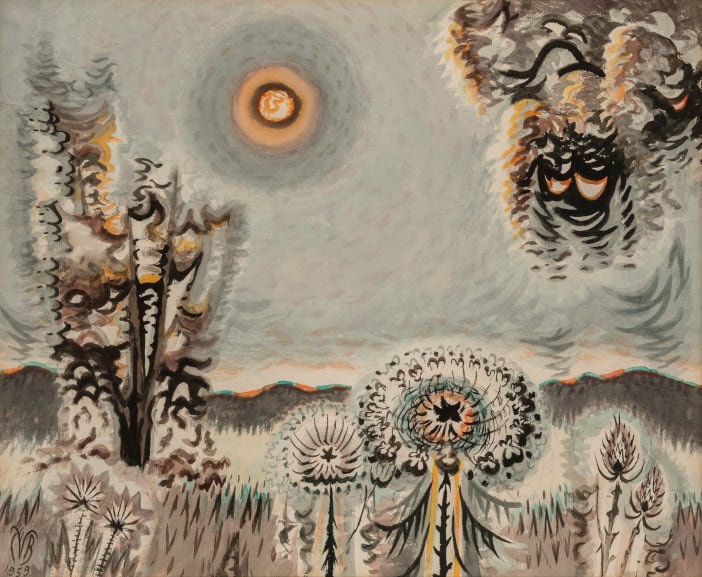 The Burchfield Aesthetic
Burchfield's compositions are at the same time welcoming and eerie; one might say they recall Edgar Allen Poe's prose and the unsettling dreamscapes Burchfield experienced in the surrounding nature in the woods around Ohio and Western New York. The artist was at large inspired by butterflies, spiders, rain, and wind, while the human figures lurk on works produced during the troubling times of the late 1920s and 1930s.
Among other significant works, the installation includes the large-scale watercolor Hemlock in November, made by Burchfield before he suffered from a deadly heart attack, as well as chapters of his written journals.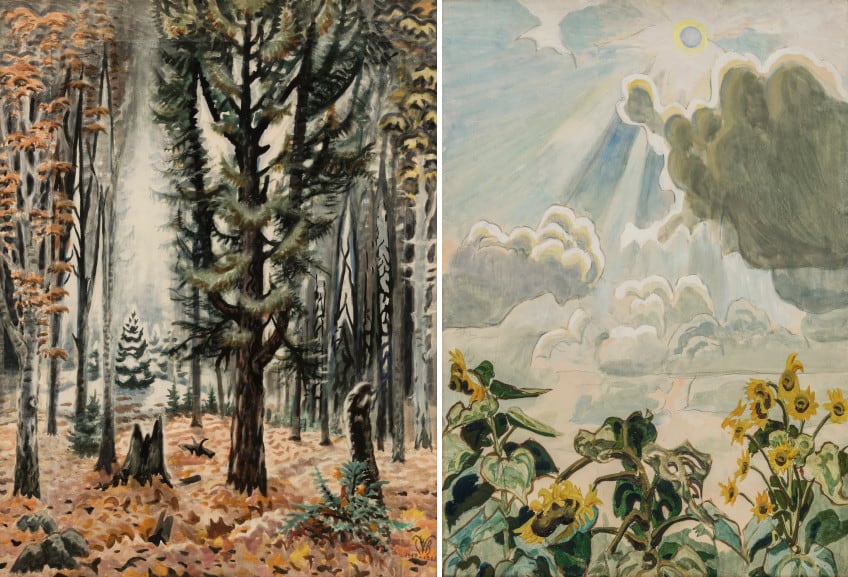 Charles E. Burchfield at Menconi + Schoelkopf
The current exhibition doesn't just recall the artist's sentiments and berserk visions, but it also responds to the notion of alienation and contemplation released in the natural environment. It is also accompanied by a specially crafted publication centered on the scholarly analyses of Burchfield's life by Dr. Nancy Weekly.
Charles E. Burchfield: Inexhaustible will be on view at Menconi + Schoelkopf Fine Art in New York until 2 April 2021. The audience can also experience the exhibition online, in the gallery's viewing room.
Featured image: Charles E. Burchfield: Inexhaustible, Installation view at Menconi + Schoelkopf Fine Art, 2021. All image courtesy of Menconi + Schoelkopf Fine Art.