Two new sculptures by Charles Ray, one of the most significant artists of our time, will be shown at Matthew Marks, marking the 7th solo exhibition at this gallery. These solid pieces, titled Baled Truck and Girl on Pony, represent the ever-marvelous extension of Ray's creative oeuvre made during an artistic career of over forty years.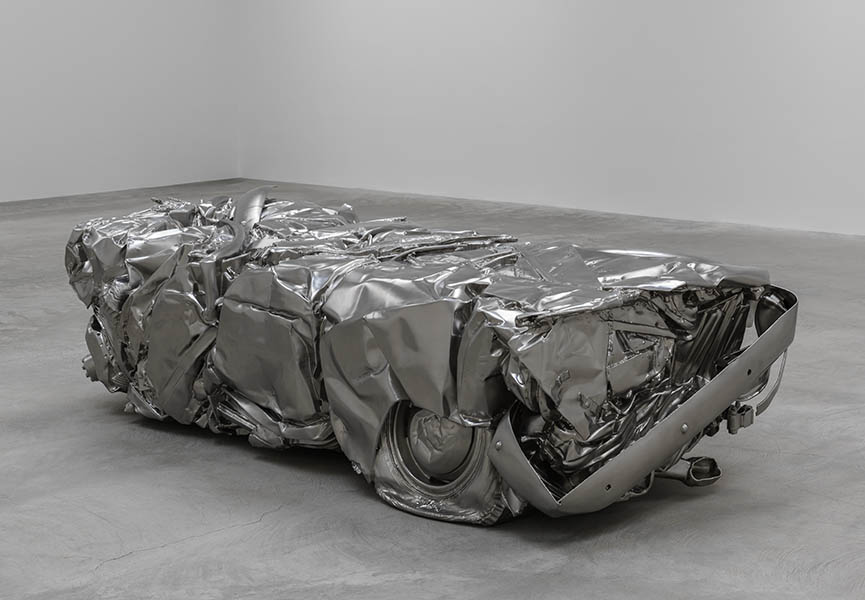 The Work of Charles Ray
Charles Ray, born in 1953, is known for his strange and enigmatic sculptures that pose many questions. While studying the craft, he was inspired by the works and constructivist aesthetics of Anthony Caro and David Smith. His own creations embody a high knowledge of history of art and often lean towards Minimalism, varying in style, materials, subject and scale. Usually dealing with familiar objects and reinventing them in a particular manner, Ray's pieces have been exhibited at many important art events, including Documenta IX (1992), the Venice Biennale (1993 and 2003), and the Whitney Biennal (1989, 1993, 1995, 1997, and 2010). Kunstmuseum Basel featured a selection of fifteen sculptures made since 1997 in an exhibition held last year.
The materials he uses include ink (as used in Ink Box, 1986) and wire (Moving Wire, 1988). His first outdoor commissioned work was the 2009 Boy with Frog, at the Punta della Dogana museum in Venice, Italy, of a boy holding a goliath frog above the Grand Canal. The fascination with smashed vehicles (also something Ron Arad and Gabriel Orozco are also interested in) inspired him to make some of his most famous artworks, including Firetruck, a 1993 replica of a toy fire truck, which he "parked" in front of the Whitney Museum of American Art and 1997's Unpainted Sculpture, a real-size cast of a crashed car, faithfully detailed. Both of them were made of fiberglass. His most elaborated work of ten years, completed in 2007, is a re-creation of a fallen and rotting tree he had found in a meadow, re-carved in Japanese cypress (Hinoki), a different wood than that of the original tree.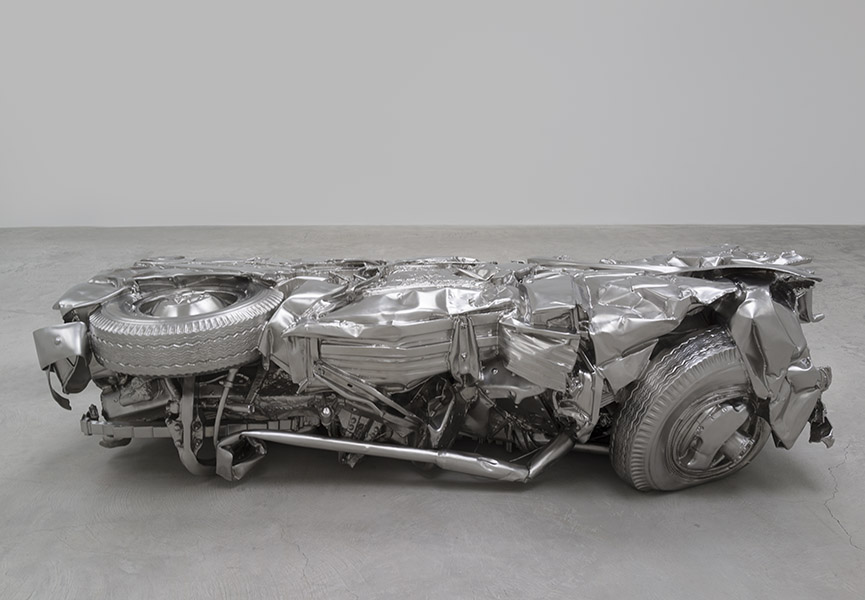 Baled Truck and Girl on Pony
Baled Truck is a stainless steel sculpture of an old pick-up truck that has been compacted into a large rectangular chunk. This big, shiny metal bar that looks like it was smashed by a giant hand took six years to complete, resulting in thirteen tons of weight. In it, Ray tries to preserve the remains of memory by compressing them into a rock-hard shell to protect it from oblivion. Girl on Pony, shown for the first time, is a relief made from a block of aluminum, depicting a young girl on horseback holding saddle straps, while the head, legs or the tail of the animal she is riding are not shown. Ray made his first relief in 2007, and this is his fifth sculpture in this format: little over two meters long, meter and a half wide and about a meter deep.
These sculptures by Charles Ray will be exhibited at the Matthew Marks Gallery at 523 W 24 Street in New York City, USA, from February 6th until April 18th, 2015.
For more about true masters of art, sign up for My Widewalls!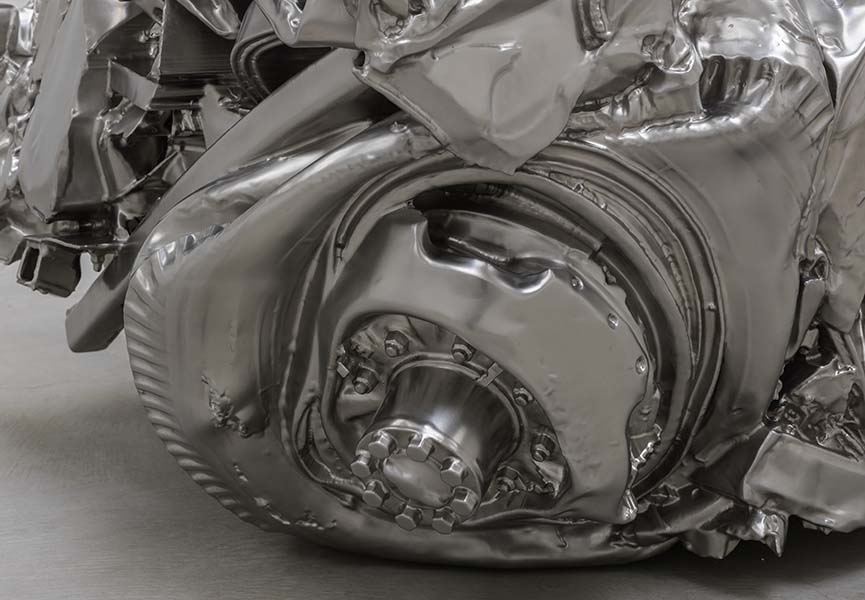 All images courtesy of Matthew Marks Gallery.