The development of American modernism after World War I was largely marked by the presence of the leading proponents of the European intellectual and artistic circles. Nevertheless, there are certain figures which grew up solely within the local context and managed to construct highly innovative practices. The best example of this claim is the case of Charles and Ray Eames.
These two figures had met at Michigan based Cranbrook School of Art in 1940, and a year later they opened a prolific design studio. In the years to come, their projects in architecture and furniture design, but also exhibition design, curatorial practice, and filmmaking, have moved the boundaries of each activity, introduced innovative approaches and are reasonably considered a milestone in broader cultural context.
A huge retrospective of their work titled The World of Charles and Ray Eames was on display at the Henry Ford Museum of American Innovation and it featured more than four hundred artifacts which represent both the individual careers of Ray and Charles and the outstanding work of the Eames Office.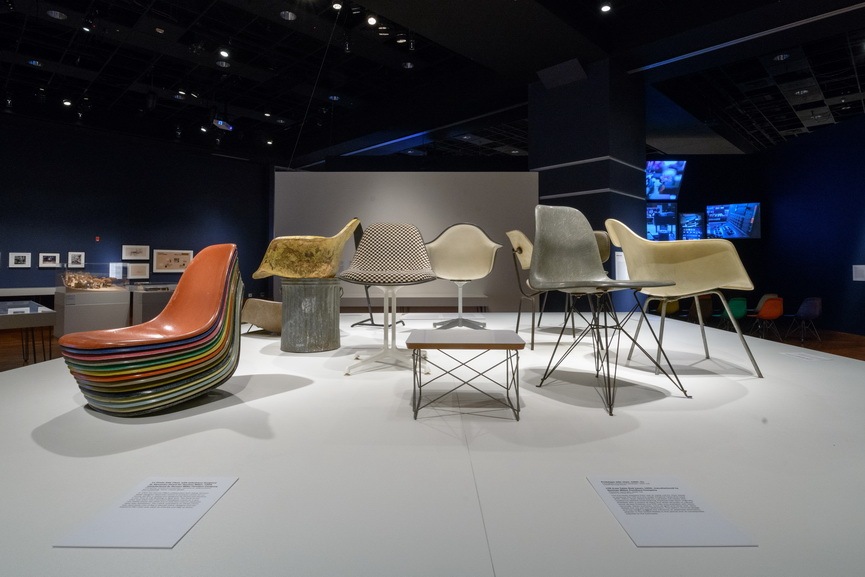 Charles Eames - A Creative Individual
Charles Ormond Eames, Jr. (1907 – 1978) was an established American designer, architect, and filmmaker. He studied architecture for two years at the Washington University in St. Louison, and several sources claim that Eames was dismissed due to his inclination to modern tedencies. That did not stop him from establishing his own architectural biro with Charles Gray in 1930, and the two were later joined by a third partner, Walter Pauley.
The Finnish architect Eliel Saarinen influenced Eames much and around 1938, he even invited him to continue studying at the Cranbrook Academy of Art, where years later Eames started teaching and led the industrial design department. Together with Saarinen, he designed a furniture piece which won the prize Organic Design in Home Furnishings competition organized by New York's Museum of Modern Art. The two architects introduced a new technique of wood molding, which was further extended by Eames himself in many molded plywood products, such as chairs and other furniture, splints, and stretchers for the US Navy during World War II.
In 1941, Charles divorced from his first wife Catherine and he remarried his colleague Bernice, nicknamed Ray, Kaiser. The newlyweds moved to Los Angeles, California, where they worked and lived until their deaths.
In 1978, Charles Eames died of a heart attack while on a consulting trip, and was buried in the Calvary Cemetery there. He was honored with a star on the St. Louis Walk of Fame.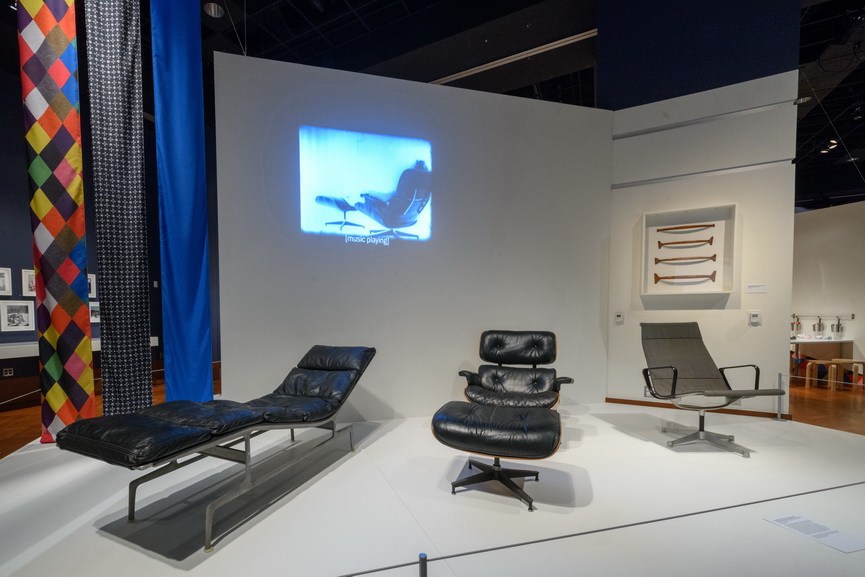 Ray Eames – A True Visionary
Ray-Bernice Alexandra Kaiser Eames (1912 – 1988), was an American artist, designer, and filmmaker. In 1933, she graduated from the Bennett Women's College in Millbrook, New York, and went on to study painting with Hans Hofmann.
In 1936, Ray Eames founded the American Abstract Artists group, had several exhibitions and one of her paintings is even part of the permanent collection of The Whitney Museum of American Art. Advised by architect and friend Ben Baldwin, in 1940 she started studying at the Cranbrook Academy of Art in Bloomfield Hills, Michigan where she was exposed to different media.
Ray Eames created several textile designs in the late 1940s, some of which were awarded in various competitions organized by the MoMA, while the ones called Crosspatch and Sea Things, were produced by Schiffer Prints, a company that also produced textiles by Frank Lloyd Wright and Salvador Dalí. The original examples of her textiles can be found in various museum collections. Aside from textiles, Ray released graphics for advertising, covers, posters game boards, invitations, and business cards.
As it was mentioned, Ray married Charles Eames in 1941, and the two of them began a successful career; it was after Charles passed away the Eames Office started working. Nevertheless, she continued working on several unfinished projects, published books and administered the Eames archive and estate.
In 1988 Ray Eames died in Los Angeles, a decade after Charles. They are both buried next to each other in Calvary Cemetery in St. Louis.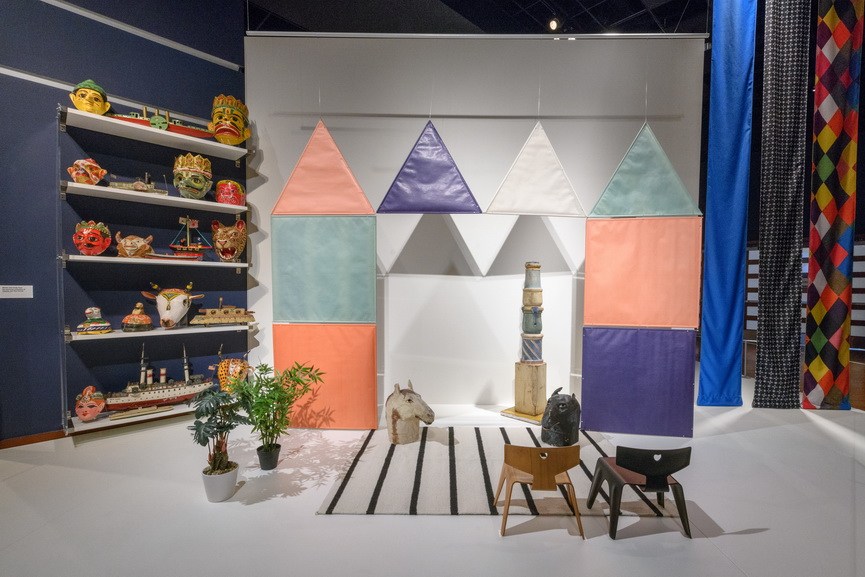 The Domains of Charles and Ray Eames and Their Design
Perhaps the first form of collaboration before the marriage and their studio, The Eames designed and erected the iconic Eames House in 1940 , which was part of the Arts & Architecture magazine's "Case Study" program. It is a house constructed out of pre-fabricated steel parts located upon a cliff overlooking the Pacific Ocean, and it is still considered as one of the most important sites of modern architecture.
Throughout the years, the design process of Charles and Ray Eames was based on equality. The graphic and commercial works are attributed mostly to Ray such as twenty-six cover designs for the journal Arts & Architecture during 1942 to 1948 and since 1948 a major part of the Eames furniture advertisements at Herman Miller. The Eameses pioneered various technologies, such as plastic resin chairs, fiberglass furniture or the wire mesh chairs.
Although the work of the designers is mostly associated with modern furniture design and architecture, they were interested in a variety of media through which they were able to express themselves, so they produced a number of over one hundred twenty-five short films which document their interests like collecting toys and cultural artifacts on their travels. The films also record the process of hanging their exhibits or producing classic furniture designs.
Charles and Ray Eames also curated and designed a number of exhibitions, and one of the most important is titled Mathematica: A World of Numbers... and Beyond in 1961, which popularized science and was sponsored by IBM.
The Charles and Ray Eames design office was in business from 1943 to 1988 in Los Angeles. The molded-plywood DCW (Dining Chair Wood) and DCM (Dining Chair Metal with a plywood seat) from 1945, as well as Eames Lounge Chair from 1956 are just some of their many important designs.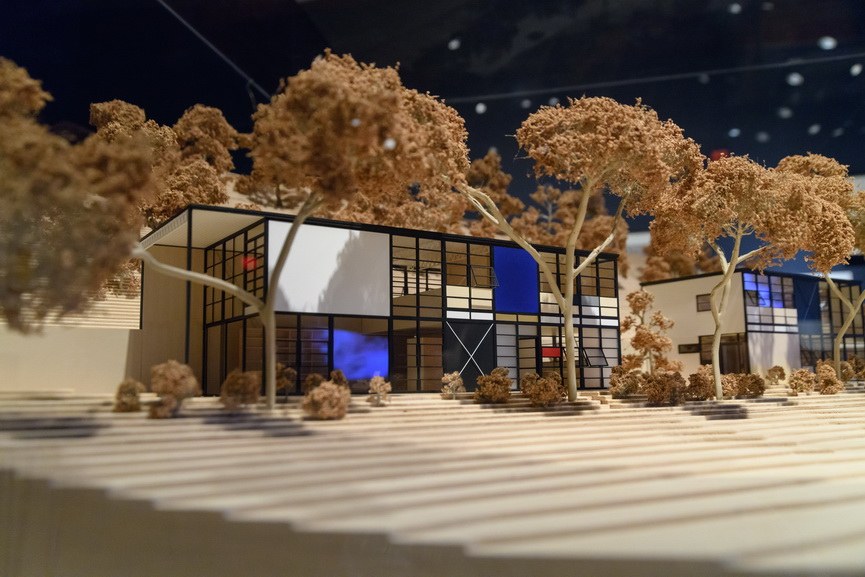 The Eameses at Henry Ford Museum of American Innovation
The exhibition The World of Charles and Ray Eames at Henry Ford Museum of American Innovation in Michigan, which closed on August 7, 2018, examined a huge impact of their pioneering multifaceted practice. The installment was rounded with the film Think, the Revell Toy House, The Henry Ford's own Wills chair, documentation and contextual material from the professional archive of the Eames Office, as well as couples ephemera.
Finally, the exhibition presented the designers and their creative process in regards to wider political, cultural and social conditions and once again underline their position as the leading artistic figures of the 20th century.
Editors' Tip: The World of Charles and Ray Eames
This is the first comprehensive book on the Eames' legacy in over a decade, revealing the rich totality of their work in all media. Produced in close collaboration with Eames estate, this novel publication presents the husband-and-wife team from both personal and professional perspectives, as well as the lively interplay of their public and private lives. Charles and Ray Eames are among the most important twentieth-century designers, and the story of the Eames Office is that of the history of visual and material culture in the post-war, modern period. This groundbreaking monograph charts the history of their inspiring and prolific world and brings together key works and ideas explored at the Eames Office throughout its extraordinary history.
Featured image: A look inside The World of Charles and Ray Eames. All images courtesy of Doug Coombe, Henry Ford Museum.