It is not very rare that oeuvres of certain artists remain unfamiliar to a wider audience, and the reasons for that can differ; however, it is upon the scholars to discover, analyze and properly contextualize a given practice - such a task is especially important when it comes to the matter of gender. Namely, constant efforts to rediscover and present women's artistic production are important, as a rejection of any sort of impression that the art history is male-dominated.
Take, for instance, the German artist Charlotte Posenenske, who produced a significant body of work throughout her short, but quite a successful career. She was even among the pioneers of Minimal and Conceptual art, and she introduced bold concepts centered around the ideas of participation and interaction, by inviting curators, other artists, and audience to rearrange her works.
One of the best-known institutions specialized in Minimal Art, Dia:Beacon is hosting the first North American retrospective of the great artist since her untimely death in 1985. Under the title Charlotte Posenenske: Work in Progress, the exhibition will feature the original prototypes for her sculptures along with more than one hundred newly produced elements.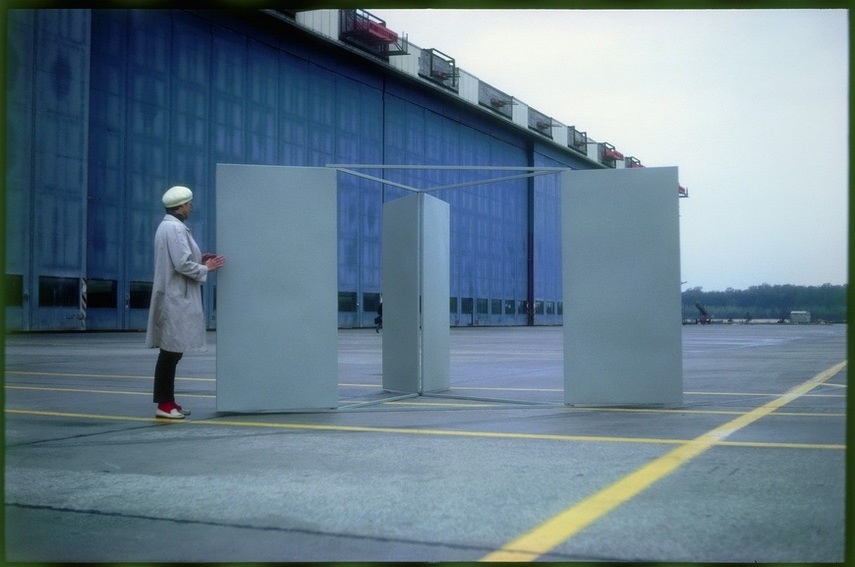 The Radical Abstraction of Charlotte Posenenske
In order to examine her beginnings as an artist, it is important to mention that Charlotte Posenenske started producing works around 1956 in Germany. The artist was acquainted with the currents of her time, so the aesthetic of Art Informel, the Zero Group, as well as Minimal and Conceptual art reflected on her own formal and stylistic preoccupations. Until 1967, Posenenske actively exhibited in important international solo and collective shows, yet in the midst of 1968 student protests climate, she decided to quit art and focused entirely on sociology.
Nevertheless, from the very beginning of her career, Posenenske experimented with the application of color and line to flat surfaces in order to record her gestures. This interest in performative behavior is apparent in the artist's abstract drawings and paintings, hybrid spray-painted wall structures, and murals reminiscent of buildings' facades. The best-known series of mass-produced industrially fabricated, modular, geometric sculptures (Series B, C, D, DW, and E) were produced during the last two years of her practice.
Posenenke perceived these works as active elements which are used by their consumers, the term she used to describe the participants who are selecting and forming unique constellations with the objects. By imposing such an unstoppable order of admittance, the artist explored the very notion of authorship, meaning that the interpretation of the sculptures constantly changes and differs from a multitude of factors. Furthermore, Posenenske produced those elements/objects/sculptures in unlimited editions and considered her designs as the prototypes for mass production. This strategy aimed to reject any form of hierarchies in order to unravel wider socioeconomic issues, especially the labor matters in the modern economy.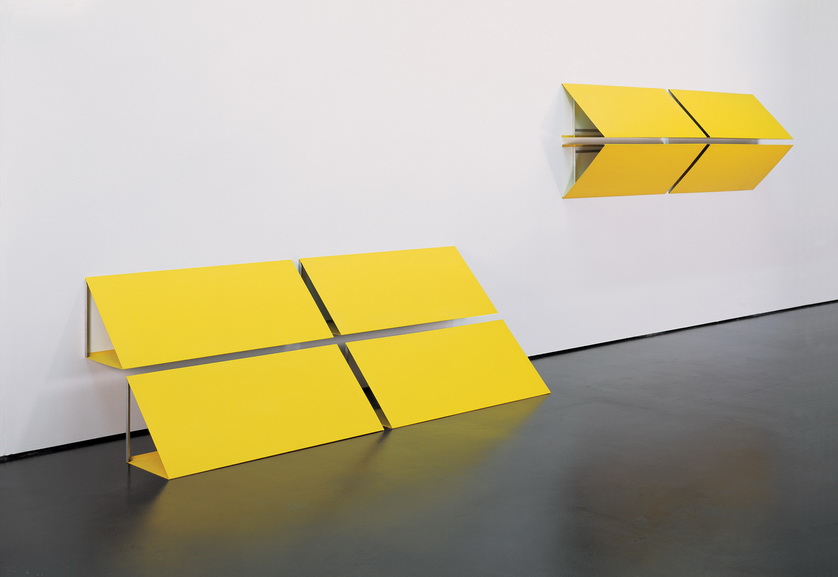 The Acquisitions
For this particular purpose, Dia:Beacon acquired one hundred and fifty-five sculptural elements from four series designed by Charlotte Posenenske during the final two years of her practice. The exhibition includes units of Vierkantrohre Serie D and DW (Square Tubes Series D and DW), reminiscent of industrial ventilation systems and built from galvanized steel and cardboard, as well as elements from Reliefs Serie B and C (Reliefs Series B and C), monochromatically arched, folded, and/or canted shapes that can be mounted on the wall or placed on the floor.
Those acquisitions are displayed alongside several of Posenenske's Drehflügel Serie E (Revolving Vanes Series E) objects, characterized by the moving and rotating sides; these "partitions" were envisioned by the artist in 1968, but she was unable to realize them then for technical reasons. This particular constellation of mutable walls and barriers follows the architecture of the gallery and it offers social interaction and play among the visitors.
This is the largest number of acquisitions by the museum to date and it reflects Dia's efforts to collect, thoroughly analyze and present the notable practice of Charlotte Posenenske. Although the historic objects are too fragile to interact with, the audience is certainly invited to interact with the newly fabricated elements.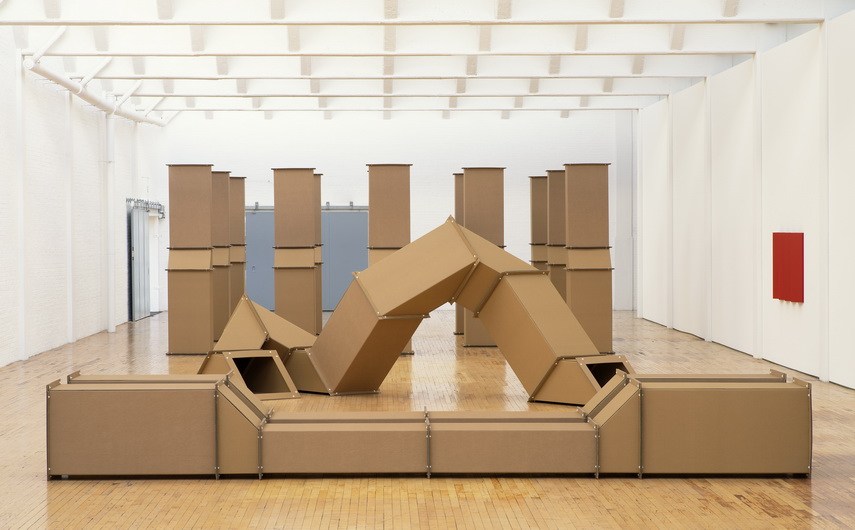 Charlotte Posenenske at Dia:Beacon
The upcoming exhibition will surely shed new and much-required light on the radical artistic practice of Charlotte Posenenske, one that still continues to provoke and challenge the notion of originality, consumership, and social interaction. In regards to that, Associate Curator at Dia:Beacon Alexis Lowry stated:
Posenenske made critical contributions to the development of serial, site-specific, and participatory practices. In entrusting her consumers with the creation of new work through the arrangement of her sculptural elements, Posenenske explored topical questions about the labor of making and the spaces in which this unfolds, which ultimately became the sole focus of her life's work. In showcasing the full scope of her practice, the exhibition demonstrates Posenenske as a prescient voice of her time and in art today.
During the course of the exhibition, two reconfigurations of the modular Series D elements will occur, and in order to honor Posenenske's agenda of demystifying the art-making process, the audience will have a chance to witness the construction during open hours from 20 May until 5 August 2019.
Charlotte Posenenske: Work in Progress will be on view at Dia:Beacon in New York until 9 September 2019.
Editors' Tip: Charlotte Posenenske: 1930-1985
This generously illustrated volume places German sculptor Charlotte Posenenske's groundbreaking works from the 1960s firmly within the history of Minimalist sculpture and Conceptual art. A contemporary of Donald Judd, Posenenske is most known for her body of spare, repetitive forms made from industrial materials, corrugated cardboard, pressboard and sheet metal, which she manipulated and bent for public spaces and performative appearances. In the mid-1960s, after producing several series of Abstract Expressionist and Constructivist paintings, Posenenske began the body of work she is most associated with today: the infinitely positionable and site-specific ventilation shaft-like series Square Tubes (1967).
Featured image: Charlotte Posenenske - Vierantrohr (Square Tube), Series D, 1967. Mehdi Chouakri, Berlin. © Estate of Charlotte Posenenske. Photo: Jan Windzus, Berlin. Courtesy Estate of Charlotte Posenenske, Mehdi Chouakri, Berlin and Peter Freeman, New York; Vierkantrohre Series D (Square Tubes Series D), 1967/2015–18. Installation view, Dia:Beacon, Beacon, New York. © Estate of Charlotte Posenenske, Frankfurt. Photo: Bill Jacobson Studio, New York, courtesy Dia Art Foundation, New York.