Chert Gallery from Berlin decided to go at Artissima 2015 with a group presentation of three young artists - David Horvitz, Carla Scott Fullerton and Vanessa Safavi. But that's only one part of Chert's booth at Artissima. The other part of their booth belongs to another young artist, Kasia Fudakowski and her Sexistinnen (Second Chance).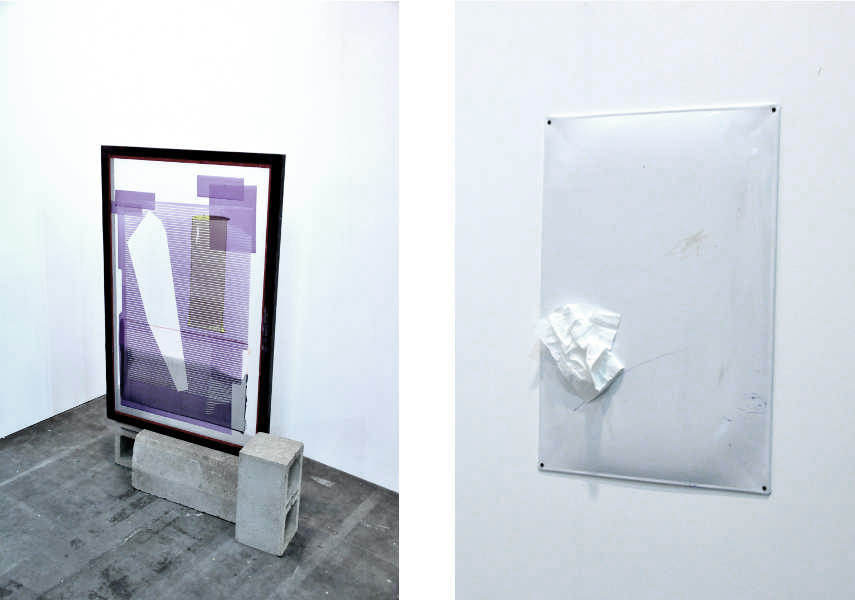 Banned from Wikipedia
But, let us first see what was David Horvitz photographs all about, and why they were banned from Wikipedia. For years, David Horvitz had been crossing over from public beaches to private property, and then taking pictures of himself, looking at the horizon. He had been uploading those photographs on Wikipedia, connecting them with relating locations. But, after 80 or so photographs that David Horvitz uploaded on Wikipedia, the biggest online encyclopedia banned him, and removed all the photographs, because of breaking the Wikipedia's rules. David Horvitz (1982) is an American artist, who lives in Brooklyn. He called this exhibition Private Access.
Carla Scott Fullerton (1980, Scotland) presented herself at Chert Gallery booth with one sculpture. This is a screen sculpture, made by the remains of old screen prints, that have been used for many prints and then thrown away. Carla put several pieces of those used screen prints together, and supported them by construction bricks.
Kasia Fudakowski's performance at Artissima
Sexism as a Motif
Now, Kasia Fudakowski is the youngest artist of this group - she was born in 1985 in London, and she lives and works in Berlin. Chert Gallery had given Fudakowski a "second chance" with this presentation at Artissima 2015. Kasia Fudakowski had the same presentation at this year's Art Basel, but failed to win the Baloise prize, so she is presenting her work again here, at Artissima. She puts her focus on sexism, placing several sculptures on site, which illustrate the invisible boundaries of competitive ambition - a mop, an unfinished weaved sculpture, or a mistakenly printed silver plate. Kasia Fudakowski had a performance at Art Basel, called Sexistinnen, Exercises in Self-sabotage, and she repeated it at Artissima, so you could look at both performances.
Our senior editor Ana B.K. spoke with Jennifer Chert from Chert Gallery, so listen up!
Sign up for My WideWalls for FREE and be up-to-date with contemporary and street art.
Kasia Fudakowski's performance at Art Basel