Amongst all the annoying, useless, irritating and just pointless trends that seem to pop up from time to time, it is a real breath of fresh air to see a "trend" that actually serves a purpose, and quite a noble one in fact. Lately, there has been a surge of campaigns, projects and organizations that use art to help others. We've covered the story of the amazing project 256 which provides direct aid to the homeless through street art, and we wrote about ArtLifting, the startup campaign which sells artwork created by the homeless and disabled. It is programs like these that restore faith in humanity and redefine the power of art. Speaking of which, Vertical Gallery proudly announces a group show curated by the Chicago Culture Couple, entitled The Power of Paint. As one of the main focus points of the show, 10% of each artist's sale will be donated to a charity of their choice. The national and international artists contributing to this unique show are Alex Senna, ASVP, Bradley Theodore, David de la Mano, DOT DOT DOT, Evoca1, GILF, Hanksy, Icy & Sot, Jana & JS, Kenor, Li-Hill, Fintan Magee, Millo, Moneyless, Nicolas Holiber, OSCH, RAE, Rodrigo Branco, Rubin 415, Sheryo & the Yok, Swoon, TWO ONE, Case Maclaim and Xenz.
Chicago Culture Couple
Inspired by the notion that not all great art must be in galleries and/or museums, Chicago Culture Couple started exploring, documenting and highlighting the vivid scene of Chicago. Their love for art and the city they live in has given birth to a unique portal to the street art scene of the Windy City. Through a very interesting and unique Instagram account (@chicagoculturecouple), they encompass the best street art and events Chi-town has to offer. This exhibition marks their first gallery curatorial, and they've selected a wide range of artists from around the world.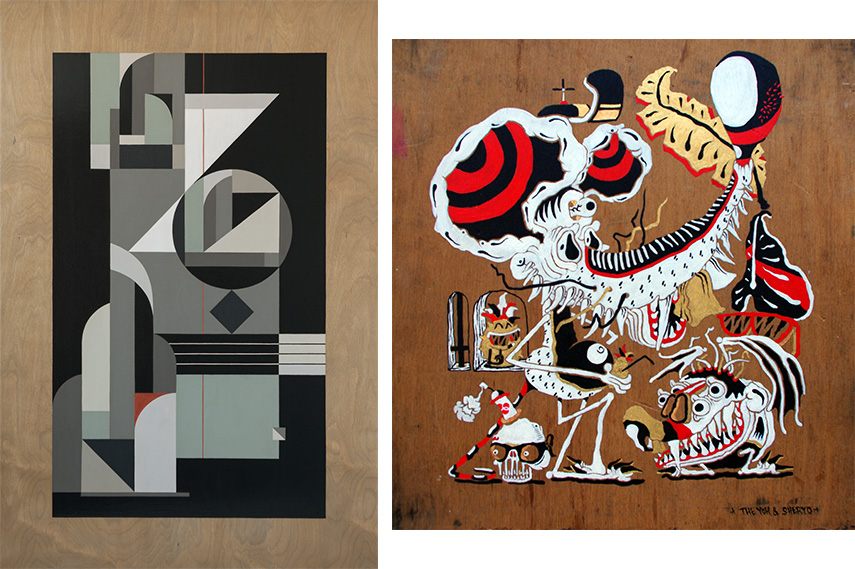 A Wide Variety of Styles, Techniques and Influences
Coming from Spain are David de la Mano's famous silhouettes. With his monochromatic imagery, he explores the human behavior, conflicts, contradictions and the human form. The American street artist and activist, Gilf!, aims to create a progressive change within communities with her thought-provoking art. With a wide range of media in her oeuvre, it is interesting to see what will be featured in this exhibition. The visual circus of scattered imagery and styles found in Fintan Magee's artwork alone is a reason enough to visit any show displaying his work. His paintings transport the viewer into a world of unexpected beauty and chaotic balance. The Italian artist, Moneyless, is known for his unique style of geometric art, developed from a combination of graffiti and fine art backgrounds. His geometric shapes are stripped down to their fundamental structures, revealing the basic elements of existence. Another artist dealing with the geometric poetry is Rubin 415. His work displays a unique combination of the traditional wild style and the Scandinavianly clean lines.
Works of Different Prominent Artists Featured at The Power of Paint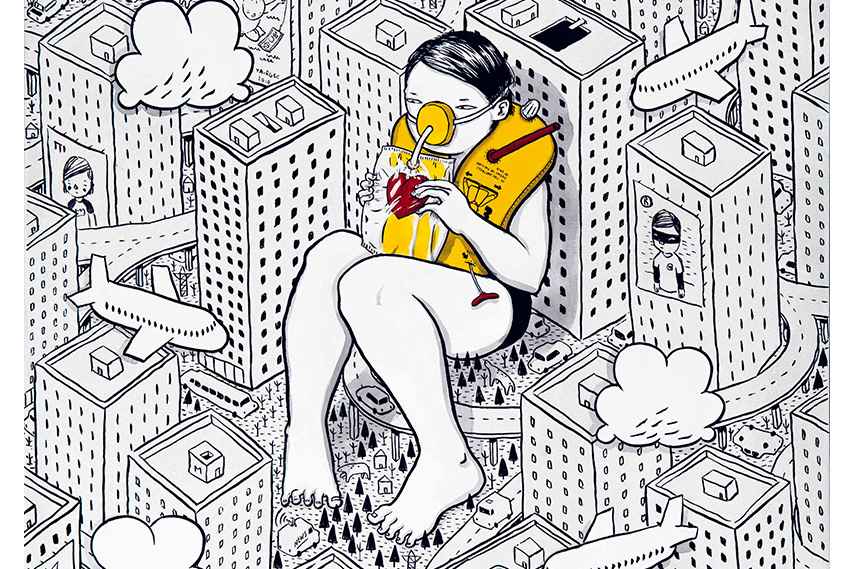 From Eye-Rolling Puns to Deep Social Messages
The anonymous Norway-based graffiti artist, DOT DOT DOT, uses a simple style of stencils to create 1970s pop art references mixed with modern street art aesthetics. His satirical work will surely make you stop for a second and think about the message the art conveys. The eye-rollingly perfect puns of Hanksy are just enough to make you sigh with disbelief and then smile inadvertently. "Or swim" written with a marker on a discarded sink, Mr. Burns in an egg saying "Eggcellent", Joffrey Baratheon's face in a bread which reads "inbread"… these are just some of the amazingly stupid, yet brilliant stencils of the anonymous Hanksy. Life-sized woodblock and cut-paper portraits by Swoon truly give street art a whole new dimension. Her painstaking work takes weeks to be produced, and then it is set free on the walls of the streets where it is meant to disappear, flake or rot away.
Stencils, Paintings, Cut-Outs and More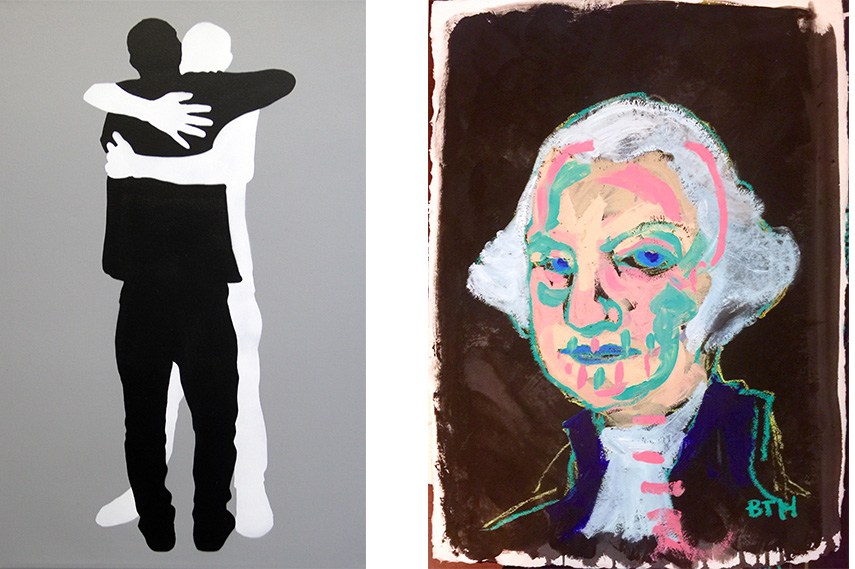 The Power of Paint at Vertical Gallery
Among the already mentioned names, Alex Senna, Bradley Theodore, Case Maclaim, ASVP, Icy & Sot, Kenor, Li-Hill, Jana & JS, Nicolas Holiber, OSCH, Rodrigo Branco, RAE, Sheryo & the Yok, TWO ONE and Xenz are part of this show's amazing roster. The Power of Paint curated by the Chicago Culture Couple is on view November 7 – 28, 2015, at Vertical Gallery in Chicago. Opening reception is scheduled for Saturday, November 7th, 6 – 10pm. Make sure you visit this premiere gallery curatorial endeavor by the Chicago Culture Couple. Also, 10% of each artist's sale will be donated to a charity of their choice, so seize the opportunity to help others through art.
All images courtesy of Vertical Gallery
Featured images:
ASVP - artwork
Li-Hill - Justice
Fintan Magee - The Removalist
GILF - artwork