It is no secret anymore that the Chinese art market is legitimately capable of rivaling the United States as one of the largest in the world. China's art market, with its annual revenues of close to $12 billion, can now be comfortably ranked as the third richest art scene on the globe.
It also appears that it continues to grow in the right direction. While sales in New York recently fell to half of their previous year's level, in China they rose by 20 percent last year.
Following the recent auction that saw the painter Qi Baishi become the first Chinese artist to join the elite $100 million club, it would be logical to assume that a Chinese art market analysis would reveal this nation's scene as one on a steady rising trajectory.
Yet, the truth is that the Chinese art market still has ways to go before it becomes as stable as the likes of the markets in the US and UK.
Today, we'll be taking a closer look at the impressive record-breaking sale of Qi's artwork as well at what stagnates China's scene from within and what's preventing them from, at least at this moment, reaching the heights of its Western rivals.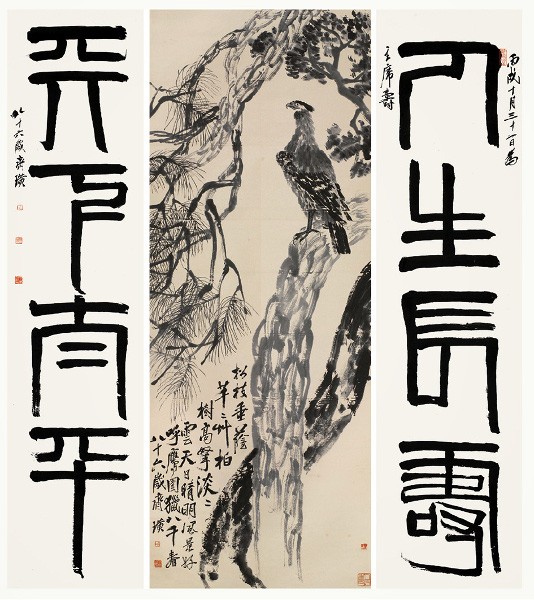 Shattering the Records - Qi Baishi and His Twelve Landscape Screens
The aforementioned sale of Qi Baishi's Twelve Landscape Screens is a fantastic achievement by any scale or measurement. This set of ink-brush panels painted in 1925 broke the all-time record for the priciest Chinese painting sold at auction by going for $140.8 million (931.5 million yuan).
To put it in perspective, only 15 other works have sold at auction for more than $100 million (accounting for inflation), and these were signed by the likes of Andy Warhol, Pablo Picasso and Vincent van Gogh.
After the record-breaking sale, the updated Top 3 list of the most expensive Chinese artworks sold at auction now looks like this: Qi Baishi's Twelve Landscape Screens ($140.8 million), Huang Tingjian's Di Zhu Ming ($63.9 million) and Qi Baishi's Eagle on Pine Tree ($55 million).
The new record holder artwork[1] depicts mountains, villages and trees in bloom, with soft blue, grey, brown and pink tones. Interestingly, Qi Baishi is barely known outside China, so, although the buyer's identity will remain a secret, we can relatively safely assume that the Twelve Landscape Screens was bought by a local Chinese collector.

Don't Get Overexcited for the Contemporary Market in China
It's easy to get excited and start assuming that Chinese art market is in a fantastic position since it just sold its priciest piece ever - but the reality is that this country's market is a lot like a leaky boat that, despite looking good, has its fair share of hull damage.
After a few years during which China's market saw increases in all major categories, it seems that 2017 followed its yearly predecessors' trends and slowed down the market's development.
Don't get us wrong - China's market is far from being in trouble of coming anywhere close to collapsing. The demand for Chinese artisans is booming right now and the market is doing quite well when everything is taken into consideration.
In fact, there's a sensible explanation that the entire scene simply overachieved in 2011 and that things are simply slowly going back to the way they should be.
Still, that's no reason to not be aware of certain issues and negative trends that are currently occurring within China's art scene.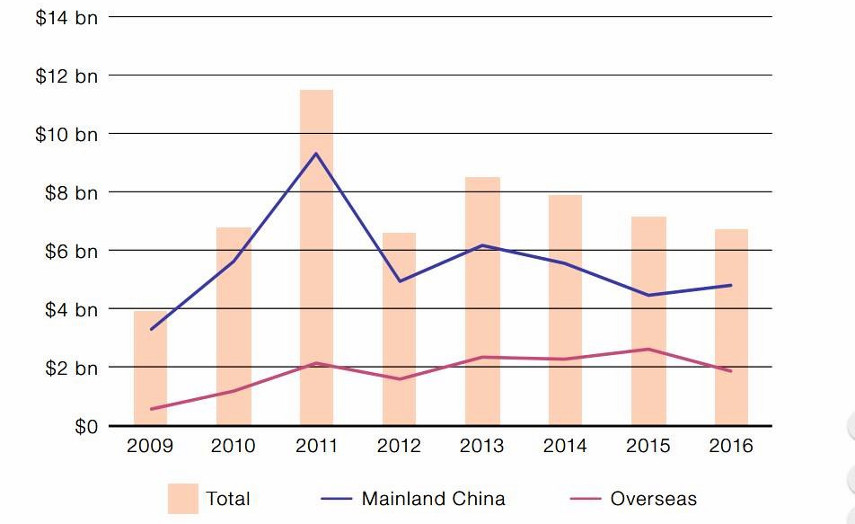 The Current State of the Chinese Art Market and its Economy
Although China has one of the richest art scenes in the world, today's state has actually fallen far below its now-legendary 2011 peak. One of the reasons for this could be the fact the China's domestic market remains highly controlled, with the government restricting foreign firms' access while aggressively encouraging Chinese firms to expand overseas.
In all fairness, this is a formula that served China rather well in other industries, but that does not mean that it will work to their benefit in the art world.
Last year, China took the largest share of the market in global sales at open auctions. However, if one adds up transactions at auctions and through dealers and galleries, China becomes ranked third by value, coming in after the unparalleled United States and the United Kingdom.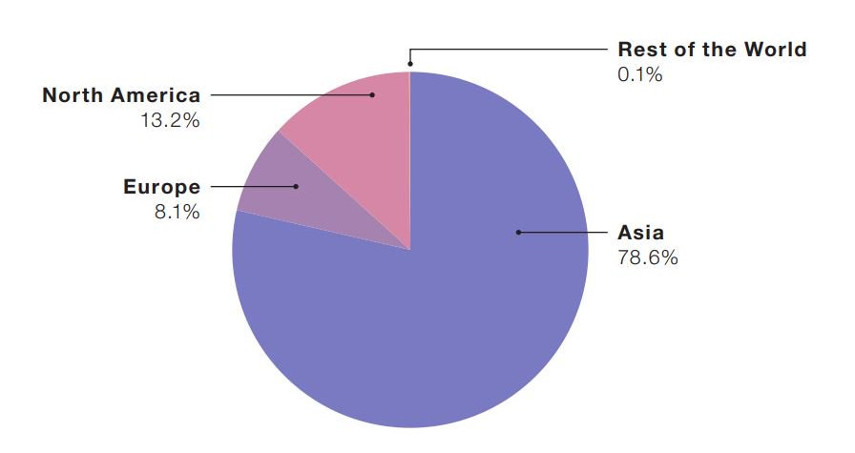 The Positive Aspects of the Chinese Art Market
According to statistics, mainland China sold more Chinese arts and antiques in 2016 by value than any other country in the world. This is hardly a surprise, but the true positive is that total sales in mainland China grew by seven percent, meaning it reached $4.8 billion in value.
Sell-through rates are also on the upswing. The official 2017 report is still not officially completed, but the preliminary results reveal that there is no indication this year has fallen off in that department.
No matter how you cut it, Chinese high-end market is growing. A side effect of the recovery that occurred in mainland China, the top end of the market (meaning all lots worth above ¥10 million) had a great year by all accounts. As a result, the average lot price in mainland China has continued its tradition of growing since 2013, reaching $18,967 (¥131,062) in 2016 and it will probably be a bit higher in 2017's statistics.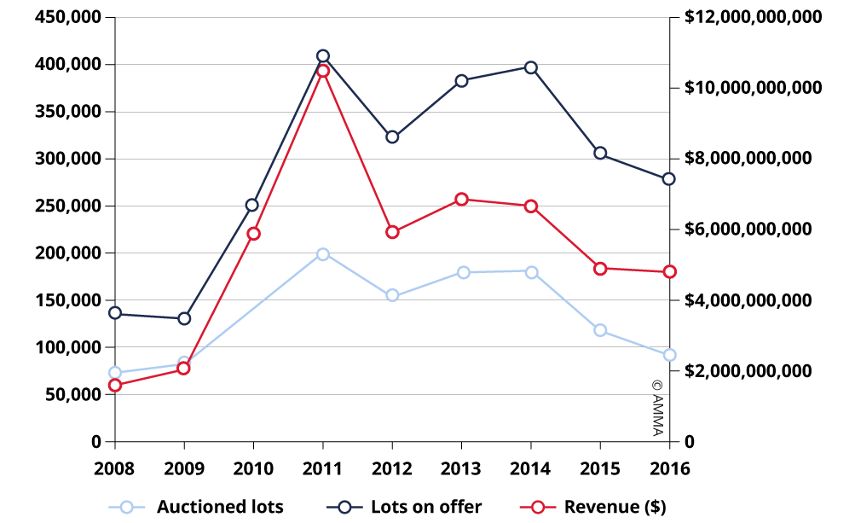 The New Problems Within China's Market
Currently, it is estimated that China has three major issues that could do with some fixing if the market is to take the next step.
The numbers do not lie - overall auction sales are down. Auction sales of Chinese art and antiques totaled $6.7 billion worldwide in 2016, a decline of five percent on the previous year. Preliminary results suggest that 2017 might be even worse, which will mark the fourth consecutive year of a slow decline. Total overseas sales are also on a downward trajectory.
Maybe the biggest unaddressed issue of the Chinese market is the non-payment scenarios after auctions. This slowly grew into what's now a chronic problem that's getting even worse as the years go on. It is estimated that only 51 percent of buyers actually paid for the work they purchased in 2016 and 2017 report shall probably show that there was no significant progress made in that department.
Finally, the market share continues to shift, becoming increasingly concentrated towards Asia[2]. Major auction houses continue to shift their inventory to Hong Kong and that is taking its eminent toll on the Chinese art market from a global perspective.
References:
Hass, B., December 18, 2017, Paintings by Chinese artist Qi Baishi sell for record £105m, The Guardian [Jan 5, 2018]
Lehr, D., 2017, China's Art Market Is Booming – But Not for Foreigners, Huffington Post [Jan 5, 2018]
Featured images: Chinese Currency, via picturesofmoney.org; Art Basel HK, via imgur.com; Art Market Results, via pinterest.com; The China Guardian Beijing auction hall after Huang's Yellow Mountain was sold, via scmp.com. All images used for illustrative purposes only.