In Chinese legends, mountains are seen as the places that nurture life and as the pillars that hold up the sky. Having a defining role in Chinese art and culture, but also being an important motif in Chinese mythology, mountains have been greatly respected in the form of rituals, as a retreat from social society and through aesthetic appreciation.
The China Institute Gallery will soon host an exhibition of contemporary photography inspired by this ever-present motif in Chinese art.
Titled Art of the Mountain: Through the Chinese Photographer's Lens, the exhibition will feature over 60 works by more than 20 photographers, paying homage to the major mountain ranges of China.

Three Sections of the Show
Titled The Revered Mountains, the first section will introduce the geography, history, legends, and culture associated with Chinese mountains. The section will include works by Hou Heliang, Kang Songbai and Kang Liang, Li Daguang, Lin Maozhao, Li Xueliang, Lu Hao, Zhang Anlu, Xiao Chao, Yan Shi, Zhang Jiaxuan, Zhang Huajie, and Zheng Congli.
Landscape Aesthetics in Photography, the second section will explore Chinese landscape painting aesthetic and its influence on contemporary photography. It will showcase works by Wang Wusheng, who has dedicated a major part of his career to capture the magnificent Mount Huangshan in all seasons, expressing its inner worlds and beauty. A mountain with 72 peaks, also known as "the loveliest mountain of China" for its extraordinary beauty, has been inspiring landscape painters for centuries.
The last section, under the title The New Landscape Photography, features artists who are dealing with interpreting the role of the mountains in society, such as Hong Lei, Lin Ran, Lu Yanpeng, Shao Wenhuan, Taca Sui, Xiao Xuan'an, Yan Changjiang, Yang Yongliang, Yao Lu, Zeng Han, Gao Hui and Feng Yan.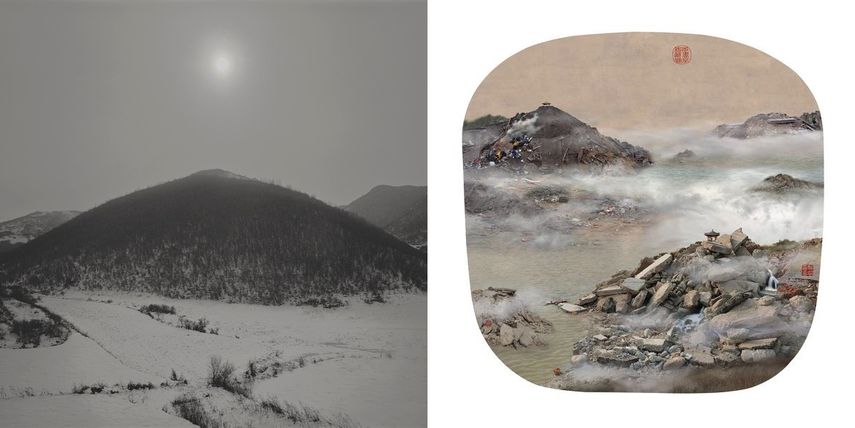 Exhibition Highlights
Some of the highlights of the show include aerial photographs by Hou Heliang, exploring man's environmental impact in Shandong province; Taca Sui's works inspired by China's ancient poetry collection, The Book of Odes; Yao Lu's photomontages that reflect classical Chinese painting styles; and a series Return to the Mountain, a collaboration between Yan Chanijang and Xiao Huan'an that explores man's relationship with nature; among others.

Art od the Mountain at the China Institute Gallery
As Willow Weilan Hai, Director at China Institute Gallery explains, "the search for eternal happiness, a happiness of spirit that reflects harmony, where nature heals all, is an essential part of Chinese culture". By showcasing photographs that depict nature and a man's relationship with it, often drawn from Chinese philosophy about the natural world, the exhibition articulates a vision of Chinese culture and documents its contributions to civilization.
The exhibition Art of the Mountain: Through the Chinese Photographer's Lens will be on view at the China Institute Gallery in New York from February 8th until December 2nd, 2018.
Featured images: Wang Jing - View from the Roof of the World, 2011; Yan Changjiang and Xiao Xuan'an - Return to Mountains 02, 2011. All images courtesy of China Institute Gallery.