Imitate Modern is excited to announce Chloe Trujillo art exhibition Visionary Fashion at their new gallery space, 19 Shepherd Market. This acclaimed French-American artist is offering a unique chance for the lovers of both fashion and art, in fact, for the lovers of true beauty, to witness her latest creations in a special exhibition during London Fashion week. Showcasing her latest idiosyncratic works of art on special scarves and her inscriptions from various paintings, the artist yet again showcases her uncanny spirituality and joy.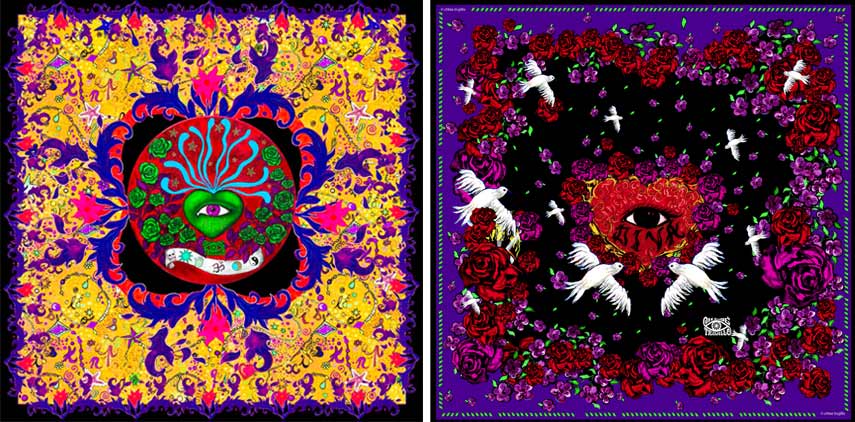 Chloe Trujillo Art Scarves
Influenced by elements of alchemy, mysticism, and esoteric art forms, Chloe Trujillo's special scarves are unique and precious as the most meaningful work of art. Made in Italy with silk from Lake Como and fine "voile de cotton" each piece showcases various inscriptions from the artist's paintings, finished with a unique hand-roll stitching. Currently, the artist's scarves are sold at Colette in Paris, Bacci's in Vancouver, Smets in Luxembourg, Jades in Düsseldorf, New Toyoshima Boutique in Japan, Joan Shepp in Philadelphia and Lola K in Monte Carlo. They were also exhibited in acclaimed exhibitions and solo shows in Paris, California, and London, among others. She has been part of LA artwalk, and has also collaborated on touring shows in DC, NYC, Istanbul, and Berlin.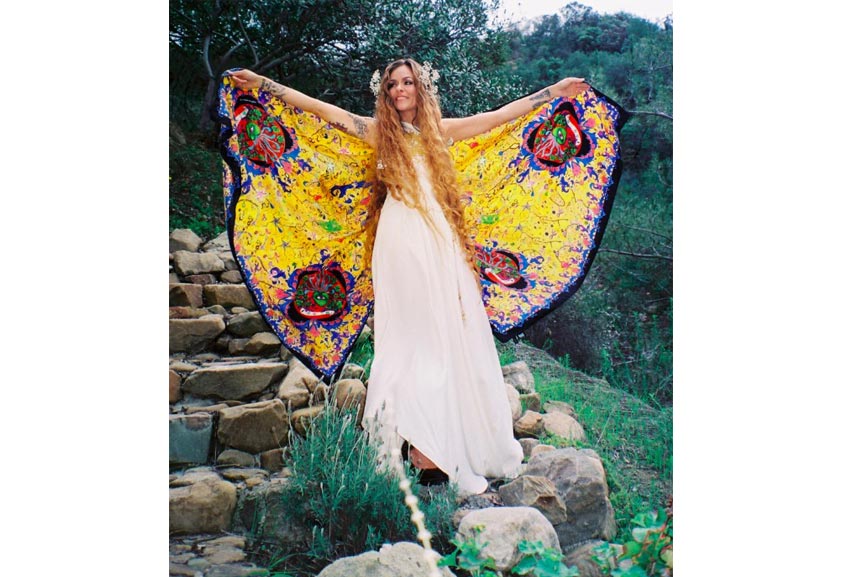 About Chloe Trujillo
Raised in Paris by fashion designer parents and an Opera singer grandfather, Chloe Trujillo grew up surrounded by music, beauty, art, and design. Fascinated by science, the artist took a different path than her parents, only to realize that the spirit of art resides in her as well. Her refreshing body of work presents a unique combination of eclectic motifs from ancient Aztec designs, skulls, eyes, flowers, birds, and pop culture icons like uncle Sam. Her complex colorful motifs decorate not just various canvases, but are also applied to various everyday objects, accessories, skateboards, and guitars. Many of her artworks have been featured in auctions in Paris, Beverly Hills, and Malibu.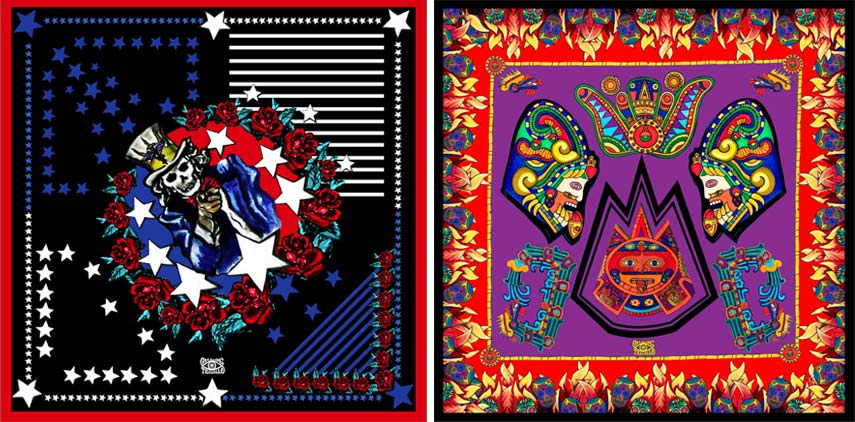 Chloe Trujillo at Imitate Modern Gallery
For the occasion of her second art show in London, the LA-based visual artist, fashion designer, and musician Chloe Trujillo presents her special exhibition Visionary Fashion. Occurring at Imitate Modern at their gallery space at 19 Shepherd Market during London Fashion week, the week-long exhibition will coincide with the series of events and shows taking place during one of the fashion industry's most anticipated events, highlighting some of the premier international runway collections.
This time, the London public is offered a unique opportunity to fully experience the magic of Trujillo's art, and her special contribution to both the world of fashion and visual art marked by her amazing and precious scarves painted with motifs from her paintings. The opening celebration of the Visionary Fashion show is on February 18th, 2017 from 5:00 PM – 8:00 PM and will run through February 25th, 2017.
All images courtesy of IMITATE MODERN. Featured image: Chloe Trujillo