A new, innovative and fresh force in the world of arts is on the rise, bringing together a variety of artists from different backgrounds, diverse styles, techniques and influences. With an aim to create a positive atmosphere, free of the poison tainting the world of art, HOLD FAST ARTS CLUB has set on a mission to explore and promote the daring artwork of world-renown and underground creators. Back in December of 2015, they organized a special exhibition at the prestigious venue of Café Royal Hotel in London, bringing together four prominent modern expressionists. After a successful show, HOLD FAST ARTS CLUB is only further motivated to pursue their mission and goal, announcing big plans for the current year and the future ahead.
We had a very special opportunity to talk to the man behind the project, Chris Bauer. We found out how the event at Café Royal Hotel went, discussed his impressions, tastes and plans for HOLD FAST ARTS CLUB. He disclosed some new names and potential collaborations, and revealed some secrets behind their approach. 2016 is going to be a busy year for HOLD FAST ARTS CLUB, so make sure you keep an eye out for their upcoming projects! Until then, take a look at our conversation with the founder - Chris Bauer.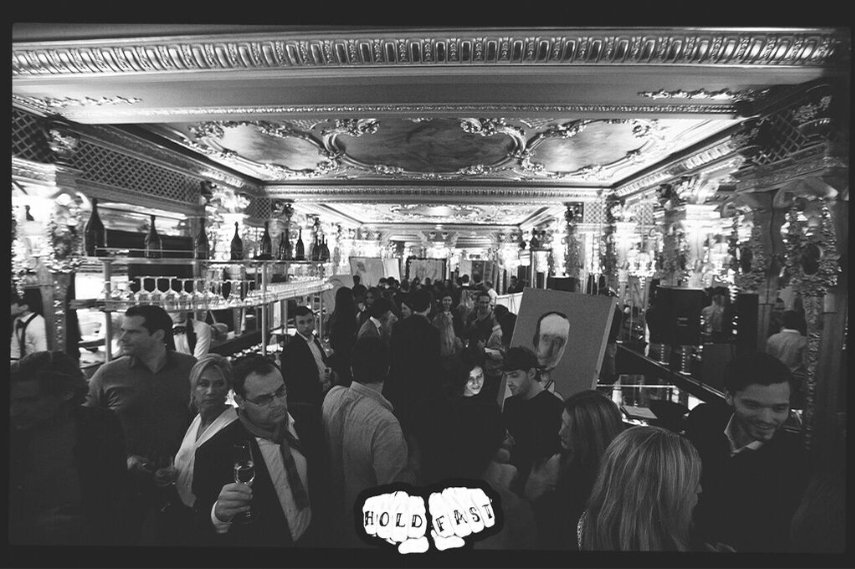 Widewalls: Would you mind introducing yourself to the Widewalls community?
Chris Bauer: Hi, I'm Chris Bauer the founder of the Hold Fast Arts Club. I like to believe that I'm a forward thinking protagonist in the art world. I am based in London and have worked with art for years now. I have been through different sorts of projects involving different forms of art. I have put on shows, curated shows, commissioned single works and whole series as well as guided artists through different parts of their careers. Artists I have worked with include, Herakut, Harif Guzman, DFace, Luc Waring, Massimo Agostinelli, David King Reuben, Dotmasters and a lot more.
WW: You are the man behind HOLD FAST ARTS CLUB, tell us, what is the idea and the concept of it?
CB: The HOLD FAST ARTS CLUB is designed to accommodate artists and people interested in art from all around the world. We are offering a refreshing straight forward and honest approach to art. We are a private members club but at the same time we are a very friendly and open community. I know it sounds funny but basically we are trying to cut out the poison from the art world out of our community and try to offer people a chance to enjoy honest art, if that makes sense.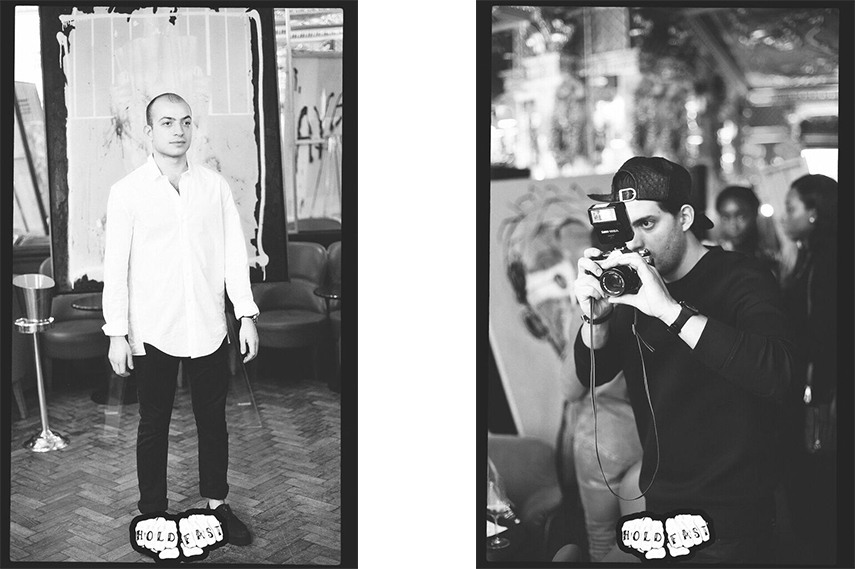 WW: For the exclusive show you've organized in December, last year, you have managed to gather international artists from Britain, Venezuela and the US, how did that go?
CB: Well, that was really cool. The group show in December exposed our artists to a great crowd. As you mentioned, our artists are from various backgrounds and thrown together they created a really amazing pool of energy. They attended the event as well, and needless to say, we had people queuing outside to see art! That made us really proud and gave us great motivation for our mission.
I shouldn't forget the amazing hospitality the historic Café Royal Hotel offered us!
WW: The show consisted of works by David king Reuben, Harif Guzman, Luc Waring and Massimo Agostinelli. What was your reason behind choosing these particular creators for the exhibition?
CB: The answer is quite simple, they are all absolutely inspiring people and amazing artists. We choose to work with people who are in it to make history and these 4 guys are up there. Looking at their age and careers there were some differences in development and progress of their body of work which gave the show extra depth.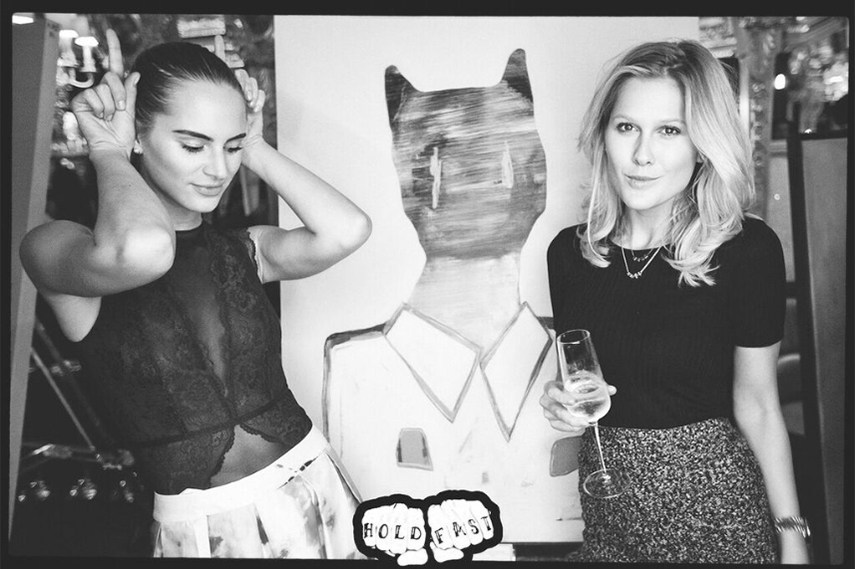 WW: Café Royal Hotel in London is a pretty exclusive venue, do you plan on making exhibitions there again, or is the next show going to take place elsewhere?
CB: We are planning 8 or more shows this year. Bang! The Café Royal is an epic venue and yes we can announce we are going to do another show there! We are playing with the format at the moment to create another epic event which pushes the boundaries. It looks like April. We will be sure to let the WideWalls community know when it's going down.
WW: The exhibition featured various artworks ranging from modern expressionism to cubism and other mixed genres, what is your favorite style and artist?
CB: Wow. Why don't you ask me my favorite color lol! Such a difficult question.
You see, art is what you make it. I work with so many artists and the people behind the art really wake my interest. When I see the motivation and commitment of artists in their work I get really interested, so basically all the artist I know have a little advantage to make it to my top 10 list.
In terms of style I'm also not committed to a certain genre or media, I have favorite works in all directions. Currently we are working with all sorts of styles as you mentioned and that's the way it should be, we don't discriminate. For 2016, we have extremely different projects planned. I can't give you too much but in February we are going VERY underground. It involves trespassing and very edgy art!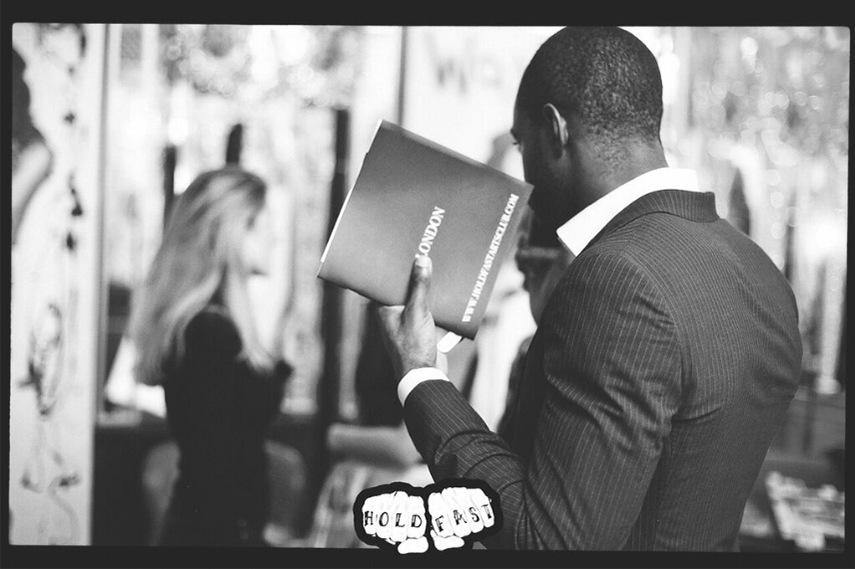 WW: Which artists would you like to collaborate with and exhibit their work?
CB: In reality we have so many shows and projects in the pipeline I can't think of more dates in the calendar. I could drop big names now like Paul McCarthy or Daniel Arsham but everybody we work with is either a friend or quickly develops into one because that's the nature of our philosophy. Trust and positive energy is what we are about that's what determines our relationships with members. If all the boxes are ticked we go to work.
WW: What are the plans for HOLD FAST ARTS CLUB and are there any projects in development?
CB: We have big projects in store for '16 from group shows to solo shows, commissioned art to releases and even performance art.
Subscribe to our releases on www.HoldFastArtsClub.com another media we use is IG @HoldFastArts to see the content.
Any other inquires to chris@HoldFastArtsClub.com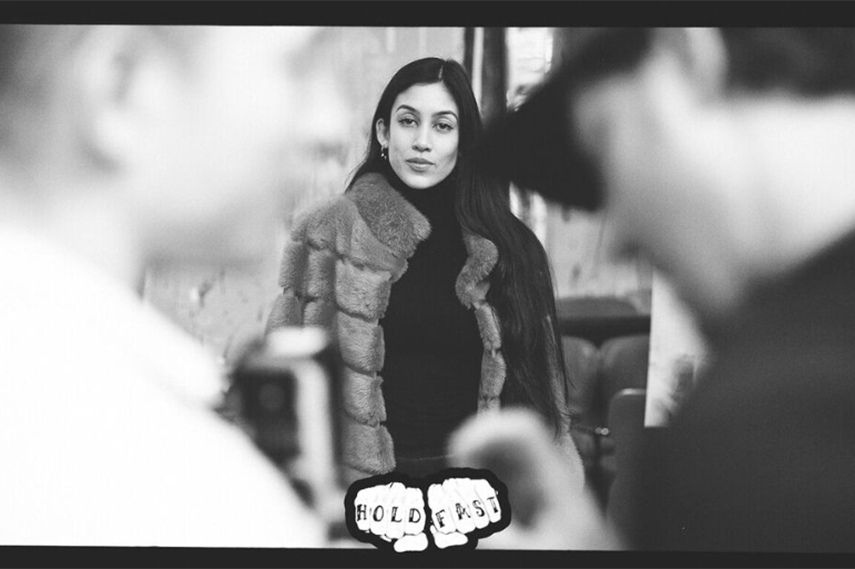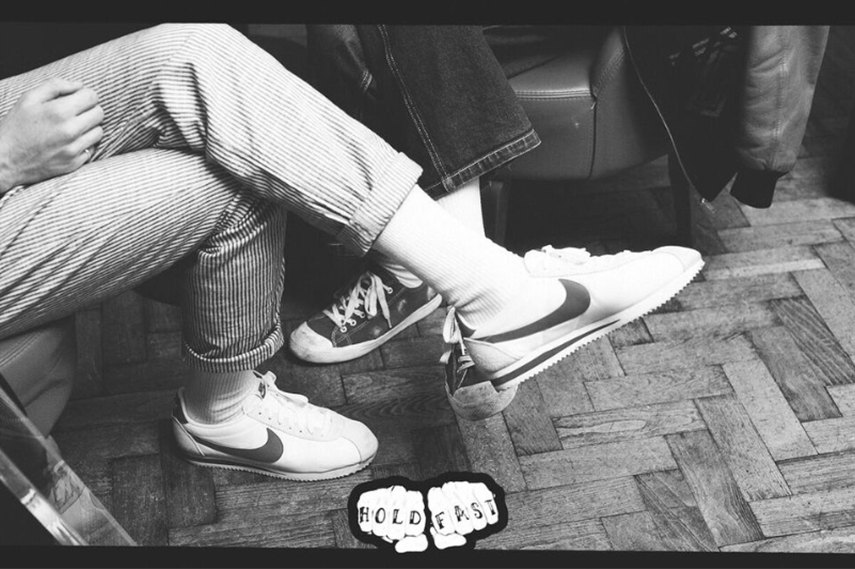 All images courtesy of HOLD FAST ARTS CLUB