As a way of commemorating the 10th anniversary of Chris Burden's Urban Light installment at The Los Angeles County Museum of Art (LACMA), the Leonardo DiCaprio Foundation decided to generously support the replacement of all 309 incandescent light bulbs with LED bulbs.
Situated on Wilshire Boulevard at the museum's entrance, the artwork incorporates 202 vintage street lamps of 17 different designs, all gathered from various cities in and around the Los Angeles area. It was received by LACMA in February 2008 as a gift from the Gordon Family Foundation.
The replacement of incandescent light bulbs with LEDs will not only save approximately 90% in power savings for LACMA, but it will also reduce emissions of greenhouse gases and other harmful pollutants from the installation.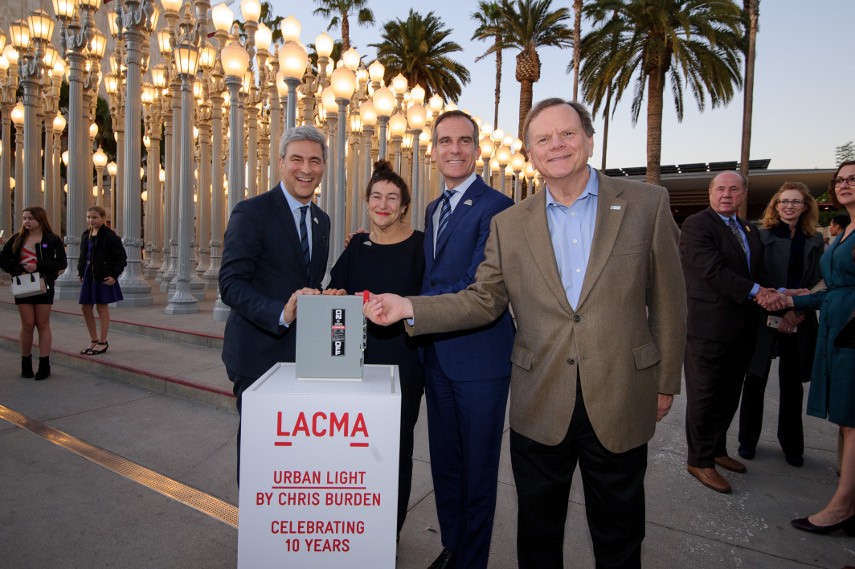 Among the Best Legacies of Great Artists in LA
Many will remember Chris Burden as "that guy" who voluntarily got electrocuted, kidnapped, nailed, shot, drowned or was a part of similar acts of self-peril. But Chris was so much more than that, especially when you do not observe his work from his time's perspective and take today's point of view.
Maybe even more than any other American artist in recent history, this artist pushed the boundaries of what was acceptable as art, forcing the viewers and pundits to redefine their narrow definitions from the ground up. Based in LA, Burden proved himself a key figure in promoting the idea that creating arts did not have to result in an object. Instead, he was at the helm of an idea that it could be an experience.
Driven by a diverse set of influences that included the work of Marcel Duchamp, Dadaism, science and engineering, Burden created an equally varied body of work that entails installations, models, toys, and kinetic and static sculptures.
Needless to say, his work also influenced a long list of conceptual, performance and installation artists, among which the names of Carolee Schneemann and Marina Abramović really stand out.
BURDEN LIGHTS, The Official Trailer for a Documentary Film about the Artist
Chris Burden Urban Light at Los Angeles County Museum of Art
Delivered to LACMA back in 2008, Burden's Urban Light featured 202 antique cast-iron lampposts from various cities surrounding LA.
It was based on a very simple idea - in the early 20th century, many neighborhoods in California designed their own streetlamps which, as a result, became a form of public art and civic identity. Over a period of seven years, Burden recovered and restored many of these vintage lampposts that, by the way, weight about one-and-a-half ton each.
Sandblasted and with a large amount of missing parts, these posts were restored by the artist who brought them to their former glory, painted them in a medium gray and electrified. Before assembling the piece, Burden painstakingly catalogued each streetlamp by individual type according to the year of its manufacture, its original location and height.
Finally, the lamps were gathered into a whole and electrified, described by the artist as a statement about what constitutes a civilized and sophisticated society: "safe after dark and beautiful to behold."
Nowadays, during the museum's visiting hours, Urban Light is experienced and enjoyed by over 1.5 million ticket holders annually and it has contributed greatly to The Los Angeles County Museum of Art being the fourth most geotagged museum on the globe.
Search for Urban Lights
The Leonardo DiCaprio Foundation Helps the Revitalization of the Artwork
During the decade Burden's Urban Light stood in front of The Los Angeles County Museum, the piece has become a Los Angeles icon and a hallmark of the local community. Michael Govan, LACMA CEO and Wallis Annenberg Director described the importance of the work with the following statement:
The lampposts, hailing from all over Los Angeles and its vicinity, represent the diversity of our great city and the people who live here.
In February 2018, The Leonardo DiCaprio Foundation decided to fund the replacement of all 309 incandescent light bulbs with LED bulbs in order to mark the 10th anniversary of Urban Light. This conversion to environmental bulbs ensures that the work of art will continue to be bright, accessible and environmentally friendly for future generations.
Leonardo DiCaprio also said a thing or two about his foundation's decision to support the Burden's artwork:
My Foundation is proud to support LACMA as it transitions to new, energy efficient lighting for Burden's Urban Light. It is my hope that leaders from other cultural, civic and private institutions will follow the example set by LACMA to examine the financial and environmental benefits of switching to LED lightbulbs in public places as a way to help combat climate change.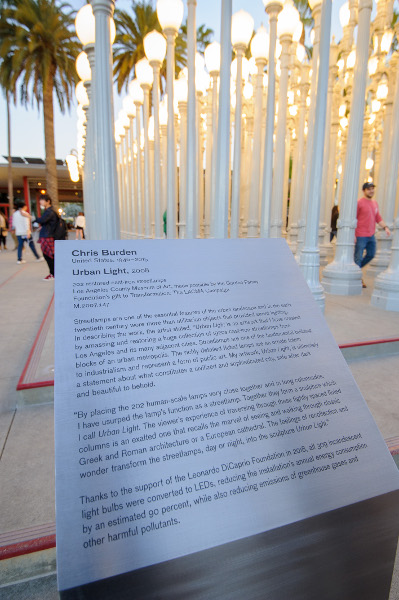 Unveiling the Urban Light Installation and Its Meaning to Los Angeles
On February 8, LACMA hosted a special unveiling of the sculpture's conversion to LED light bulbs. Documenting the entire celebration surrounding the revamped artwork and its 10th anniversary was Siri Kaur, a Los Angeles-based photographer who is represented in the museum's collection. She shot portraits of people attending the event which many have characterized as a true LA milestone that should inspire everyone to replace a bulb or a two with a more energy efficient source of light.
Los Angeles Mayor Eric Garcetti, who was among many crucial LA figures that attended the unveiling of the sculpture's conversion to an eco-friendly energy efficiency solution, also did not hide his appreciation over what just happened at the museum's entrance:
Whether you're a visitor to LACMA or a passerby on Wilshire, Urban Light has captured the imagination of everyone who has experienced this wondrous work of art. With the installation's conversion to new energy efficient LED bulbs, today marks the start of a new era for this symbol of our city's creative spirit.
BURDEN URBAN LIGHT
Editors' Tip: Chris Burden
Underlining all his major contributions, this comprehensive overview examines Burden's career which now must be viewed as one of the most fascinating stories in the history of contemporary art. From his highly controversial and seminal performance works of the early 1970s, to his complex, imaginative installations and monumental sculptures, works of this man uniquely inform as well as incorporate the major artistic undercurrents of the last three decades.
Featured image: Chris Burden - Urban Light, 2008. © Burden / licensed by The Chris Burden Estate and Artists Rights Society (ARS), New York, photo © Museum Associates / LACMA.