Christian Boehmer and Lea Gudrich are two remarkably talented young artists living and working in Cologne. It is no secret that the German art scene is on the rise, presenting a diverse and vibrant beehive of creativity - bursting with energy, thriving, and constantly generating new ideas. With experimental, highly innovative and perfectionist artists - Berlin, Cologne and Dortmund seem to be in competition with New York, Paris and London. A part of that movement, 44309 Street Art Gallery champions emerging creative minds, giving them a voice and a space. It is known for its exciting indoor exhibitions as well as accompanying outdoor activities in the surrounding area of the gallery. It seems only natural that two fresh creative forces such as Christian Boehmer and Lea Gudrich should have a joint exhibtion of their work there.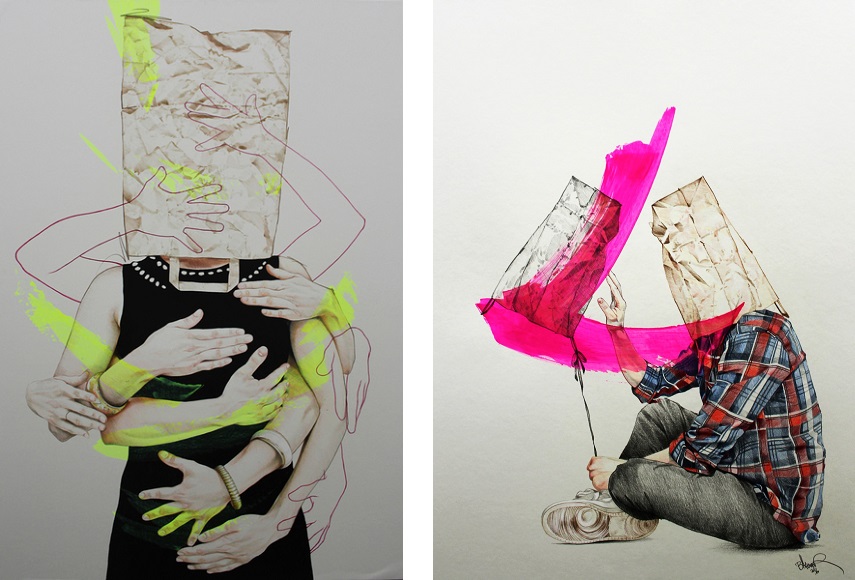 Christian Boehmer - Neon Streaks Over Delicate Lines
Christian Boehmer was born in 1984 in Bad Kreuznach, Germany. Currently living in Cologne, he is a freelancing artist of the urban contemporary genre. After an early beginning in graffiti, he dedicated himself to drawing, painting and large scale murals, extracting influences from diverse sources. Creating a friction between figuration and abstraction, juxtaposing delicate drawings with bold neon streaks, he concentrates on portraiture, often abstracting or completely obscuring the faces, giving them a dose of mystery. The main ideas behind this choice are the controversial topics of alienation and anonymity that are much discussed (and feared) in our internet age. Constantly touching on the themes of society, life, man and nature, Boehmer has exhibited in his native Germany, but also in the UK, the Netherlands, Israel, Switzerland and the United States.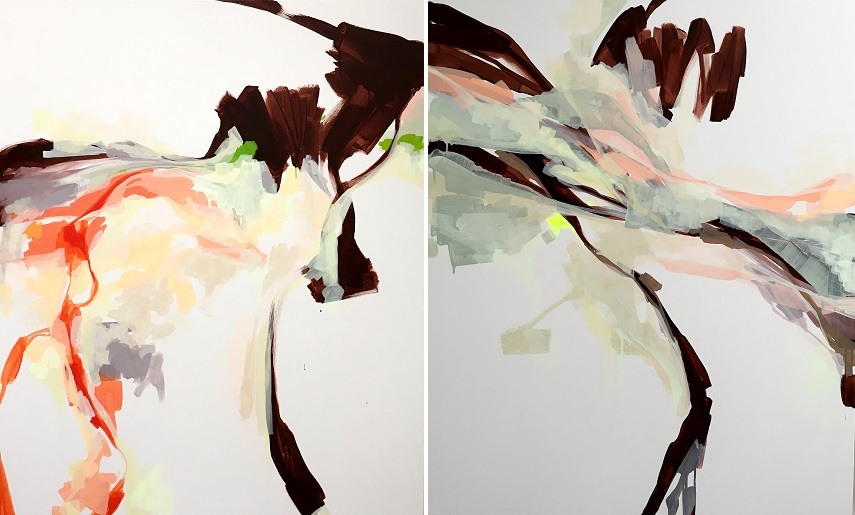 Lea Gudrich - A Close-up on Portraiture
Having studied in Rouen, Trier and Krakow, Lea Gudrich has taken up a plethora of diverse influences and entwined them into a creative thread uniquely her own. Not yet 30, she is already a lecturer at the University of Applied Sciences in Trier. Working mainly as a freelance graphic designer, her work spreads over portraits, illustration, typography, ink drawing and acrylic painting, merging realistic, bold treatment of line with purely abstract shapes derived from street art that give the images a new layer of meaning. Her instantly recognizeable close-ups of faces and various other body parts, most often hands, show a tension almost imperceptibly vibrating at a high frequency that signals an inner world of conflict yet constant mental activity, of slight anxiety yet intense urge to create, to change, to transform.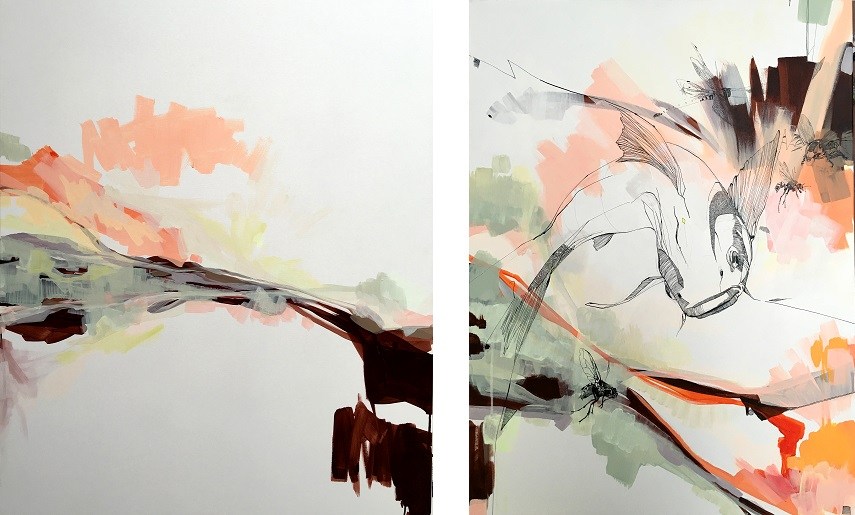 Boehmer and Gudrich at the 44309 Street Art Gallery
The double exhibition of two versatile visual artists, both from Cologne - Christian Boehmer and Lea Gudrich - will open at the 44309 Street Art Gallery, Rheinische Straße 16, 44137 Dortmund. Titled In Between, and exploring the ambivalences of the human existence, the show will open September 30, at 7pm and will run until October 30, 2016. As a part of the program, it is planned to have the artists create a mural close to the exhibition space. The exact date and time will be announced.
Featured images: Lea Gudrich - BothCount, acrylic on canvas, 2015 ; Chirstian Boehmer - Brotherhood, mixed media (detail) ; All images courtesy of 44309 Street Art Gallery.