On July 10th, Christie's hosted a global live auction offering Impressionist and Modern, Post-War and Contemporary Art and Design. ONE, the first of its kind in the houses' history, was organized through a live online bidding channel in consecutive sessions in Hong Kong, Paris, London and New York, donning $420,941,042 / £334,877,520 / €373,053,557 / HK$3,246,637,554, and selling 94 percent by lot and 97 percent by value.
As Christie's chief executive officer, Guillaume Cerutti commented, this hybrid-format concept sale is a way to adapt and innovate.
We wanted to stage something that accommodates the current situation and serves our clients wherever they are and however they wish to participate.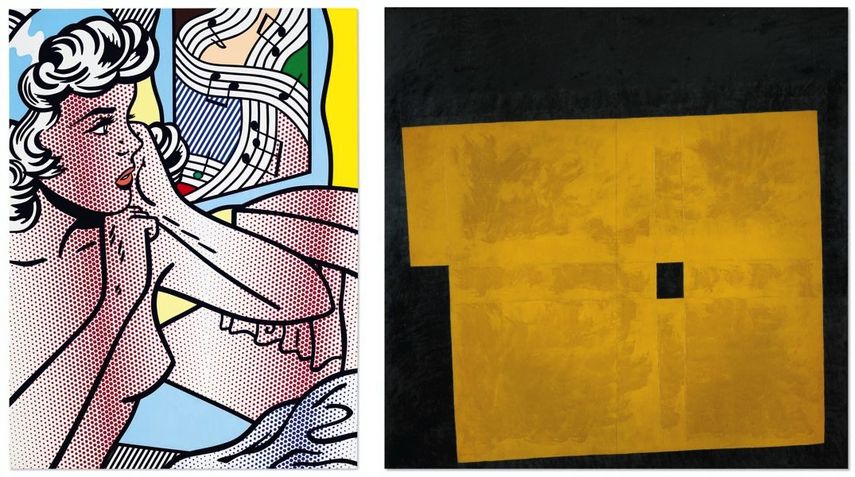 Christie's ONE Online Sale - What Sold?
Throughout the course of the day, 13 artist records were achieved. Leading the figures achieved across the international event was Pop master Roy Lichtenstein's 1994 Nude with Joyous Painting, described as "the most important example of Lichtenstein's last great series of Nudes to have ever appeared at auction". After a long bidding war between two competing clients in Hong Kong and New York, the canvas was sold for $46.2 million to Asia's bidder, besting its pre-sale expectation of $30 million.
Barnett Newman's Onement V from 1952, one of six paintings in Newman's breakthrough Onement series, was sold for $30,920,000, while Brice Marden's Complements diptych also sold for the same price, establishing a new world record for the artist at auction.
The Hong Kong section was led by Gerhard Richter's Frost (1) from 1989, a dazzling example of the artist's Abstraktes Bild paintings, sold for HK$79,255,000; followed by George Condo's Force Field from 2010 which was sold for HK$53,150,000, a world record for the artist at auction; Takeo Yamaguchi's Yellow Quadrangle from 1959 that set a world record at HK$15,125,000 — more than five times the high estimate; and Yayoi Kusama's Pumpkin from 1981, sold for HK$14,525,00, among others.
The Paris section was led by Jean Dubuffet's Pourlèche fiston from 1963, which fetched €6,528,500; followed by Amedeo Modigliani's 1909 portrait of Maurice Drouard, which fetched €4,485,500; and Nicolas de Staël's Plage à Agrigente, an exquisite work from the artist's series based on his time in Sicily, sold for €4,031,500.
Among the highlights of the London section are René Magritte's monumental L'Arc de Triomphe, featuring one of the most iconic motifs of Magritte's post-war oeuvre - the tree, sold for £17,798,750; Cecily Brown's Carnival and Lent produced between 2006 and 2008, sold for £4,859,750; as well as Georg Baselitz's Gebeugter Trinker (Bent Drinker) sold for £4,600,000; and David Hockney's Jade Plant from 1988, sold for £4,178,750.
The highlights of the New York section include Pablo Picasso's monumental Les Femmes d'Alger (Version F), one of a series of 15 canvases based on Eugène Delacroix's masterpiece Les femmes d'Alger, which was sold for $29,217,500; Ed Ruscha's groundbreaking early text painting Annie from 1962, that fetched $22,975,000; Wayne Thiebaud's Four Pinball Machines, one of the largest canvases from his early period, sold for $19,135,000, setting a new world record for the artist at auction; Frank Stella's Sharpeville from 1962, which realized $11,625,000; and Georgia O'Keeffe's From Pink Shell, which sold for $5,098,750.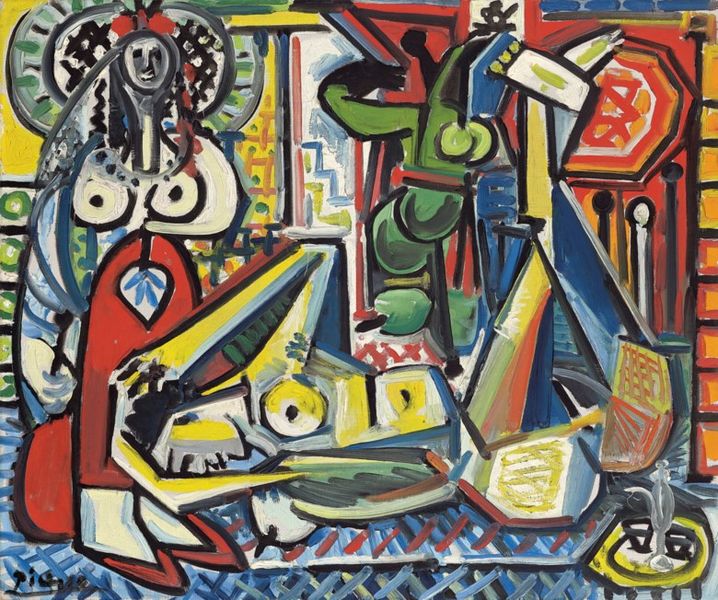 A Milestone Event
This four-hour long global relay-style auction closed the first set of milestones of the new virtual auction era. Guillaume Cerutti, Chief Executive Officer, Christie's explained that is sent three important messages.
Despite a challenging economic environment, the demand for works of art of great quality remains very strong; the market is more global than ever, with significant activity from the Americas but also from Europe and Asia; and innovation and adaptability is key - our clients have embraced our creative presentation and sale format combining live and online experiences.
Featured images: Jean Dubuffet - Pourlèche fiston, 1963. Oil on canvas. 45 x 57⅝ in (114.3 x 146.5 cm). Sold for €6,528,500 in ONE: A Global Sale of the 20th Century on 10 July 2020 at Christie's in Paris. © 2020 Artists Rights Society (ARS), New York / ADAGP, Paris; René Magritte - L'Arc de Triomphe, 1962. Oil on canvas. 51⅜ x 63¾ in (130.6 x 162 cm). Sold for £17,798,750 in ONE: A Global Sale of the 20th Century on 10 July 2020 at Christie's in London. © 2020 C. Herscovici, London / Artists Rights Society (ARS), New York; Wayne Thiebaud - Four Pinball Machines, 1962. Oil on canvas. 68 x 72 in (172.7 x 182.8 cm). Sold for $20,137,500 in ONE: A Global Sale of the 20th Century on 10 July 2020 at Christie's in New York. © 2020 Wayne Thiebaud / Licensed by VAGA at Artists Rights Society (ARS), NY All images courtesy of Christie's.