What a night at Christie's! Sotheby's arch rival delivered a surreal $658,532,000 at their Post-War and Contemporary Art Evening Sale auction in New York, breaking 14 records on the way and setting the fourth highest result for any art auction in history! Combined with their Monday evening auction Looking Forward to the Past, the house reached the unbelievable $1.36 billion this week already! At Christie's Wednesday sale, only 10 out of 82 offered lots failed to sell, while the remaining 72 were more than successful. Three of the lots surpassed the $50 million threshold, eight went over $20 million, 13 over $10 million and a total of 63 sold for over $1 million.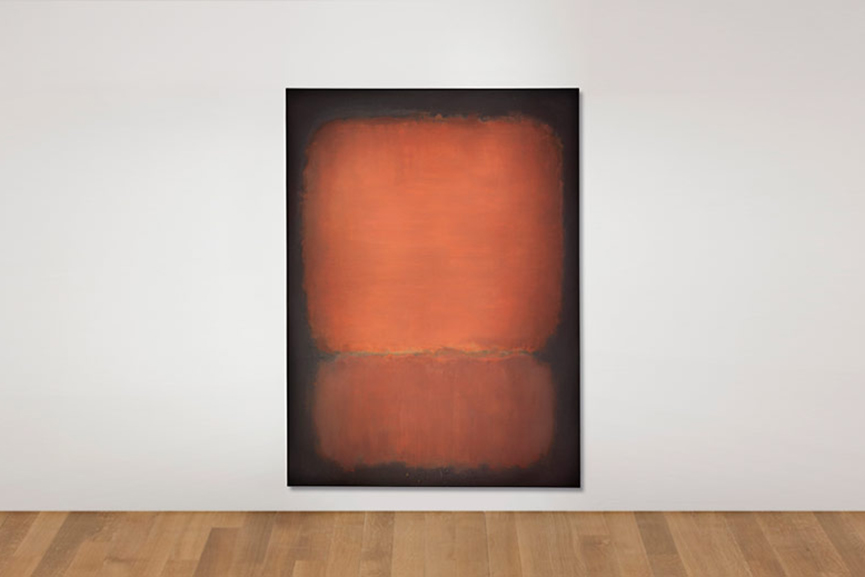 Mark Rothko Slams The Numbers at Christie's
In yet another party of the art world's biggest names, eight of the artists offered at Christie's Post-War and Contemporary Art Evening Sale set new records. Giovanni Anselmo's 1968 sculpture Torsione, which reached $6.4 million, sold to eight times its estimate of $800,000. Achieving new personal best alongside him were also Lucian Freud with Benefits Supervisor Resting for $56.2 million and Robert Rauschenberg with Johanson's Painting for $18.6 million. Nevertheless, the man of the hour was surely Mark Rothko, whose 1958 painting No. 10 led the way by fetching a whopping $81,925,000. The auction's top lot was off the market for nearly thirty years, having not been on view since 1987. It represents the artist's transition from bright to darker hues, in this case deep reds immersed in black background. The sight-foot tall abstract was in the game for six minutes, with seven anonymous phone bidders fighting for it.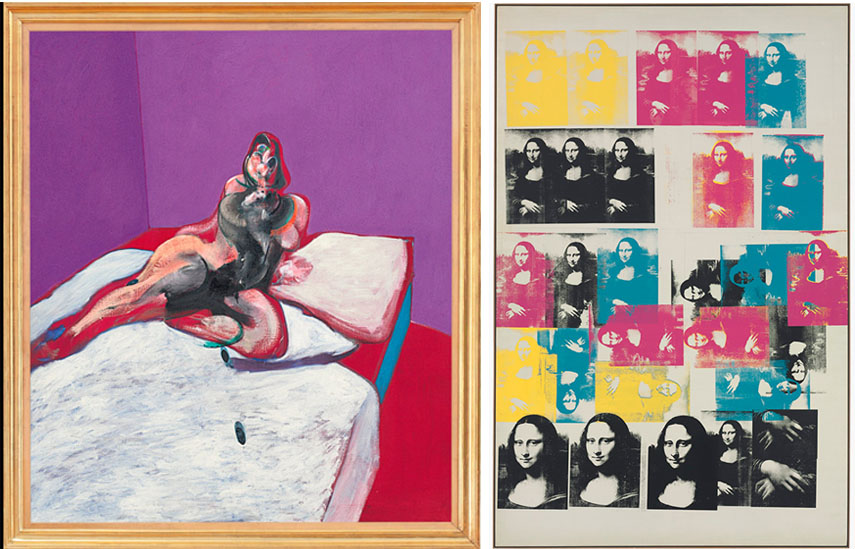 Success at Christie's for Andy Warhol and Francis Bacon
Two more familiar names were in the spotlight last night at Christie's Post-War and Contemporary Art Evening Sale. Pop Art's leading representative, Andy Warhol's Colored Mona Lisa went straight to the hands of none other than Larry Gagosian, for $56.2 million. The artist created the 126 by 82 inches artwork in 1962, a year after the original Leonardo Da Vinci painting toured the US. One more inevitable auction name, Francis Bacon, led the British with a $47.8 million sale of the 1963 Portrait of Henrietta Moraes. The work is based on a John Deakin photograph of the lady, Bacon's friend, posing nude and quite provocatively on a white bed against a purple wall. The painting last sold at Christie's London in February 2012 for $33.5 million.
We invite you to check out all the highlights of Christie's Post-War and Contemporary Art Evening Sale at our detailed Auction Analysis coming up soon!
And don't forget: Christie's major spring auction series in New York continues this week with the second of its day sales on Thursday.
Head over to Widewalls Facebook page and join the discussion!
For more on the arts, sign up for My Widewalls!
Featured image: Christie's Post-War and Contemporary Evening Sale May 13th 2015
All images courtesy of Christie's