An increasing number of contemporary artists are returning to figuration, the reasons for that varying depending on one artistic approach to another. The most frequent is the use of the figurative to reclaim (missing) representation.
To support this claim a good argument would be the practice of Christina Quarles, an established Los Angeles-based artist who seeks different modalities of identity that transcends race, sexuality, and gender. Her vibrant paintings featuring elongated and partially deformed figures juxtaposed against abstract patterns pose questions regarding desire and corporeality in a digital era.
To give a nod to her intriguing practice, the Museum of Contemporary Art Chicago is about to present Quarles' solo exhibition of the most recent works she has created in the last four years, as well as four new paintings and the US debut of a large-scale acquisition.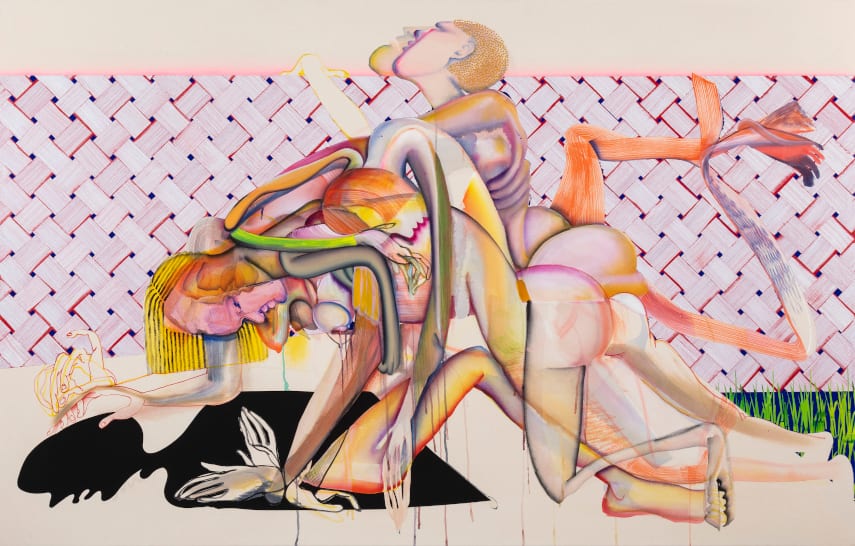 The Painterly Domains of Christina Quarles
Namely, what makes Christina Quarles' works so staggering are these bewildering bodies that come out of the articulation of the artist's own identity – of being a biracial, queer, cisgender woman. By excavating herself in regards to the social structures that generate numerous forms of oppression, Quarles constructs a berserk Imaginarium where anything or rather anybody is possible.
Her working process sets off with spanning gestural brushstrokes that form the figures, and then the surrounding scenes and architectural details are added. The inner, emotional life of the mentioned bodies is accentuated with expressive limbs appear that emerge in and out of skies, and landscapes.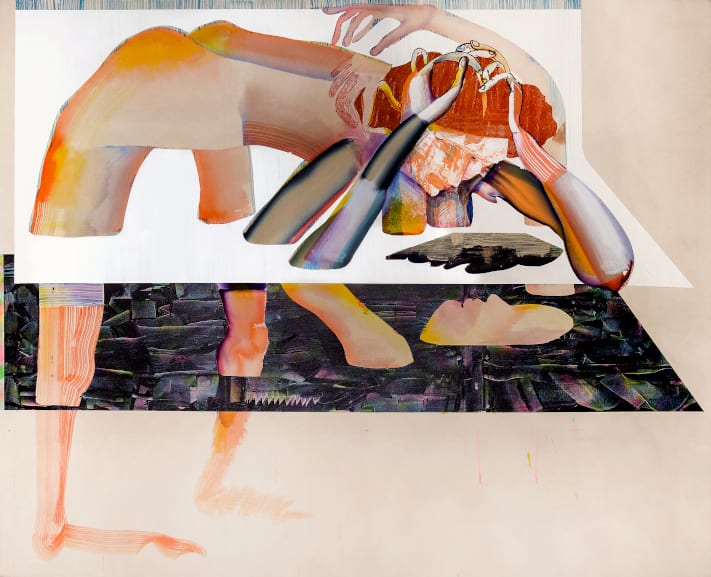 The Works
The installment will include a few never-before-seen works on paper, such as Magic (Never Believe, It's Not So), I Don' Wanna, Be Funny Anymore, …And Thus, …And Yet…, and Love Is… These simplistic ink drawings presented entangled figures in intimate conversations followed by handwritten snippets of text from song lyrics. The works such as Peer Amid (Peered Amidst) present figures that go far beyond the surfaces and lines (even other bodies), while their body language expresses a multitude of emotions.
The exhibition highlight is a large-scale, vibrant painting reminiscent of trompe l'oeil, a style based on creating an optical illusion. This work spans wall-to-wall and features fragmented figures and their artificial shadows followed by common patterns and planes of varying materials.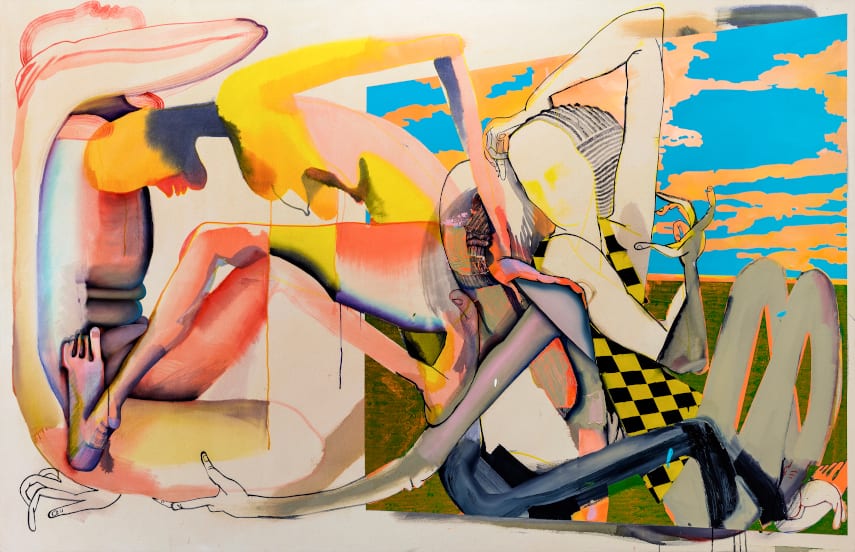 Christina Quarles at MCA Chicago
The upcoming exhibition is part of a year-long program of solo exhibitions of powerhouse women artists at the MCA, and will be followed by a fully illustrated catalog featuring a foreword by MCA Director Madeleine Grynsztejn and three authors who thoroughly analyzed the dominating motifs and metaphors presented in the artist's work.
Christina Quarles will be on display at MCA Chicago from 13 March until 29 August, 2021.
To emphasize the creative process that led her to produce these compelling works, Christina Quarles will give a talk scheduled for 5 pm on 11 March.
Featured image: Christina Quarles - Laid Down Beside Yew, 2019. Acrylic on canvas, 84 x 96 x 2 in. (213.4 x 243.8 x 5.1 cm). © Christina Quarles. Courtesy of the artist, Regen Projects, Los Angeles, and Pilar Corrias Gallery, London.