The matter of climate crisis is still a burning topic that informs us of the urgency to change our habits and the ways we operate on this planet. The first indication is the alterations in seasons that differ from one part of the world to another, and challenge different areas and communities to act immediately. Regardless of any form of activism, numerous artists started capturing those shifts in a subtle and unpretentious manner by simply engaging with landscape photography.
Among them is the French photographer Christophe Jacrot who came to prominence for his captivating images of different urban environments caught under the bad weather. He started his career as a filmmaker and has released several short films and a single feature film before becoming a photographer full-time. The idea to explore the lighting and forms in cityscapes formed by bad weather came by accident, when Jacrot was commissioned to produce bright images of Paris for a tourist brochure.
By 2007, this endeavor paid off, and shortly after the first exhibition at the Lucernaire, the photographer published a book called Paris in the rain. Ever since, Christophe Jacrot has managed to conduct this study by showcasing different conditions in cities across the globe – for instance, the rainy, foggy depictions of Hong Kong, Tokyo, or Taipei, or snowy cityscapes of New York in a snow storm. In 2012, he released astonishing series documenting entire districts in New York that were devoid of electricity after Hurricane Sandy, and more recently the photographer captured mesmerizing blizzard scenes in Iceland and the coast of Normandy in France.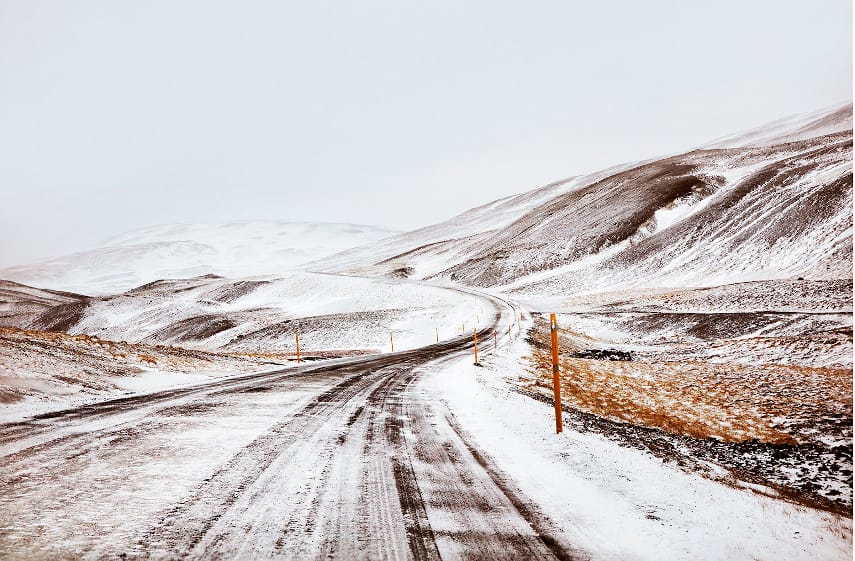 Christophe Jacrot - From Cinema To Painting, To Photography
As mentioned, Jacrot was involved with motion pictures, so it is no wonder his aesthetic possess immense cinematic quality. Numerous photographers turned into cinematographers, but he went the opposite way. At first glance, his photographs seem evocative of the works of Edward Hopper, but also other artists. In regards to this observation, Jacrot comments:
To be honest, it was through failure that I went back to photography. I did it when I was 16 and gave it up at around 21. I then thought it was a minor art form and it seemed pretentious to me. So, after a dozen years, the need to express myself through photography came back. I went with it. So far, luck and a lot of instinct have led me. And this instinct still guides me to this day. Happy chance events have always led me to like both pictorial and cinematographic images.
I sometimes feel more of a painter than a photographer. I am at the opposite end of reportage (though it was my degree). Hopper didn't really influence me the most, more the likes of Saul Leiter, Todd Hido, or even Harry Gruyaert. But most of all, I try to be 'myself'.
The digital technology suits Jacrot better, since the crude weather conditions do not allow the use of film, especially if outside temperatures go up to -10 degrees Celsius with and are followed by 100 kilometers per hour winds. Although the photographs give out the impression that they are very much processed, Jacrot's practice is almost the contrary, as density, contrast and overall balance are barely enhanced.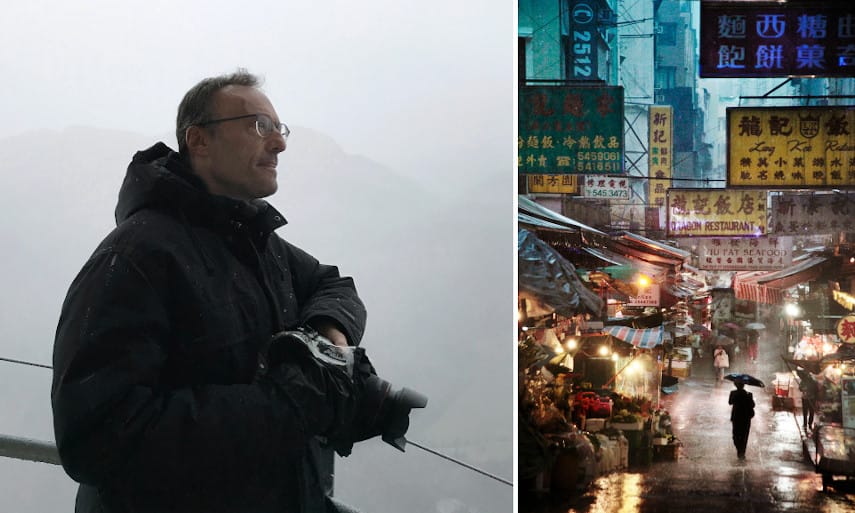 The Cities and Landscapes in Storms
Jacrot rarely depicts people, and if he does, only one to three figures are presented from distance for the sake of scale. For that reason, his photographs unravel numerous associations in terms of human alienation and loneliness, but also environmental issues that cannot be ignored.
Some of Jacrot's works feature natural landscapes in locations where the winter looks like winter, as the artist described. Unlike the cityscapes that seem dystopian and very much like the nowadays images of capitals under lockdown, the snowy landscapes offer some kind of comfort, a sense of natural cycle, and a feeling of peace. In favor of that, Jacrot says:
The current ways of the world really worry me. However, my work is not 'militant', art did not stop Bolsonaro from being elected, nor did it encourage massive deforestation for pure profit. Today, humans want to self-destruct! I prefer to promote the perpetual start of the 'weather' cycle, the mystery of rain, snow, wind, and fog.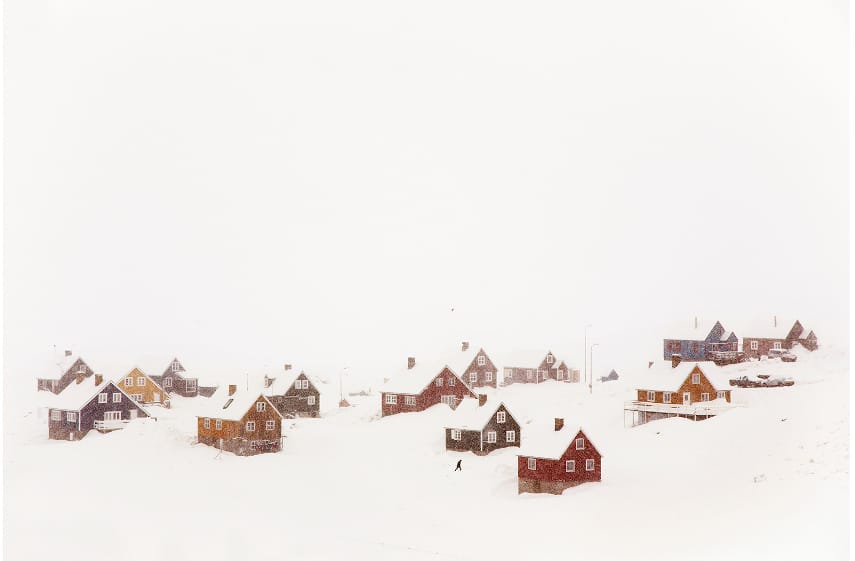 Waiting For The Monsoon Season
Under the current state of affairs on a global scale conditioned by the pandemic, all production moved to the digital space and has left numerous artists active on the terrain stuck in their flats and studios.
Christophe Jacrot's situation is no different as all he wants is to gently feed people's souls with his images. In the meantime, like all of us, the photographer hopes the end of the pandemic is near while contemplating revisiting the monsoon season in Asia, and rediscovering the megacities.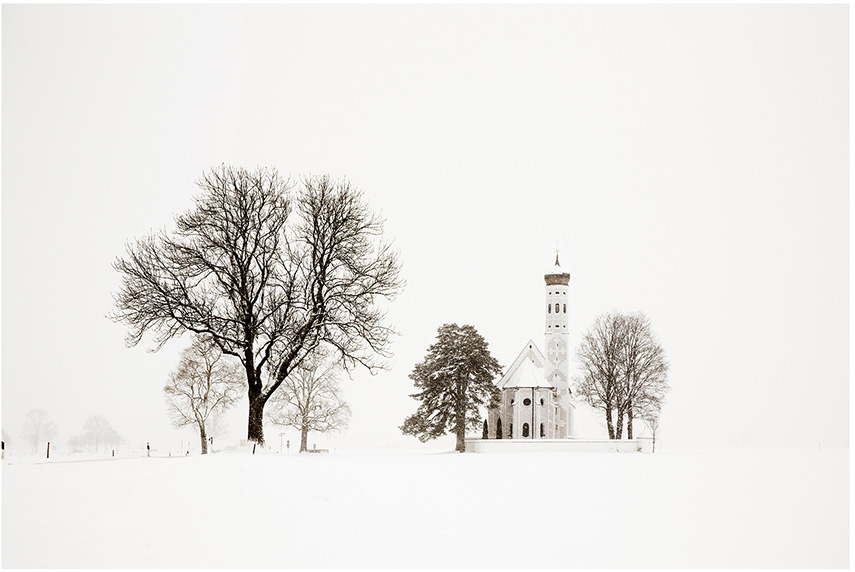 Featured image: Christophe Jacrot - Woman on a frozen roof, 2010. Print on Rag Canson paper 315 gr. All images are courtesy of the artist and Artistics.