People's perspective on what a perfect body should look like has enormously changed over the past century. Nudity was something that never spoken of, let alone seen in public. Today, the issue of the nudity has perhaps gone too far in the media – the society has almost become figure obsessed, human's body is exposed to a constant public examination and critique and, more than ever, people are being judged based on their physical appearance. For more than half a century now, Chuck Close has been America's best chronicler of the development of the human body. Through his art, Close has captured everything people as physical beings are – their looks, their emotions, their relation to the question of naked body and, most importantly, their raw honesty. After years of painting only portraits and giving the audience the up-close and intimate view into people's souls, Close began experimenting and soon found the new approach. He started making paintings derived from black-and-white photographs of a female nude, which he copied onto canvas and painted in color. As he one stated in an interview with the Cleveland Ohio Plain Dealer, he made a choice in 1967 to make art hard for himself and force a personal artistic breakthrough by abandoning the paintbrush: "I threw away my tools. I chose to do things I had no facility with. The choice not to do something is in a funny way more positive than the choice to do something. If you impose a limit to not do something you've done before, it will push you to where you've never gone before", Close said. However, things got even more difficult in 1988, but not by his own will, when the artist became paralyzed after a rare spinal artery collapse. Nonetheless, this didn't stop the artist from making his art – he started using a brush-holding device strapped to his wrist and forearm.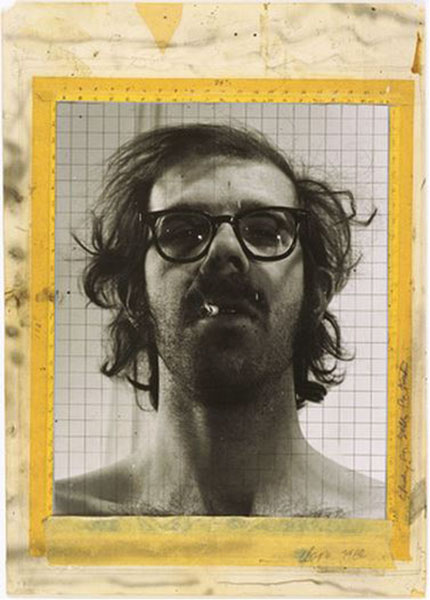 Close's Nudes
Even though Close first became notices thanks to his beautiful portraits, the artist has at the same time dedicated himself to investigating and exploring human body, its perfections and flaws. To say that his approach to the topic was unusual would be an understatement. What he brought to the art of picturing human body is beyond art itself – consciously or not, Close's art of nudity fights prejudices concerning what a body should look like, portrays real, everyday people and, at the same time, gives the body a wonderful, almost renaissance look.
Retrospective at Pace
In February this year, in New York's Pace Gallery, Close had his retrospective exhibition of nudes entitled Chuck Close: Nudes 1967-2014, that closed a month later. The exhibition featured Polaroids, daguerreotypes and an acrylic on canvas painting. Color and black & white single panels, diptychs, triptychs, and a five part reclining figure were all made using a 40-by-80 inch Polaroid camera, while one of the biggest hits in the show was one of the Close's most known works, the 10-by-21 foot Big Nude, a 1967 painting on loan from a private collection that was never before exhibited publicly in New York. In this masterful piece, Close used number of techniques and tools ranging from brush painting to airbrushing, razors and rags. The defining element is the woman's reclining pose that has been a motif in art history for centuries. The idea of painting the subject in this particular pose compliments the subject in a Close signature way. In nearly 50 years of capturing nude subjects, Close has used the camera lens completely open, resulting in a flood of light which immediately allows the viewer to connect with the person on canvas, as it creates the depth of field and makes some areas appear out of focus, which Close is so widely known for and respected.
If you like the art of Chuck Close and you would like to know more about his upcoming projects, sign up for My Widewalls today!