The first decade of the 20th century and the rise of modernism brought drastic changes of women's role in society. That was much enforced by the appearance of the Suffragette movement in the UK and demands for emancipation and gender equality. Such appraisals were rather effective and were even promoted through a mainstream model of the 1920s flapper girl – a fully accomplished persona living freely, enjoying alcohol and sex, smoking cigarettes, wearing pants. Decadence was chic, and women felt empowered to experiment further. In regards to that, androgyny or gender-bending was widely accepted in artistic circles and was expressed mainly through clothes. There were notable examples of both women and men exploring their identities by practicing cross-dressing.
One of the most radical artists of the mentioned period was Claude Cahun, who produced astonishing, bold and elaborate self-portraits in collaboration with her partner Marcel Moore. The two were not just expressing their struggle against inherited canons of representation and morality through art, but were also involved in the resistance activity during WW II.
In order to interpret and present properly the interconnected practices of Cahun and Moore, as well as juxtapose their practices with those of contemporary artists, The Contemporary Jewish Museum in San Francisco is soon hosting an exhibition of suggestive title - Show Me as I Want to Be Seen.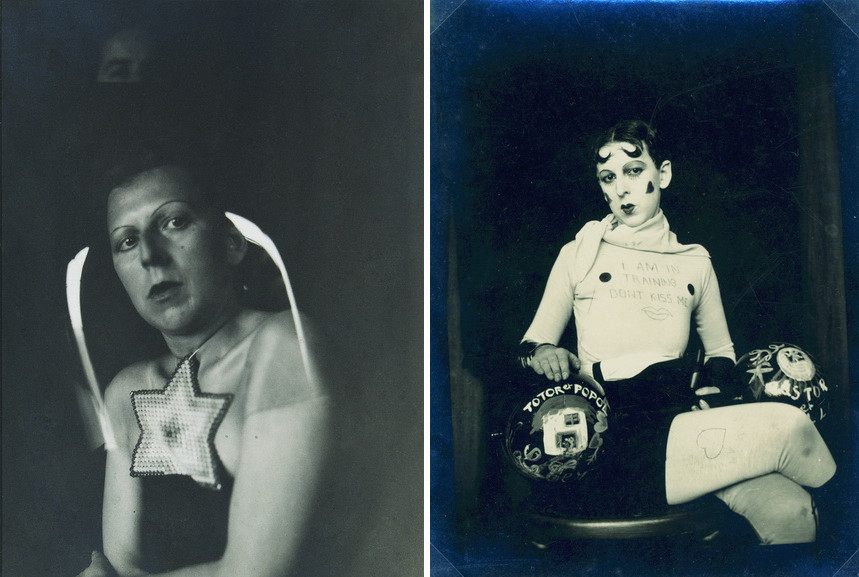 Claude Cahun and Marcel Moore - Exploring/Exploiting The Self
Claude Cahun was born Lucy Renee Mathilde Schwob in Nantes in 1894 in a prominent intellectual Jewish family. She moved to Surrey and attended a private school after experiences with anti-Semitism at her high school in Nantes. She then attended the University of Paris, Sorbonne. In 1919, she changed her name to Claude Cahun, after having previously used the names Claude Courlis (after the curlew) and Daniel Douglas (after Lord Alfred Douglas, lover of Oscar Wild).
In 1909, Cahun met Suzanne Malherbe, better known as Marcel Moore (whose mother was later married to Cahun's father). During the early 1920s, the two of them started living together in Paris and around 1922 they began holding artists' salons at their home with attendees such as Henri Michaux and André Breton.
Cahun started producing photographic self-portraits around 1912 and continued taking images of herself through the 1930s. Cahun and Moore collaborated on written works, sculptures, photomontages, and collages.
Here, we'd like to mention two significant publications - a series of monologues based upon female fairy tale characters called Heroines from 1925, and a surreal autobiography called Aveux non avenus (Cancelled Confessions or Disavowals) which was a book of essays and recorded dreams illustrated with photomontages that incorporate the portraits of Cahun and drawings by Moore.
In the early 1930s, Cahun became a member of the Association des Écrivains et Artistes Révolutionnaires and started exhibiting with the Surrealist group. André Breton described her as "one of the most curious spirits of our time".
In 1937, Cahun and Moore settled in Jersey, and shortly after France became occupied by the Nazis they became active resistance workers and propagandists. The couple practiced the collective identity which they called the "soldier with no name". During the occupation, they translated BBC broadcasts and distributed the translated messages to the German soldiers. They were arrested, imprisoned, and sentenced to death in 1944; luckily the war ended then, and they were released before the sentence was carried out.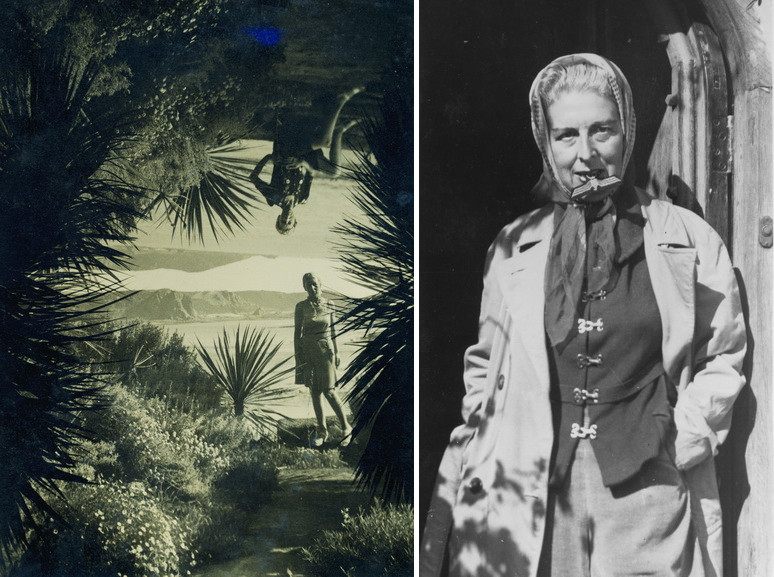 The Exhibition Identity Matters
Claude Cahun and Marcel Moore are best known for the photographic portraits of Cahun in various guises such as dandy, bodybuilder, aviator, doll, vampire, angel or Japanese puppet. The artist is depicted as looking straight at the viewer in bold, disturbing, and abject manner aimed to blur the gender identity, and therefore subvert the patriarchal gaze.
Contributing to a better understanding of these portraits is the fact that they are embedded in Jewish thought on performed and fluid identity. Namely, the Book of Esther in the Hebrew Bible seems to be used by Cahun as a reference (Esther reveals her Jewish identity to her husband in a successful bid to save her people) and serves as an act of outing typical for revealing of one's sexual identity.
A an array of their works which ultimately served as tools for social and political articulation will be complemented with the works by contemporary artists Nicole Eisenman, Rhonda Holberton, Hiwa K, Young Joon Kwak, Zanele Muholi, Toyin Ojih Odutola, Gabby Rosenberg, Tschabalala Self, Davina Semo, and Isabel Yellin, who are also dealing with the representation of the self.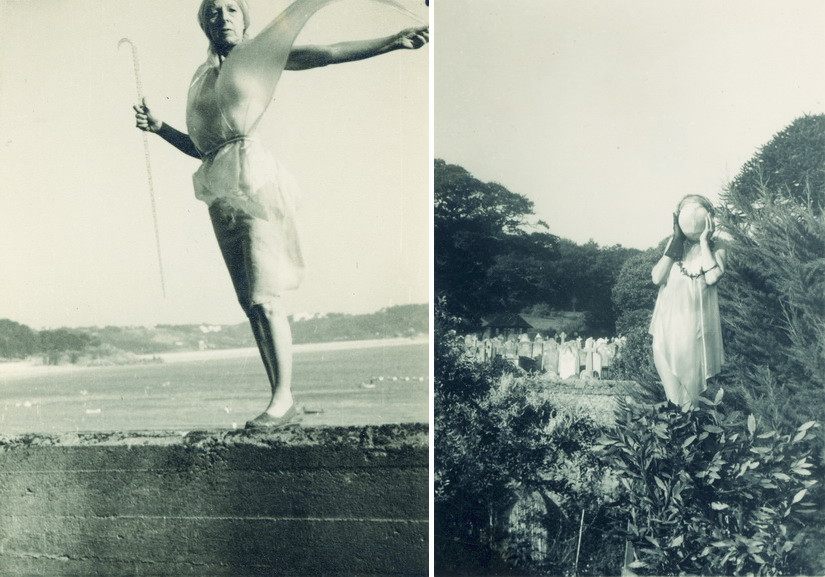 Claude Cahun at The Contemporary Jewish Museum
It is apparent that Cahun and Moore established and declared a revolutionary understanding of selfhood. Starting from Cahun's decision to appropriate her Jewish surname, the election of a gender-ambiguous first name, over openly queer relationship, and radical artworks, to antifascist engagement during the war.
This exhibition underlines Cahun and Moore's outstanding work and life and links it to the work of contemporary artists who appropriate and extend their earlier tactics in present times. It also opens a dialog about how much Cahun's Jewishness influenced her radical life and work.
Organized by The Contemporary Jewish Museum and curated by CJM Assistant Curator Natasha Matteson, the show is accompanied by an extensive and fully illustrated catalog published by The CJM with original contributions by several distinguished scholars.
Show Me as I Want to Be Seen will be on display at The Contemporary Jewish Museum in San Francisco from 7 February until 7 July 2019.
Editors' Tip: Disavowals: or Cancelled Confessions
Memories? Choice morsels. My soul is fragmentary.―from DisavowalsClaude Cahun (1894-1954), born Lucy Schwob, was a poet, performer, resistance fighter, prisoner, Surrealist, "constructor and explorer of objects," photographer, and "queer freak" who invented her life by flaunting the interchangability of roles and playing with the ambivalence of identity. Whether feigning vulnerability on the arm of her lover and stepsister Suzanne Malherbe aka Marcel Moore ("the other me"), making theatrical public appearances in disguise (sailor, gymnast, gypsy), or making herself up (vampire, Buddha, mannequin, angel) for self-portraits and installations, she rendered opposites inoperative and exposed the thinness of gender and power constructs by reducing them to mere surface costumes.
Featured images: Claude Cahun (Lucy Schwob) and Marcel Moore (Suzanne Malherbe) - Untitled [Portrait lying on leopard skin], 1939. Gelatin silver print. © Jersey Heritage; Rhonda Holberton - Still Life, 2017. Archival pigment print. Courtesy of the artist and CULT|Aimee Friberg Exhibitions; Toyin Ojih Odutola - Prove how much you have grown, 2013. Pen ink and marker on paper. © TOYIN OJIH ODUTOLA. Courtesy of the artist and Jack Shainman Gallery, New York; Isabel Yellin - Erin/Heather, 2017. Leatherette, acrylic, and stuffing. Courtesy of the artist and Night Gallery. All images courtesy The Contemporary Jewish Museum.