Visitors of the ongoing 2016 Berliner Liste have the unique opportunity to enjoy Clemens Behr's Absolut Art Bar aka Noesis, a refreshment corner resembling a modern oasis situated within seemingly unfriendly concrete architecture. Clemens Behr, a Berlin-based artist, used various sources of light and engaging architectural shapes in order to create the optical illusion of foreground and background dynamically fusing into one. Absolut Art Bar is designed to reflect the stark architecture of Kraftwerk venue as well as the Limited Edition by Absolut, characterized by the asymmetrically ground glass refracting lights in a spectacular way. But that's not all - Behr's personal source of inspiration for Absolut Art Bar were urban Brazilian cityscapes with their concrete jungles and scattered islands of green zones.
In our exclusive interview with Clemens Behr, we met the artist right there, at the Absolut Art Bar aka Noesis of the Berliner Liste, and we had a brief conversation about his experiences related to the building and concepts behind Noesis as well as his plans and exhibitions for the upcoming fall.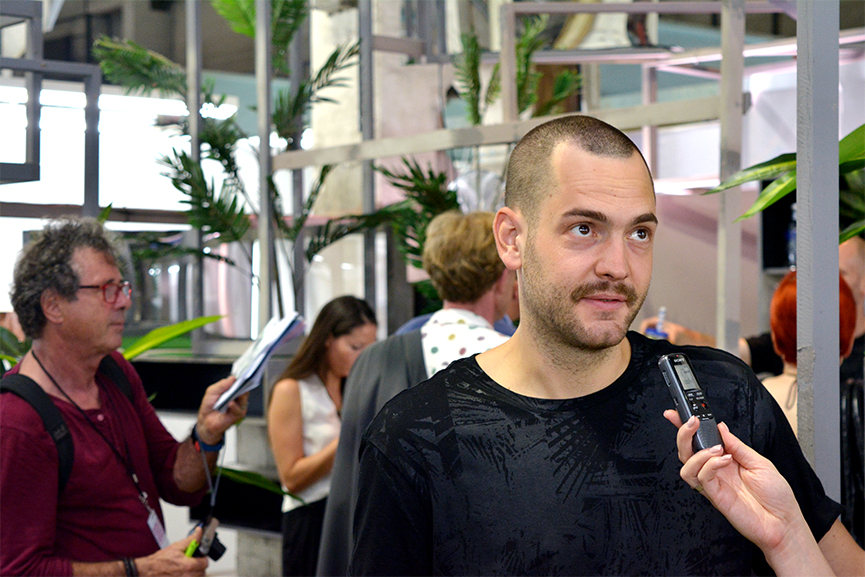 Absolut Art Bar - Flavor of Oasis Amidst Daily Routine
Widewalls: Clemens, tell us a little bit more about your idea of the bar, what was your inspiration and how did you approach the task of creating a space like this?
Clemens Behr: Basically, I started with the building – it is a huge concrete building. I tried to include its main two components in my work – concrete and specific architectural shapes. Then, I had to face the task itself – the creation of a usable bar, where things shouldn't break, people can sit, and there is some furniture as well. In the end, it became more like a design task where I had to use my abilities and practice in order to create something new. It was a little bit challenging, but also really nice to have this possibility. I started to make modules that can be moved in the space and correspond to it, but also work as a miniature replica of the building itself. Then I came up with the idea of presenting the bar as an oasis amidst daily life, something that doesn't belong to our daily routine – place where people don't work and enjoy the tropical greenery. The plants are here to break this unfriendly concrete atmosphere of the bar and make it refreshing rather than simply cozy.
Widewalls: So, the bar is completely interactive – we can sit on the concrete, but architecturally, it's wood, isn't it? Is it a combination of wood and concrete?
CB: Yes, it's wood with a concrete color. It's gespachtelt (a type of glaze applied with a palette knife).
Widewalls: Yes, Absolut Art Bar is definitely mirroring the Kraftwerk venue through its aesthetic appeal. Did you enjoy this creative experience and are you planning to do something similar soon?
CB: Now I know where and how to get a concrete color (laughs). I am always happy to find new materials and new ways of working.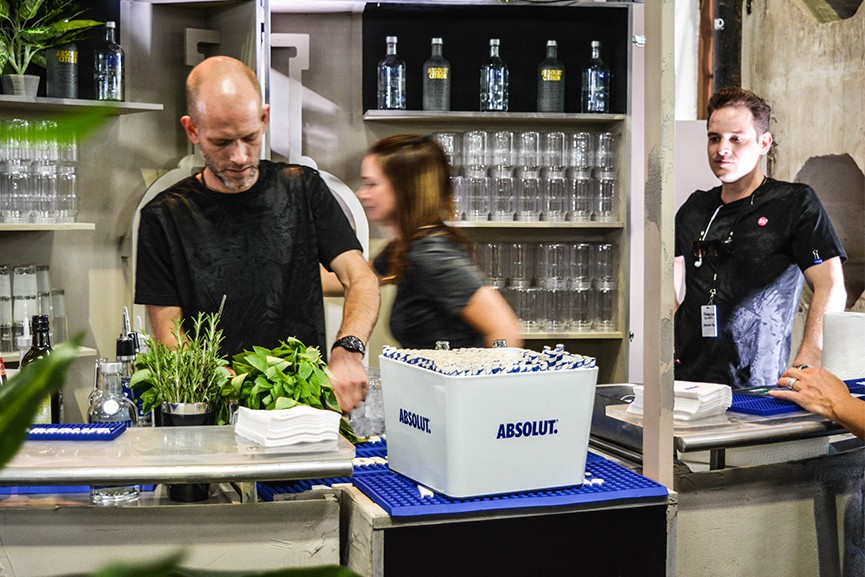 Widewalls: How about your other works, are you preparing something for the upcoming fall, perhaps a new exhibition?
CB: There will be a couple of exhibitions during the art week here. I'll participate in a big group show tomorrow, consisting of 32 artists. Next Friday, I will have a show in Hamburg with Wolfgang Flad, and the week later I will present my installation at a festival in Lisbon. I will also make temporary installations at a festival of Light art, which will be held at a botanic garden in Osnabruck. This will be happening during the last week of October.
Widewalls: You do have a busy fall ahead of you. I forgot to ask you something – there's an interesting soundtrack playing at Absolut Art Bar, can you tell us more about it?
CB: It was made for four speakers by a Berlin-based sound artist and it creates a special, immersive experience. He created a loop that goes on for two hours and it plays different moods and soundscapes.
Widewalls: I guess two hours is enough to get drunk.
CB: Yes, hopefully without pissing off the people working here (laughs).
Widewalls: To wrap it up – what's your favorite drink?
CB: Of course, the Absolut Vodka. And I like fresh mango juice, too.
Widewalls: Then you can combine them, maybe…
CB: I'll think about that!
Featured image: Absolut Art Bar at the 2016 Berliner Liste. All images courtesy of Widewalls Team.