As the coronavirus pandemic still progresses and numerous environments are in lockdown, the questions regarding our mental health are constantly rising. The situation is further worsened with the constant placement of conspiracy theories and fake news that lead to complete and uncontrollable hysteria.
Under such circumstances, numerous artists find means to question the present time, and the new works of the American artist Cleon Peterson, best known for his unique graphic imagery exploring different modes of repression and violence, perfectly emphasize the notion of hysteria. Under the same title, the artist's second solo exhibition at the LA-based Over The Influence will debut those works made over the past year.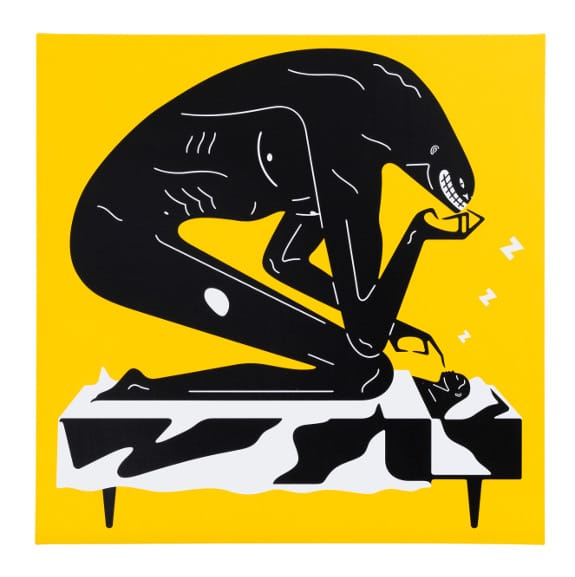 Socially Driven Agenda
Cleon Peterson is best known for images of authoritarian figures emitting brutality and violence most frequently executed through prints, paintings, sculptures, and murals. These reduced, linear works reflect the artist's interest to critically question the contemporary social landscape saturated with fear and different forms of repression.
To a certain extent, Peterson's new works present the departure from the given framework as he tends to articulate the last few frenzy months of different fractures happening in American society culminating with the Presidential Election. The final result are images that capture the anger, repulsion, and horror in a present moment.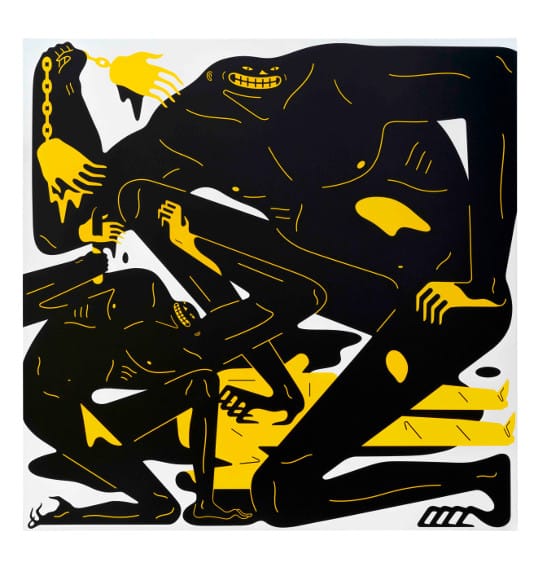 The Monsters In Us
Instead of red, a color he used in the previous series, for these works Peterson used yellow, a color associated with sickness, poison, fear, and danger. The weary and grotesque images featuring monsters are accompanied by text along the edges of the canvases, a novelty or Peterson, to indicate an ironic commentary on the current situation.
Peterson is driven by historical depictions of monsters on a scale from Classical mythology to Gothic fiction and horror movies; he draws upon the notion that the monsters are traditionally perceived as reflections of the human aspects often ignored and insufficiently articulated. Therefore, Peterson's monsters are confronting the presumption of self and others - human and non-human, living and dead.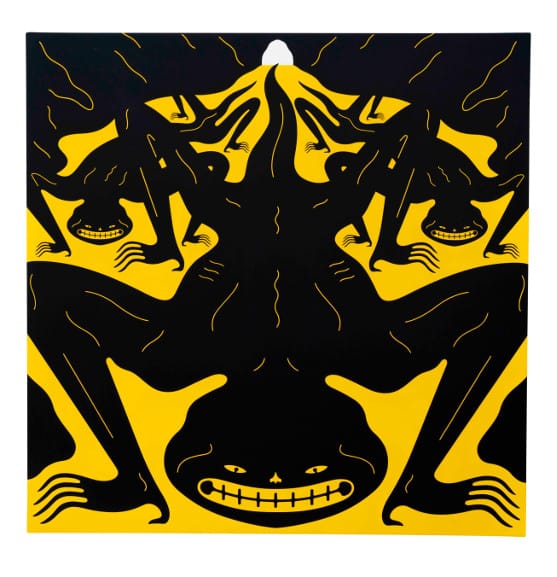 Cleon Peterson at Over The Influence
Finally, Peterson's impure, but ambiguous monsters are the result of the artist's consideration of the real monsters, the corporations and other representatives of power structures, as well as an ironic take on the current conspiracy theories such as QAnon (according to which the world is run by a powerful cabal of Satan worshipping pedophiles).
Cleon Peterson: Hysteria will be on display at Over The Influence in Los Angeles from 14 November until 27 December 2020.
Featured image: Left: Cleon Peterson - It's Mine, 2020. Acrylic on canvas, 304.8 x 274.3 x 8.9 cm, 120 x 108 x 3 1/2 in / Right: Cleon Peterson - Hysteria, 2020. Acrylic on canvas, 182.9 x 182.9 x 3.8 cm, 72 x 72 x 1 1/2 in. Photo Credit Aaron Farley, Courtesy of the Artist and Over the Influence.