In past few months we have witnessed numerous exhibitions which celebrated sculpture-based creations that came from a truly diverse artistic backgrounds. Nicolas Guanigni recently opened at the Bortolami where he is currently displaying his provocative body of work, and few days before him, Melik Ohanian launched his collection entitled Stuttering, which is on view at the Galerie Chantal Crousel in Paris. We continue to pass on the related events and one certainly worth mentioning is taking place as we speak at the Rotofugi Gallery. Although similar in the material used to model the artwork, the style and the visual aesthetics of the latter are quite different compared to ones we mentioned at the beginning. For those who appreciate sculpting as a form of a creative language Rotofugi Gallery opened its doors for a unique artists duo known as Coarse and their cartoonish, dark and humorous sculptures.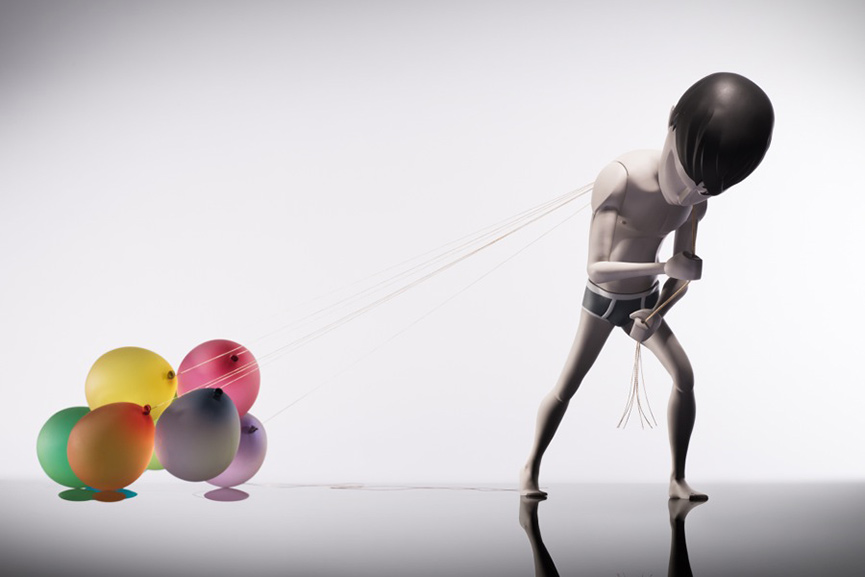 Coarse Unveiled
Coarse was a project that started more than 10 years ago, and it includes two artists who are initiators of the story. This German duo is comprised of Mark Landwehr and Sven Waschk who began developing their recognizable approach when creating sculptures, which creates the illusion that they have chiseled and exposed their sculptures from three - dimensional rock. In the past 10 years, as they entered the art arena, they became widely popular to the public but also to the art collectors. Their main approach is primarily concerned on creating statues that range from small to life-size and are made from resin and/or fiberglass. All of their work is completely handcrafted with impeccable desire to honor the details. These two artists also design the packaging for the sculptures as they are being distributed all around the globe.
Prisoners Beside Me
The resin sculptures which are a centerpiece in the Pirsoners Beside Me exhibition represent a compound of dark and humorous fantasy characters with the slightly childlike first impression. Nevertheless, while examined from the close, they tend to take on the more of a murky visage, the alternating effect echoes through the pieces, the feeling of solitude and anguish. These are no mere sculptures of designer toys and figures but rather the creations which illustrate the subtlety of the human soul and shy undertones that expose levels of our own vulnerability, an intrinsic feature conveyed in all humans, one that we so vigorously try to hide. Course made the 3D pieces out of stone through meticulous and highly sensible process of mould-making, casting, sanding, detailing and painting. All of the characters are based on their illustrations for Andrew Greenberg and his forthcoming novel which carries the same title. The Prisoners Beside Me opened on the 5th of December and will be on view until 4th of January.
Help as shape the 2015, sign up for My Widewalls as we bring you all that you need for your art craving souls!