Conceptual art movement is probably the most radical and the most controversial plane in modern and contemporary art. Some artists, experts and art historians even dismiss it as art. Conceptual art is based on the notion that the essence of art is an idea, or concept, and may exist distinct from and in the absence of an object as its representation. Many examples of conceptual art (well-known works or statements) question the notion of art itself.
Some conceptual artists believe that art is created by the viewer, not by the artist or the artwork itself. Since ideas and concepts are the main feature of art, aesthetics and material concerns have a secondary role in conceptual art. Conceptual artists recognize that all art is essentially conceptual. In order to emphasize these terms, they reduce the material presence of the work to an absolute minimum - a tendency that some have referred to as the dematerialization of art – which is one of the main characteristics of conceptual art. As many conceptual art examples show, the conceptual art movement itself emerged as a reaction against the tenets of formalism. Formalism considers that the formal qualities of a work - such as line, shape, and color - are self-sufficient for its appreciation, and all other considerations - such as representational, ethical or social aspects - are secondary or redundant.
Scroll down to see some examples of Conceptual Art which carry a clear concept as one of their main and most important elements.
Editors' Tip: Conceptual Art (Movements in Modern Art)
Do you enjoy conceptual art? Conceptual art is a very broad term, and it includes a number of different art practices. Some of them you surely must admire. If something is classified as conceptual art, it doesn't mean there is no aesthetics in it. Many assume that conceptual art is purely philosophical and that it doesn't have anything to do with art. However, that's not the case. If you want to learn more about conceptual art, be sure to check out Paul Wood's book entitled Conceptual Art (Movements in Modern Art). Paul Wood's Conceptual Art is essential reading for anyone who wants to understand exactly how and why exhibitions of contemporary art have come to include anything and everything—from pickled sharks to mass-produced toilets, piles of rubbish to multi-screen videos. Wood's text is coherent, precisely argued, and jargon-free: it provides a concise introduction to the important figures of a movement that changed the practice of modern art forever.
Conceptual Art Examples - It's About the Idea
Surrealism and the Dada movement were major sources of early conceptualism. Since conceptual art inherently rejects materialistic representation of artworks and it's not focused on materiality, many have connected conceptual art with Minimalism (if you like minimalism, check out our list of 10 minimalist artist). However, conceptual artists rejected minimalism's embrace of the conventions of sculpture and painting as mainstays of artistic production. For conceptual art, it need not look like a traditional work of art, or even take any physical form at all. Sol LeWitt and Joseph Kosuth were among the first ones to insist that genuine art is not a unique or valuable physical object created by the physical skill of the artist - like a drawing, painting or sculpture - but instead a concept or an idea. While Joseph Kosuth gives special prominence to language and frequently references Wittgenstein's philosophy of language and Freud's psychoanalysis, Sol LeWitt, who used different media in his work, focused on the idea itself, saying that idea is like a machine that makes the art. Apart from other art branches, philosophy was quite an important source for the development of conceptual art. It wasn't only the Wittgenstein's philosophy of language that influenced conceptual art movement, but also poststructuralist and postmodern philosophers, especially French ones, such as Jacques Derrida, Michel Foucault, Gilles Deleuze, and many others. It was Sol LeWitt who made this new important distinction - the distinction between idea and the art as a product. LeWitt's conceptual art is not about the singular hand of the artist. It is about ideas that are behind the works; ideas that surpass each work itself. This great artist also wrote a lot. His famous quote is: When an artist uses a conceptual form of art, it means that all of the planning and decisions are made beforehand and the execution is a perfunctory affair. The idea becomes a machine that makes the art. It is interesting to mention that Sol LeWitt was also one of the leading figures of Minimalism.
Featured image: Joseph Kosuth's artwork
Conceptual Art and Political and Social Issues
The so-called father of conceptual art movement is Marcel Duchamp. His best-known work is Fountain (1917), a work that had rattled the very definition of the work of art. Like Duchamp before, and as many conceptual art examples show, this direction of art abandoned beauty, rarity, and skill as measures. With this work, Duchamp severed the traditional link between the labor of artists and the merit of the work. Questions of appropriation had been raised in art. Particularly during 1960s and 1970s, conceptual artists focused on language, structure and representation. John Baldessari has created thousands of works that demonstrate—and, in many cases, combine—the narrative potential of images and the associative power of language within the boundaries of the work of art. He is best known for works that blend photographic materials (such as film stills), take them out of their original context and rearrange their form, often including the addition of words or sentences. Elaine Sturtevant is a conceptual artist who questions the notions of representation and appropriation. In 1965, she began to manually reproduce paintings and objects created by her contemporaries with results that can immediately be identified with the original. She turned the concept of originality around. All of her works are copies of the works of other artists; none of them is an original. Sturtevant was particularly focused on works by Roy Lichtenstein and Andy Warhol. These examples show how much conceptual art insists on self-conscious or self-referential.
Featured image: Elaine Sturtevant
Aesthetics, Nihilism and Politics in Conceptual Art
Some experts connect conceptual art with nihilism. The reason for that is not only the dematerialization of artworks but the possibility of widening the definition of art. If everything is based on idea and concept, while technique and visual art skills occupy a secondary role, maybe Joseph Beuys was right when he said that every person can be an artist. On the other hand, the rejection of aesthetics cannot be the reason for claiming that conceptual art is nihilistic. Many conceptual art examples show that beauty can be found in an idea as well, and not only in representation. On Kawara is one of the most popular conceptual artists in the past few decades. Kawara gave special prominence to language, and his work is among those conceptual art examples that show how visual art skills are not necessarily required for a perfect artwork (of course, this does not mean On Kawara wasn't a master in visual art). Conceptual art, while having no intrinsic financial value, can deliver a powerful message, and thus has served as a vehicle for socio-political comment. A lot of conceptual artists are creating art that is sometimes labeled as political art. Charles Gaines is an artist whose work interrogates the discourse relating aesthetics and politics. He uses different media in order to express a political message that is embedded in the concept. Similarly, Barbara Kruger uses photography for provocative statements on issues surrounding commercial culture, feminism, and identity politics.
Featured image: On Kawara - One Million Years
Conceptual Art Examples - Where to Put the Border?
It is quite difficult to determine what conceptual art is and isn't. Because of its tendency to understand all art as conceptual, the conceptual art movement often includes those practices that would not be linked with conceptual art in the first place. This is particularly the case with performance art. For example, Yves Klein is usually seen as painter and performance artist connected with Nouveau réalisme. However, many argue that he is a conceptual artist as well, since his art practice is deeply based on clear concepts. Similarly, Marina Abramovic, who is today probably the most recognized performance artist, is also linked with conceptual art. There is also a tendency that new art media, emerging as a result of technological development, is a priori labeled as conceptual art. In most cases it is true. We could just take a look at the art of Jenny Holzer, or the emerging art of codes. As many conceptual art examples show, the line between conceptual art and other art spheres is quite blurry.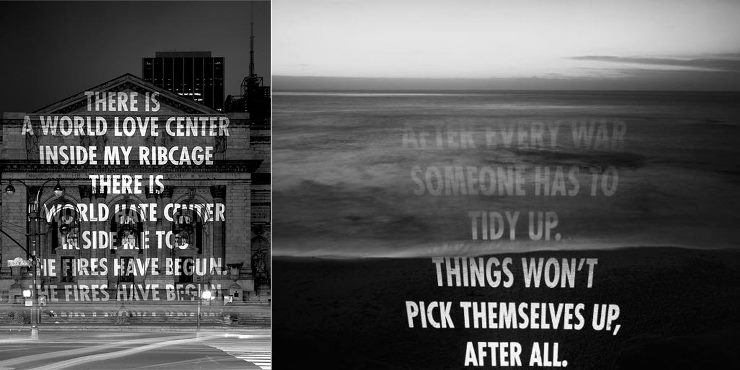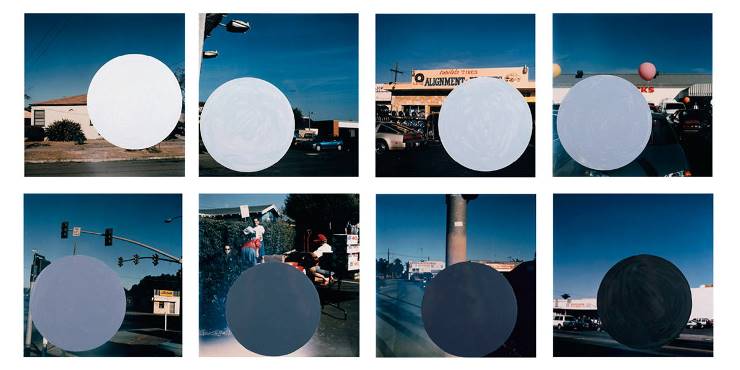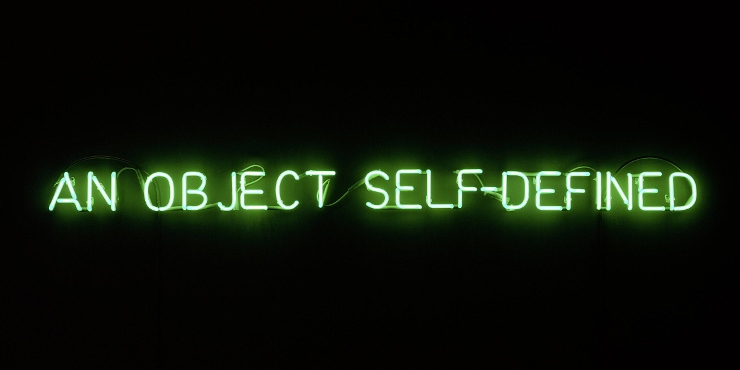 Featured Image: Barbara Kruger. Image in Slider: Marcel Duchamp - Fountain. All images used for illustrative purposes only.