886 Geary Gallery, the urban and contemporary art hub based in San Francisco, are about to present the wonderful looking Concrete Alphabets group exhibition. The new group show will bring together a collection of artworks from 6 contemporary artists who focus on the material qualities of letter-based compositions. All 6 artists exhibiting in Concrete Alphabets work in what is described as the medium of analog painting, drawing on their experience as graffiti artists to explore letterforms through mark making. 886 Geary Gallery is the project of Graffuturism legend Poesia, also main curator; he has brought a number of shows to the gallery including the Graffuturism 5 Year Anniversary Show and group show Analog Y.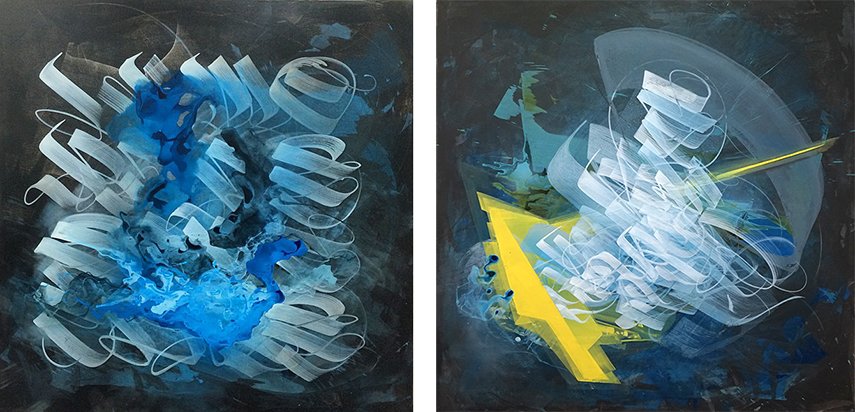 Letterform of Concrete Alphabets
The Concrete Alphabets group exhibition at 886 Geary Gallery will showcase a quite remarkable body of work, featuring works from 6 artists who are quite exceptional in their use of lettering. Each of the 6 graffiti artists has their own unique style but are bonded by their love of the letterform and exploring the material qualities of analog painting. Within Concrete Alphabets the viewer will find artworks which explore the gestural, abstract, calligraphic and hieroglyphic nature of letterforms, along with historical and geographical art form influences such as New York Graffiti, European Graffiti, Calligraphy, Script, Visual & Concrete Poetry and West Coast Cholo style writing. The exhibition highlights this new emerging art form with exciting results, with each of the 6 artists providing a unique personal narrative involving letterform.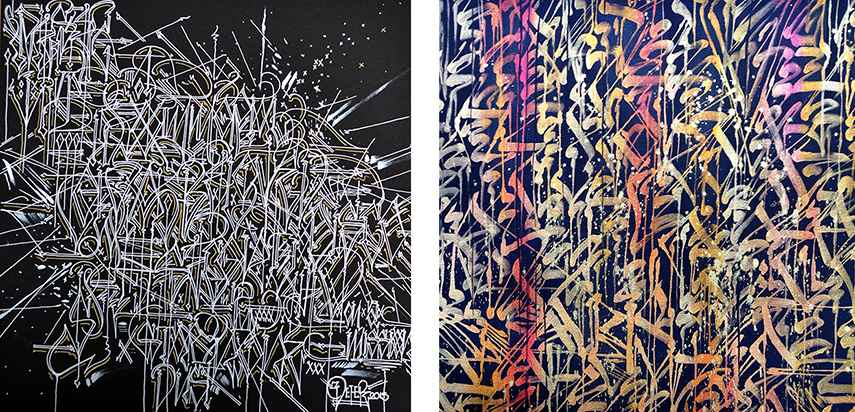 Analog Painting
The vital ingredient in the Concrete Alphabets group exhibition is the use of analog painting. Each of the graffiti artists on show use painting as an important aspect of their artworks, allowing their own unique mark making to form an essential part of the artwork. The varying backgrounds of the 6 graffiti artists are revealed through their individual aesthetics and conceptual elements, the unique individual hand styles allowing the viewer to witness the history, rhythm, expression and gestures built up through countless hours of repetition perfecting and exploring their techniques. One look through the images that accompany this article will reveal the glorious delights which can be expected from Concrete Alphabets, a true feast of letterforms revealed in 6 original ways.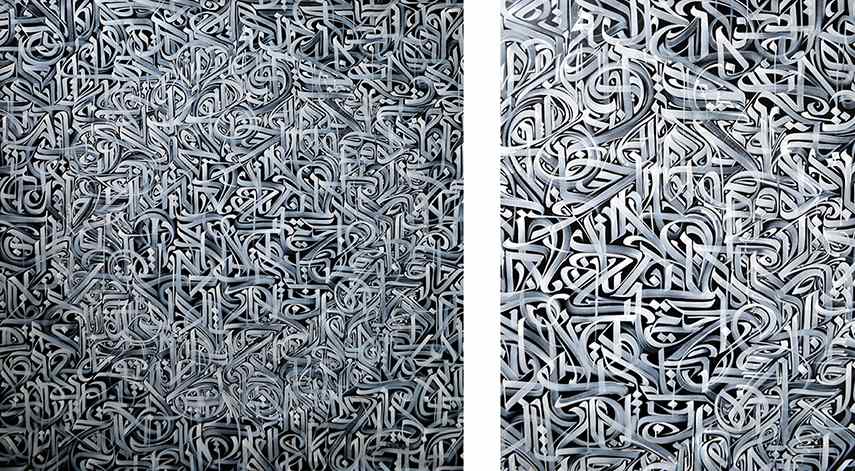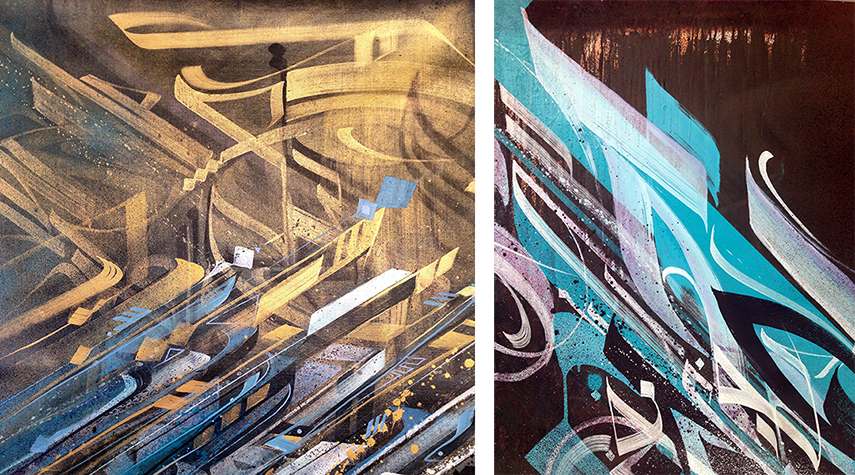 Artists at 886 Geary Gallery
The group exhibition Concrete Alphabets at 886 Geary Gallery presents 6 graffiti artists who are at the top of their game when it comes to letter based artworks. Los Angeles based Alex Kizu, aka Defer, produces typographic works which are both beautiful and lyrical, drawing on influences from New York graffiti and the placaso style indigenous to LA, to create stunning compositions, see more in Paradise Lost. The work of New York graffiti artist Faust effortlessly combines contemporary graffiti writing with classical calligraphy, while Amsterdam based Niels Shoe Meulman has become widely recognised for his Calligraffiti work. However, he has just announced he is retiring the term Calligraffiti for his work and is now using the term Abstract Vandalism, as he moves away from letter based work, so catch it while you can! Also appearing in the group show are Rostarr from New York with his highly patterned letter work, Stohead from Germany with his beautiful artworks which verge on the abstract and Vincent Abadie Hafez, aka Zepha, from France with his highly ornamental and completely stunning artworks.
The Concrete Alphabets group shows opens at 886 Geary Gallery, San Francisco, on 16th May, 2015 and runs through until 1st June, 2015. Opening reception Saturday 16th May, 2015, 7-11pm.
For all the latest exhibition news sign up to My Widewalls today.
Featured images in slider: Zepha - Detail / Zepha - Detail / Rostarr - All Eyez On You. 2013 /  Niels Shoe Meulman - Unbelieve / Niels Shoe Meulman - Detail Unbelieve / Defer - Detail Concrete Alphabets / Defer - Detail Concrete Alphabets.
All images courtesy of 886 Geary Gallery.