With an extraordinary and independent visual language influenced by the visual culture of the comic books and his early access to illustration, Cone the Weird drawings deal with the theme of time, consciousness, and self-reflection. Combining humorous and ridiculous characters with an obsessive attention to detail, his works are personal and autobiographical, also finding the inspiration in a variety of sources. His strange characters often open our eyes to a world where technology and the human over-consumption have taken place. In a beautifully weird exhibition titled Come Closer and Leave Me Alone, Galerie Neuheisel will present his latest drawings.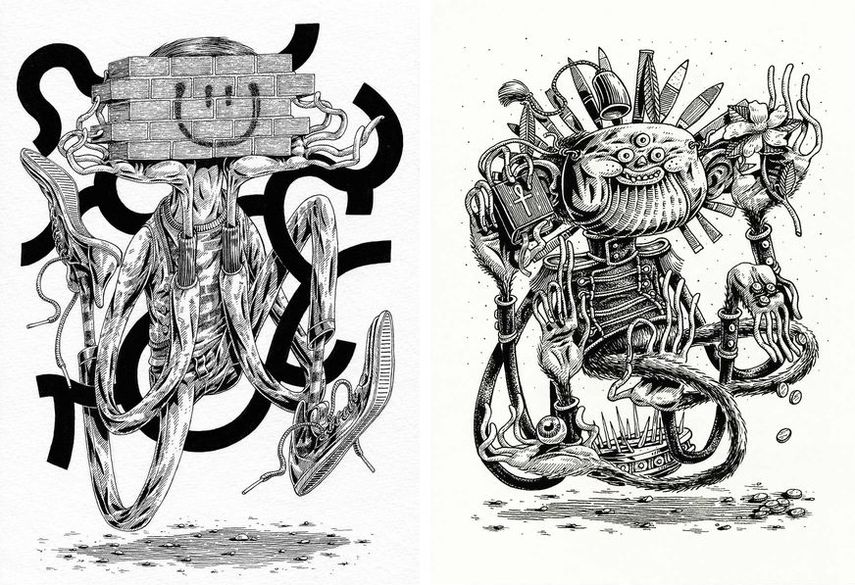 The Practice of Cone the Weird
Born and raised in Munich, Cone the Weird has developed a fascination for illustration and graphic representation in his early childhood. However, his artistic development can also be traced to late-medieval woodcuts, Renaissance painting, Surrealism, Pop Art, the Victorian advertising prints, and cover designs. As early as 1993, the artist got immersed in graffiti, concentrating more on character design and moving his figures into the foreground of the composition. Since 2006, Cone has turned to painting in black and white, but he always comes back to street art, never forgetting his roots. He has been changing his style and themes more than a few times, from his figure-like images in the form of black and white ink drawings to most detailed, vivid designs.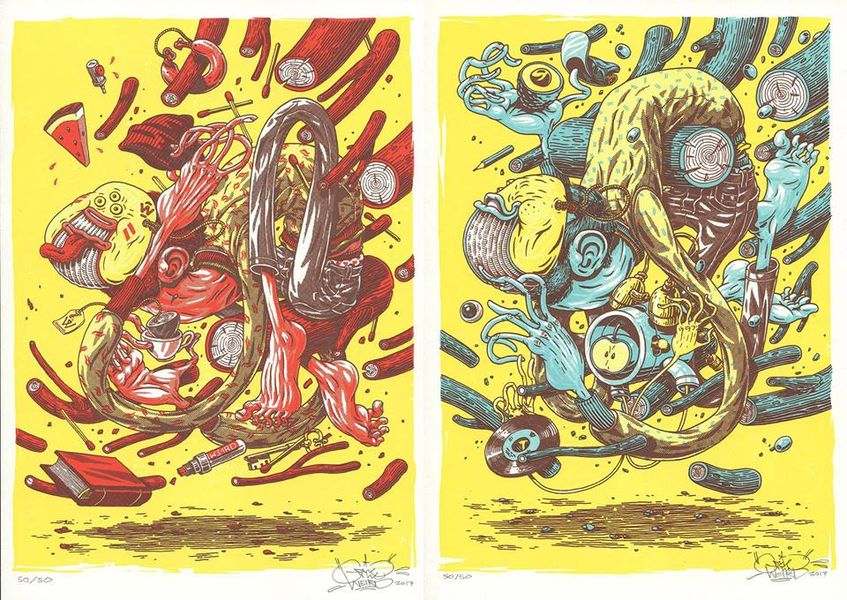 Combining Comic and Graffiti Traditions
Based on the pop-cultural mythologies of the graphic novel tradition and the graffiti scene, Cone's highly complex drawings merge with each other in terms of composition and content. Going far beyond the usual codes, he is looking for alternative forms of comics and graffiti in his drawings and murals. His poetical and exceptionally detailed drawings are imbued with a variety of hidden messages and motifs. Only with the intense examination of his pieces, the viewer can actually discover them. He finds inspiration from lots of sources – anything that arouses his attention to create a story behind the drawing is good enough to get him started. Since 2006, the artist has been a part of the collective The Weird, a crew of artists that come from a graffiti background that are now working internationally and interdisciplinary.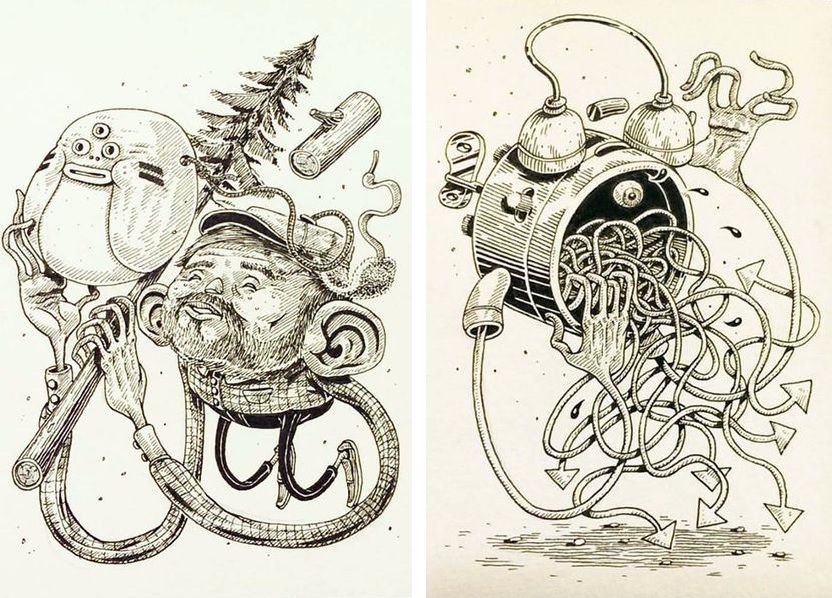 Cone the Weird Drawings at Galerie Neuheisel
The work of Cone the Weird has been exhibited at numerous art fairs, as well as in individual and group exhibitions in Munich, Cologne, Hamburg, Berlin, Luxembourg, Vienna, Basle, Montpellier, Strasbourg, Eindhoven and Detroit. In 2017, his works will be shown at SaarArt111, but also in exhibitions in Berlin and Austin, Texas. His latest exhibition at Galerie Neuheisel will transform the gallery space into a strange universe inhabited by even stranger characters. The exhibition Come Closer and Leave Me Alone will be on view at the gallery from March 23rd until April 29th, 2017.
Featured image: Cone the Weird - My favorite things - 2B, 2017 (detail); Cone the Weird - My favorite things - 2A, 2017 (detail). All images courtesy of Galerie Neuheisel.